popular
Steve Martin and Martin Short reprise their 'Father of the Bride' roles in hilarious skit
The legends teamed up again to create comedy gold on 'Saturday Night Live.'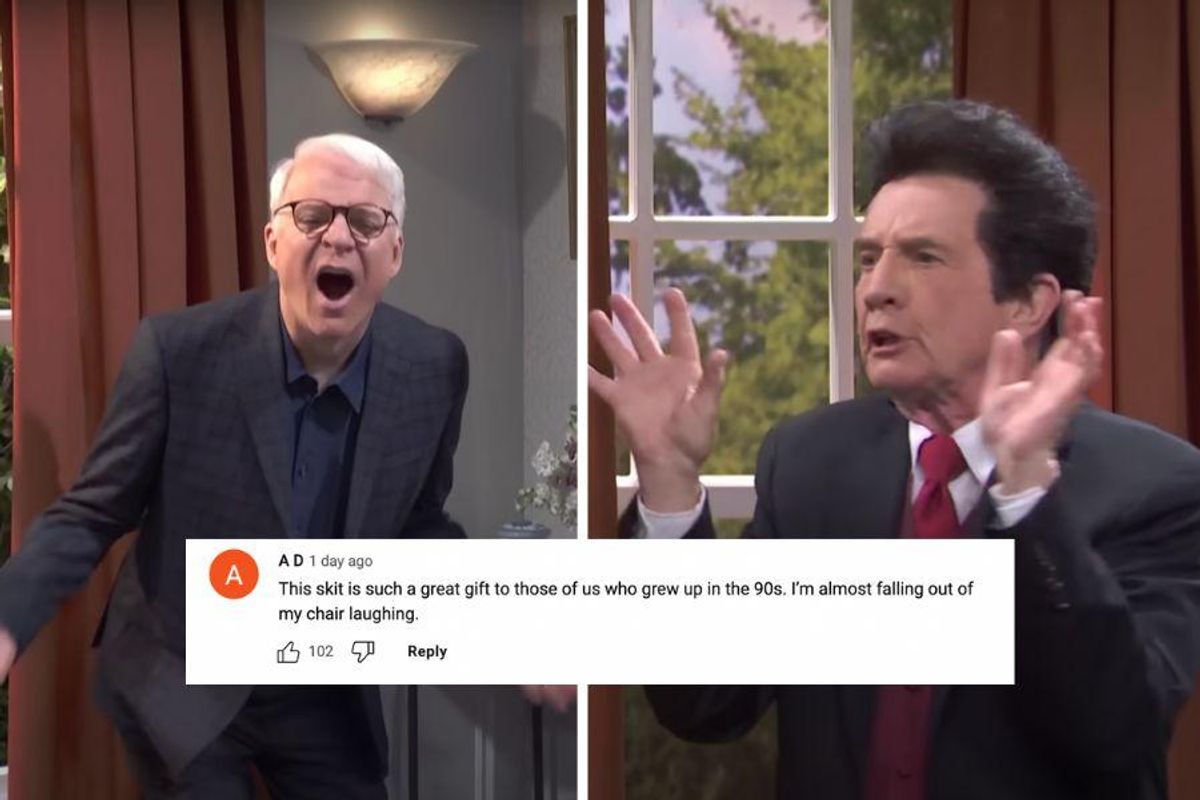 There's hardly any comedy duo on this planet more enduring than Steve Martin and Martin Short. The legendary BFFs have not only brought us quotable classics like "Three Amigos," but have enlisted a whole new generation of fans from their hit show "Only Murders in the Building'' on Hulu.
All this to say—when these two appear together on an episode of " Saturday Night Live ," you know you're in for a treat.
As the episode's co-hosts, Martin and Short brought their A game to a slew of different sketches, but the one still on everyone's minds is the parody sequel of "Father of the Bride."
---
In the faux trailer, Martin reprises the title father himself, George Stanley Banks, whose now 52-year-old daughter Annie (played by Hedie Gardner) needs to plan yet another wedding, this time more over-the-top than ever. The event comes "three decades, seven divorces later," apparently, which some viewers joked is now canon to the actual storyline.
"Can never rewatch 'Father of the Bride' without knowing it will end in divorce," one person quipped in the YouTube comments.
The Bankses have been so financially drained by endless weddings that George's wife Nina has had to start driving for Lyft. Cue impressionist extraordinaire Chloe Fineman doing an impeccable Diane Keaton.
Short then arrives (to uproarious applause, of course) as uber flamboyant wedding planner Franck, doing the character's signature accent that we "think is still OK." Among the long list of indiscernible suggestions Franck makes for Annie's upcoming nuptials is plucking, tugging and a little … vaginal rejuvenation. Oh Franck .
Of course, Martin and Short weren't the only cameos. Selena Gomez, their partner-in-crime-fighting from "Only Murders in the Building," appeared as herself, offering her wedding singer services for a measly $1.8 million dollars, and actor Kieran Culkin, who played little brother Matty in the original movies, makes an appearance too. Not that anyone remembers this, as the sketch hilariously poked fun at.
Not being so little anymore, Matty tells dad, "No cake for me. I have a colonoscopy tomorrow." However, seeing his sister in a wedding dress is still "gross to the max!"
The sketch ends with the group singing Franck's famous "Every Party Needs a Pooper" song.
Seeing the duo grace the SNL stage in beloved roles was more than a dose of nostalgia for longtime fans. Martin and Short have a chemistry that is simply timeless, and so clearly have an old-school humility that allows them to fully go for it with each other. That's always fun to watch, no matter what generation you hail from.
If you have done so already, do yourself a favor and watch the rest of their sketches from the episode, which can be found here .