Joy
South African boys' school marimba band is nothing but pure, joyful energy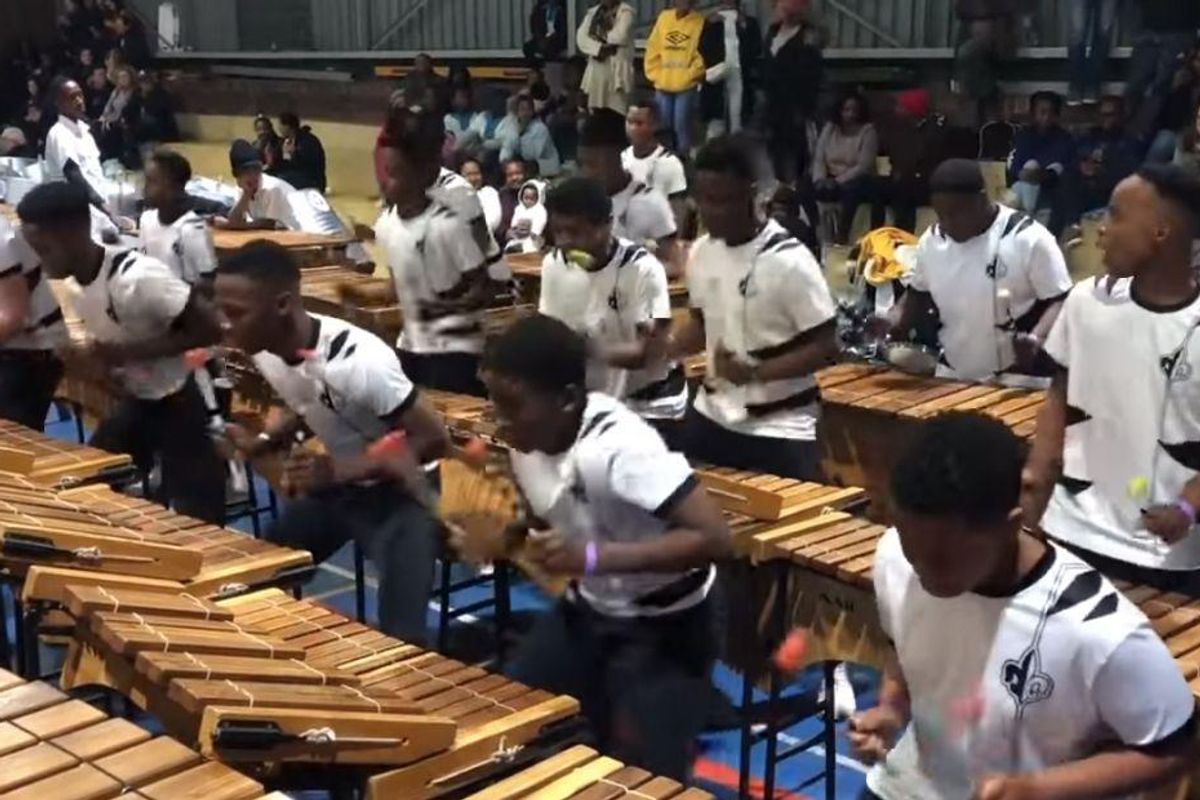 Music has been described as a universal language for how it unites people across borders and cultures. When musicians perform together, it's like magic, and when you see a fantastic musical performance, it's mesmerizing.
And when you add an element of fun? Pure, sheer delight.
The boys who play marimba at Hilton College (which actually isn't a college, but a boys' boarding school) offer a perfect example of magical musical amusement. A video of the school's marimba band performing at the 2019 International Marimba & Steelpan Festival in South Africa has gone viral, and when you watch it, you'll see why.
---
The video shows a dozen or so teen boys all lined up behind their marimbas, mallets in hand, ready to go. A woman's voice gives them the go-ahead, and the music starts. Then the dancing. Then the dramatic pauses. Then the all-out joyful, performance in which these young men appear to be having a blast.
The crowd witnessing their performance live may be small, but that doesn't stop the band from giving the performance of their lives. The video has been viewed more than 5 million times this week on the Music Crowns Facebook page. Watch:
People in the comments shared where they were watching from and their thoughts on the performance, with an international outpouring of praise and support:
"I am watching from California but I am from Guatemala and my grandfather used to play the marimba. He would have enjoyed it! Wonderful job! I would love to visit South Africa."
"I'm watching from France, near Paris!! Such a wonderful performance, love it so much."
"Watching from Puerto Rico
wowwwww you're all amazing."
"Wow!!!! incredible!!!
I'm from the Philippines. What an excellent performance. I really really love watching them and hearing the music they produce. What a lovely sight and sound."
"Amaaaaaaaazing ... watching from SudanI hope our kids having the opportunity to enjoy their feelings in music like this ..one day."
"Watching from Bilbao (Basque Country). Really wonderful performance!!!"
"Watching from US Virgin Islands. Absolutely fabulous. I enjoyed watching these incredible talented young musicians."
Comments keep coming in from around the world, which isn't surprising. This is one of those videos you can watch over and over and enjoy every time. Thanks, Hilton College, for nurturing such joyful expression in these students so we can all experience the musical magic they've created.