Family
Dog owner gets an assist from Florida shelter after she couldn't pay the fee to get her pet back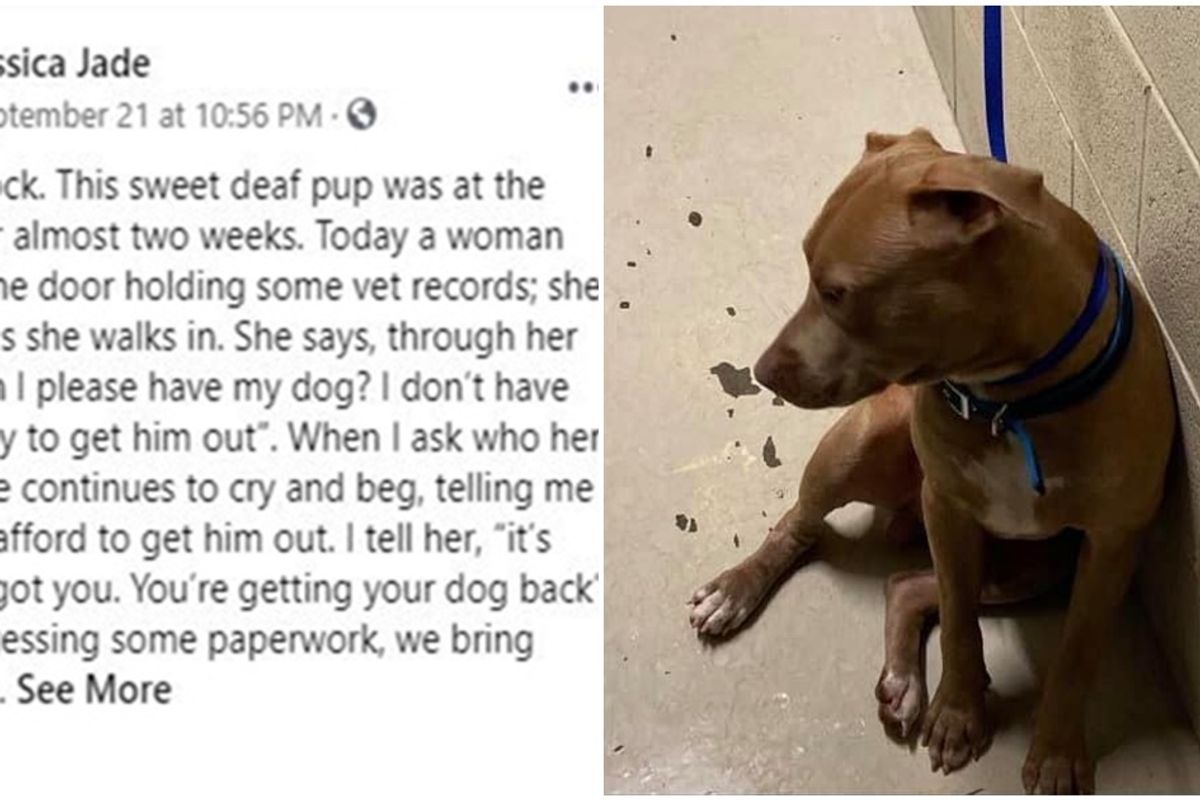 via Jessica Jade / Facebook
Losing a beloved pet is one of the most painful experiences a person can have. Suffering the loss of their companionship is only compounded by the feeling of helplessness and worry over whether their friend is safe and happy.

If the animal is found and taken to shelter, it's obviously a relief, but it can cost a lot of money in redemption fees to get the animal back.
Some shelter charges can run as much as $300 if the owner refuses to have the animal spayed or neutered or if the dog has been picked up by the shelter multiple times. While others charge as little as $15 if the animal is picked up promptly.
---
It's understandable that the shelters charge a fee to temporarily take care of the animal, but the fees also lead to an increase in the number of animals in shelters.

This creates a real dilemma in a system that's designed to reunite people with their lost family members.
A shelter in Florida is receiving a lot of love on social media for waiving the fees for a woman to retrieve her dog.
Jessica Jade, the manager of operations at Santa Rosa County Animal Services, shared a post on Facebook about how an owner came crying into the shelter with the vet papers for Glock, a sweet dog that's deaf.

″She says, through her sobs, 'Can I please have my dog? I don't have any money to get him out.' When I ask who her dog is, she continues to cry and beg, telling me she can't afford to get him out. I tell her, 'it's okay, we got you. You're getting your dog back,'" Jade wrote on Facebook.
"We bring Glock back to her. He was jumping and prancing he was so happy to see her, and she was crying and hugging him. Their love and bond are deep," Jade recalled. "We provided her with some dog food and a neuter voucher, which she was grateful for."
The shelter also learned the woman had kittens at home that needed to be spayed and neutered, so they gave her some vouchers for that service as well.
Jade used the situation to call attention to the problem of shelters charging redemption fees for lost pets.

″Glock wasn't a dog who needed rescue; he was a dog who needed to go back to the loving home he already had. Inflexible redemption fees and policies prevent animals from returning to their homes and unnecessarily add to shelter populations," Jade wrote.
"Innovative shelters remain flexible to ensure as many positive outcomes as possible, ensuring animals go back to the families they belong to where they are already loved," she continued.
The problem with redemption fees is tied to a deeper economic problem in America.
The Federal Reserve's 2017 Report on the Economic Well-Being of U.S. Households found that when faced with an unexpected $400 expense, about 40% of adults said they'd either either not be able to pay it or would do so by borrowing money.
The best way to make sure you don't lose a loved one is to make sure they either don't get out of your home or that, if they do, they are able to be brought home safely.
Here are five ways to make sure your pet doesn't go missing:
1. Your pet should wear a collar and ID tags at all times.
2. Have your pet microchipped
3. Spay/neuter your pet
4. Leash your animal while outside
5. Buy a GPS trackers to help you locate missing pet for as little as $30
You can help Santa Rosa County Animal Services by making a donation or purchasing something off their Amazon Wish List.