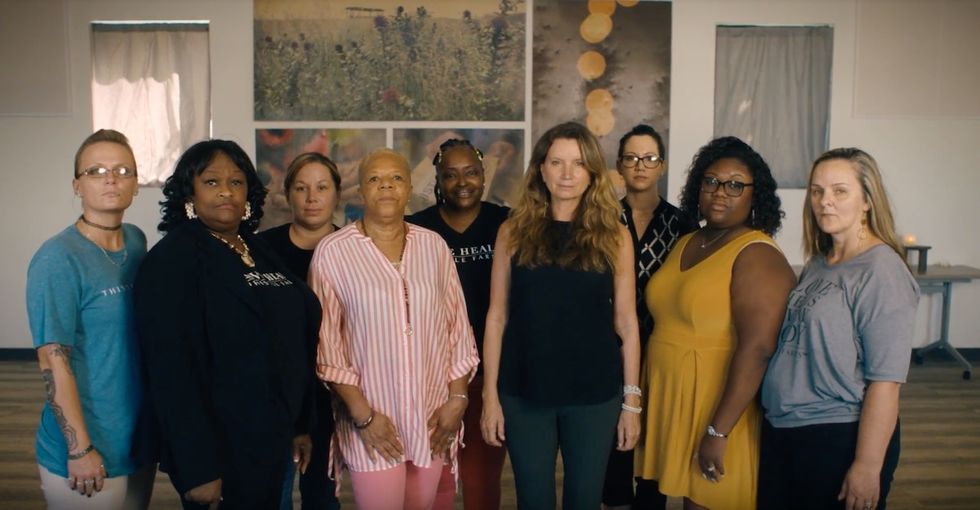 True
Stand Together
Becca Stevens is no stranger to poverty.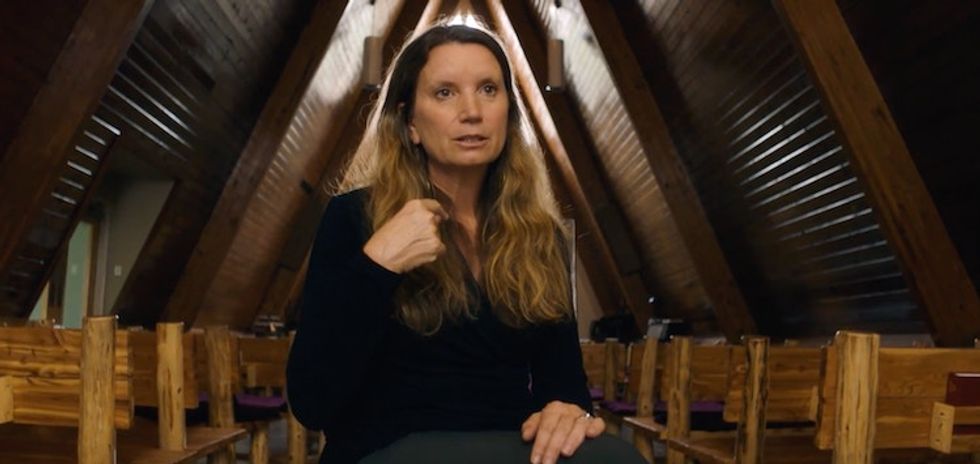 All images by Stand Together and Upworthy.
When she was five-years-old, her father was killed by a drunk driver. Impoverished both emotionally and economically, Stevens' family had to work hard to make ends meet. Poverty became a defining aspect of her childhood.
---
That was a big part of what drove Stevens to help others, especially the women she saw on the streets. So, as she grew into an adult, she started helping women who had been victims of violence, trafficking and prostitution by feeding them and bringing them to shelter.
"I just felt sick for them," Stevens says of the women she worked with on the street.
But there was much more behind why she was so drawn to helping these women: Stevens had been a victim of abuse herself, starting at the age of six.
Many of the women Stevens worked with had never felt safe in their lives. Prostitution, and the experience of being trafficked, was often a progression of the abuse they experienced. For many, it had started in their adolescence — now it was something they didn't feel like they could leave.
As she continued to work and talk with the woman in these shelters and halfway houses she was struck by two huge gaps in trying to help these women: The first glaring note was the lack of safety and security in shelters for women. Many women spoke about additional traumatic and abusive situations they experienced while inside shelters. Women trying to leave haunting and abusive experiences in their past were launched into subsequent unsafe and uncertain spaces. The second issue was the high cost associated with the shelters. If a halfway house charged $125 a week in rent, Stevens remembers asking herself, "what do you expect them to do to get that $125 a week?"
These women saw no way out of the cycle. Stevens wanted to change that.
An image of thistles inspired Stevens to create a social enterprise that has since helped more than 1,100 women break the cycle of poverty.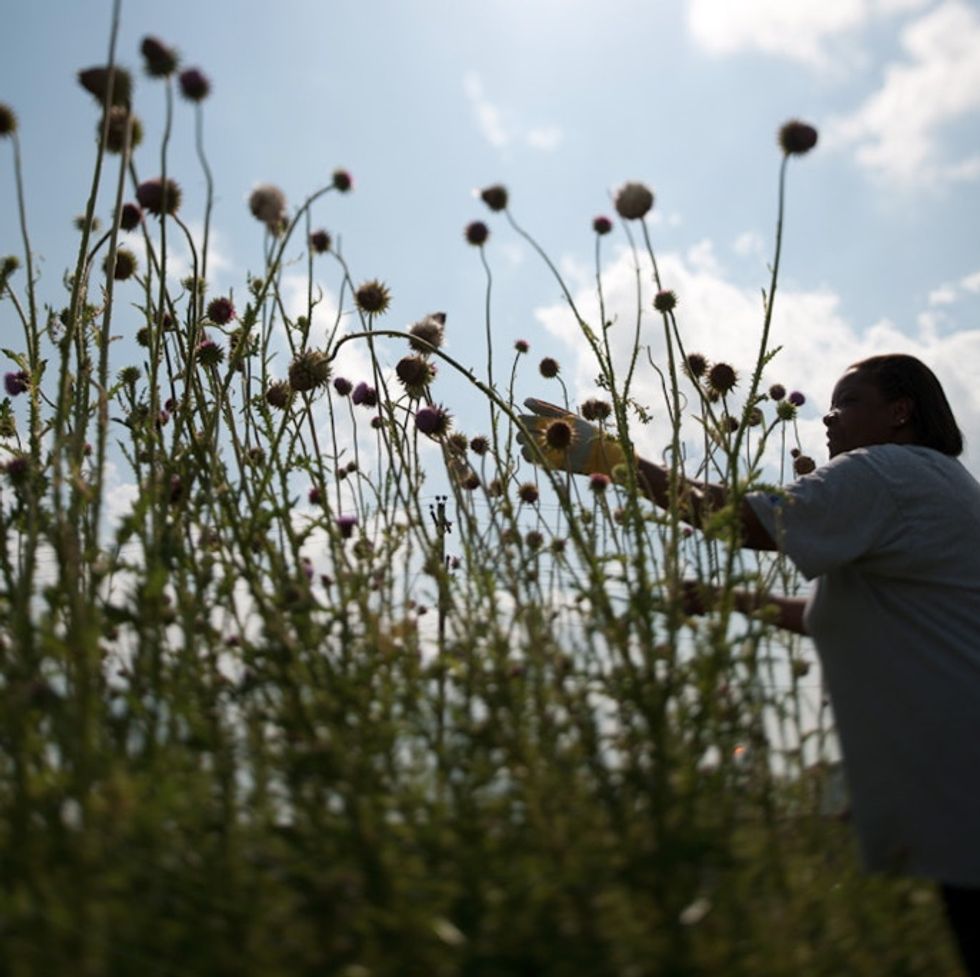 In Stevens' hometown of Nashville, she noticed that thistles grew everywhere.
"They're considered a noxious weed, but they can grow through concrete; through chain-link fences," says Stevens. "They are determined and dogged to bloom. They're just like the women. They're just like me. They're survivors."
She wanted to support women who, like thistles, aren't deterred by obstacles in their way. She knew the women she saw on the streets could reclaim their lives, but that they needed help beyond a one-night stay at a halfway house.
"I said, 'Look, some of the skills that kept you alive on the streets and kept you going — we can harness those," says Stevens.
So she came up with the idea for a "beautiful home" she would create, called Thistle Farms— a place where women could feel safe, start on a new path, and rediscover themselves.
"I wanted to say: 'you never have to go back to the streets; you never have to go back to prison; you never have to go back to an abuser in your life," she says of the mission of Thistle Farms.
At Thistle Farms, women become part of a community. They help each other thrive and empower others who've walked the same path to lead rich, full lives by giving back to the community — all at no cost to them.
In 1997, Rebecca Stevens welcomed five women into the program. Today, it's helping thousands of women worldwide.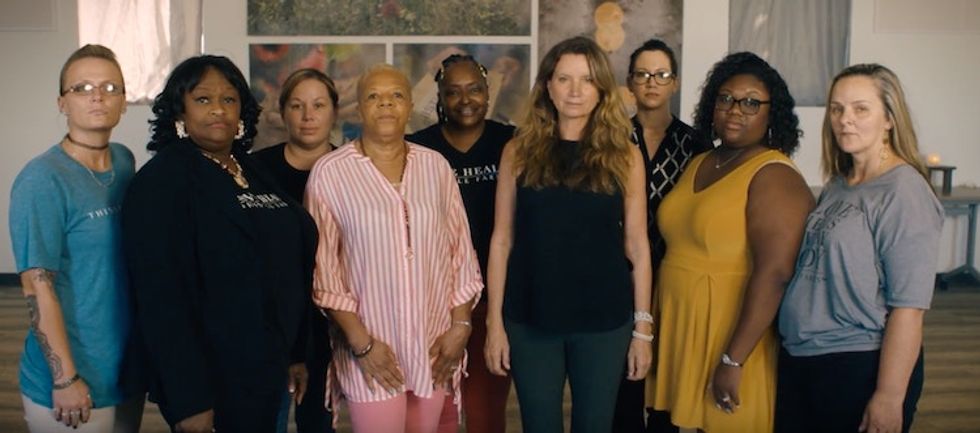 But Thistle Farms doesn't just provide women with a home where their physical, emotional and spiritual needs are met — it helps teach them how to become financially independent using skills they already have.
The women at Thistle Farms make products that promote sustainability and healing, which goes hand-in-hand with what the organization offers them.
The first product that the women at Thistle Farms made was a line of therapeutic candles crafted from healing oils. According to Stevens, the women involved in the process felt the healing powers themselves.
"That was the beginning of starting a business that was really not just healing but life-saving," says Stevens.
Today, they make everything from candles to body lotions and bath scrubs to essential oils.
Thistle Farms has also created several additional social enterprises that are thriving, a Global line to support worldwide partners, and a retail space and popular cafe in the heart of Nashville.
Through these ventures, Thistle Farms is able to provide survivors with physical and emotional assistance all while helping them forge a sustainable, financial path forward. The program has created over $1.5 million in income for women survivors in Nashville alone this past year, and Stevens and her crew are only working harder to reach more women survivors each year with services to help them heal.
Thistle Farms is able to persevere by creating opportunities.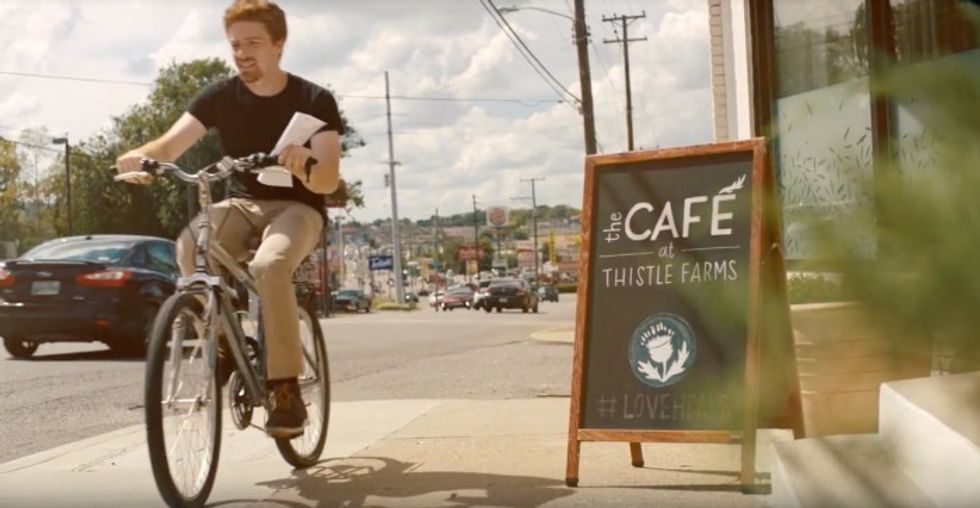 And it's through partnerships with nonprofits like Stand Together that the organization is able to uphold and deepen its goal of helping women thrive and succeed in their professional, personal and emotional lives.
Stand Together knows that one of the best ways to end the cycle of poverty — one of America's greatest problems — is by empowering others to believe in themselves. That's why they find, develop and invest in innovative solutions, and social entrepreneurs, like Becca and Thistle Farms, that are removing barriers and successfully empowering people to break the cycle of poverty in their lives and uncover their true potential.
It takes time, but if you ask Stevens, helping people unleash their potential and believe in themselves and rely on their community is the best way to make an impact.
"Create space and time for people to do their own healing work," she says. "If you have time and space, love and trust comes."
To learn more about Becca Stevens and Thistle Farms, check out the video below:
To donate to their cause, click here.
Stand Together invests in solving the biggest problems facing our nation today in order to unleash the potential in every individual, regardless of their zip code. By supporting social entrepreneurs like Stevens who're close to social issues like homelessness and have developed innovative solutions, the company is helping combat these issues in ways that are working. You can get involved and find a transformative org near you atStandtogetheragainstpoverty.org.
To find out which of these organizations supports your values, take this quizhere and let Stand Together do the searching for you.