Heroes
Patagonia put its money where its mouth is by refusing to sell to clients that destroy the environment.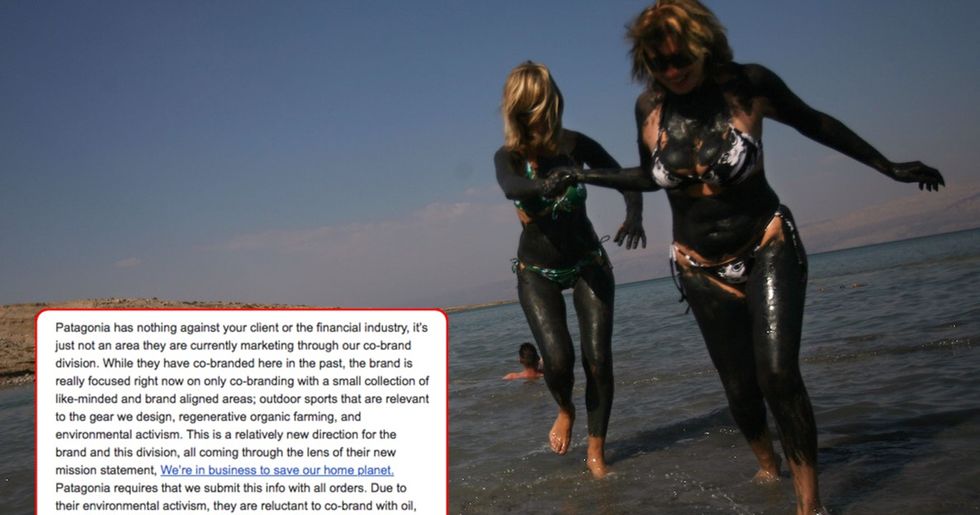 When the anonymous creator of the hilarious "Midtown Uniform Instagram page  moved from Los Angeles to Murray Hill in New York City, they were shocked by the number of residents — many of whom work in the finance industry — that wore the same outfit: button-down shirt, a pair of slacks, and a Patagonia fleece vest.
"On my way to work each day, I noticed dozens of guys rocking the uniform," they told Esquire. "Frankly, I was a little shocked. I didn't realize it was such a thing."
Well now it looks as though the finance bros in Midtown may be getting new wardrobes, because Patagonia is ditching corporate clients in the finance industry to focus on clients that align with its new mission to "save our home planet."
The corporate change went public after Binna Kim, president of the communications agency Vested (no relation to the clothing type), attempted to place a Patgonia order for a client and was rejected by a third-party vendor.
The end of the #fintech uniform?! Farewell #patagonia vests. https://t.co/3PpykELkZb

— Binna Kim (@Binna Kim) 1554130804.0
"Patagonia has nothing against your client or the finance industry, it's just not an area they are currently marketing through our co-brand division," the statement read, according to Kim's screen shot.
"While they have co-branded here in the past, the brand is really focused right now on only co-branding with a small collection of like-minded and brand aligned areas; outdoor sports that are relevant to the gear we design, regenerative organic farming, and environmental activism," the statement continued.
"I'm not too surprised that Patagonia is taking a closer look at how their brand is being used, and probably trying to not let Patagonia be synonymous with the 'finance bro,'" Kim told BuzzFeed News.
According to the statement, Patagonia is now turning down potentially lucrative deals from clients that engage in economically-damaging practices, even if they're a business, political group or religious organization.
This landmark decision by Patagonia to protect its outdoor-friendly brand is a smart business decision. However, it's also a great example of a company backing its brand promise and putting its money where its mouth is to protect the planet.