Top Splash
Florida mom started a 'Pandemic of Love' that's raised more than $15 million for people in need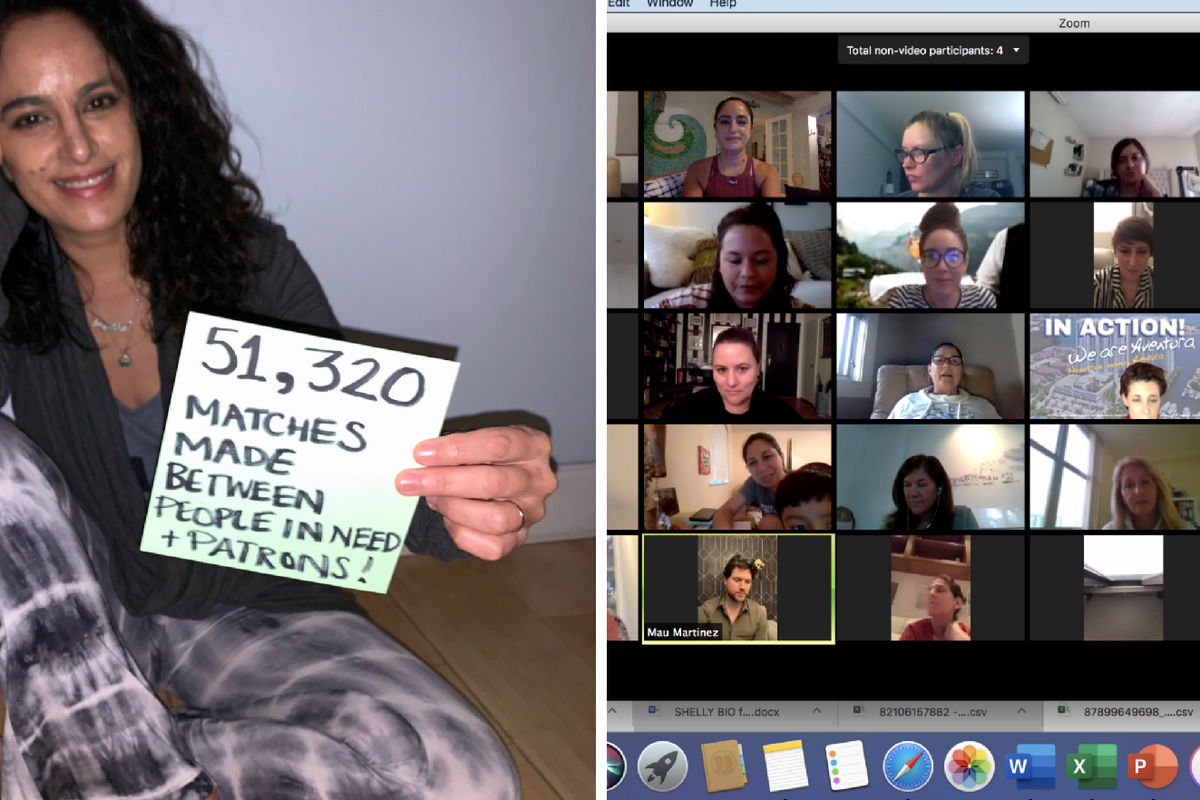 On a Sunday evening in late April, community activist and Pandemic of Love founder Shelly Tygielski received a surprising phone call. "It's Joe. I'm with my wife Jill," said a familiar voice on the other end. Shelly threw her hands over her eyes, completely in shock. She thought to herself, "Is Joe Biden really calling me right now? Is this a joke?"
Shelly started the grass roots, nonprofit organization Pandemic of Love on March 14, in her hometown of Lighthouse Point, Florida. She's a meditation teacher and social activist, participating as a precinct captain for Democrats, as well as teaching retreats using trauma-informed healing practices to those affected by gun violence and mass shootings. She also provides gifts and necessities for impoverished schools in Pahokee, Florida supporting the Hope Symphony and partnered with the Water Warrior Project to provide Navajo and Hopi natives with clean water each day.
---
Before the pandemic hit, Shelly conversed with the 15,000 members of her meditation practice, discussing the coronavirus crisis. She realized that many people around her area live paycheck to paycheck. It wasn't feasible for them to stock up on goods if they had no money. She put together a mutual aid concept for Pandemic of Love, reflecting on the main principle of mindfulness and care she preaches each day. She figured if individuals have essential needs like food, rent, transportation costs, etc. and people who have the privilege to fulfill them, a concept she's successfully done before, she could create something within her community to help people.
In less than 24 hours, her childhood friend from San Francisco saw her Instagram post about the new organization she created and wanted to replicate it. The next day, Shelly had 400 families fill out the get help application and over 500 fill out the give help forms. Shelly proceeded to start matching them one by one, painstakingly looking at each person's needs. Soon after, micro communities formed across the globe (Pandemia de Amor for Latin countries) and over 500 volunteers got involved.
The national volunteer team works all week, 16 hour days, matching donors in their neighborhood with a person in need. It's a tangible way for donors to also directly pay their match. Celebrities like Chelsea Handler and Debra Messing donated and shared Pandemic of Love on their socials and the volume grew further. One donor gave $10,000 to cover medical bills and funeral costs, another gave the same amount to single mothers in South Florida, while the next donated $25,000 to help struggling families. People have forged relationships and have come to know each other beyond the initial transactions. She's raised $13.5 million dollars in the last eight weeks.

When former Vice President Joe Biden called Shelly, she couldn't believe it. "I was dying, I could barely breathe. It was amazing to get that shout out," says Shelly. He called to tell her how proud he was. Biden said, "Thank you for the wonderful things you are doing, you're changing people's lives. When I announced a year ago I was running, I said I was running to restore the soul of America. You are the soul of America."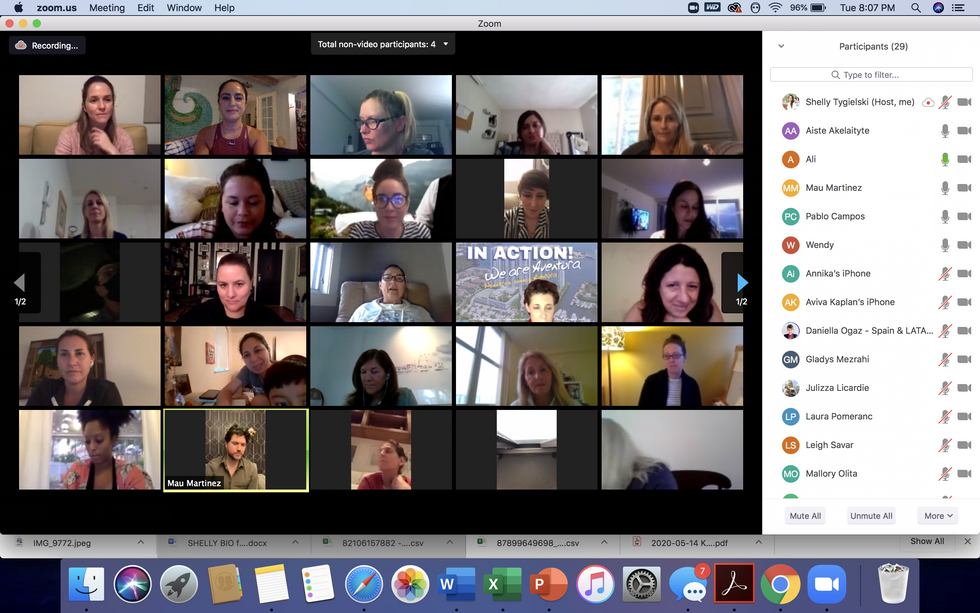 This week, I joined Shelly and 35 volunteers across the country for a virtual party to celebrate the organization hitting 100,000 matches of donors and recipients. One volunteer, Simone Handler shared about her contribution as a donor. She lives in San Francisco and met Shelly at a conference involving the survivors of the Parkland shooting in Florida last year. Simone matched with Broadway singer named Mauricio Martinez, a four-time cancer survivor suffering from depression, who lost work due to Covid-19 while living in Manhattan. "He didn't really ask for much," says Simone. "I texted him asking what he needed and was struggling with. I told him that I was there for him. He was always so gracious and thanking me every time I helped him out," she says. "I'm happy to be friends with him now and hopefully see his career come back when all this mess is over. It's a joy to know him, see his talent and hear from him every few days."
Mauricio responded by saying that he feels so lucky and grateful. When Simone started helping him out, he couldn't believe it. Most of his family lives in Mexico over 2,000 miles away from his home in New York. "I'm all by myself in this crazy city," he says. "I know firsthand as a cancer survivor how important generosity and kindness are. Simone has definitely brightened up my life and days. It's forced us to be connected and create a bond. Simone is a bond that I will have for life. I will never forget this." His way of giving back was singing a beautiful rendition of "Being Alive" from the musical Company for all of us.
As the celebration continued, Shelly raised her wine glass for a toast. "It takes one act of kindness, one idea—but if no one else latches onto that idea and if nobody else actually jumps on board, or decides to rise up, then it's not a movement. None of this would ever be possible. I'm absolutely grateful because it's a movement of us," she says. "This is a collective— something that can continue long after this pandemic is over and there is a vaccine. This human connection is so important. People need to be seen and heard. It's so beautiful to offer and get in return. I want to create a tsunami of love. Long after the coronavirus is dead, the virus of love can still be alive."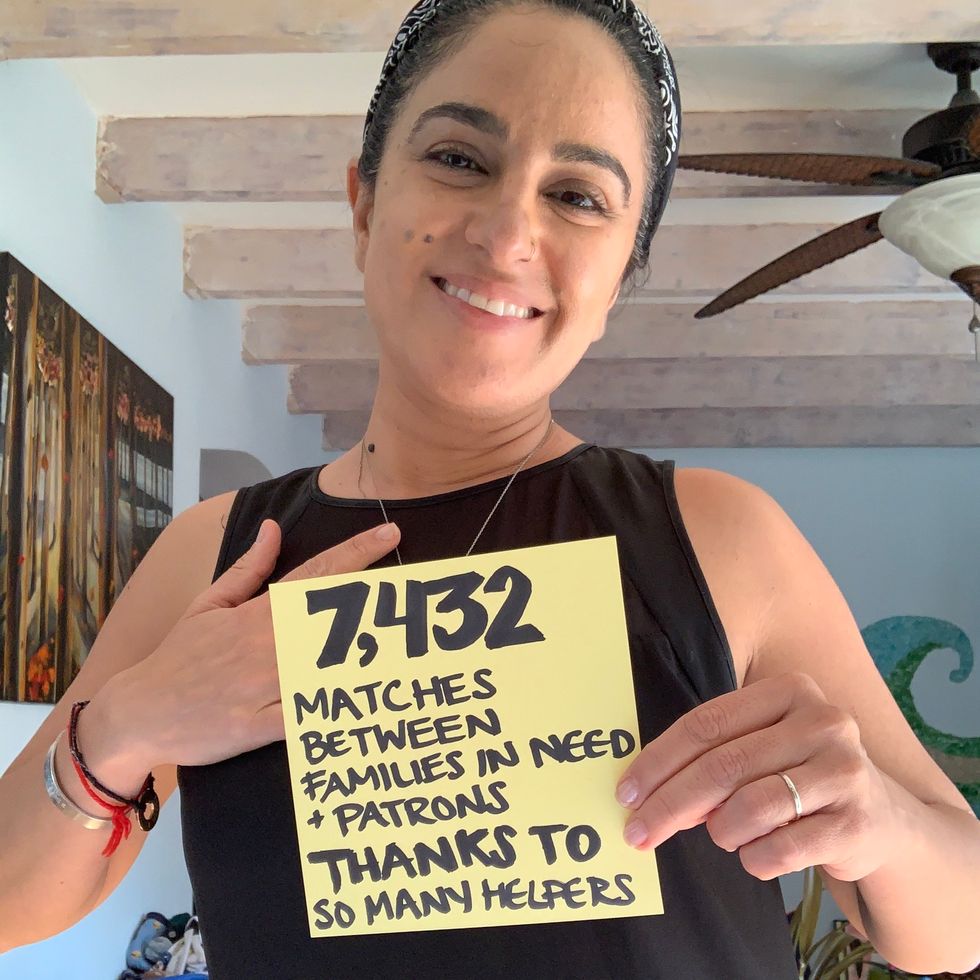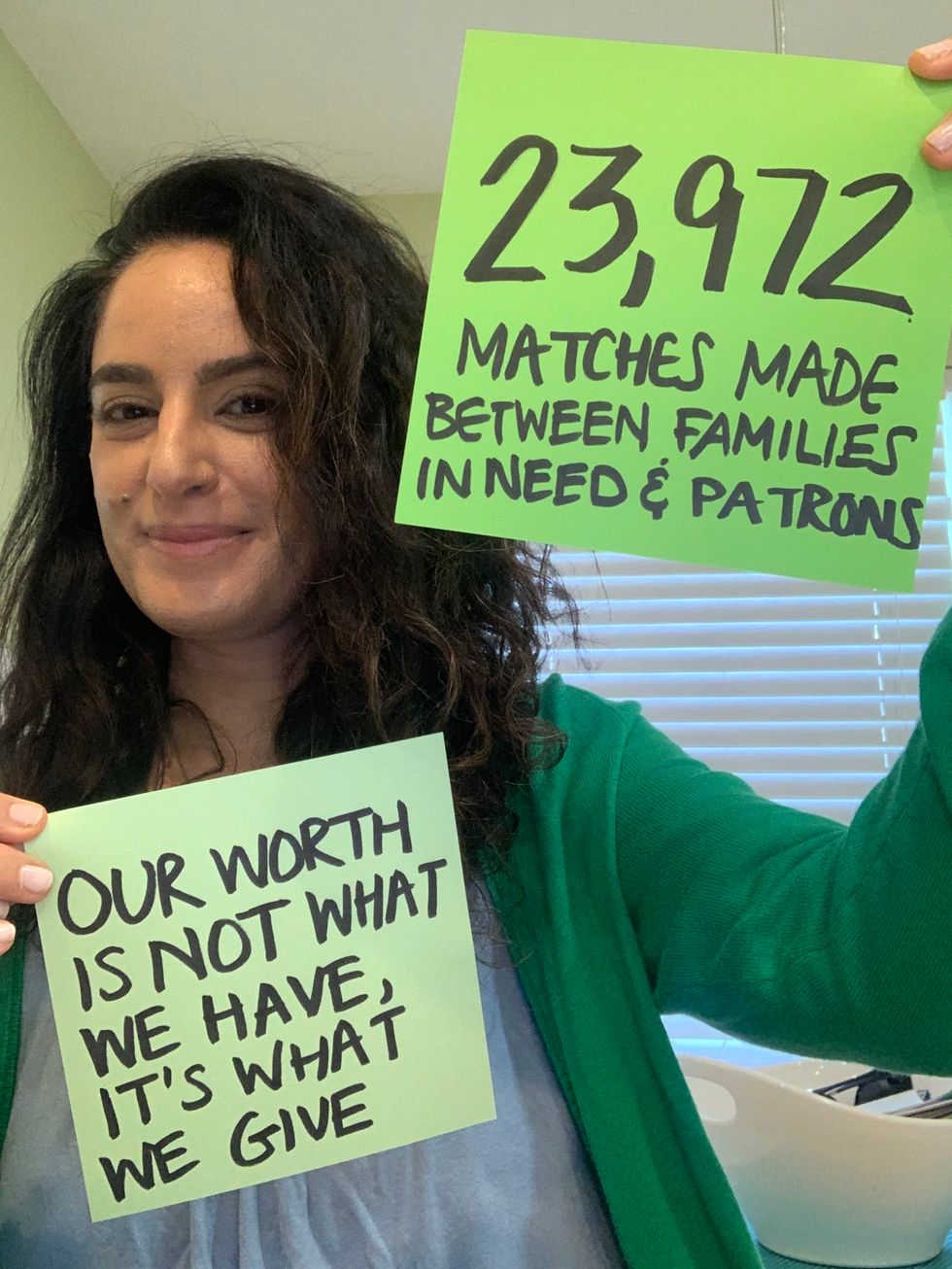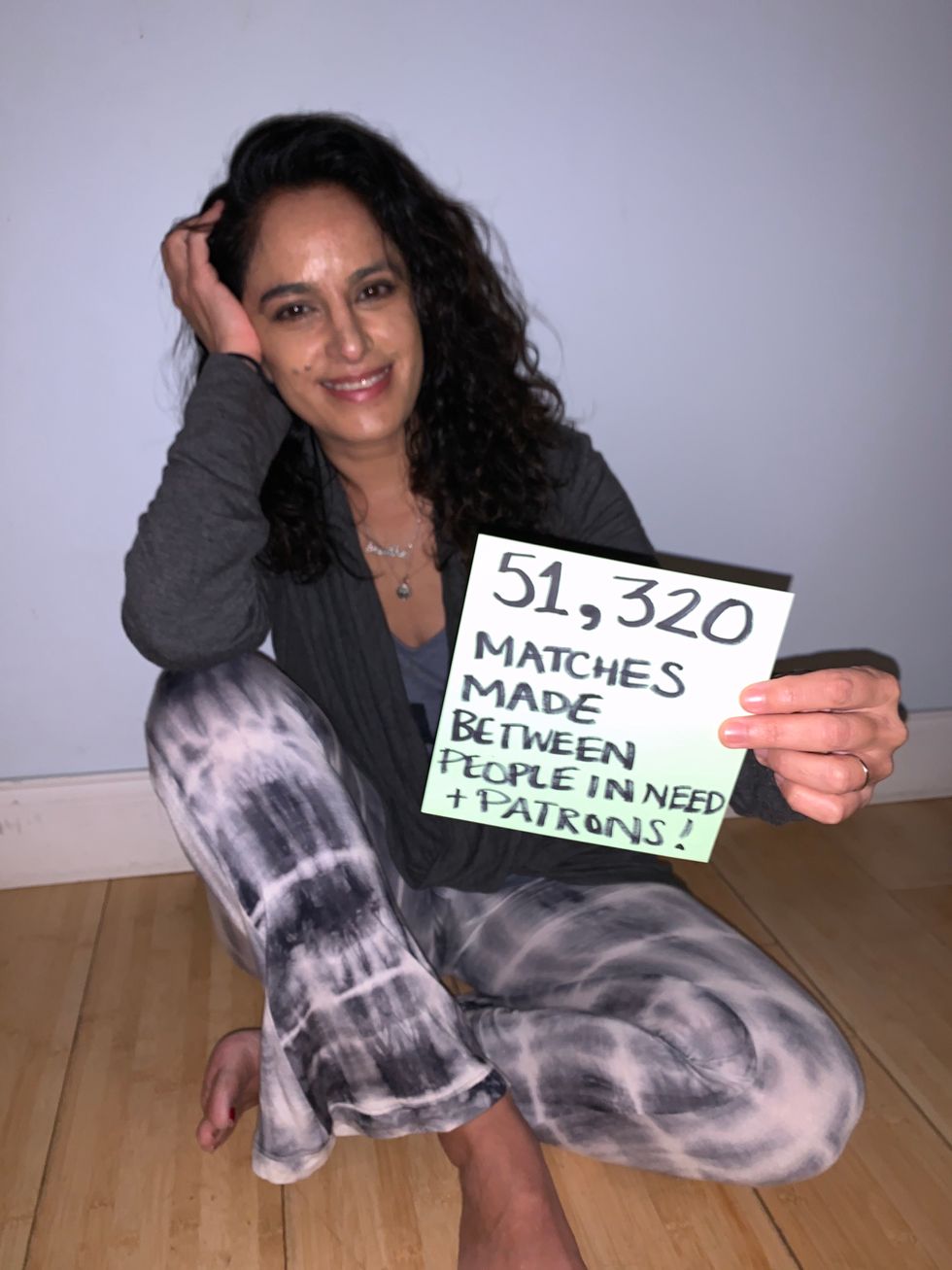 In the wake of the Pandemic of Love milestone, Upworthy spoke with Shelly about how to get involved and her plans moving forward with the charitable acts of kindness.

After a person who needs help fills out the application on your website—do you hear their story and decide if they really need help? How does it work?
If a donor is willing to give a $100 gift card to a super market, then the vetting is very light. We will Google the recipient, see their social media presence and match them by email. No money ever runs through Pandemic of Love. We are not a 501(c)(3). We are a volunteer based organization and none of our volunteers or area leaders ever touch money. We don't need to file anything. It's so simple and that's why it's exportable and why it can continue to grow. The beautiful thing about this is that it's a direct give. The donor will use Venmo, write a check or send e-cards. Say you, as the donor, just sent Sally a Walmart card for $100 so she can buy food for her child. That's where the human connection comes in. Now, I know Sally and I can text her and call her. In two weeks, I can follow up and say, "Are you going okay on food? Do you need anything? How can I help you?" That's the beauty of it. There is that human connection.
What happens if someone needs more than $100? Do they need to provide more substantial proof?
If it's over $250 dollars, and a person needs help with rent or they've been evicted, like some people in Alabama experienced in the early stages of Covid-19, we ask them to send us a letter and phone number of the landlord and our volunteers will call. They have also become advocates, as well. Our volunteers will negotiate with the landlord and then pay them. Every week, I do two trainings on Zoom for our volunteers and I train hundreds of them. We have 540 volunteers, but that's the core leaders of our areas and communities. Beyond that, they have other volunteers who help with vetting and social media. The truth is, I don't even know how many volunteers we have anymore. It's crazy that our network is so vast now. Our affiliate micro communities even have their own Instagram and Facebook accounts too.
Cities, states and other countries are creating micro communities out of Pandemic of Love. How are you training all these volunteers?
In order to start, you click get involved. You send us an email and we ask you about yourself and then we call. A rule of thumb is that you need at least five volunteers that are already recruited. When I first started, a person in Long Island reached out who wanted to start a micro community. Then three weeks later, that person didn't have time anymore. It was a problem. Once you get your volunteers, we train all of them at once. There are also a few steps you need to take. You have to watch a YouTube training video I made, you watch a best practice Zoom call that was recorded and you have to upload things to a master contact sheet and create your socials. Then we create the links that you can edit, give links for sharing and then we put it on our website. It can take three to four days or a couple of weeks to get it together.

Do recipients ever become volunteers?
A lot of people in need are now volunteers. Once you are matched, you are put in our archives, so you can go back and fill out another form if you need more help. But if you come up 37 times in our sheets, we flag them. We try to get back within 24 to 48 hours. Suzie Israel is a recipient and received a few times and now she helps and gives back with her computers skills in Asheville, NC. Volunteers help with social media. I don't know if this organization would exist outside South Florida without it. I don't know if donors or celebrities would have found us. The people in the pandemic of love family are all on a What's App chat group and we chat every day—Now, everywhere I go in the country, I know someone who has helped with this organization.
Have you found people to be deceptive?
Sure, of course. People can be assholes, too. There are days when I think why am I even doing this? Why is this person such a prick? Then you get these amazing stories and you remember why. We weed people out. We aren't investigative reporters or the CIA. At the end of the day, if your quality of life is going to be changed by giving a person $100, then you shouldn't. There have been people who aren't as grateful. There are people that sometimes will have multiple people in their household fill out the forms or use different names. We catch those. People who try to scam the system aren't always the smartest. People send us these crazy stories—there is a woman who wrote something that could have been a sci-fi movie and then we flagged it. We respond kindly. We tell them that we are sorry for their suffering and ask them to provide a picture ID. Of course, we also want to protect our donors. Usually they don't respond or make up some excuse. Or we ask to pay a bill directly and that weeds people out. There are sometimes bad apples in the bunch. This goes back to my Buddhist philosophy, but we have to assume every individual is suffering, and the way they are treating you stems from that place of suffering. We try to do the best we can.
Can a donor help more than one person?
They totally can. When they fill out the form, it indicates if they want to give one time only, more than once, or if they would be interested in being matched with more than one family. You indicate what you want and then we match people. If you've written that you want to give twice, before we match you a second time, we'll ask if you're ready with the next match. Donors sometimes don't follow through and sometimes the needs change or the ability to give changes, which is totally understandable. We saw more of that in the beginning because people were furloughed. But a lot of times donors will give a $100, but then you've talked to the person in need, you bond and you realize that they really need a lot more. Most times the donor ends up giving way more money. For example, we've had so many people send Amazon Prime or Target diapers, wipes, formula and other types of things directly to their home in addition to giving them money.
Why not file Pandemic of Love with the government?
My gut and every fiber in me says no. I'm so not reaching out to the government. The problem is that you have all these fees you have to pay and people don't think you are transparent enough. There are also limitations of who we can help, such as undocumented workers. I feel like if it doesn't help the cause, then, why do it? So, I can get a salary? That sounds absurd to me. Maybe in the future if this continues, proliferates and grows, I would hope there would be somebody who sees the value in it like an organization or an independently wealthy person and ask me, "What's it going to take you to do this full time?" The truth is, who knows. It's a new day and we need a new model. It's not all about helping people financially either. Even though that is very important, a lot of people have the saddest stories and really don't have anybody to turn to. They have no one to ask for help. To be able to feel heard is priceless. To think someone cares enough—who you don't even know—to call, reach out and then write a check or transfer money—it makes people feel good. It's that transaction of getting to know someone that's a game changer.
This must be a ton of work.

I'm not going to lie, I'm extremely exhausted. I've been working over 15 hour days in addition to everything else going on in my life. But I do have a core of volunteers here in Fort Lauderdale— HQ as I call it—and they are amazing, amazing women. Mallory, who is a school teacher, and still teaches every day in Chicago on Zoom, was recently on the morning news talking about us. She works all day then gets on our spreadsheets and starts helping people. She's a hero. All our volunteers are heroes. I do want to say that every volunteer around the world but two are women. Isn't that insane? Not by design. We have one man in Spain and another in El Salvador, but every person who has reached out to help or start a micro community is female. The majority of donors are women too. Not shocking to me, to be honest, because women have such a nurturing quality.
Are you a donor?
I've donated way more than I have or can afford. It's ridiculous at this point. I'm like the saddest sap ever. When people are short on money or it's 11 p.m. at night and I'm going through the sheets and trying to clear out my inbox and a message comes in like "My kids aren't going to be able to eat tomorrow," I'll Venmo that person a $100. I've helped a lot of people. There is a girl in Portland, Oregon who was a college student who has Lupus and every Monday without her even asking, I'll send her money for groceries. One woman is an undocumented worker around Los Angeles and she has three beautiful daughters and I've sent them a ton of stuff from Prime to their house and that helped them tremendously. I've personally given to them, but I've also gotten other donors to give. There is a 16-year-old who found me on Instagram through Debra Messing's posting. Her father died from coronavirus last weekend. She told me that her family couldn't claim his body because they are also undocumented workers and they have no money for cremation or anything. I told her to fill out the form and we found a donor who paid for the cremation and the funeral. People are changing lives every day.
Are there more people who give or more that need help?
We get a ton of people wanting to help from states that seem to be more liberal-minded and a ton of states requesting help that aren't. There is always more people who need. It can be disheartening sometimes to look in your sheets and be like, "I have 500 people who are asking for help and I only have 150 donors, what am I going to do?" The thing is that it ebbs and flows at any given point in time. The ratio across the board, and it doesn't matter what county you are in, what state or what city, for every one donor, we have three people in need. But then we will get a boost, like when Chelsea Handler posts and then we get donors all around the country. Suddenly, we will have no more requests and we have matched everyone. But it's also a double edge sword. You are going to get more people who are requesting help, but then we will also get more micro community leaders and volunteers, which we have in every major city. Getting the word out there is ultimately the most important thing.
I know celebrities like Chelsea Handler and Debra Messing have helped social media-wise. Have any famous people been the donors?
Chelsea and Debra have been donors. Debra, for example, has sent emails to her personal network and recruited a lot of people in the industry like producers, writers, casting directors. She has been such a godsend. Busy Philipps is also the bomb. She has actually been helpful from the very beginning. She also donated money for a flatbed truck to help in our Water Warriors project of supplying water to reservations who have no running water or access to electricity, which is also on our website. I'm friendly with Chelsea and have known her for a couple years. She comes to my meditation retreats. She's so generous and lovely. She's been such a huge help with this. Kristen Bell shared about us in her stories very early on. I'm so grateful.

What story really stands out to you of people helping each other?
There is this New York public school teacher named Shean who was diagnosed during the pandemic with throat cancer. He was randomly partnered up with this woman Beth who is in Hollywood, Florida, so they are worlds apart. She's a Reiki instructor and therapist and has three kids. He is a single dad in the Bronx. His aunt passed away from Covid-19 and his grandma was sick. Well, Beth had thyroid cancer years ago. They talk every day, Facetime and she texts him affirmations every morning. She does therapy sessions with him. She sent him a huge care package with foods that are holistic and perfect for his battle against cancer. He sent me this beautiful, unsolicited email that I received a few days ago. It read: "You saved my life. Pandemic of Love saved my life." I read that email and cried.
What was the most heartfelt connection you've witnessed?
I lost my best friend Helen to ovarian cancer last April. This woman named Susan Patterson who lives in Framingham, MA sent me an email a few weeks ago. She wrote that her organization, Ovations for the Cure, needed money to support women in the late stages of ovarian cancer. She started the organization when her best friend Patty. Then she lost her battle with cancer. After that, all of their events were cancelled from Covid-19, so Susan had no money coming in. She explained that she only had enough money to support these women for the next 30 days. They provide meals for women, clean houses, home care— things insurance doesn't cover that can become stressful. Susan wrote me in desperation because she didn't know what to do. We were able to match $14,000 in two weeks. She is now set for the next 90 days. One of our donors who is a doctor in Miami donated $5,000 and helped a single mom with ovarian cancer and another in her final stages through the organization. Afterward, Susan sent me this heartfelt letter with a bracelet she created when Patty passed away. Teal is the ribbon color for ovarian cancer, so it had a teal heart, a diamond for hope and a charm of a butterfly. I lost it completely when I read the letter. I cried and cried. Before my best friend Helen died, she told me she was going to come back as a butterfly. I never told Susan this. But she explained in the letter that Patty told her that butterflies remind you of people that you love. It was so heartfelt. I can be on the phone with you all week and not be done with these stories.
What is your hope for Pandemic of Love?
Every single day of my life, I want my son who is now 18-years-old, be able to see all this in action. He gets to see a culmination of all these efforts and organizing. We all get to see that one person, one act of kindness, just one act can actually change the world. Nothing is too small. My hope is the concept of mutual aid becomes institutionalized, concreted and supported. I hope it's something we return back to from the nostalgic days—when people actually knew their neighbors, cared, supported and helped each other because that's what we need to be able to survive. I feel like that's going to be a need that we have long after this pandemic ends. If it's not a pandemic, it's a natural disaster. There is always something happening in this really crazy world we are living in. Ultimately, having those structures in place makes it so much easier to get through the hardships that everybody has to face together. I get to go to bed every night feeling good, thinking we all made a dent and made a difference. It's really important. I definitely hope this lasts long after the pandemic.
Have you processed what a difference you've made in this world?
To be honest, in talking to you, I don't realize it. When you are so muddled in it every day matching, putting out fires, answering questions, issues, forging partnerships with tribe members and groups, you don't stop to think about it. One day, I'll be able to sit back and think how cool it is.