More
Meet Jenny, a horse that has been enjoying daily walks through town for 14 years—all by herself.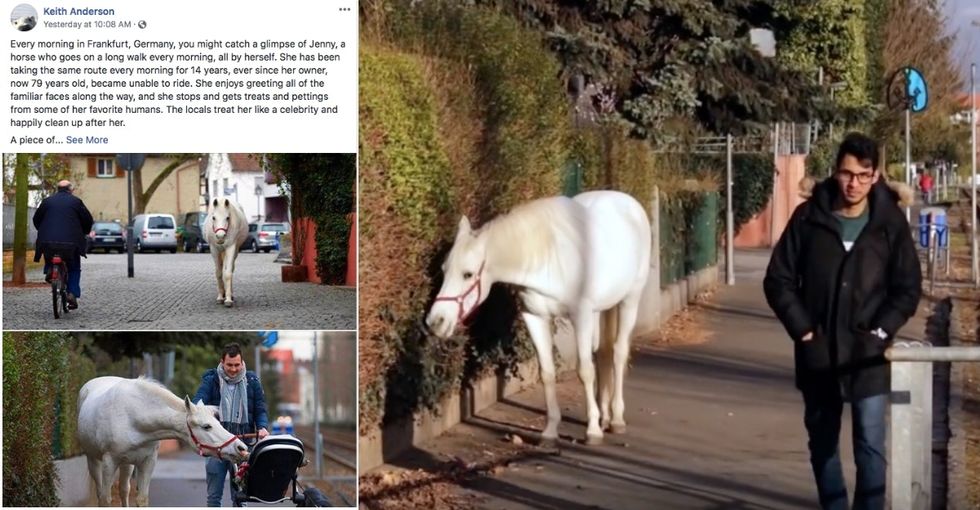 If you met a horse with no owner wandering through a city, you'd probably assume it was lost. But not if you met Jenny.
Raphael Wöllstein was walking his baby in a stroller on his way to the train, when a white Arabian mare wandered over to say hello. It was nothing new, however. Jenny the horse has been taking daily walks through the Fechenheim district of Frankfurt, Germany for the past 14 years. Visitors are often surprised to see her, but locals simply greet her as she passes.
Jenny's owner, 79-year-old Werner Weischedel, opens the stable doors for the 22-year-old mare every morning. He used to take her on walks through town, but is no longer able to. So now Jenny walks herself.
---
Jenny wears a note that tells people she's not a runaway—she's just out for a walk.
Jenny's halter has a plastic sleeve attached that holds a handwritten note: "I'm called Jenny, not a runaway, just taking a walk. Thanks."
The note keeps Frankfurt police from having had to field concerned phone calls from people who aren't used to seeing a horse wandering the streets by herself. Indeed, most of us would be worried she had gotten lost or run away, but Jenny has proven over the years to be perfectly happy and safe in her daily sojourns through town.
Weischedel told FNP that he and his wife's German shepherd, Evita, sometimes joins Jenny on her walks. Police say they've never had an incident with her in 14 years.
People are loving learning about Jenny and her place in the community.
Facebook user Keith Anderson shared Jenny's story on Facebook, and in less than two days, the post has been shared more than 250,000 times.
"Be still my heart! Oh how I love this story! Thank The townspeople for their love of this amazing wonderful horse," wrote one commenter.
Another wrote, "I love this! I love Jenny! I love her beautiful owner! I love the darling sign he gave her, and I love the entire community's responses to her! This just warms everyone's and my heart up!"
People love the fact that Jenny is allowed to wander at will and that the townspeople understand that this is a thing. While no one would recommend letting horses wander around towns as a rule, Jenny's unique relationship to her community is touching people's hearts and making people's day.