Pop Culture
Watch this news correspondent switch between six different languages—fluently—in Kyiv report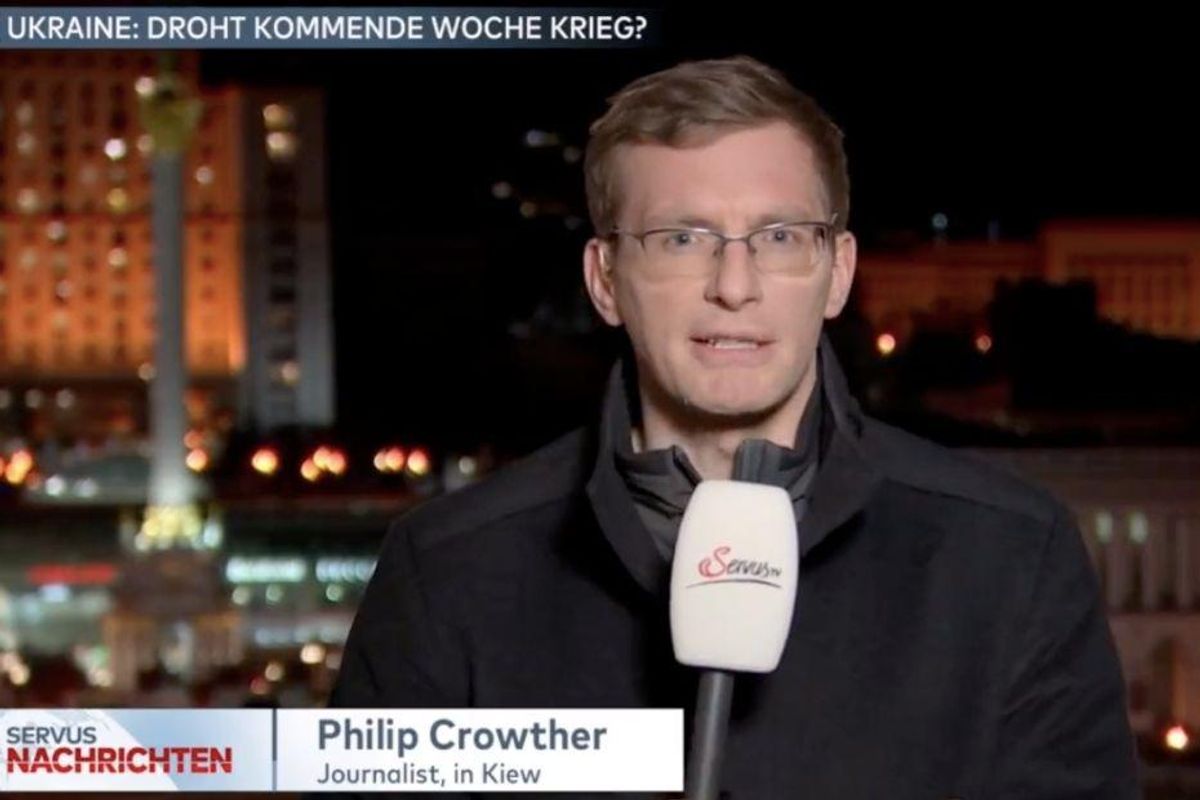 In many places around the world, being able to speak more than one language isn't uncommon. But being able to speak six? That's unusual just about everywhere.
Philip Crowther is an International Affiliate Correspondent for the Associated Press. He hails from Luxembourg, a tiny country nestled between Belgium, France and Germany, so perhaps it's not surprising—though still impressive—that he speaks at least Luxembourgish, French and German fluently.
But he also speaks Spanish, Portuguese and English—and can report the news in all six of those languages. (And according to fluent speakers in the comments, he does it beautifully, with just a slight bit of an accent.)
---
Check out Crowther in a compilation of news reports on the Russia-Ukraine situation from Kyiv:
Six-language coverage from #Kyiv with @AP_GMS. In this order: English, Luxembourgish, Spanish, Portuguese, French, and German.pic.twitter.com/kyEg0aCCoT

— Philip Crowther (@Philip Crowther) 1645444876
Isn't it amazing that these are just six of the thousands of languages humans use to communicate with one another? Linguistics is endlessly fascinating.
People were rightly impressed with Crowther's polyglot abilities. With the European Union having 24 official languages in a land area only a little bit bigger than the United States, it's much more common for people from Europe to be multilingual. People from small, landlocked countries like Luxembourg and Switzerland are especially likely to speak several languages, but even for them, to be fluent enough in six of them to report in them in a live news broadcast is impressive.
But no one speaks these languages this fluently with the perfect accents!\n\nItalian: 3 languages & my father spoke 5\u2026none like this!

— BioAnnie Loves Justice #VOTE (@BioAnnie Loves Justice #VOTE) 1645560774
No, this is flat out amazing. I am European through and through, grew up bilingual, had more languages in school, lived in various countries. I can get by in a lot of places. But that\u2019s very different from reporting from a crisis zone in six languages fluently and without accents

— Melanie Stefan (@Melanie Stefan) 1645538451
Ehm, i'm a linguist (speak 3 fluently, understand 6) and this is still massively impressive ... not only can he speak the languages, but his accents are also almost flawless!

— e-n M (@e-n M) 1645522406
Even the language learning app Duolingo weighed in on Crowther's news reports, followed by a hilarious dig from a user. (Duolingo likes to send reminders and prompts to practice or to learn another language, which may or may not be super annoying.)
While it is impressive that Crowther can speak six languages, it also highlights a big hole that humanity has yet to fill: a universal language. We live in a time when, thanks to advances in technology and transportation, our global community is growing smaller and smaller. But while we are able to connect with people almost anywhere in the world, we are still limited in our ability to communicate due to language barriers.
Imagine if everyone in the world learned their native language and a universal auxiliary language at the same time growing up. We would be able to retain the unique cultural richness of our native languages while at the same time being able to communicate no matter where we go. Our universal language could be one chosen from the existing languages, or it could be a language invented for such a purpose, like Esperanto. It would solve so many problems and make life on Earth so much easier—it's just a matter of getting all countries on the same page with the need for it (which is pretty inarguable) and with which language to use (which is definitely arguable).
In the meantime, we can simply marvel at the humans who are able to keep multiple languages straight in their minds. Well done, Mr. Crowther.