Culture
Japanese women aren't allowed to wear glasses to work because they give a 'cold impression.' Here's how they're fighting it.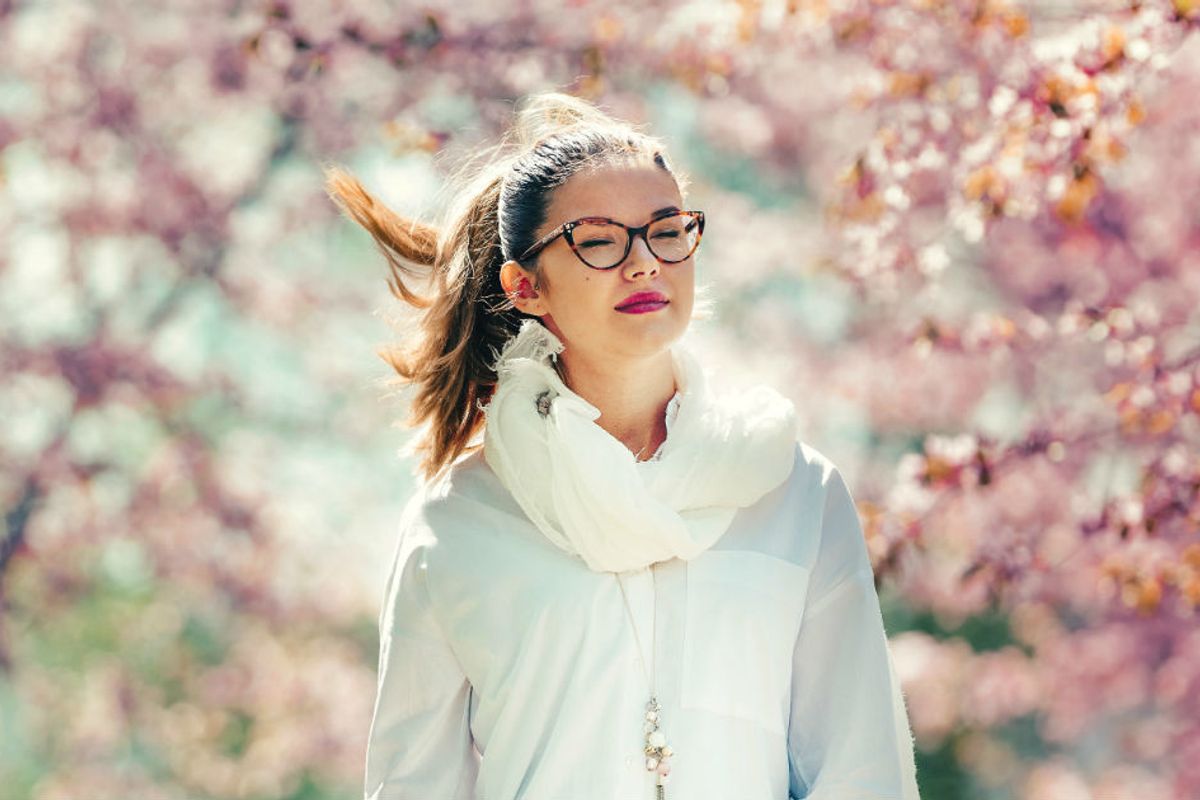 Are looks more important than the ability to get through a long work day without ending up with eyes so dry and painful you wish you could pop them out of your face? Many employers in Japan don't permit their female employees to wear glasses while at work. Big shocker, male employees are totally allowed to sport a pair of frames. The logic behind it (if you can call it that) is that women come off as "cold" and "unfeminine" and – horror of all horrors – "too intelligent."
Women are given excuses as to why they can't wear glasses to work. Airline workers are told it's a safety thing. Beauty industry workers are told they need to see makeup clearly. But men apparently don't have the same safety issues as women, because they're allowed to wear their glasses square on the face. Hospitality staff, waitresses, receptionists at department stores, and nurses at beauty clinics are some of the women who are told to pop in contacts while they're on the clock.
---
Wearing contacts for long periods of time can lead to dry eyes, and they hurt like a mother. A woman identified Ms. A told Business Insider she wears contacts for 12 hours a day (including her commute). "There are times when it's bad whatever I do," Ms. A told Business Insider, "and there are often mornings where I just think to myself, 'I wish I could wear glasses.'"
Ms. A also spoke about how her job had strict requirements for her appearance, but those requirements came with a double standard. "It seems like only women are being asked for the appearance of beauty and feminine that isn't imposed on men," she told Business Insider. She said that her appearance should not be what matters when it comes to her job. "It should be the thoughtful attitude I have towards clients [rather than my hair] that matters. I want the rules to be reviewed," she said.
Women in Japan are fighting back against the unfair requirements, and the hashtag "glasses are forbidden" is trending in Japan. It's not a sponsored hashtag for Lasik, it's a cry for women to be treated like it's the friggin' 21st century. One Twitter user even posted that she was forced to wear contacts after recovering from an eye infection. Ouch.
"Japanese women fight for right to wear glasses to work." One woman who works in restaurant tweeted that she was r… https://t.co/hBmZB9SKgM

— Trypophobe (@Trypophobe) 1573271117.0
Amid headlines that companies in Japan are banning women from wearing glasses at work, here is a selfie of me weari… https://t.co/8hohzh0d4c

— Rose LaBreche (@Rose LaBreche) 1573245575.0
To all the women over in Japan wanting to wear glasses at work this ones for you! I hope you get your way!… https://t.co/5PyI9ZXvLx

— Tonya The Golden Eclectic Warrior (@Tonya The Golden Eclectic Warrior) 1573235642.0
@GlobalFundWomen Again, men are obsessed with what women can wear. It's more important what we look like than how w… https://t.co/D4xGHifn8A

— 瞳「Hitomi」 (@瞳「Hitomi」) 1573394975.0
#メガネ禁止 (Ban on Eyeglasses) is trending. It's about workplaces where women are made to wear contacts for better appe… https://t.co/SAmOWUBuQ0

— Yuuki (@Yuuki) 1573001990.0
This isn't the only time Japanese women have complained about painful beauty requirements at work. Earlier this year, Yumi Ishikawa led the charge against high heel requirements, creating the hashtag #KuTu. In June, Ishikawa submitted a petition asking the government to ban dress codes that discriminate against women, such as a requirement to wear high heels. "If wearing glasses is a real problem at work it should be banned for everyone — men and women. This problem with glasses is the exact same as high heels. It's only a rule for female workers," she told Bloomberg News.
Japan doesn't have the best track record when it comes to sexist standards. A 2018 report from the World Economic Forum ranked Japan 110th out of 149 countries in terms of gender equality. It's at the bottom of the G7 countries when it comes to gender equality.
This isn't the 1950s when everyone had to wear the same Henry Kissinger-eque pair of glasses and phrases like, "Guys don't make passes at girls who wear glasses" were spoken without irony. Glasses are a medical aid, not a fashion statement. It's not unreasonable for women to want to be able to see at work without ending up in searing pain at the end of the day.