All images provided by Bombas
True
We all know that small acts of kindness can turn into something big, but does that apply to something as small as a pair of socks?
Yes, it turns out. More than you might think.
A fresh pair of socks is a simple comfort easily taken for granted for most, but for individuals experiencing homelessness—they are a rare commodity. Currently, more than 500,000 people in the U.S. are experiencing homelessness on any given night. Being unstably housed—whether that's couch surfing, living on the streets, or somewhere in between—often means rarely taking your shoes off, walking for most if not all of the day, and having little access to laundry facilities. And since shelters are not able to provide pre-worn socks due to hygienic reasons, that very basic need is still not met, even if some help is provided. That's why socks are the #1 most requested clothing item in shelters.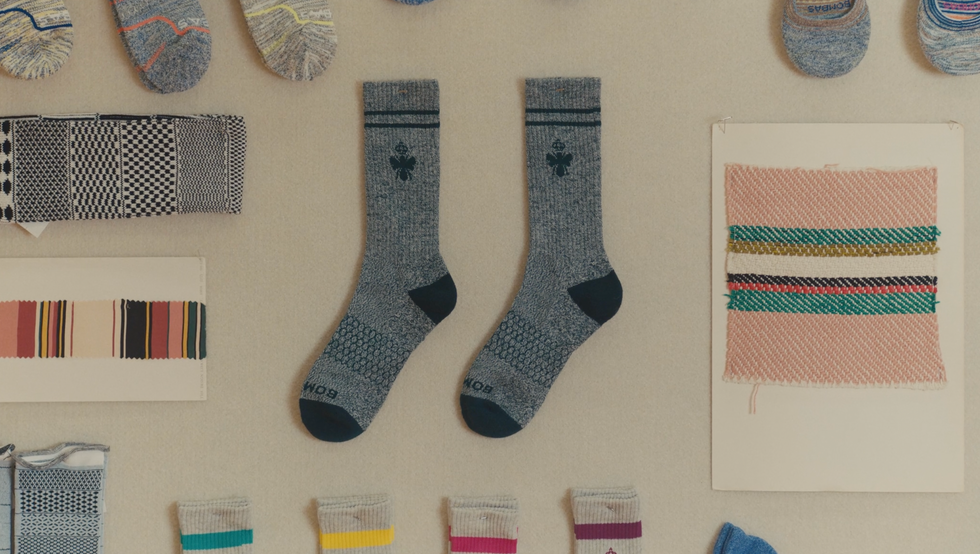 Socks are a simple comfort not everyone has access to
When the founders of Bombas, Dave Heath and Randy Goldberg, discovered this problem, they decided to be part of the solution. Using a One Purchased = One Donated business model, Bombas helps provide not only durable, high-quality socks, but also t-shirts and underwear (the top three most requested clothing items in shelters) to those in need nationwide. These meticulously designed donation products include added features intended to offer comfort, quality, and dignity to those experiencing homelessness.
Over the years, Bombas' mission has grown into an enormous movement, with more than 75 million items donated to date and a focus on providing support and visibility to the organizations and people that empower these donations. These are the incredible individuals who are doing the hard work to support those experiencing —or at risk of—homelessness in their communities every day.
Folks like Shirley Raines, creator of Beauty 2 The Streetz. Every Saturday, Raines and her team help those experiencing homelessness on Skid Row in Los Angeles "feel human" with free makeovers, haircuts, food, gift bags and (thanks to Bombas) fresh socks. 500 pairs, every week.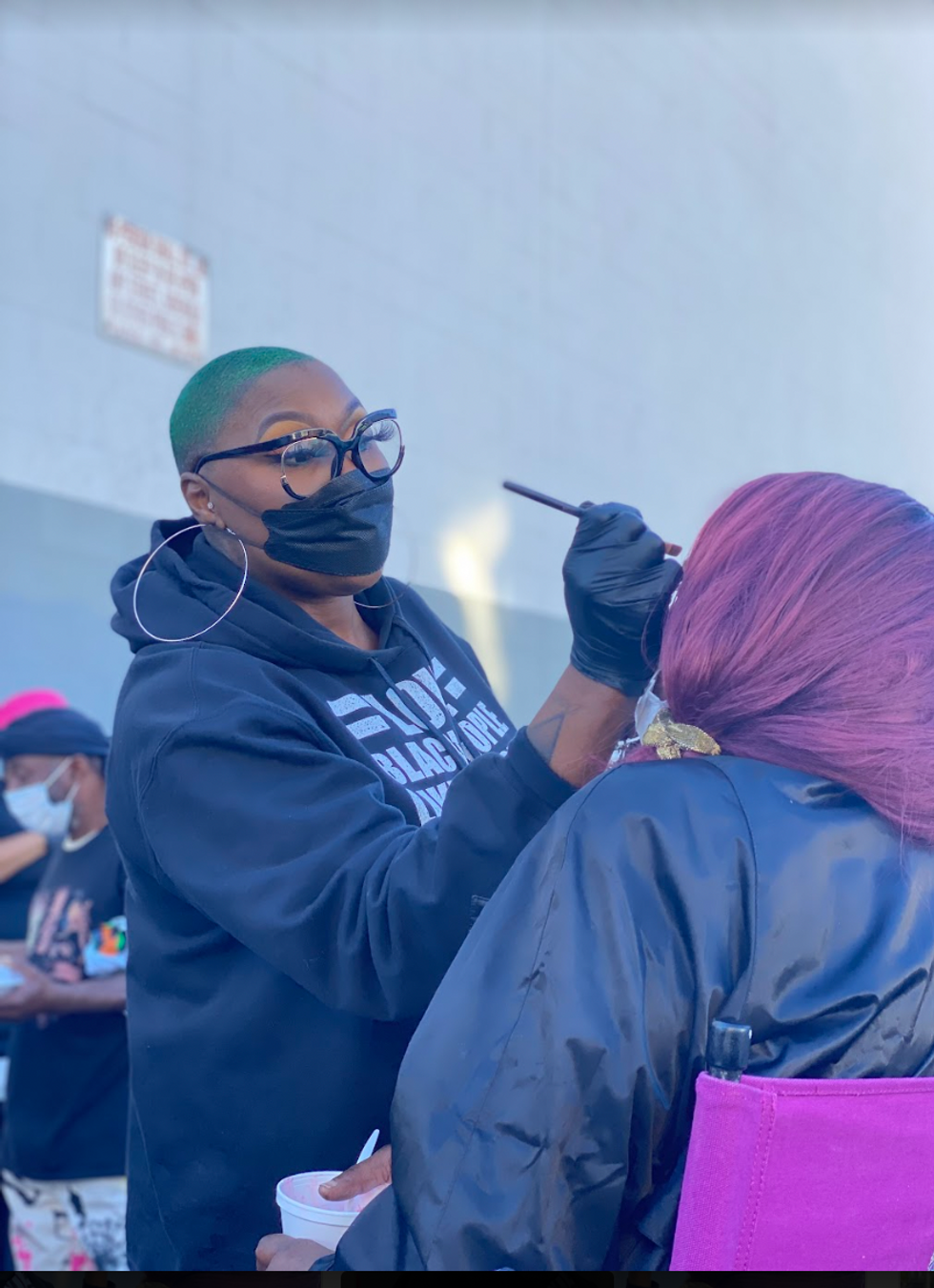 Raines is out there helping people feel their beautiful best
Or Director of Step Forward David Pinson in Cincinnati, Ohio, who offers Bombas donations to those trying to recover from addiction. Launched in 2009, the Step Forward program encourages participation in community walking/running events in order to build confidence and discipline—two major keys to successful rehabilitation. For each marathon, runners are outfitted with special shirts, shoes—and yes, socks—to help make their goals more achievable.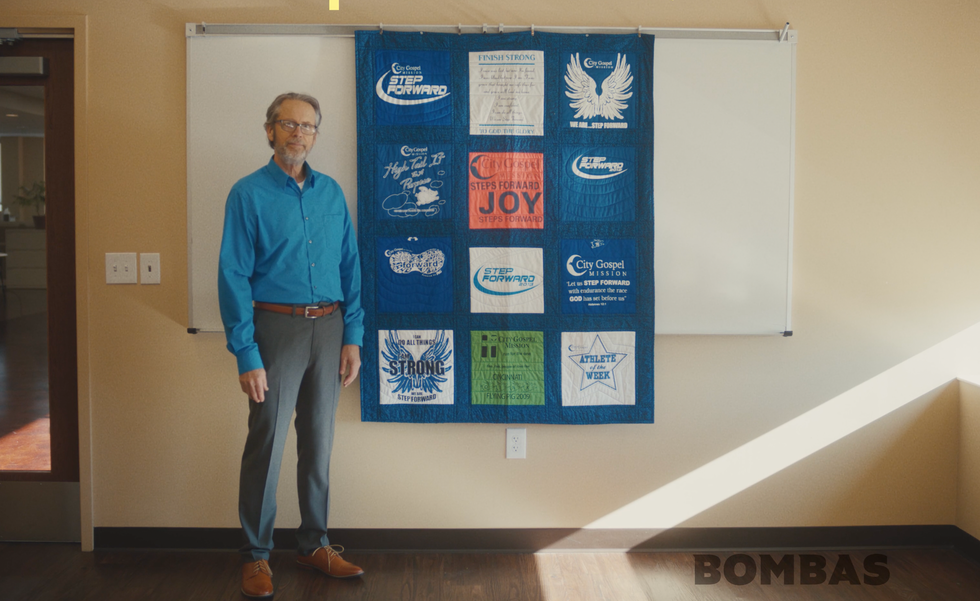 Running helps instill a sense of confidence and discipline—two key components of successful recovery
Help even reaches the Front Street Clinic of Juneau, Alaska, where Casey Ploof, APRN, and David Norris, RN give out free healthcare to those experiencing homelessness. Because it rains nearly 200 days a year there, it can be very common for people to get trench foot—a very serious condition that, when left untreated, can require amputation. Casey and Dave can help treat trench foot, but without fresh, clean socks, the condition returns. Luckily, their supply is abundant thanks to Bombas. As Casey shared, "people will walk across town and then walk from the valley just to come here to get more socks."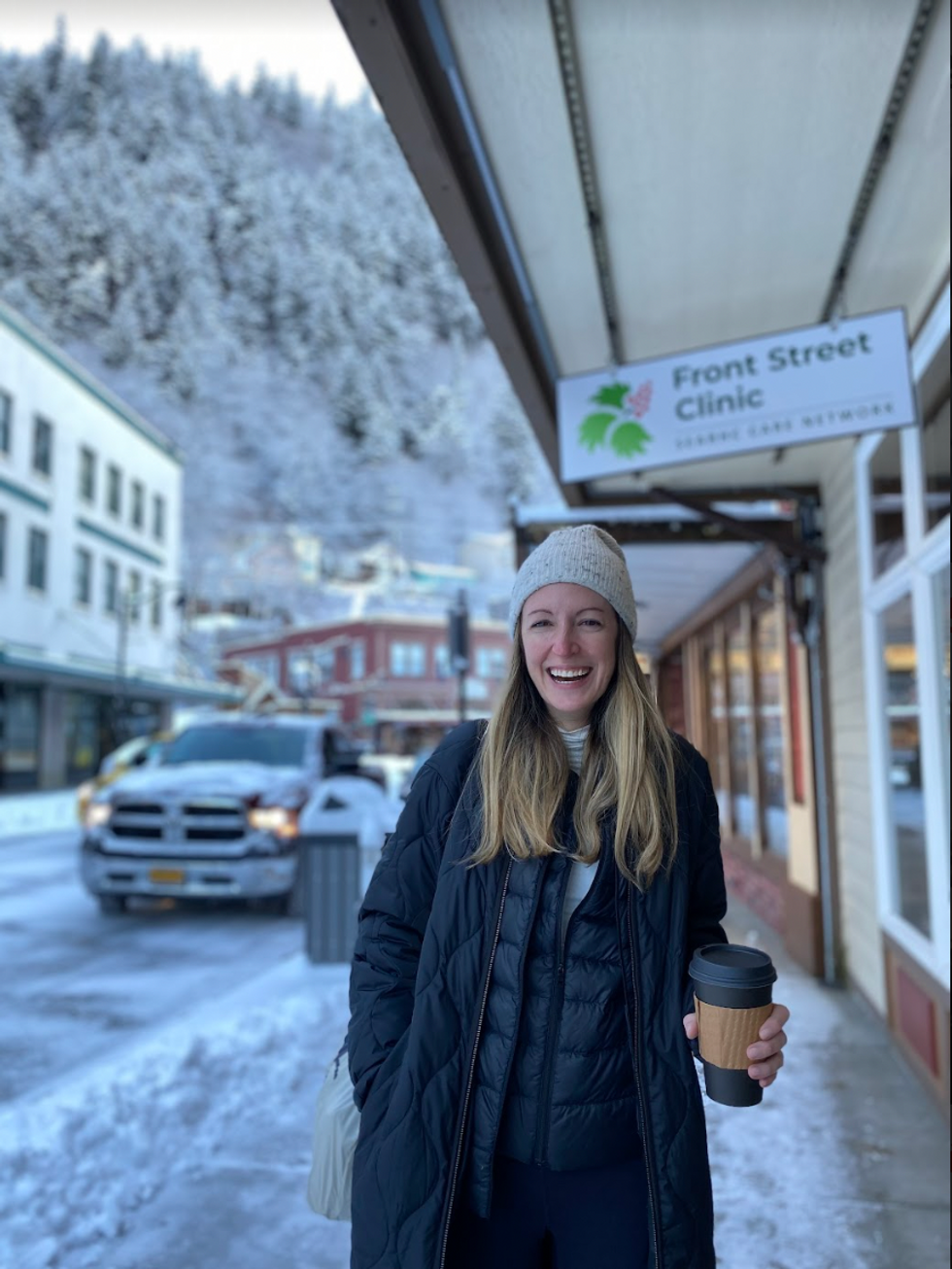 Welcome to wild, beautiful and wet Alaska!
The Bombas Impact Report provides details on Bombas's mission and is full of similar inspiring stories that show how the biggest acts of kindness can come from even the smallest packages. Since its inception in 2013, the company has built a network of over 3,500 Giving Partners in all 50 states, including shelters, nonprofits and community organizations dedicated to supporting our neighbors who are experiencing- or at risk- of homelessness.
Their success has proven that, yes, a simple pair of socks can be a helping hand, an important conversation starter and a link to humanity.
You can also be a part of the solution. Learn more and find the complete Bombas Impact Report by clicking here.
Pop Culture
Yelp can be a helpful tool for scoping out food joints, but maybe not in the way you think.
Content creator Freddy Wong has a brilliantly easy way to find authentic Chinese food.
As he reveals in a mega viral video that's racked up 9.4 million views on TikTok and 7.7 million views on Twitter, the trick (assuming you live in a major metropolitan area) is to "go on Yelp and look for restaurants with 3.5 stars, and exactly 3.5 stars." Not 3. Not 4. 3.5.
He then backs up his argument with some pretty undeniable photo evidence.
First, he pulls up an image of a Yelp page from P.F. Chang's. With only 2.5 stars, one can tell the food is "obviously bad." Alternatively, Din Tai Fung—a globally recognized Michelin-starred Chinese restaurant—has four stars.
Sounds good right? Wrong. In this case, "too many stars" means that "too many white people like it," indicating that the restaurant is being judged on service rather than food quality. According to Wong, if "the service is too good, the food is not as good as it could be."
He then pulls up the Yelp page for a couple of local Chinese restaurants, both of which have 3.5 stars. The waiters at these establishments might "not pay attention to you," he admits, adding that they might even be "rude." But, Wong attests, "it's going to taste better."
"The dumplings here are better [than Din Tai Fung's]. I've been here," he says of the 3.5 star Shanghai Dumpling House. Considering his Twitter profile boasts a "James Beard Award winning KBBQ Gourmand'' title, it seems like he knows what he's talking about.
So, why is this 3.5 rule the "sweet spot"? As Wong explains, it all comes down to different "cultural expectations."
"In Asia, they're not as proactive. They're not going to come up to you, they're not going to just proactively give you refills, you need to flag down the waiter," he says, noting the different interpretations of service.
"People on Yelp are insufferable," he continues, arguing that "they're dinging all these restaurants because the service is bad," but the food is so good that it balances out the bad service. Hence, a 3.5-star rating. His reasoning is arguably sound—people do often give absurdly scathing reviews that in no way accurately reflect a restaurant's food quality.
"A good Yelp review doesn't mean it's a good restaurant — it simply means the restaurant is good at doing things that won't hurt their online rating," Wong said in an interview with Today, adding that "highly rated Yelp restaurants are often those with counter service and limited menus, minimizing potential negative interaction with staff."
He also added the caveat, "I don't have anything against those places, but I think people who only eat at the 'highest rated' restaurants on online review sites are only eating at the most boring restaurants."
A ton of people in the comments seem to back Wong's theory.
this gels with my experiences in socal, i actively look for reviews like 'too spicy' or 'hostess was rude' that's the good stuff right there

— permanent handle (@chakazula) September 13, 2022

100% accurate, some say
Plus, the theory seems to not be limited to just Chinese restaurants, further implying that maybe there's more of a cultural misunderstanding, rather than any real lack of quality.

No drink refills but the food is fire.

2.8 is the new 5
One of the gifts that our modern world provides is the opportunity to truly experience and appreciate other cultures. Since food is easily one of the most accessible (and enjoyable) ways to do that, perhaps we should prioritize seeking authenticity, rather than rely on a flawed and superficial rating system.
As Wong told Today, "I hope it encourages people to go out and eat more food from not only Chinese restaurants, but restaurants representing the whole world of cultural cuisines."
Education
'Innocent until proven guilty' isn't that new of a concept.
The modern justice system is certainly not without its flaws, however most can agree that the concept of "innocent until proven guilty" is one that (when not abused) stands as the foundation of what fair due process looks like. This principle, it turns out, isn't so modern at all. It can actually be traced all the way back to nearly 3,800 years ago.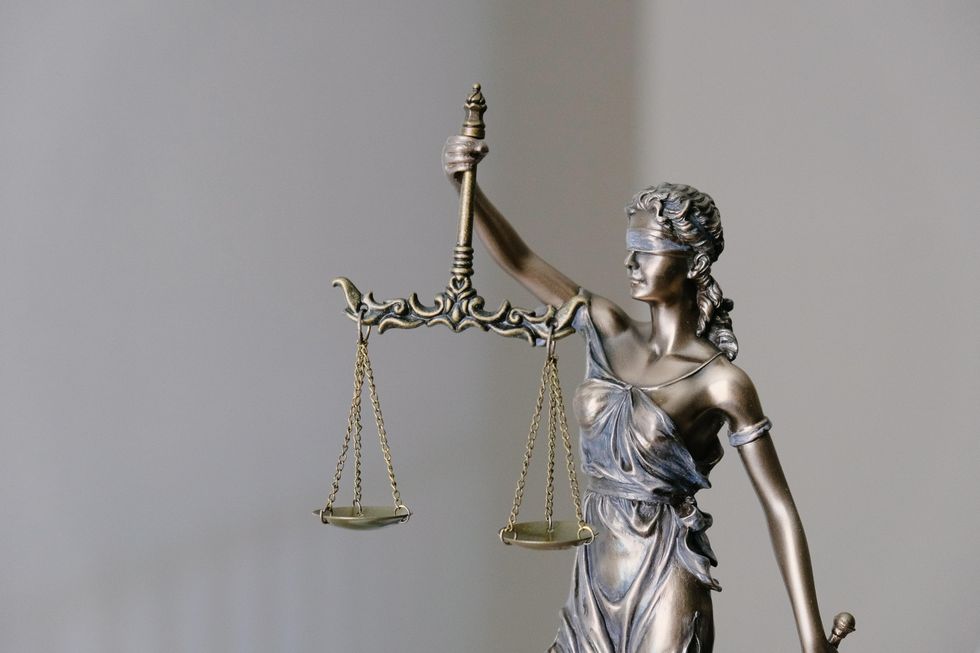 Lady Justice, the image of impartial fairness. Photo by Tingey Injury Law Firm on Unsplash
English barrister Sir William Garrow is known for coining the "innocent until proven guilty" phrase between the 18th and 19th century, after insisting that evidence be provided by accusers and thoroughly tested in court. But this notion, as radical as it seemed at the time, can, in fact, be credited to an ancient Babylonian king who ruled Mesopotamia.
During his reign from 1792 to 1750 B.C., Hammurabi left behind a legacy of accomplishments as a ruler and a diplomat. His most influential contribution was a series of 282 laws and regulations that were painstakingly compiled after he sent legal experts throughout his kingdom to gather existing laws, then adapted or eliminated them in order to create a universal system.
Those laws were inscribed on a large, seven-foot stone monument, and they were known as the Code of Hammurabi.

The Code of Hammurabi was extensive and included rules and penalties pertaining to economic, family, criminal and civil law. On top of the stone sits a carving of the king receiving the laws from Shamash, the Mesopotamian god of justice and equity, implying that the laws are divinely ordained.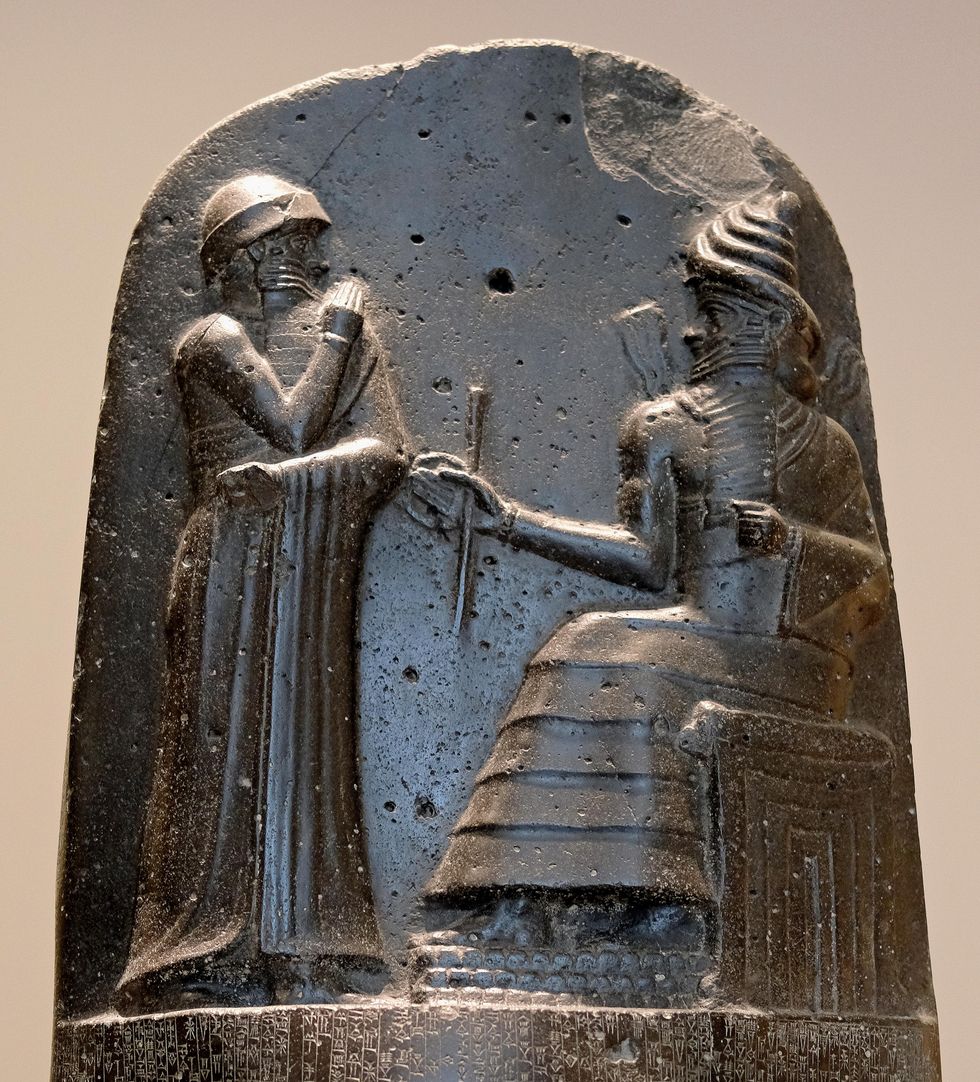 Nothing says official like a picture of you next to a god.
en.wikipedia.org

Historians only know of one earlier recorded law collection, created just 300 years before Hammurabi, and it was much less detailed by comparison. As Dawn McCormack, associate dean of the College of Graduate Studies at Middle Tennessee State University, explains, this was most likely due to the growing group of different peoples conquered during Hammurabi's reign. "As the population diversified, the law codes adapted to meet the new circumstances."

Some of the laws in the Code of Hammurabi might be seen as barbaric by today's standards, with punishments being the removal of the guilty party's tongue, hands, breasts, eye or ear. On the other hand, many laws were quite progressive. Kelly-Anne Diamond, an assistant teaching professor of history at Villanova University, told History, the code provides the first recorded alimony payment law.
Diamond also notes that Mesopotamians "put a lot of emphasis on getting to the truth of a case," and therefore mandated the use of witnesses, oral testimony and written evidence to prove guilt. They also established having individuals swear they were telling the truth by oath. "Oaths were particularly effective because of the people's profound belief that the gods would punish them if they lied under oath," she explained.
Presuming innocence in today's legal system has had its fair share of negative impact on victims, primarily in sexual harassment cases, not to mention the heavy use of media coverage for court cases of public figures, which can certainly sway public opinion. Still, the fact that evidence-based, fair and impartial justice has been a goal throughout history offers an encouraging outlook for humanity as a whole. Perhaps it's an ideal that will never fully be achieved, but the fact that people continue to pursue integrity is something worth noting.
popular
'I didn't want to remember the day as complete sadness.'
Get stories worth sharing delivered to your inbox
Get stories worth sharing delivered to your inbox