via WillSmith / Instagram
"Men in Black" star Will Smith posted a revealing Instagram photo on Sunday and a lot of people can relate. The actor, 52, posted a photo of himself in black shorts, an unzipped hoodie, and slippers showing off his new gut and chest.

"I'm gonna be real wit yall - I'm in the worst shape of my life," he captioned the photo. In a world where celebrities have to be hyper-sensitive about their image, especially when it comes to weight, Smith's admission was a refreshing reminder that A-listers can have the same struggles that we do.
The post inspired several of Smith's friends to send him messages of support.

Questlove wrote: "This is the most amazing post in the history of social media."
"Fresh Prince of Bel-Air" co-star Nia Long said, "You still got it baby!!!"
Director Ava DuVernay said, "I see no 'worst' here."
Smith's admission received over five million likes, probably because it resonates with a lot of people who are also dealing with weight gain during the pandemic. A recent study by the American Psychological Association (APA) found that two in five Americans gained more weight than they intended over the past year.
The average person who gained more weight than they wanted added 29 unwanted pounds. One in ten said they added more than 50.
According to the APA, rapid weight loss can be a sign of struggling to cope with mental health challenges.
Another study by WebMd confirmed the APA's findings. A recent poll of over 1,000 readers found that 54% of respondents said they have gained weight "due to COVID restrictions. "Fifty-four percent said they were exercising less, 68% said they were snacking more.
Smith is getting ready to shoot his next film, "Emancipation," a big-budget true story about a runaway slave in 1863. In the film, Smith plays Peter, a fugitive from slavery who flees Loiusiana to find freedom in the north.

However, the film hit some roadblocks after Smith and director Antoine Fuqua said they were pulling filming out of Georgia due to the state's recent voting restriction laws. The new Republican-led voting changes require voter ID for absentee voting, limit the use of drop boxes, and restrict giving out food and water to voters waiting in line near polls.
The decision to move filming out of Georgia makes sense for a film that deals with racial oppression.
"At this moment in time, the Nation is coming to terms with its history and is attempting to eliminate vestiges of institutional racism to achieve true racial justice," the statement read. "We cannot in good conscience provide economic support to a government that enacts regressive voting laws that are designed to restrict voter access."
"The new Georgia voting laws are reminiscent of voting impediments that were passed at the end of Reconstruction to prevent many Americans from voting. Regrettably, we feel compelled to move our film production work from Georgia to another state," they continued.
The film was scheduled to start shooting in June 2021.
From Your Site Articles
Related Articles Around the Web
Courtesy of CeraVe
True
"I love being a nurse because I have the honor of connecting with my patients during some of their best and some of their worst days and making a difference in their lives is among the most rewarding things that I can do in my own life" - Tenesia Richards, RN

From ushering new life into the world to holding the hand of a patient as they take their last breath, nurses are everyday heroes that deserve our respect and appreciation.
To give back to this community that is always giving so selflessly to others, CeraVe® put out a call to nurses to share their stories for a chance to be featured in Heroes Behind the Masks, a digital content series shining a light on nurses who go above and beyond to provide safe and quality care to patients and their communities.
First up: Tenesia Richards, a labor and delivery nurse working in New York City who, in addition to her regular job, started a community outreach program in a homeless shelter that houses expectant mothers for up to one year postpartum.
Tenesia | Heroes Behind the Masks presented by CeraVe www.youtube.com
Upon learning at a conference that black mothers in the U.S. die at three to four times the rate of white mothers, one of the widest of all racial disparities in women's health, Richards decided to take further action to help her community. She, along with a handful of fellow nurses, volunteered to provide antepartum, childbirth and postpartum education to the women living at the shelter. Additionally, they looked for other ways to boost the spirits of the residents, like throwing baby showers and bringing in guest speakers. When COVID-19 hit and in-person gatherings were no longer possible, Richards and her team found creative workarounds and created holiday care packages for the mothers instead.
"The packages were personalized to each mother with their names, a hand-written love note from the nursing team and items based on their pregnancy stage (which trimester, pregnant/postpartum) including newborn items (bottles, pacifiers, diapers, wipes, toiletries), toiletries and maternity clothes from the mother, as well as self-care items (journal, uplifting reading books, aromatherapy). My favorite part of the care package was hand-made quilts created by an 80+ [year old] retired doctor."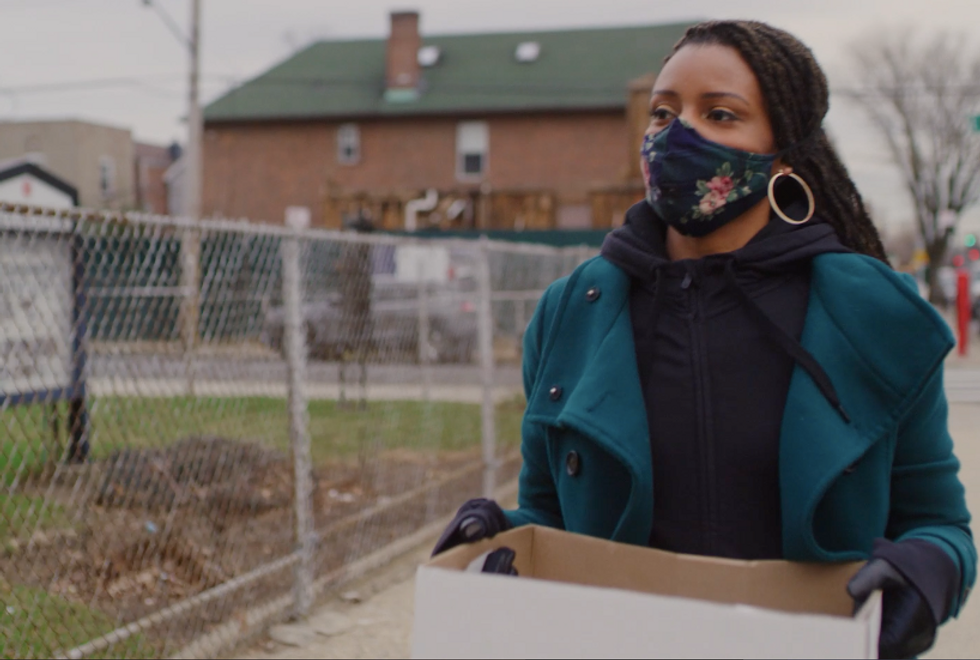 Courtesy of CeraVe
Continuing with her service, Richards is currently working on starting a non-profit organization, Our Mommas Heal, an expansion of the work that she's already doing in the community. "Our goal is to be the advocates for these at-risk mothers by connecting them to the necessary resources to ensure they have a high-quality, safe, equitable, uncomplicated pregnancy and delivery: education, other organizations like nurse family partnership, vetted health care providers," said Richards.

As a dermatologist-developed brand rooted in the medical community, CeraVe® is committed to supporting and celebrating healthcare professionals like Nurse Richards. Richards' story is the first of four we'll be sharing in the coming weeks.
As part of its commitment to nurses, CeraVe® is also a proud sponsor of the ANA Enterprise and their Healthy Nurse, Healthy Nation™ initiative, a movement designed to transform the health of the nation by improving the health of the nation's 4.2 million registered nurses. Through the initiative, ANA is connecting and engaging with nurses to inspire them to take action in five key areas: activity, sleep, nutrition, quality of life, and safety.
Additionally, over the past year, CeraVe® has donated more than 500,000 products to hospitals to help provide therapeutic skincare relief to healthcare workers and is continuing the product donation efforts. Nurses looking to engage with the brand and learn more about these initiatives can join the Shift Change: Nurse Essentials Facebook group, an online community hosted by CeraVe® where nurses come together for personal and professional empowerment.
To see more stories about nurse heroes, visit www.heroesbehindthemasks.com/.

Get stories worth sharing delivered to your inbox