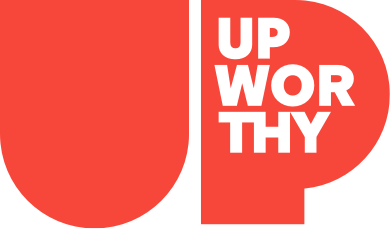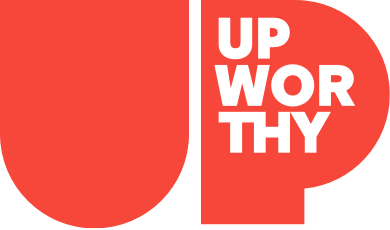 Stories Worth Sharing.

For People Who Give a Damn.
Sign up for the Upworthy newsletter:
(c) GOOD Inc. All Rights Reserved.
PS. You are doing great. Keep it up :<)
This website uses cookies in order to enhance your experience. Please review our Privacy Policy to learn how we may use cookies and how you can change your browser settings to disable cookies. By continuing to use this website without changing your settings, you consent to our use of cookies.
Andy Grammer, the pop singer and songwriter behind feel-good tunes like "Keep Your Head Up," "Back Home," and "Don't Give Up on Me," has a new album out—and it is seriously fabulous. Titled simply "Naive," Grammer says it's "all about how seeing the good in todays world can feel like a rebellious act."
"I wrote this album for the light bringers," Grammer shared on Facebook. "The people who choose to see the good even in the overwhelming chaos of the bad. The smilers who fight brick by brick to build an authentic smile everyday, even when it seems like an impossible thing to do. For those who have been marginalized as 'sweet' or 'cute' or 'less powerful' for being overly positive. To me optimism is a war to be fought, possibly the most important one. If I am speaking to you and you are relating to it then know I made this album for you. You are my tribe. I love you and I hope it serves you. Don't let the world turn down your shine, we all so badly need it."
Reading that, it's easy to think maybe he really is naive, but Grammer's positivity isn't due to nothing difficult ever happening in his life. His mom, Kathy, died of breast cancer when Grammer was 25. He and his mother were very close, and her life and death had a huge impact on him.
Culture
Get stories worth sharing delivered to your inbox
Service dogs are invaluable to their owners because they are able to help in so many different ways.
They're trained to retrieve dropped Items, open and close doors, help their owners remove their clothes, transport medications, navigate busy areas such as airports, provide visual assistance, and even give psychological help.
The service dog trainers at K-9 Country Inn Working Service Dogs in Canada want those who require service dogs to live the fullest life possible, so they're training dogs on how to attend a theatrical performance.
The adorable photos of the dogs made their way to social media where they quickly went viral.
On August 15, a dozen dogs from Golden Retrievers to poodles, were treated to a performance of "Billy Elliott" at the Stratford Festival in Ontario, Canada. This was a special "relaxed performance" featuring quieter sound effects and lighting, designed for those with sensory issues.
"It's important to prepare the dogs for any activity the handler may like to attend," Laura Mackenzie, owner and head trainer at K-9 Country Inn Working Service Dogs, told CBC.
"The theater gives us the opportunity to expose the dogs to different stimuli such as lights, loud noises, and movement of varying degrees," she continued. "The dogs must remain relaxed in tight quarters for an extended period of time."
The dogs got to enjoy the show from their own seats and took a break with everyone else during intermission. They were able to familiarize themselves with the theater experience so they know how to navigate through crowds and fit into tight bathroom stalls.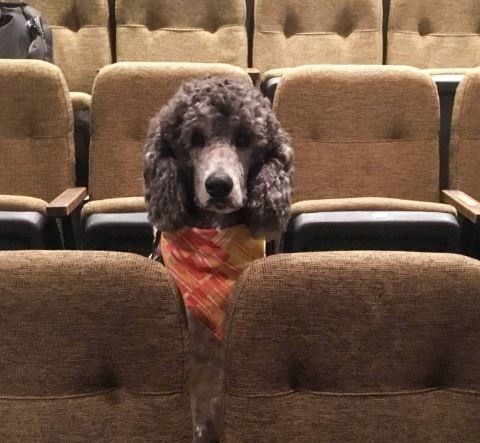 via Stratford Festival / Twitter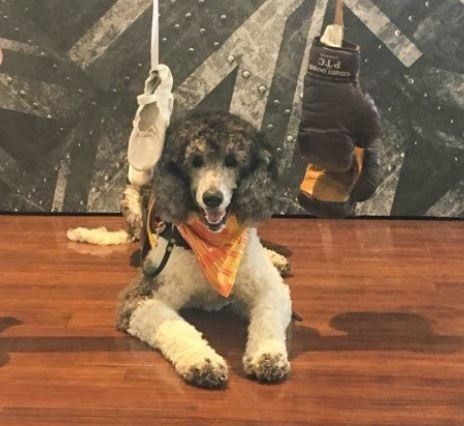 via Stratford Festival / Twitter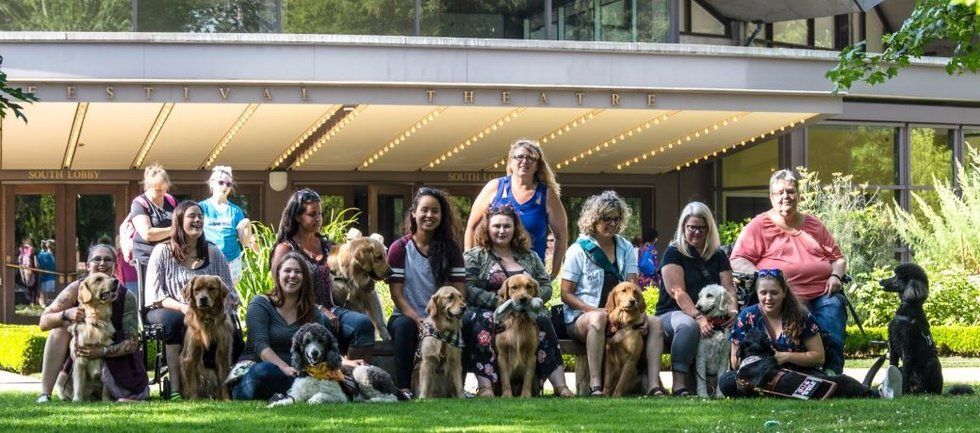 via Stratford Festival / Twitter
"About a dozen dogs came to our relaxed performance, and they were all extremely well-behaved," says Stratford Festival spokesperson Ann Swerdfager. "I was in the lobby when they came in, then they took their seats, then got out of their seats at intermission and went back — all of the things we learn as humans when we start going to the theater."

The dogs' great performance at the trial run means that people who require service animals can have the freedom to enjoy special experiences like going to the theater.

"It's wonderful that going to the theater is considered one of the things that you want to train a service dog for, rather than thinking that theater is out of reach for people who require a service animal, because it isn't," Swerdfager said.
The Stratford Festival runs through Nov. 10 and features productions of "The Merry Wives of Windsor," "The Neverending Story," "Othello," "Billy Elliot," "Little Shop of Horrors," "The Crucible" and more.
Inclusivity
Knowing your triggers helps you manage your emotions.
Learning your emotional triggers on your own is one thing but figuring out your triggers in a relationship adds another layer of intensity. Maybe you're afraid of being abandoned or want to feel the need to push the other person away but you don't know why.
If this sounds familiar, you're not alone. It's why artist and mental health advocate Dominee Wyrick created a graphic to help you identify what triggers you in relationships.
Well Being
Having an emotionally fragile parent can leave lasting damage.
If you grew up with an "emotionally fragile" parent, chances are, you didn't have the typical, idyllic childhood you often see in movies.
Maybe your parent lived with debilitating depression that thrust you into the role of caregiver from a very young age.
Maybe your parent was always teetering on the edge of absolute rage, so you learned to tiptoe around them to avoid an explosion. Or maybe your parent went through a divorce or separation, and leaned on you for more emotional support than was appropriate to expect of a child.
Family
Get stories worth sharing delivered to your inbox