popular
Hey spring breakers: You are the dystopian horror movie characters nobody roots for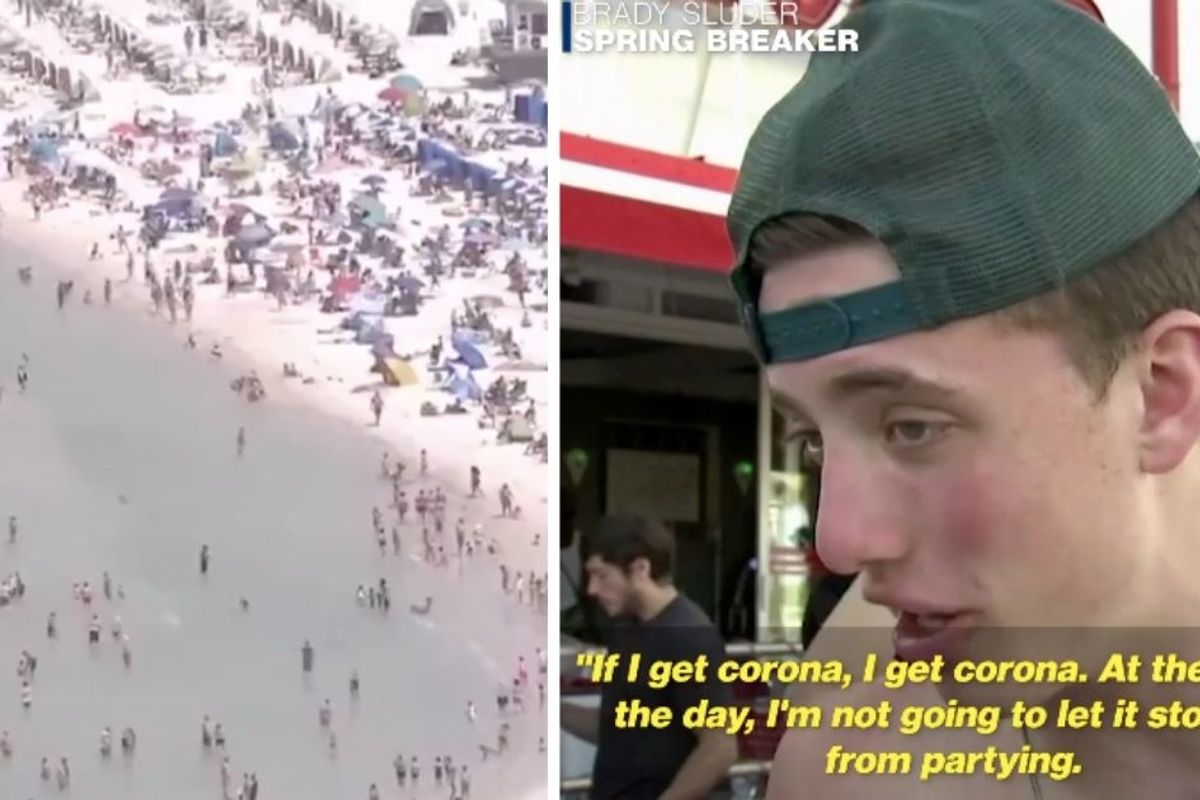 A video has been circulating of college students on spring break in Florida, boasting of their ability to totally ignore life-saving instructions to stay away from other humans.
As a pandemic the likes of which we've never seen in our lifetime sweeps the planet, these brave young folks are obliviously spreading their ignorant and self-obsessed germs all over the beaches and bars of the U.S. south.
---
Clearwater Beach, Florida is PACKED today despite "social distancing" recommendations. We Americans sure can be a… https://t.co/2Ofznmoama

— Rex Chapman🏇🏼 (@Rex Chapman🏇🏼) 1584393225.0
Never mind the fact that millions of us are isolating in our homes trying to keep our healthcare system from being overwhelmed. Never mind that most of these kids surely have grandparents or loved ones with suppressed immune systems. Never mind that doctors and nurses on the front line are begging people to stay home so they can save lives.
I'm usually fairly forgiving of youthful transgressions, but not this time. The stakes are far too high for this kind of selfish immaturity.
You really want to rip a life-giving ventilator away from your grandma in two weeks, Jessica?
You really think a contagious virus gives a flying fig that you're young and invincible, Brady?
We all know that there's a certain obliviousness and self-centeredness that goes along with youth, but now's not the time for it, Alexis.
We're literally living through the early stages of a dystopian story right now. You and your generation grew up with The Hunger Games and The Maze Runner and Divergent , for the love. I assume you at least saw the movies. You should know how this goes.
Right now you are the dude that does something stupid and plunges everyone else further into the dystopian hellscape. You're the minor character in the opening of the story who somehow manages to make things worse. You're the one that makes the audience yell, "Why are you doing that?! That's so dumb!!" You're the one the reader can predict will come to an unsavory end, because one of you shows up in every story.
Not to mention, you're way behind the plot here. Your behavior belongs in the prologue, which was like a week ago. The rest of us have already moved on to Chapter 3. Catch up, Chad.
Please listen to what literally every public health expert on the planet is telling us. Young people can have the virus and spread it to others even if they aren't showing any symptoms. More than half the patients in the ICU in France have been under age 60 . A new report just today shows that 40 percent of patients hospitalized with the virus in the U.S. are between ages 20 and 54 .
Yeah, you probably won't die from it. But you may kill someone else by getting it.
Here's a scenario: You were carrying the virus but didn't know it because you're not showing symptoms yet so you jetted off for spring break. You wiped the drool off your chin after a boot-and-rally, then touched a barstool. The chick you were flirting with touched the stool, then hugged her friend who has asthma. A week from now, BOOM. That young lady is taking up critical hospital bed space because this virus is a lung eater and her lungs can't handle it.
Now a doctor who has been working her ass off to save people's lives while putting her own on the line has to decide whether to save that young lady or my 74-year-old mom who caught the virus because she only has one ventilator left. And they're going to choose the young woman, because youth takes precedence when someone has to decide who lives or dies.
But my mom not getting a ventilator and dying an unnecessary death will be your fault because you were young and fearless and "not going to let this virus stop you."
Fearlessness is foolishness right now. Stop it before you kill somebody. Seriously.