popular
Guys ends up being the only one on his flight, so he decides to party with the crew
After a near 18 hours delay, everybody except for Phil Stringer had given up on a flight heading from Oklahoma City to Charlotte.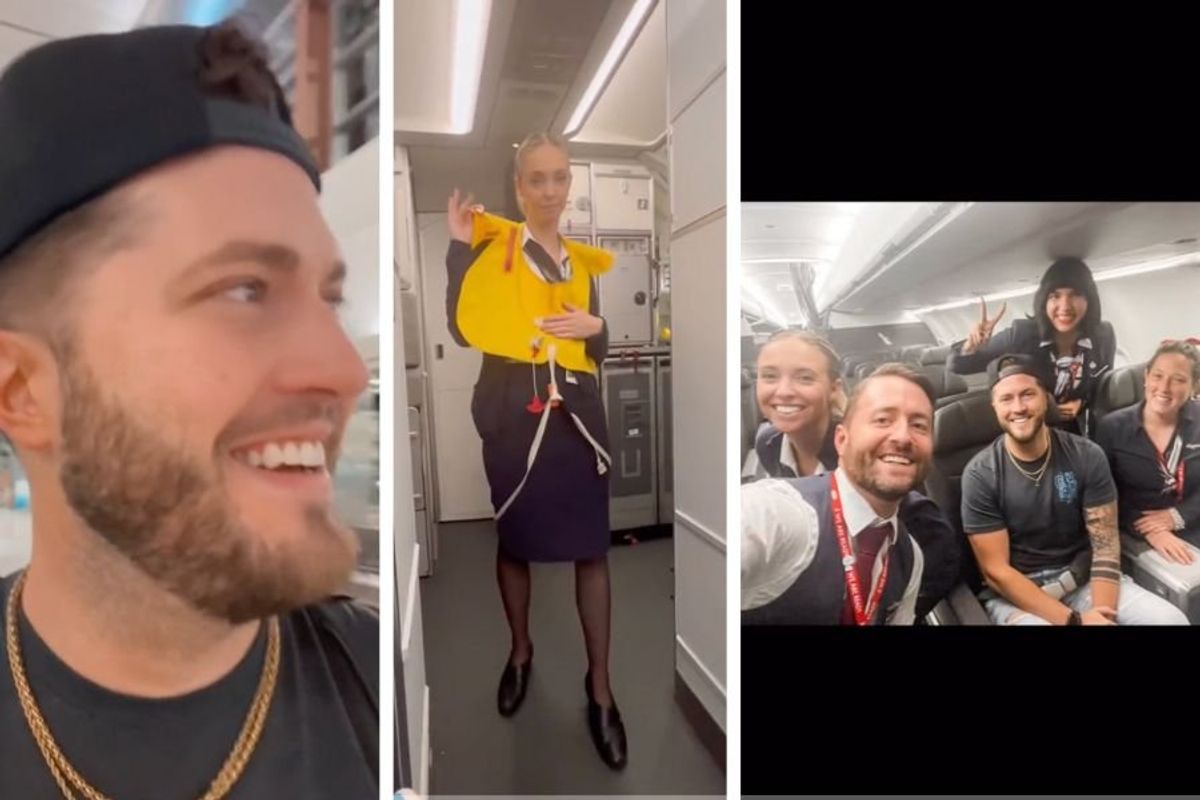 From troubling double decker seat ideas to tales of horrible plane etiquette, airline travel stories are pretty unsavory at the moment. Which makes this wholesome account of a solo plane ride feel like a total upgrade.
After a near 18 hours delay, everybody except for Phil Stringer had given up on a flight heading from Oklahoma City to Charlotte. Stringer dedicated to make the best of his impromptu private flight, and it ended up being a blast for everyone involved.
Documenting the journey in a now-viral TikTok video, Stringer begins with a joke. His on-screen caption reads, "When you buy every single ticket on the plane so you don't have to deal with people" as he walks on board.
Then, cut to: "Just kidding, it was delayed 18 hours and everyone else gave up" as Stringer explains that he is "the only person on the plane, and they have an entire flight crew" who "do not want to do this flight."
---
Don't let his self-deprecating humor fool, Stringer made friends with every employee that day. Flight attendants could barely contain their laughter as they performed a safety routine—with far more sassiness than normal—to their audience of one.
Stringer ends the clip with a sweet picture of himself with the cabin crew.
Folks in the comments section were quick to remark how Stringer's uplifting attitude probably made the flight worth doing.
"That's probably the best flight they ever had," one person wrote.
Another added, "Flight attendant here. This is literally our dream scenario, especially for a delayed flight. So glad you had a nice time."
Apparently, the comedy keeps going even after the plane lands. In a follow-up video, Stringer gave an update to say that when he finally touched down in Charlotte at 4 o'clock in the morning, he couldn't get home because his bag was missing. Like, how does that happen with only one bag on the entire flight? Mabye there really are airplane gremlins after all.
Still, Stringer optimism remains. In an interview with Insider, he shared, "I believe that your attitude determines your destination. Yeah, it was a sucky day. No one wants to stay in the airport for 18 hours, but if you have a positive view, you can turn something into a lot of fun."
Wise words. Indeed, we can't control a lot of what goes on during our flight. But one thing we can always control is how we treat the situation and those around us. That goes double for airline workers, who not only have to deal with the stress of flight travel for a lot longer than we do, they are often the punching bag for other passengers. Simply being kind to them is enough to turn an entire flight around. In a good way, that is.