Health
Former college football player retires early to take charge of his mental health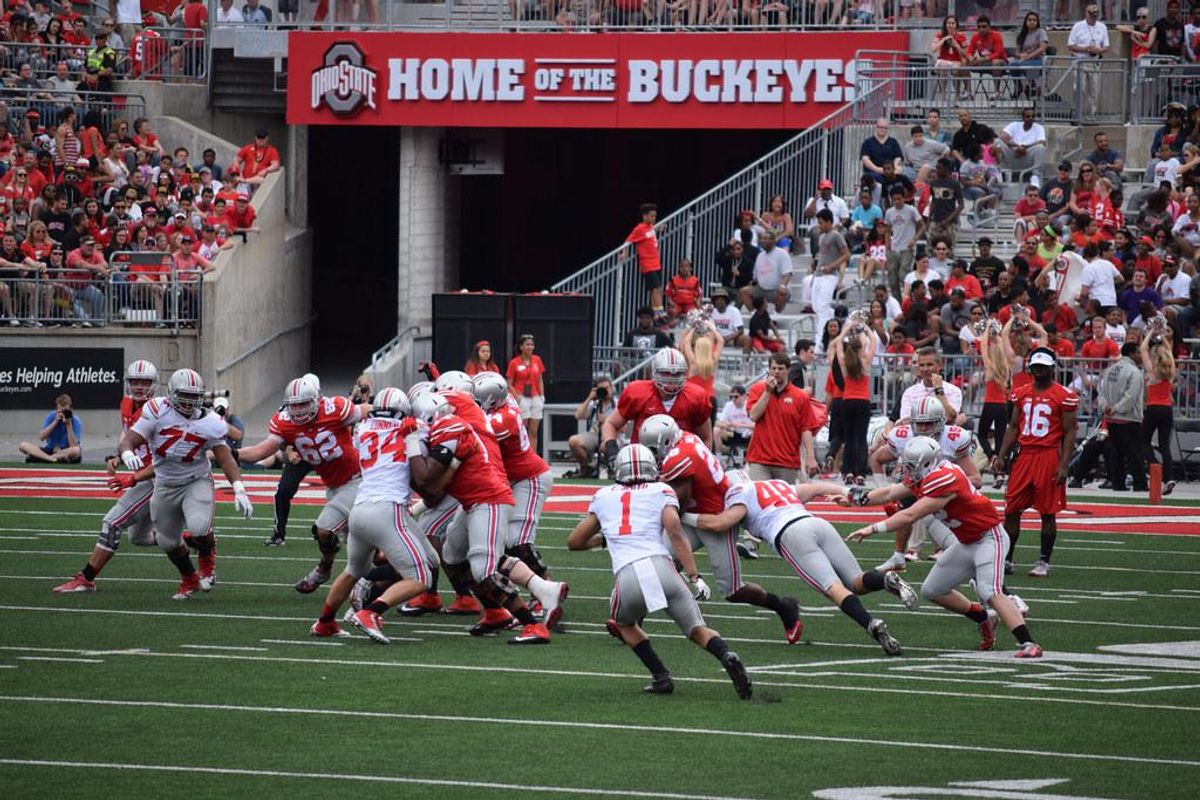 Mental health has been in the news a lot lately, especially as it pertains to high-performing athletes. We've seen several athletic stars share their struggles with anxiety and depression and their need to take breaks for their mental health. Ohio State offensive lineman Harry Miller has taken this one step further and announced he's retiring from football altogether after revealing his mental health struggles.
Miller is a junior studying engineering at Ohio State. He reported to his coach last year that he had been having suicidal thoughts. Throughout his struggles with mental health, he felt supported by his teammates and coach, who got him set up with counseling at the university. He wrote about his experiences on March 10, when he announced he would be medically retiring from football. The lineman said that he "would not normally share such information." And continued, "However, because I have played football, I am no longer afforded the privilege of privacy."
---
Miller wrote in his letter announcing his retirement that he returned to football weeks after informing his coach of his mental health struggles. But he returned with scars on his wrists and neck. Miller said, "Maybe the scars were hard to see with my wrists taped up," and went on to say that "there was a dead man on the television set, but nobody knew it."
The athlete reported while being interviewed on the Today Show that he has struggled with anxiety and depression from an early age, but that the pressure of playing college football for Ohio State exacerbated his anxiety and stress. Miller described some of the messages he would receive after a hard game, including some saying "transfer, you suck." He said, "Some people get death threats that I know on the team, and I'm trying to text my mom, that's the first thing I see, and then you can't worry about it too much because you have an exam the next day. And then you have that for weeks and then months and by the end of the semester and you're like 'What is happening right now?'"
Harry Miller is choosing his mental health.

The pressure placed on elite athletes starts well before college. There have been reports of high school kids struggling with the pressure placed on them to perform at an exceptional level. Adults hurling insults at teens and young adults who are only trying to do a sport they love, while trying to balance academics, family and friends, doesn't help. These are things that need to be looked at more closely. As a society, the weight we place on athletes to just suck up whatever is thrown at them and perform at a level that most of the country could not perform at is breaking their spirits and causing irreparable harm to them as human beings.
What weight are we asking elite athletes to carry?
\u201cThen out spake brave Horatius,\nThe Captain of the Gate:\nTo every man upon this earth\nDeath cometh soon or late.\nAnd how can man die better\nThan facing fearful odds,\nFor the ashes of his fathers,\nAnd the temples of his gods.\u201dpic.twitter.com/K5pXZNy2DW

— Harry Miller (@Harry Miller) 1628442441
Harry Miller made a decision to choose himself, his life and his mental health over continuing to play a sport at a level that demands nothing short of perfection. Here's to hoping other athletes follow his lead, and choose their mental health, and society takes note of how we treat them to evoke societal change.
If you are having thoughts about taking your own life, or know of anyone who is in need of help, please call the National Suicide Prevention Lifeline at 1-800-273-TALK (273-8255) or text "HOME" to the Crisis Text Line: 741741 or go to suicidepreventionlifeline.org.