Most Shared
Feel like your vacations aren't as fabulous as your friends'? This study is for you.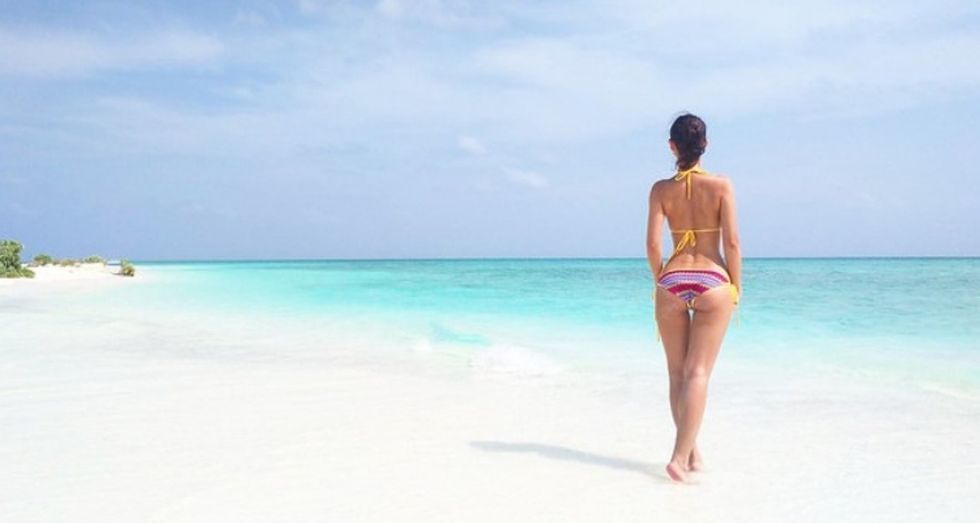 People love to talk about their amazing vacations, but research shows that many of them are lying.
Ever feel like those Instagram and Facebook posts of picture-perfect places and epically awesome experiences may not be telling the whole story? You're probably right. Research conducted by flight-comparison site JetCost.com found that a good portion of Americans are blatantly dishonest about their vacations.
---
Of 4000 people surveyed, a full two-thirds admitted to lying about some aspect of their trips, mostly about weather, accommodations, and the number of attractions they visited, TravelPulse reported. About a quarter of Americans also lied about the amount of alcohol they consumed, and 21% lied about how much money they spent while traveling.
In perhaps the most telling statistics, 68 percent reported they had told someone they enjoyed their vacation more than they did, and 52 percent said that they wouldn't tell anyone if their trip was a disaster.
Why do so many Americans feel the need to lie about their travels?
Keeping up with the Joneses is not a new phenomenon, but social media is adding new pressure.
With the advent of social media sites like Facebook and Instagram, more people are sharing more stories and photos with more people than ever before. And when we tack on the filters and editing tools that make our photos into fantasies, and it's not hard to understand why people feel pushed to exaggerate.
But this survey seems to show that some people are going beyond a bit of hyperbole. Sadly, a full 10 percent of respondents admitted to posting a fake picture on social media to make it look like their vacation was better than it really was.
Why are people so embarrassed by reality that they would never admit to a disastrous vacation and feel the need to post fake photos?
The truth is that no one's social media posts or photo albums tell the full story of a vacation.
Even those of us who don't feel the need to lie about our travels don't usually share the full truth. But maybe we should start.
A few years ago, I wrote about how the photos from our awesome family road trip didn't tell the whole story. While the trip overall really was fantastic, it wasn't without mishaps. Kids bickered and whined. Some places were annoyingly crowded. I practically froze to death in our tent one night. There were long, boring parts that didn't deserve to be documented.
When all we see are the curated highlights from other people's vacations, it's easy to think there's something wrong with ours when we experience the inevitable imperfect moments of traveling. But we also need to reject the idea that our worth is wrapped up in what other people think of our vacations. Travel should be experienced and enjoyed for its own sake, not for the approval of our neighbors and friends.
As a Jet Cost spokesperson told TravelPulse:
"Even though it is probably more common than not in the U.S. to have not holidayed abroad, Americans are clearly still feeling the need to appear as if they have traveled. With the modern pressures of social media, people feel as if they have to prove themselves to others, which is a shame – but life isn't a competition and just because someone says they've done something, doesn't mean you're less of a person for not having done it."