Inclusivity
English soccer teams pause their match to allow players to break their Ramadan fasts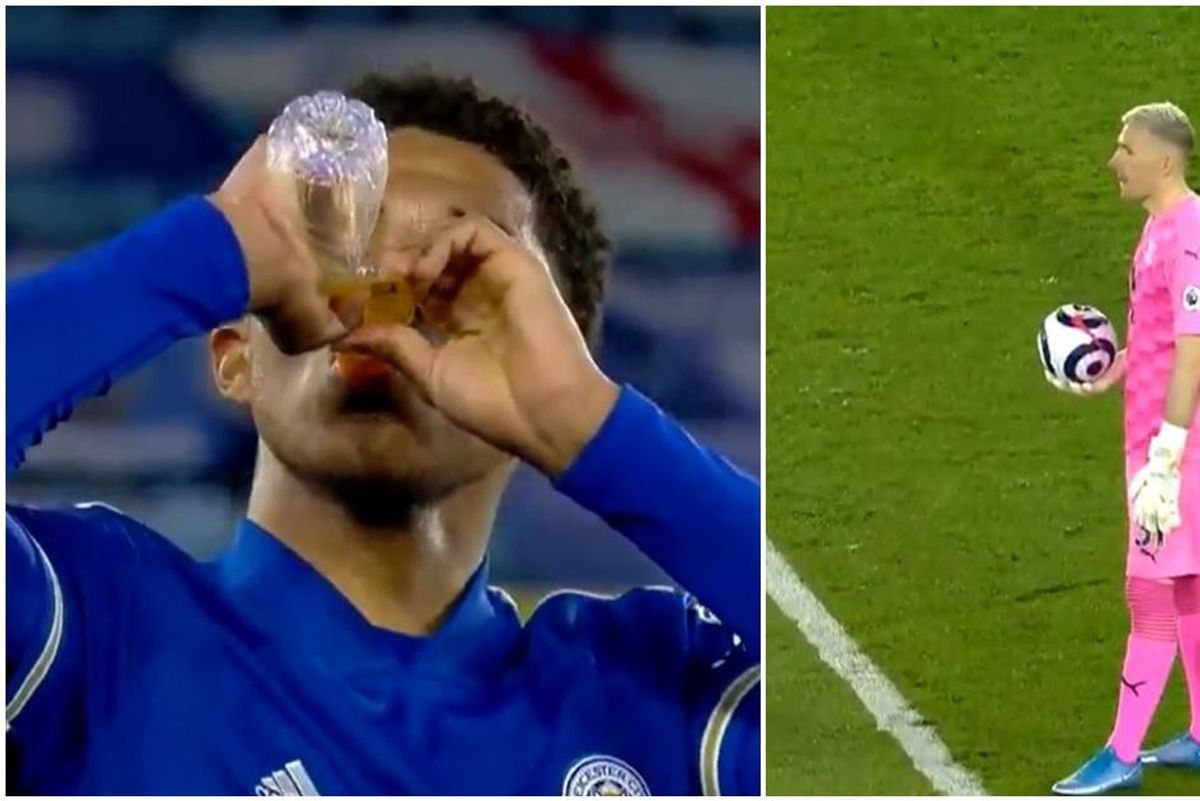 via @if24hd
An otherwise forgettable pause during the Crystal Palace and Leicester City Premier League match Monday night in England turned out to be a beautiful display of sportsmanship from two teams that definitely had their priorities straight.

During the 35th minute of the match, Crystal Palace's goalkeeper Vicente Guaita held onto the ball instead of making a goal kick. This allowed Leicester's center-back Wesley Fofana and Palace's midfielder Cheikhou Kouyate to break their Ramadan fasts.
The brief, voluntary stoppage gave Fofana a moment to guzzle some water and for Kouyate to down an energy gel. The stoppage happened shortly after sundown because Muslims are supposed to avoid food or drink while the sun is out during the month-long holiday.
This year, Ramadan runs from April 12 to May 2012.
---
حكم مباراة ليستر سيتي × كريستال بالاس يوقف المباراة لـ يفطر لاعب ليستر الصايم 👏🏻❤️ Via : @if24hd_ https://t.co/Rg5gG03aS1

— أثر عمار الدار يا سعود أهلها (@أثر عمار الدار يا سعود أهلها) 1619467350.0
Ramadan is the Arabic name for the ninth month in the Islamic calendar. It's the holiest of Islamic months and is part of the Five Pillars of Islam. The Five Pillars are principles that are ordered by God. Muslims believe that the first verses of their holy book, the Qu'ran, were given to Prophet Mohammed during the month.

Muslims fast during the daylight hours throughout Ramadan feel closer to God and strengthen their resolve.
Muslims observe the fast by having a meal before dawn, then going without any food or drink until sundown. One can imagine how hard it is for an athlete to play at a professional level for an entire month without having proper nutrition or hydration.
Soccer players can run up to nine miles in a typical 90-minute match and elite players can burn up to 3,400 calories.
Fofana thanked the opposing club for their support on Twitter. "That's what makes football wonderful," he said.
Just wanted to thank the @premierleague as well as @CPFC , @vguaita13 all the Foxes for allowing me to break my fa… https://t.co/IjrsBOmnpm

— LAWESTT (@LAWESTT) 1619476689.0
Last week, Leicester City boss Brendan Rodgers took Fofana out of the game at the 60-minute mark in a 3-0 win over West Brom to allow him to break his fast.

It's believed that Monday's match was the first time in Premier League history that a game was stopped to allow players to break the Ramadan fast. The decision was made before the game in a meeting between team captains.
Although fasting has to make it a lot harder for players to perform on the field, Rodgers believes it gives them more strength. "I've worked with lots of players with devotion to their faiths and for a lot of the guys it gives them strength," he said in a press conference.
"He's finding an incredible strength to play continuously and train during Ramadan. He's a special talent and a big player for us," Rogers continued.
In the world of professional soccer, a single game, score, or play can have huge consequences for players and their organizations. So it's pretty incredible to see two teams put their competitive differences aside for a brief moment to focus on something that's bigger than the game. It's also a wonderful display of religious tolerance for the tens of thousands of people watching the game.