Disney signed a contract with Indigenous leaders to portray culture respectfully in Frozen II
11.20.19
Disney has come under fire for problematic portrayals of non-white and non-western cultures in many of its older movies. They aren't the only one, of course, but since their movies are an iconic part of most American kids' childhoods, Disney's messaging holds a lot of power.
Fortunately, that power can be used for good, and Disney can serve as an example to other companies if they learn from their mistakes, account for their misdeeds, and do the right thing going forward. Without getting too many hopes up, it appears that the entertainment giant may have actually done just that with the new Frozen II film.
According to NOW Toronto, the producers of Frozen II have entered into a contract with the Sámi people—the Indigenous people of the Scandinavian regions—to ensure that they portray the culture with respect.
Though there was not a direct portrayal of the Sámi in the first Frozen movie, the choral chant that opens the film was inspired by an ancient Sámi vocal tradition. In addition, the clothing worn by Kristoff closely resembled what a Sámi reindeer herder would wear. The inclusion of these elements of Sámi culture with no context or acknowledgement sparked conversations about cultural appropriation and erasure on social media.
Frozen II features Indigenous culture much more directly, and even addressed the issue of Indigenous erasure. Filmmakers Jennifer Lee and Chris Buck, along with producer Peter Del Vecho, consulted with experts on how to do that respectfully—the experts, of course, being the Sámi people themselves.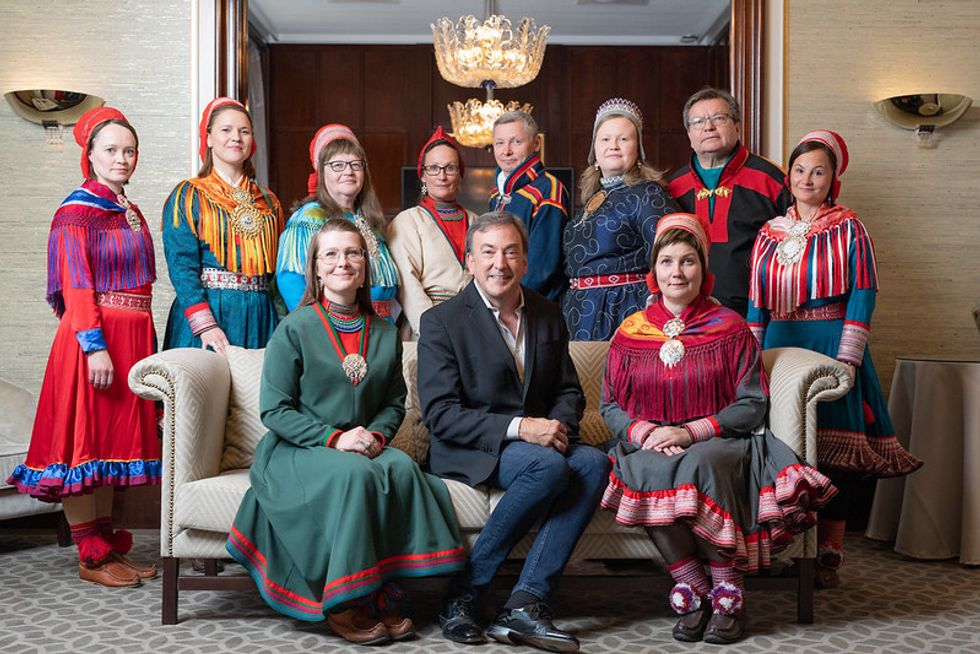 Sámi leaders met with Disney producer Peter Del Vecho in September 2019.Sámediggi Sametinget/Flickr
The Sámi parliaments of Norway, Sweden and Finland, and the non-governmental Saami Council reached out to the filmmakers when they found out their culture would be highlighted in the film. They formed a Sámi expert advisory group, called Verddet, to assist filmmakers in with how to accurately and respectfully portray Sámi culture, history, and society.

In a contract signed by Walt Disney Animation Studios and Sámi leaders, the Sámi stated their position that "their collective and individual culture, including aesthetic elements, music, language, stories, histories, and other traditional cultural expressions are property that belong to the Sámi," and "that to adequately respect the rights that the Sámi have to and in their culture, it is necessary to ensure sensitivity, allow for free, prior, and informed consent, and ensure that adequate benefit sharing is employed."
Disney agreed to work with the advisory group, to produce a version of Frozen II in one Sámi language, as well as to "pursue cross-learning opportunities" and "arrange for contributions back to the Sámi society."
Anne Lájla Utsi, managing director at the International Sámi Film Institute, was part of the Verddet advisory group. She told NOW, "This is a good example of how a big, international company like Disney acknowledges the fact that we own our own culture and stories. It hasn't happened before."
"Disney's team really wanted to make it right," said Utsi. "They didn't want to make any mistakes or hurt anybody. We felt that they took it seriously. And the film shows that. We in Verddet are truly proud of this collaboration."
Sounds like you've done well this time, Disney. Let's hope such cultural sensitivity and collaboration continues, and that other filmmakers and production companies will follow suit.
popular