Culture
Borat is coming back for a sequel and it's going to be about the Trump-Epstein relationship.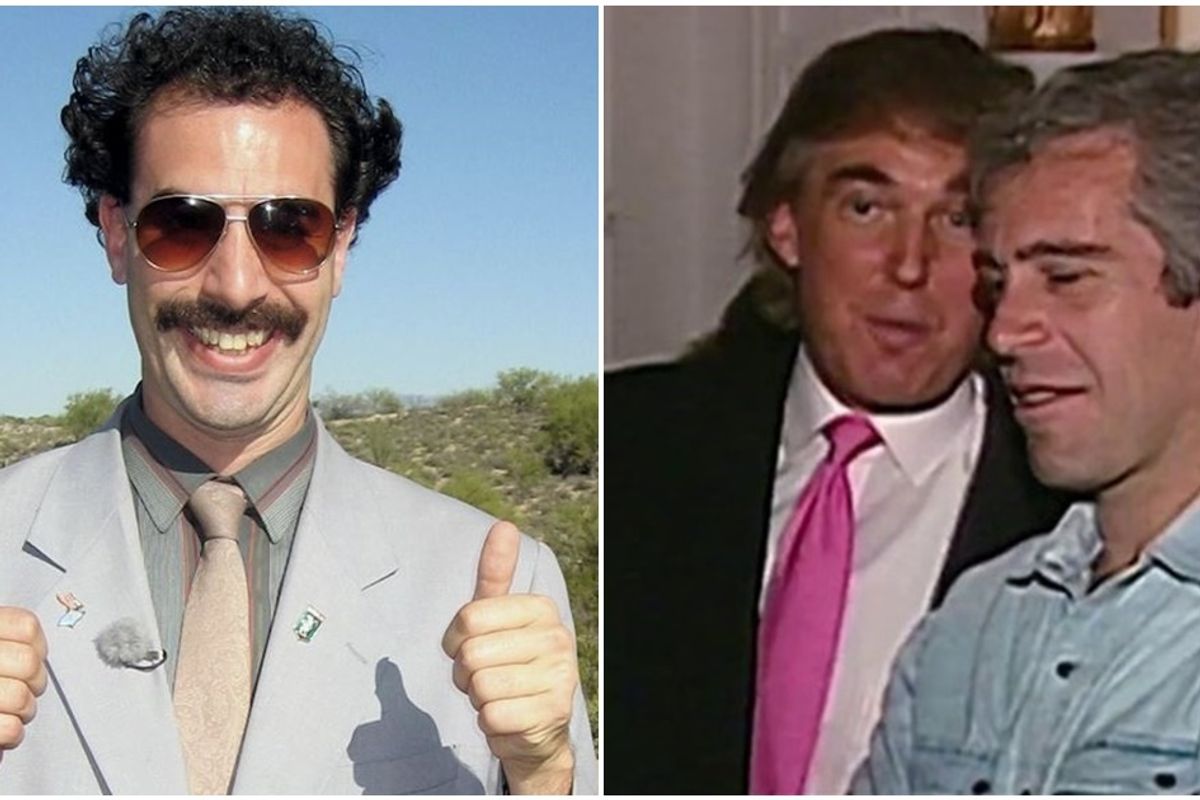 "Very nice!" It appears as though Kazakhstan's number one reporter, Borat Sagdiyev, is set to return to the big screen in the near future and the film's title is a sight to behold.

Reports show that the title submitted to the Writer's Guild of America, "Borat: Gift Of Pornographic Monkey To Vice Premiere Mikhael Pence To Make Benefit Recently Diminished Nation Of Kazakhstan" is even longer than the first film's, "Borat: Cultural Learnings Of America For Make Benefit Glorious Nation Of Kazakhstan."
As the title suggests, the film is expected to feature an encounter with U.S. Vice President Mike Pence as well as President Trump's TV lawyer, Rudy Giuliani.
---
Page Six reported that Giuliani called the cops on the film's star, Sacha Baron Cohen" after he apparently entered his office wearing a pink bikini.
"This person comes in yelling and screaming, and I thought this must be a scam or a shake-down, so I reported it to the police," Giuliani told Page Six.
The film is also expected to focus on Donald Trump's relationship with convicted sex offender Jeffrey Epstein and the COVID-19 pandemic.
"Borat 2" has been described as a "meta-story" that follows Sagdiyev's attempts to conceal his identity so he won't be noticed by his targets. The first Borat film was such a huge hit it turned the character into a pop culture icon, so it's nearly impossible for Baron Cohen to prank people while dressed as the character.

This was probably why Baron Cohen was spotted performing at the March for Our Rights 3 in Olympia, Washington last June dressed as a bluegrass singer. The comedian trolled a group of 500 supporters of a right-wing militia group by getting them to sing along with a terribly offensive song about the COVID-19 virus.
The song took shots at the Chinese, liberal political figures, CNN, and Bill Gates.
"Obama, what we gonna do? Inject him with the Wuhan flu," Baron Cohen sang. "Hillary Clinton, what we gonna do? Lock her up like we used to do."
Sacha Baron Cohen trolls redneck rally.www.youtube.com
Baron Cohen was also spotted dressed as Sagdiyev driving a truck in Long Beach, California in August.

Borat 2 | Filming on the streets (2020)www.youtube.com
Borat Sagdiyev was first introduced to English television viewers in 1996 on a show called "Grandpa Television." At that time, the character was known as Alexi Krickler. The character was revived for "Da Ali G Show" which would become a hit on HBO in America.
Baron Cohen has used the fictional, satirical character to expose real-life racism and antisemitism in American and England. He's also been criticized by Kazakhstani officials as promoting negative stereotypes about their country.
Kazakhstan's Deputy Foreign Minister, Rakhat Aliyev, invited Baron Cohen to visit his country saying, "His trip could yield a lot of discoveries — that women not only travel inside buses but also drive their own cars, that we make wine from grapes, that Jews can freely attend synagogues and so on."
There's no word on when the film will be released but, in America, we could really use a laugh these days. In a time of political unrest, culture wars, and a pandemic, there's never been a better time to take a good look at ourselves and few people are better at it than Baron Cohen.