Identity
'Blind Poet' turned the loss of his vision into an opportunity to build a community on Facebook
At his most vulnerable moment, he found the gift of self-expression.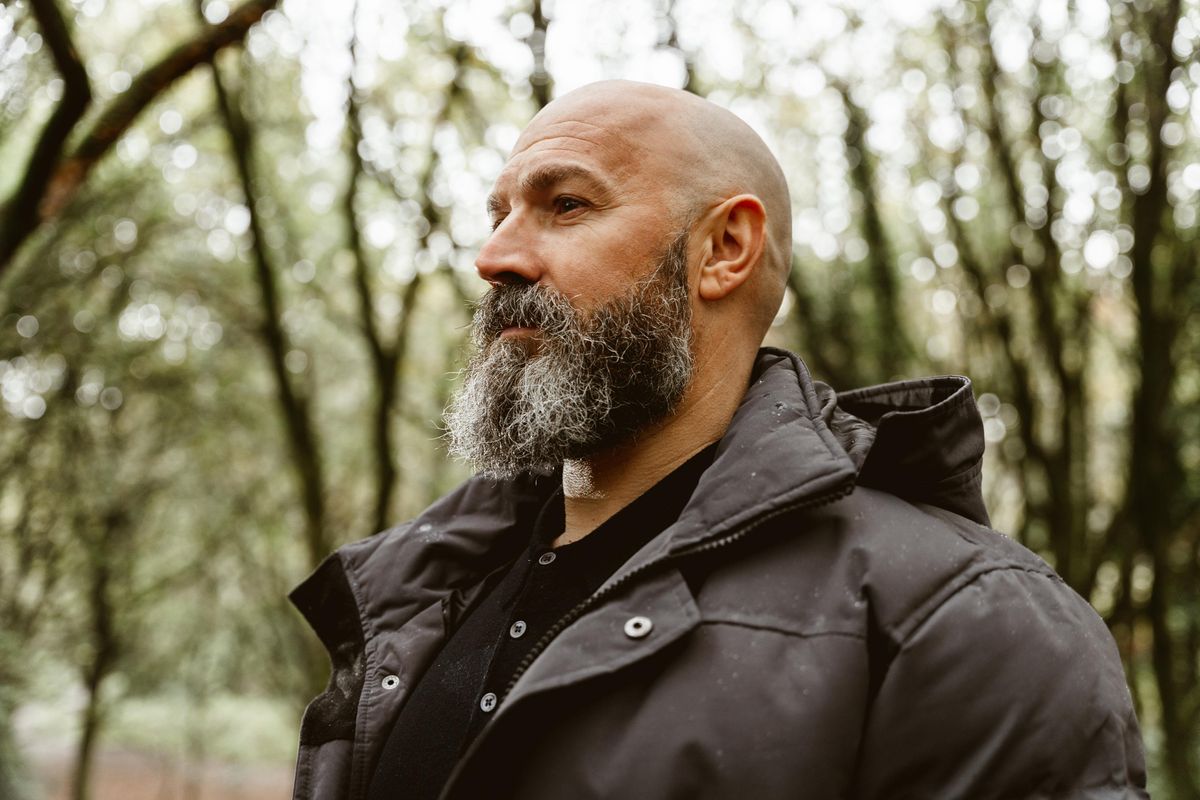 via Meta Community Voices
True
Dave Steele was diagnosed with retinitis pigmentosa (RP) in 2014 and told that he would slowly lose his vision until he was completely blind. Imagine the pain and stress of knowing that every day your sense of sight will slowly diminish until you fall into darkness.

Steele was not only losing his sight, but after his diagnosis, he felt he lost his purpose.
The diagnosis came with an added gut punch: His children also have a 50% chance of having RP. Steele lost his job, his family couldn't afford the rent on their home and the waiting list for government benefits was nine months. "I was feeling more guilty about the pressure I was putting on my family and that, in turn, was affecting my vision loss as well and I became more anxious and more isolated because of it," he told Henshaws InSights.
As his troubles mounted, Steele found solace in talking to others coping with sight loss through Facebook community groups. "That was a real massive, massive help to me," he told Henshaws InSights.
---
Steele told his new friends in the RP community that he had worked as a singer, and they invited him to perform at a support group meeting. The night before his performance, he had a moment of pure inspiration. He decided to change the lyrics to Ben E. King's hit, "Stand By Me" to reflect what life was like living with RP.
Dave Steele Stand by me RP awarenesswww.youtube.com
This opened the door for his sense of purpose in life to return. "People were coming up to me saying that the words I had written were able to describe how they had always thought about their journey with sight loss when they were unable to find the words themselves," he said.
In coping with his disability, Steele discovered a talent he never knew he had.
"I never considered myself a poet before I started to lose my sight. I worked as a singer since the age of 18 and had written a couple of poems and songs about things like previous girlfriends. But it wasn't until I started going blind that I found the ability to write these words that have helped so many people," he told Upworthy.
This realization led him to create a community for people dealing with RP. Every day he wrote about everything he was going through in poetry and posted them on Facebook RP groups. The experience was cathartic for Steele and his followers.
His poetry gave people words to describe their journey they wouldn't have had otherwise, and helped countless people feel they weren't alone. That's when Dave Steele truly became The Blind Poet. Steele has created a community on Facebook where thousands come to read his poems, share their stories, connect and support one another. He has written more than 1800 poems, published four books of poetry and written a book for children with low vision, "Austin's Adventures."
In 2019, Steele, who lives in Manchester, England, was able to do his first speaking tour of the U.S.
Steele uses his persona as The Blind Poet to clear up misconceptions about people with low vision.
"Being blind doesn't mean that we can't see anything. Ninety-three percent of people affected by vision loss have some kind of remaining vision. This misconception isn't anybody's fault but the lack of education surrounding blindness can cause people like me to become isolated," he told Upworthy.
Steele believes this misconception makes visually impaired people less likely to use their mobility aids such as a seeing-eye dog or cane in public.
"I've been accused of faking my blindness many times by strangers when I'm out and most people living with vision loss have been told 'you don't look blind,' but what does blindness look like?" he added.
Steele wants people to know that "blindness is a spectrum, that there are many different shades and ways to lose sight."
The Blind Poet's writing has a big effect on people regardless of their ability to see. "Those affected relate to the words I write and those who aren't, close their eyes and put themselves in our shoes," he told Upworthy. "I talk about themes that everyone can relate to whether living with a disability or not."
The poem that's had the biggest reaction is "The Secret," dedicated to Steele's daughter who lives in Scotland. "It's about the internal struggle with when is the right time to tell your child that they have a one in two chance of going blind when they're older due to the condition I have," he said.

"The Secret" By Dave "The Blind Poet" Steele
It took me years to come to terms with how my eyes declined
Through stages of acceptance of slowly going blind
But nothing I could ever do would allow me to prepare To tell my little girl the thing I still don't want to share
It's tortured me through sleepless nights consumed my mind with guilt
This secret I have kept from her could break the trust I've built
I pray that she will understand the things I tried to do and why I never told her that she could be 1 in 2
For she is still a child and far too young to burden with
a fate that I might pass to her for now's her time to live
But soon will come a moment when I know she must be told
When all the battles I have won I'll pass for her to hold
But for every unheard question there's an answer I've prepared
They're written in each line each verse each poem that I've shared
For every page I've filled I've emptied out my heart and soul
So one day she would know the way
That's always been my goal
So Ellie I hope years from now you'll be there reading this
Know you can do amazing things whether RP hit or miss
My inheritance to you won't be a passed down faulty gene
But knowing all life's beauty that this VIP has seen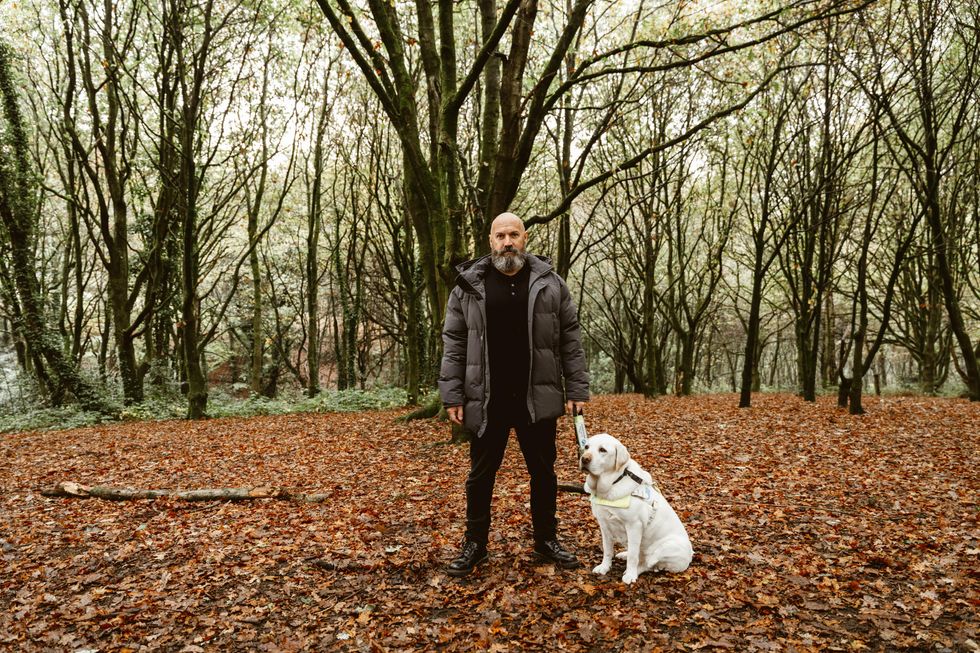 Dave Steele
His words also helped a 7-year-old girl named Jackie stand up to bullies in Amarillo, Texas. Her mother taught her one of Steele's poems and she recited it to speak up for herself. The Blind Poet met the family at an event where he spoke and wrote a poem for her. Here's an excerpt:
I may be only 7 but it's getting hard to see
They notice first the cane I hold but "Hi I'm still Jackie"
For I am just a little girl who loves to swim and dance
Will do it every single day if my eyes give me the chance
The classroom lights can sting my eyes
Some days I just black out
I try to do the best I can
Despite the ones who doubt
Don't treat me like a baby
I am small but I am strong
No matter how my vision fades
It's my world and I belong
Steele hopes that everyone who is struggling with RP can find community like he has. "Losing sight can feel very isolating and often it's easy to feel like we are the only ones going through it," he told Upworthy. "But through the words in my poetry and the many amazing support groups on social media, realizing we aren't alone can be the first step in acceptance and taking our lives back."
Facebook has been a life-changing tool for bringing visually impaired people together. "There are so many incredible support groups and pages that are created by people who are going through the same things," he told Upworthy. "Just being able to connect with someone like that is so important and it's been integral to my story."
Facebook has also given him a voice.
"Without Meta/Facebook I wouldn't be where I am today or known as The Blind Poet," he said. "To be able to write a piece of poetry and upload it by clicking a button and sending it around the world and to someone who needs to hear its message is truly an incredible thing."
Steele finds that Facebook's accessibility features have improved over the years and helped the visually impaired get the most out of the platform.
"Things like dark mode, allowing users to invert the colors on the display to reduce glare on the eyes," he said. "Also larger text options and, of course, VoiceOver make sure that we can connect with people just the same as anyone else."
After facing adversity, Steele has turned it into an opportunity to uplift countless people who are facing a devastating diagnosis. Even though his sight may be fading, his dedication to helping others is only growing stronger.
"Being known around the world as The Blind Poet is something I never take for granted," he told Upworthy. "Every day, I try to reach more people and replicate the impact my poetry has already had with others. I want the opportunity to speak at more events around the world and ultimately to continue to be a voice for those who are comforted by my words."