Education
Yes, there is actually a best way to load a dishwasher
This info could save many a relationship.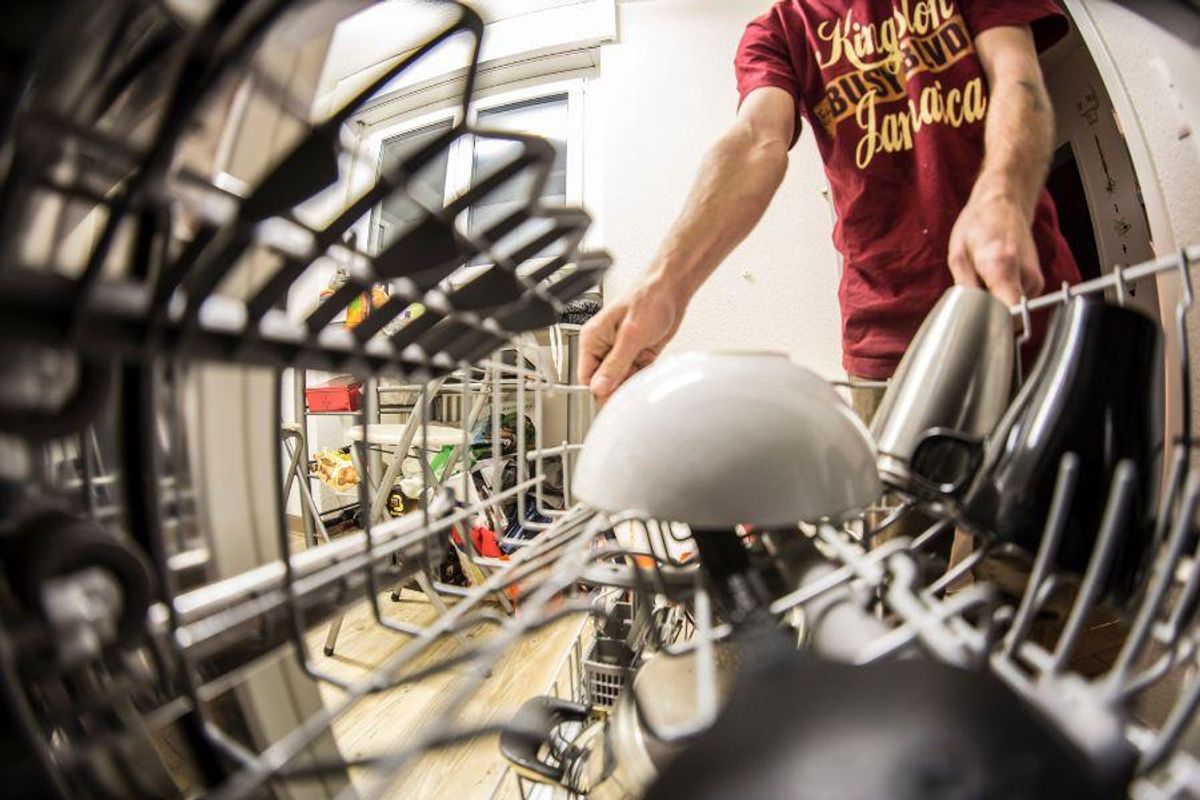 Photo by Wendelin Jacober via Canva
There are two types of people in this world—people who care about how the dishwasher gets loaded and those who don't, and never the twain shall meet.
Those who do care are frequently driven bonkers by those who don't, as well as by their fellow carers who disagree on the proper methodology. Dishwasher loading is serious business for those who care, and many a ladle has been raised in exasperation at those who load the dishwasher "wrong"—as if there were a definitive "right" way to do it.
There's a difference between "right" and "best," of course. Everyone thinks their way is right, but that's a completely subjective judgment. There really are some best practices, however, based on manufacturer tips and experts who test dishwashers for consumer rankings lists.
---
One caveat: There are different reasons why people load the dishwasher in certain ways due to how their kitchen is set up and for efficiency of unloading, so there may be specific practices that aren't addressed here. For example, someone might always load their glasses on the left side of the dishwasher and their bowls on the right because the glasses cabinet is to the left of the dishwasher while the bowls cabinet is to the right of it. What's "best" at that level of detail will differ, so defer to the resident person-who-cares in each kitchen.
One more caveat: Always check manufacturer recommendations first. Some dishwashers may have features that require loading a certain way to work the way they should.
Generally, however, these best practices apply across the board:
1. Don't pre-rinse, just scrape off chunks of food.
Getting controversial right outta the gate here, but unless your dishwasher genuinely doesn't work right, you don't need to rinse food residue off dishes before loading. We had an old dishwasher that basically just sanitized the dishes but didn't clean them, so we spent years rinsing, but that was simply a case of needing a new dishwasher. Once we got one we learned that it's actually better to not rinse dishes first. Pre-rinsing not only wastes water and time, but it may actually make your dishwasher's performanceworse. Newer dishwashers have sensors that detect how dirty dishes are, so if you rinse too well you may fool the dishwasher into thinking the dishes aren't really dirty.
2. Cups and bowls upside down, plates facing the center.
Loading cups and bowls face down might seem like a no-brainer for most, but there are people who don't understand how a dishwasher washes. Water sprays upward from underneath each rack, so if you want the inside of cups and bowls to get as clean as possible, they need to be facing down. They'll also get filled with water if they're not upside down.
Everything should be facing or angled toward the center of the dishwasher, as water sprays from the center out. Yes, plates look more uniform when they all face the same direction, so this might be hard for the visually fastidious among us, but facing center makes for the most effective cleaning.
3. Plastics on top rack only, and only if labeled dishwasher-safe.
The top rack of the dishwasher doesn't get as hot as the bottom, and plastics can melt. Even if there's no visible melting, high temps can cause potentially harmful chemicals to leach out of plastic dishware and containers, so look for labels that say "dishwasher safe" and only place plastic items on the top rack. (Or wash by hand, which is recommended for plastics that aren't labeled as BPA-free.)
4. The great silverware directional debate settled, sort of.
Some new dishwashers have a flat rack for silverware on top, which eliminates the question of what direction they should face. For the traditional vertical baskets, there are various schools of thought. Some people put all the knives together, forks together, spoons together, etc. for ease of unloading. And then there's the handles up or handles down question.
Consumer Reports, which tests dishwashers, recommends placing spoons and forks handles down and sharp objects such as knives handles up. It also recommends mixing different types of silverware in each basket. Total chaos, I know.
The handles-up method makes for quicker and more sanitary unloading, it's true. But placing silverware handles down allows more space between the eating ends and mixing them up prevents nesting, both of which help them get cleaned better. Just make sure whoever is unloading has clean hands when they're grabbing the silverware by the eating ends and all will be well.
5. Don't overload.
This may also seem like an obvious statement, but again, you'd be surprised. The key here is to visualize the sprayers and where the water is going to reach inside the dishwasher. If bowls are stacked on top of each other, even loosely, the water won't reach inside the ones on top. One layer of dishes with a bit of space between each item—not a lot, just a little—will ensure that water can reach in and around every piece and will keep glass and ceramics from getting chipped or broken.
Give the top rack sprayer a manual spin with both racks pushed in before closing the lid as well. Stuff that's too tall on the bottom rack will stop the sprayer from spinning, which will inhibit its ability to clean the top rack.
6. Load back to front.
This best practice is particularly important if you are loading the dishwasher gradually throughout the day. It's easier to open the dishwasher a crack and place a glass or bowl in the front of the rack, but you'll save yourself a lot of guesswork about how full the dishwasher is if you train your household to start at the back and move forward. You'll also save yourself a bunch of rearranging before running.
7. Listen to people's reasons for loading certain ways and stay open to new ideas.
Beyond the basics listed here, there are all kinds of individual preferences for loading a dishwasher, some of which are simply habit and some of which are based on logic and reason. With the exception of the vertical silverware mix-up, it makes sense to put cups or dishes that go in the same cabinet together in the dishwasher, for instance. And there are ways to place your household's unique dishware most efficiently for space, so asking the resident person-who-cares for their recommendation isn't a bad idea.
Having some basic ground rules for dishwasher loading is helpful to avoid kitchen conflict, but so is being open to sharing ideas and learning from one another. With a little humility, we can put the ladles down and end the dishwasher wars once and for all. (Unless someone tries to cook a steak in the dishwasher, in which case bring on the battle.)