More
Alexandria Oscasio-Cortez shared a wild story about what happens when politicians watch too much Fox News.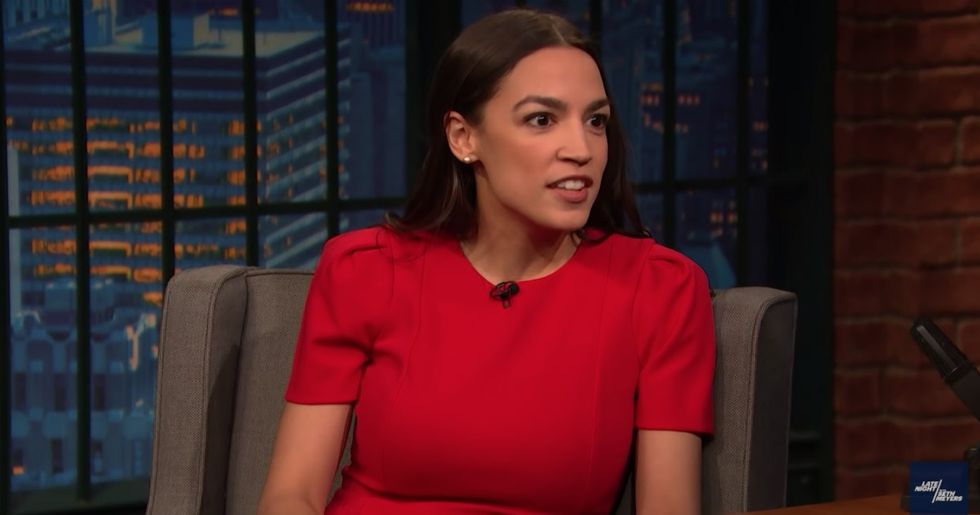 When Alexandria Oscasio-Cortez (D-NY) completed her historic election to Congress in 2018, plenty of people wondered if her momentum would carry over when she was off the campaign trail and forced to participate in the much quieter world of legislating.
Needless to say, she hasn't missed a beat.
Part of what has kept AOC in the public spotlight is the unique approach she has taken to asking questions during congressional hearings.
---
Some people think she's too flashy -- all spark and no substance. While her fans, and even some of her critics, have applauded her for asking the tough and honest questions that often get left behind in the hallowed halls of Congress.
During an appearance on "Late Night with Seth Myers" AOC said the reason her questions go viral isn't because there's anything special about her, other than her "secret" of paying her staff a living wage.
You know what's amusing about this whole thing? Our leg staff (who help w Qs) *also* worked in restaurants, grew u… https://t.co/79TaVASJbB

— Alexandria Ocasio-Cortez (@Alexandria Ocasio-Cortez) 1553188436.0
While noting she pays every member of her staff a living wage, no one makes less than $52,000, she even suggested Republicans do the same if they want to have better questions for their next hearing.
"If you pay your staff, you'll be prepared," she quipped.
AOC said it's important because she's been shocked at how uninformed many of her congressional colleagues are.
The reason FOX News + Breitbart attack @AOC, @IlhanMN, @RashidaTlaib so much is because Rupert Murdoch and Robert M… https://t.co/80YwkEP8fZ

— Waleed Shahid (@Waleed Shahid) 1553129583.0
"One of the side-effects of this kind of Fox News lunacy is that other actual members of Congress believe it, and see it uncritically," she said. "So I was on the floor [of the House] once and this guy came up to me, and he was like, 'Is it true that you got $10 million from Netflix?' And I was like, 'No?' And it was like, in the well—we're voting on, like, gun reform. And I'm like, what else do you not know?This is concerning."
Then, things got a little weird, when AOC joked about all of the criticism she gets from moderate Democrats and conservatives. When Myers asked what that was all about, she wondered out loud, "Why are so many grown men obsessed with this 29-year-old?" before looking down at her dress and deciding maybe that's a question not worth dwelling on.
However, she admitted that sometimes it's at least entertaining. "It's really funny and the conspiracy theories are great, too."
But regardless of your political views, AOC makes a great point. We miss the days when congressional staffers and elected officials themselves were treasure troves of knowledge and experience.
Our government is meant to reflect and enforce our collective values. So, if we truly care about having an informed citizenry it's time to insist that our members of Congress reflect that value by hiring, and paying, the best staffers available to help them do the best job of representing the people who sent them to Congress.