A man was ridiculed for proposing at KFC — then strangers bombarded him with generosity
11.12.19
We all know that social media can be a cesspool of trolly negativity, but sometimes a story comes along that totally restores your faith in the whole thing. Enter the KFC proposal that started off being mocked and ended up with a swarm of support from individuals and companies who united to give the couple an experience to remember.
Facebook user Tae Spears shared the story with screenshots from Twitter, and the response has been overwhelming.
---
It all started with a tweet from a self-proclaimed journalist (whose Twitter account is now private) who mocked a man in South Africa for proposing to his girlfriend at Kentucky Fried Chicken. She wrote, "SA men are so broke they even propose at KFC...they have absolutely no class, I mean who proposes at KFC."
Who does propose at KFC? Perhaps someone who has some kind of personal history with the chain? Maybe it's where the couple met. Maybe KFC is some kind of meaningful inside joke in their relationship. Maybe they don't give two hoots what people think about where they get engaged.
Whatever the reason, KFC South Africa decided they wanted to do something special for the couple who was being made fun of. They responded with a request to all of "Mzansi"—an informal name for South Africa—to help them "find this beautiful couple."

Find them they did—but that isn't all.
Company after company in South Africa started joining the prenuptial Twitter party, offering various wedding gifts to the KFC couple.
Woolworths offered them a R15K voucher, the equivalent of about $1000 USD, saying "We love it when Twitter shares the love."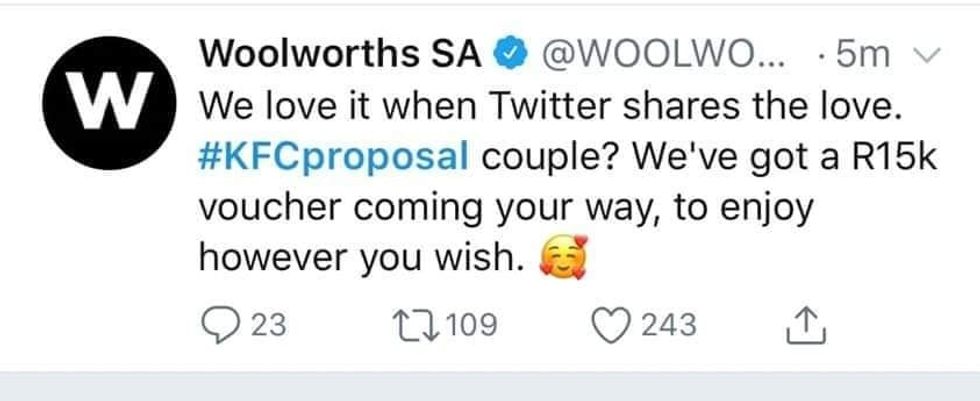 Tae Spears/Facebook
Coca-Cola offered to provide all of the soft drinks for the wedding.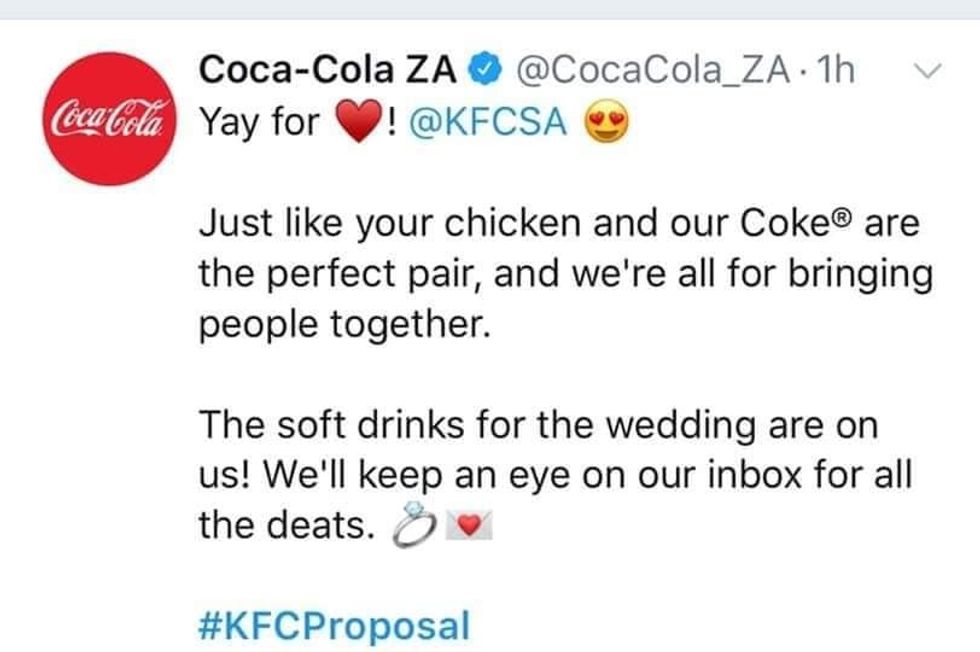 Tae Spears/Facebook
And a jewelry company offered up the rings.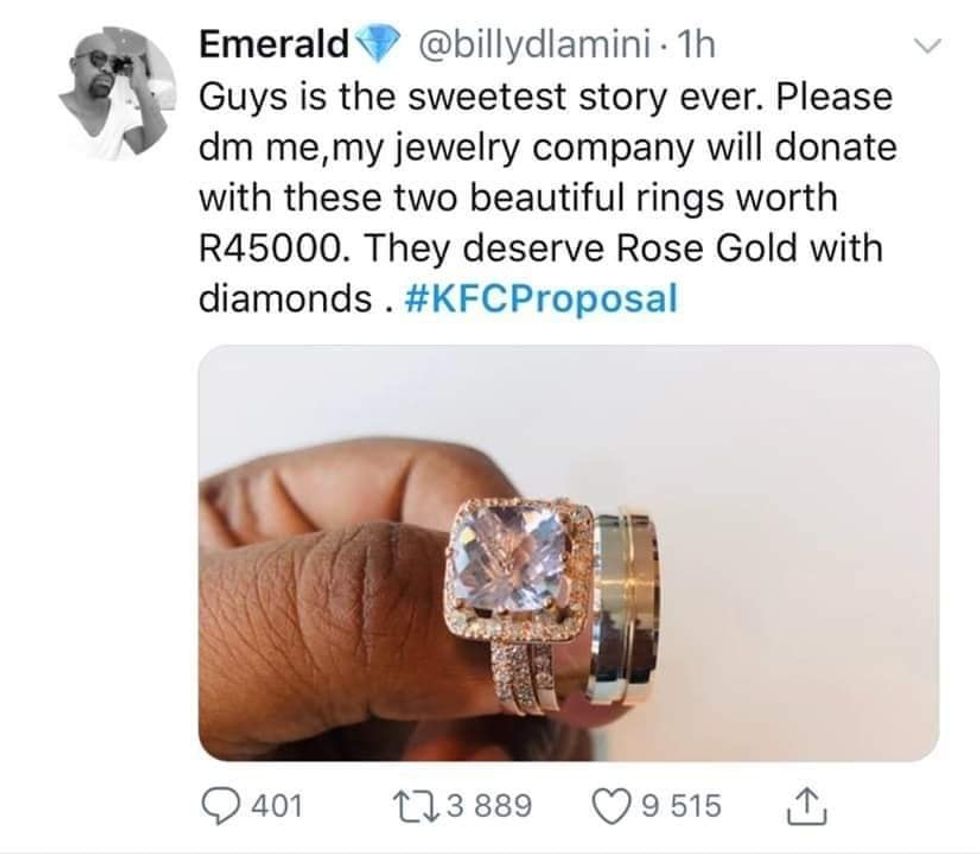 Tae Spears/Facebook
Someone offered to provide the groom a suit, someone else offered to make the traditional wedding outfits, and yet another person offered to pay for them.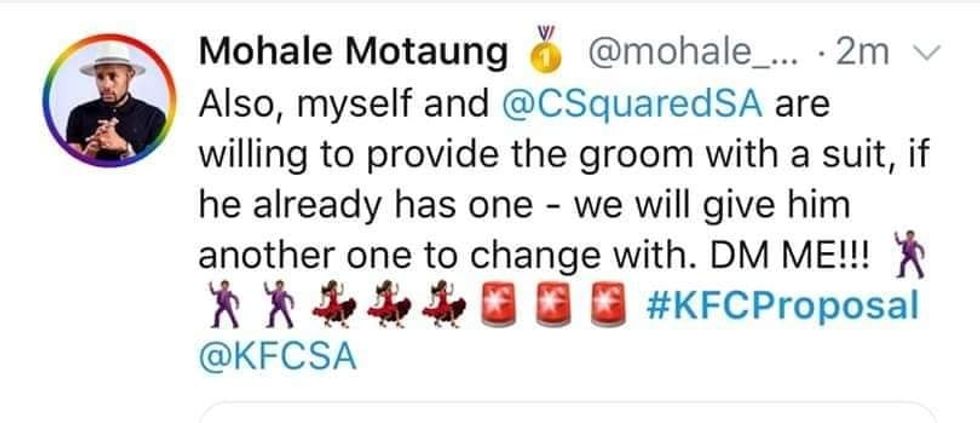 Tae Spears/Facebook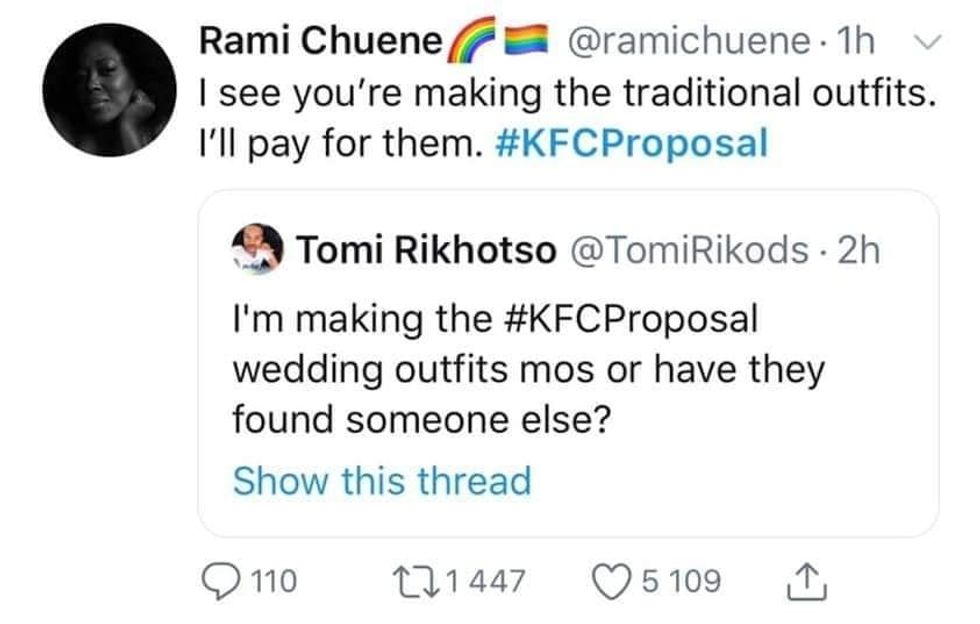 Tae Spears/Facebook
A lager company offered to help out with the lobola negotations—a traditional monetary gift from the groom's family to the bride's family.

Tae Spears/Facebook
Tech companies jumped in with devices and data, and a news station offered to livestream the whole wedding. (I mean, not everyone would want their wedding live streamed in front of the entire country, but it's a generous offer nonetheless.)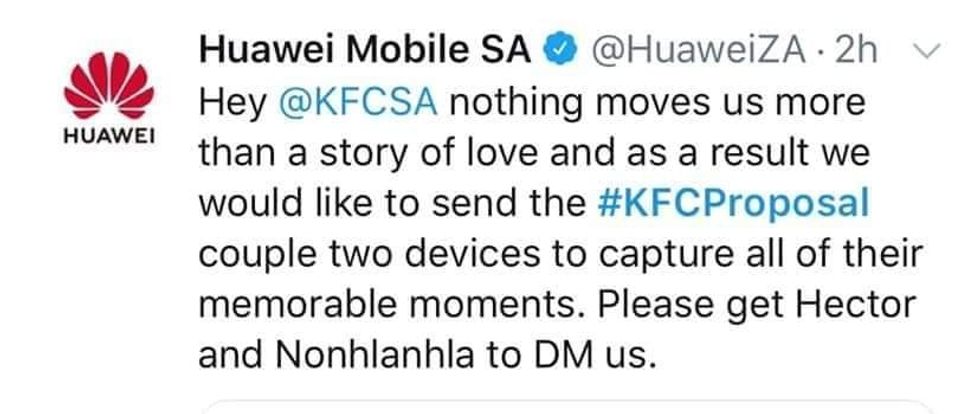 Tae Spears/Facebook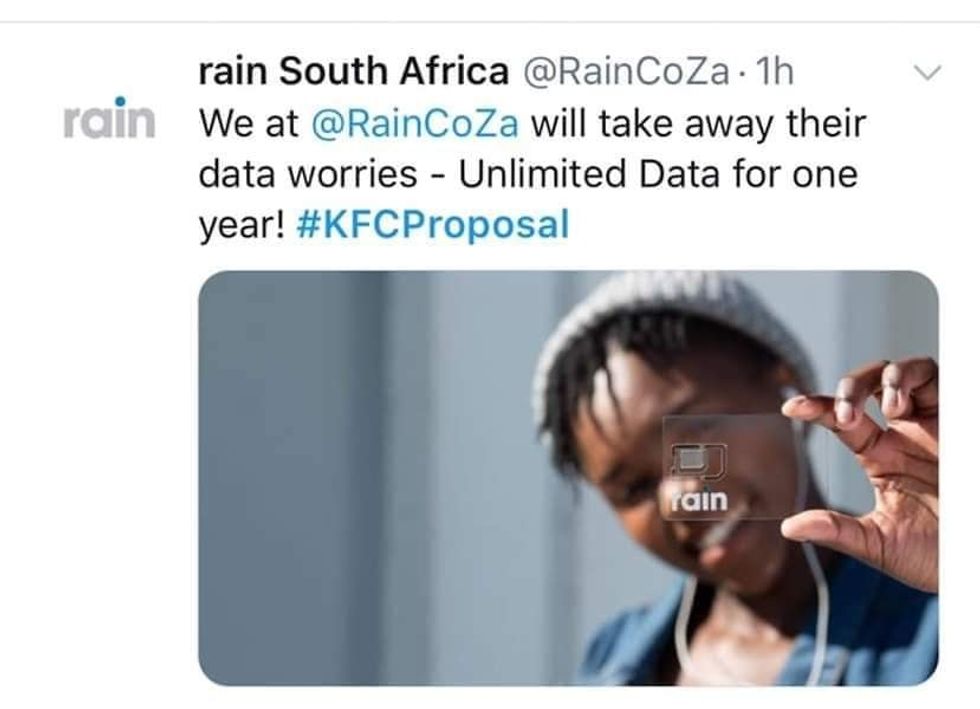 Tae Spears/Facebook

Tae Spears/Facebook
Honeymoon offers came in...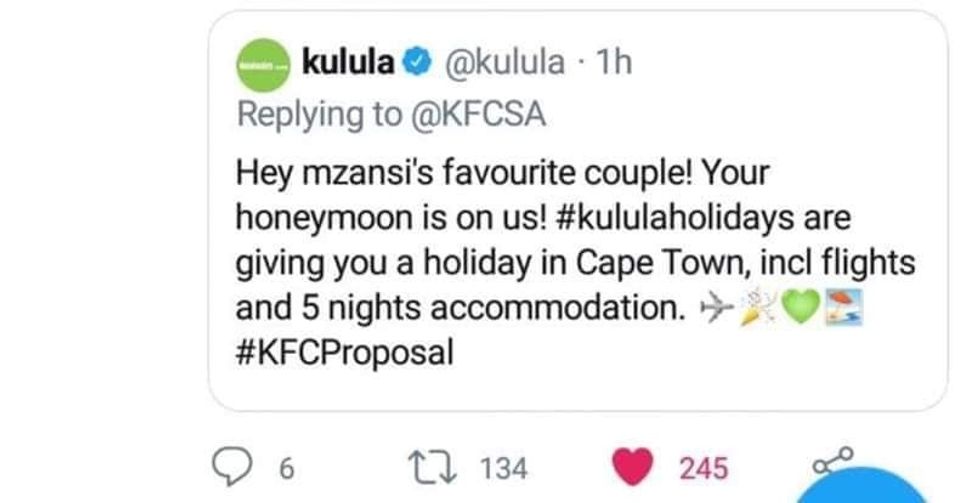 Tae Spears/Facebook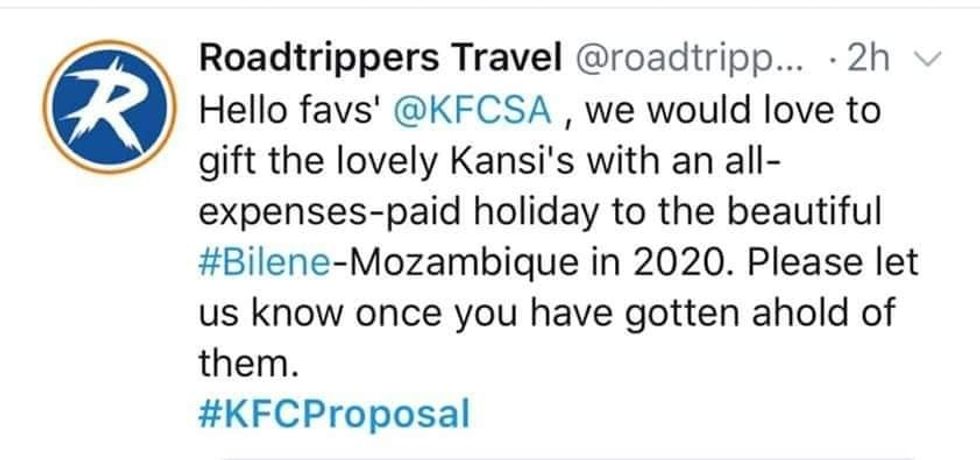 Tae Spears/Facebook
...with additional offers to get the couple to wherever they decide to go.

Tae Spears/Facebook

Tae Spears/Facebook
All in all, dozens of companies, corporations, and individuals showered the couple with gifts and offers, from photography to performances to food to lingerie. The kindness and generosity of strangers will undoubtedly more than cover the cost of their wedding and honeymoon, but more importantly, let the couple know that a proposal is something to celebrate, no matter where it takes place.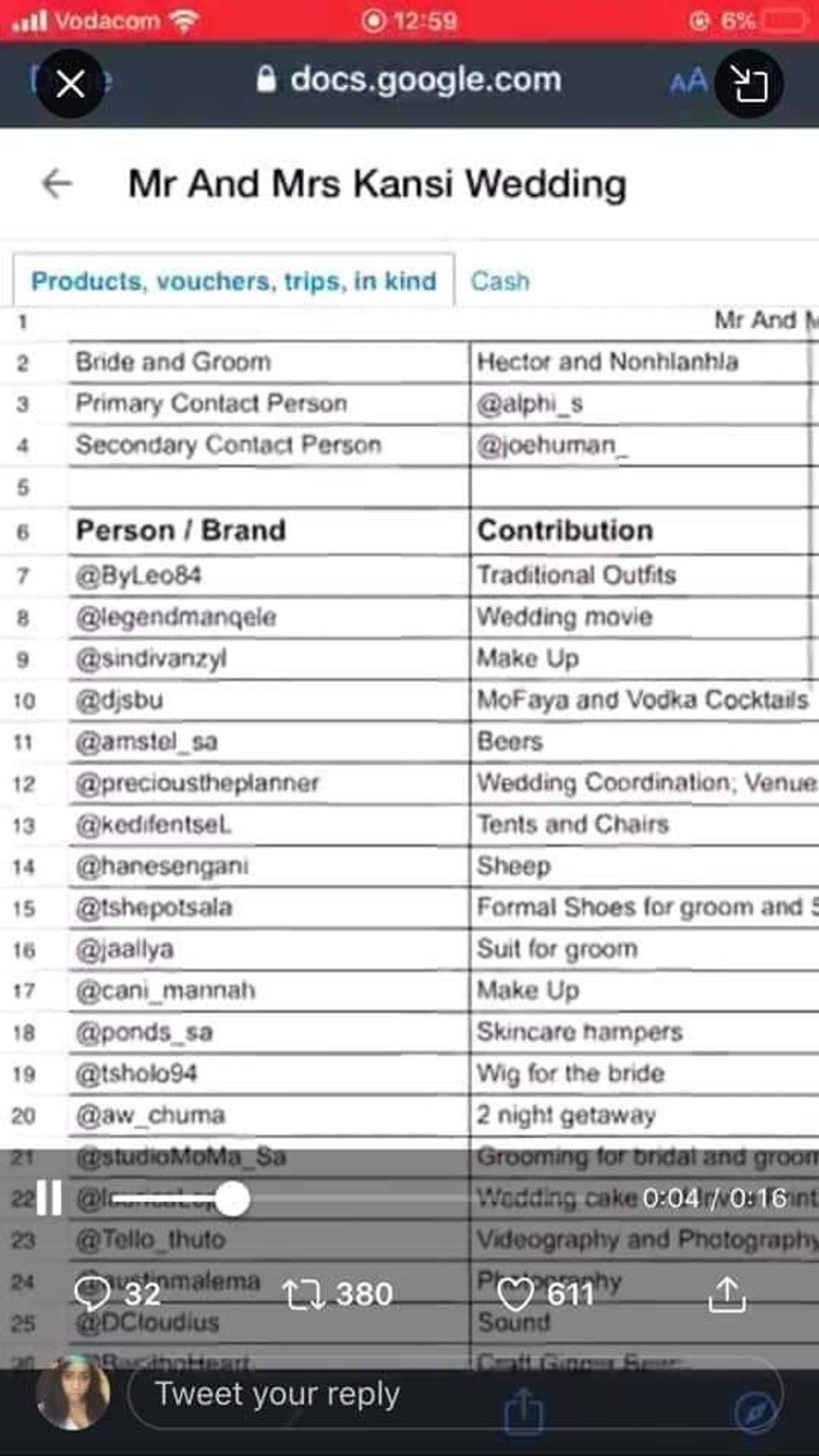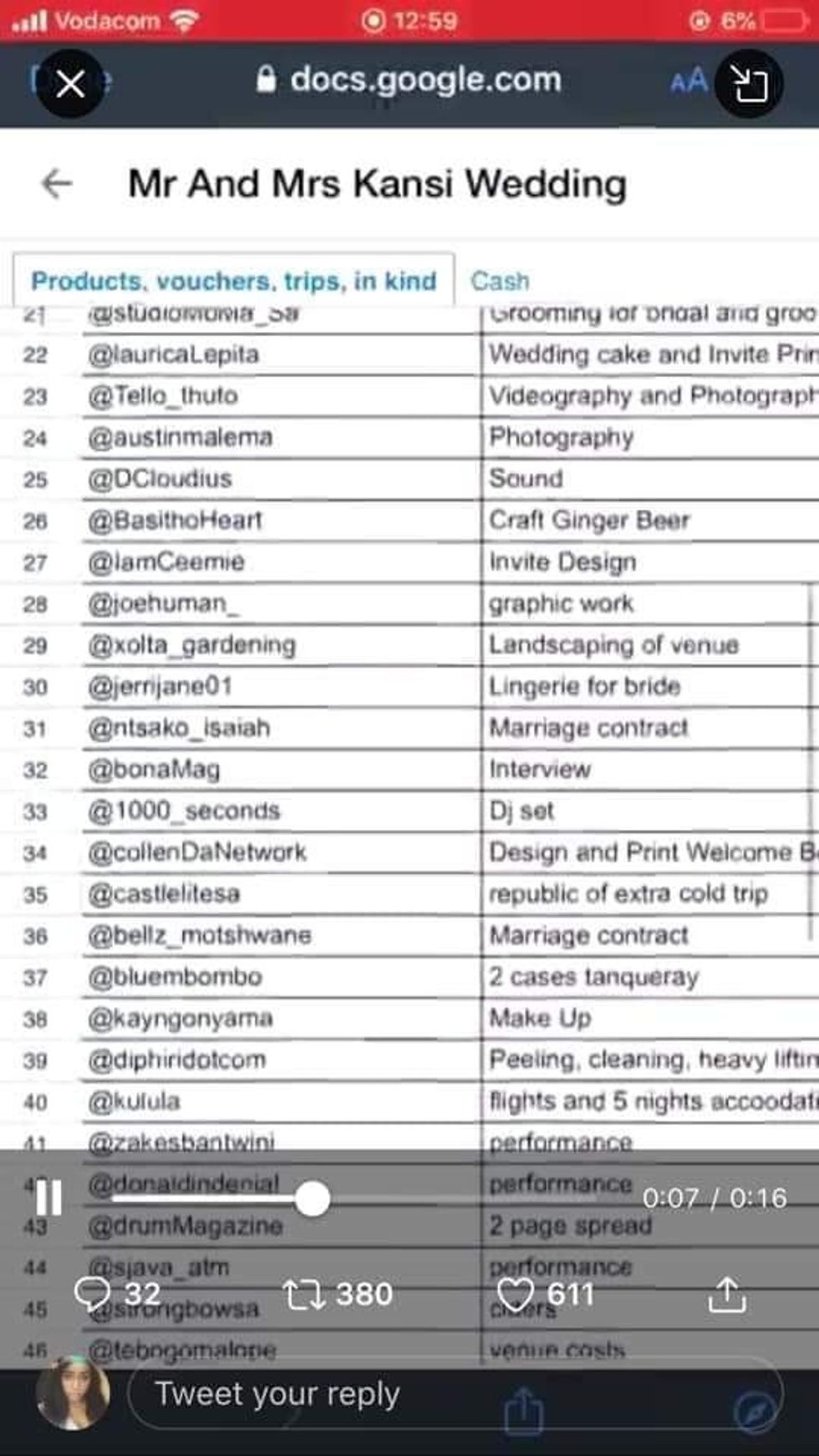 What a wonderful example of how one thoughtless comment can lead to a wave of support and solidarity. This is what social media can and should be.
Best wishes to Mr. and Mrs. Kansi. May your life together always be finger-lickin' good.
popular