Heroes
Viral stories of people helping strangers pay for groceries are inspiring other acts of kindness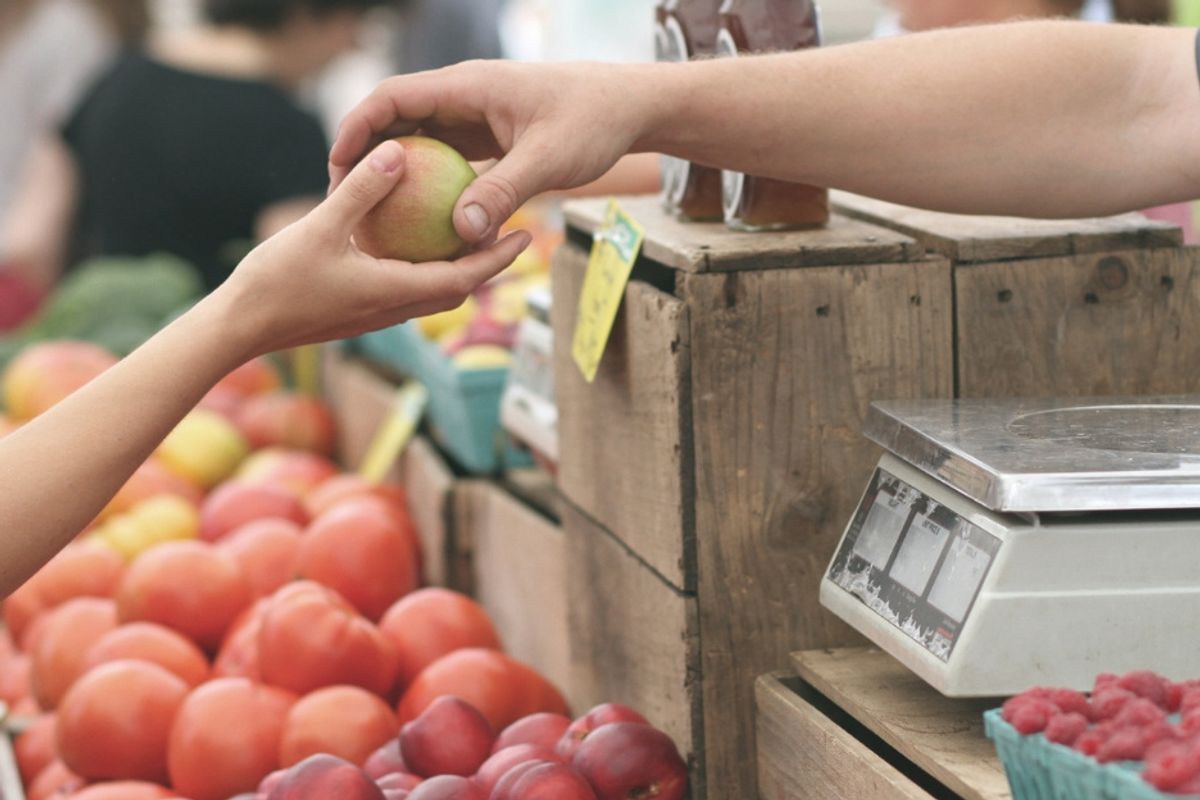 Canva
You're standing in line at the grocery store, and the person in front of you has their card declined. You know nothing about this individual, except that they can't pay for the items that have been rung up.
Maybe she's a single mom who's struggling to make ends meet, or maybe she's an addict who spent her kid's diaper money on drugs. Maybe he's a veteran living on disability, or maybe he's a scammer trying to mooch off of kind-hearted strangers. There's no way to be sure.
So what do you do?
A viral collection of stories about strangers helping strangers in the checkout line illustrates what it looks like when people choose to "do good recklessly"—and it's just so dang beautiful.
Screenshots posted by Facebook user Ashley Westover have been shared more than 80,000 times. Clearly people like to be reminded that kindness wins the day.

The first story reads:
"I was in line at Aldi and this girl with two toddlers in front of me had her card declined and she looked so fucking sad and said 'let me call my husband real quick' and it was only 18 dollars, so I just paid for it, and she was very sweet and then as she walked off, the lady behind me said 'You know that was probably a scam, right' and like, even if it was, like what a sad fucking scam, right? 18 dollars at the Aldi. If you're 'scamming' me for some Tyson chicken and apple juice and cauliflower, then just take my fucking money.
'A scam' people are fucking wild.'"
Another person then chimed in:
"This happened to me, too. A woman had used WIC for the majority f her stuff (which I say from personal experience is such a long and embarrassing process) and to buy the remainder of her groceries, which included diapers and wipes, she used a card, and it got declined. I bought the other $30 of her groceries because hey, I've been there, and now I'm not. She was extremely emotional and began to cry and even hugged me. My mom called me on the drive home and could tell I had been crying myself, asked what was wrong, and when I told her what happened, she berated me for being 'duped.' I couldn't believe she could be so disappointed in one of her children for doing something—nice? Is that the hill you want to die on? Getting mad about people needing groceries?"
Next up came a person who helped a woman with a vet bill:
"I once paid for a woman's bill at the vet...it wasn't a big one, but she was trying to pay for some medication for her dog, and her card was declined. And her lip started trembling, and she says 'I don't get paid until Tuesday, would he be ok until then?'
So I just told them to add the $20 something onto my bill, and I thought she was going to break down crying right there.
And I don't care if it was a scam or not. Just do nice things for people sometimes."
And another shared a story about how their dad served as an example of generosity:
"One time, my dad and I were living [sic] the grocery story and there was a guy outside asking for money to buy some stuff to take home for his kids. It was around Christmas time. My dad asked him if he could give him groceries instead of money, and the guy immediately said yes, so my dad gave him one of everything we bought (meant, rice, some chocolates, milk, oil). At that time, my dad hadn't gotten his paycheck because the company he worked for was going through a tough time, but he didn't care, he saw an opportunity to help someone and he did.
Another time, my dad gave 50 bucks to a guy who said he needed to buy medicine for his kids. I told my dad he was probably going to spend the money on alcohol or something, but my dad said that 'whether he was lying or not says something about HIS character, but hearing someone in need and choosing not to help when I have the means to says something about mine.'

I never forget that."
Finally, somoeone shared a personal story from the receiving end, bringing it all full circle:
"So this has happened to me but from the other side. Several years ago when my oldest was around three or so, I had my debit card decline at Walmart. It wasn't a scam or a mistake, I was genuinely broke. Out of money. I checked my bank and discovered I had something like 7 dollars left to my name and a hungry kid and nothing to eat at home. So I sat there trying to come up with the best way to stretch that tiny amount of money to feed my kid. Not even to feed me. I can live on popcorn or something if I have to but my kid was three and he had to eat.

So there I am trying really hard not to cry while I slowly take things out of my basket to get it down to under 7 bucks, when a lady tapped me on the shoulder. I looked up and she smiled at me and started putting the things back in my cart. I opened my mouth to tell her that I didn't have the money for them but she stopped me right away and said 'Don't worry about it. It's gonna be fine.' Then she handed the cashier her credit card and said 'Ring up all of it.' My kid got to eat because of her. I got to eat because of her. I had laundry soap and deodorant because of her. She could've just ignored me silently struggling in that line. She could've decided I was a scam and gone home feeling good about avoiding being duped. But instead she chose to help me and she saved us.

So maybe the person struggling in front of you is trying to put one over on you or maybe they are just sad and broke and trying to figure out what to do. You get to decide which you want to believe and what you want to do. But I'll tell y'all, no one has ever been more beautiful to me than that lady in that line who saved me and my baby. Be like her. Be beautiful."
A simple, three-word response summed up the whole beautiful thread: "Do good recklessly."
Isn't that the best life motto? Put it on t-shirts. Stencil it on walls. Tattoo it on biceps. DO GOOD RECKLESSLY.
Imagine a world where people gave one another the benefit of the doubt more often than not. Imagine a world where we all assumed the best in people. Would we sometimes get taken advantage of? Probably. Would we be helping people more often than we were being duped? Definitely.
There's a place for wisdom, and no one is saying not to ever be wary of scammers. But situations like these stories are times when assuming the worst may leave someone feeling alone and hopeless. Imagine a world where more people did good recklessly.
That's the world I want to live in.