Most Shared
Yo-Yo Ma performed a moving concert at the U.S./Mexico border to protest Trump's immigration policy.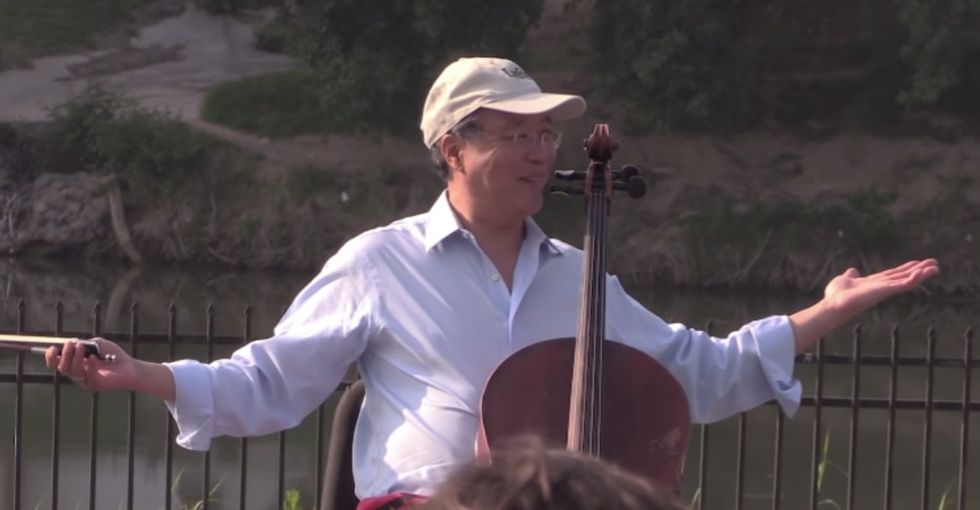 Yo-Yo Ma chose to play one of his Bach Project concerts in the border town of Laredo, Texas for a reason.
The Juarez-Lincoln International Bridge, which stretches over the Rio Grande to connect the sister cities of Laredo, Texas and Nuevo Laredo, Mexico, provided the backdrop for Yo-Yo Ma as he played for a crowd of people in Laredo this weekend. The bridge served as the perfect symbol for the renowned cellist's message: "In culture, we build bridges, not walls."
For the past two years, 63-year-old Ma has been traveling the world with his "Bach Project"—an exploration of the connections between cultures. Performing Bach's six suites for cello in 36 locations around the world, Ma hopes to share the composer's "ability to speak to our common humanity at a time when our civic conversation is so often focused on division."
---
His concert at the border was followed by a concert on the other side of the bridge in Nuevo Laredo, Mexico.
Ma himself is a perfect representation of cross-cultural understanding.
The mayor of Laredo, Pete Saenz, said the cities of Laredo in the U.S. and Nuevo Laredo in Mexico enjoy close cooperation and see themselves as part of one border community.
"Although people may perceive us as being so different, we're not," he said, according to NPR. "Here the border is extremely unique in that it's one organism. I've always said we're interdependent, interconnected. We survived because the border side survives, especially here on the border area."
Yo-Yo Ma, who was born in Paris to Chinese parents but lived most of his life in the U.S., understands how cultures intertwine more deeply than most. "I've lived my life at the borders," Ma told the audience. "Between cultures. Between disciplines. Between musics. Between generations."
He has spent six decades performing music around the world and believes strongly in the power of music to bring people together.
Ma called up on the words inscribed on the Statue of Liberty to drive his point home.
In his remarks during the concert, Ma read part of the inscription on the Statue of Liberty: "Give me your tired, your poor, your huddled masses yearning to breathe free, the wretched refuse of your teeming shore. Send these, the homeless, the tempest-tossed, to me. I lift my lamp beside the golden door!"
Ma added, "We must live by those words."
He also pointed out that "A country is not a hotel, and it's not full"—an obvious reference to President Trump's recent tweet stating, "Our Country is FULL."
His message was clear: We should be focusing our energies on building bridges connecting people, not walls dividing them. And what better way to connect people than through music that has touched people of all walks of life for hundreds of years.