True
Davina Agudelo was born in Miami, Florida, but she grew up in Medellín, Colombia.

"I am so grateful for my upbringing in Colombia, surrounded by mountains and mango trees, and for my Colombian family," Agudelo says. "Colombia is the place where I learned what's truly essential in life." It's also where she found her passion for the arts.
While she was growing up, Colombia was going through a violent drug war, and Agudelo turned to literature, theater, singing, and creative writing as a refuge. "Journaling became a sacred practice, where I could leave on the page my dreams & longings as well as my joy and sadness," she says. "During those years, poetry came to me naturally. My grandfather was a poet and though I never met him, maybe there is a little bit of his love for poetry within me."
In 1998, when she left her home and everyone she loved and moved to California, the arts continued to be her solace and comfort. She got her bachelor's degree in theater arts before getting certified in journalism at UCLA. It was there she realized the need to create a media platform that highlighted the positive contributions of LatinX in the US.
"I know the power that storytelling and writing our own stories have and how creative writing can aid us in our own transformation."
In 2012, she started Alegría Magazine and it was a great success. Later, she refurbished a van into a mobile bookstore to celebrate Latin American and LatinX indie authors and poets, while also encouraging children's reading and writing in low-income communities across Southern California.

When the pandemic hit in 2020, she decided it was time to do even more to serve people during these difficult times.
"It became clearer to me that the lack of representation in the book publishing industry for BIPOC/LatinX writers & poets had to change," she says. "I want to be an agent of change in the publishing industry and contribute to its transformation."
She created Alegría Publishing to nurture and produce works by indie LatinX storytellers and expanded the mobile bookstore to celebrate BIPOC/LatinX writers and poets, as well as the books published by Alegría publishing. And one day she hopes that she can take the bookstore across the United States and discover even more emerging writers.
Today, Agudelo also mentors indie authors two nights a week through the Alegría Writing Collective for LatinX writers. "They rock my world every class," she says.
"The amount of talent in our community pushes me to keep growing our company so the world can read their work and remember their names."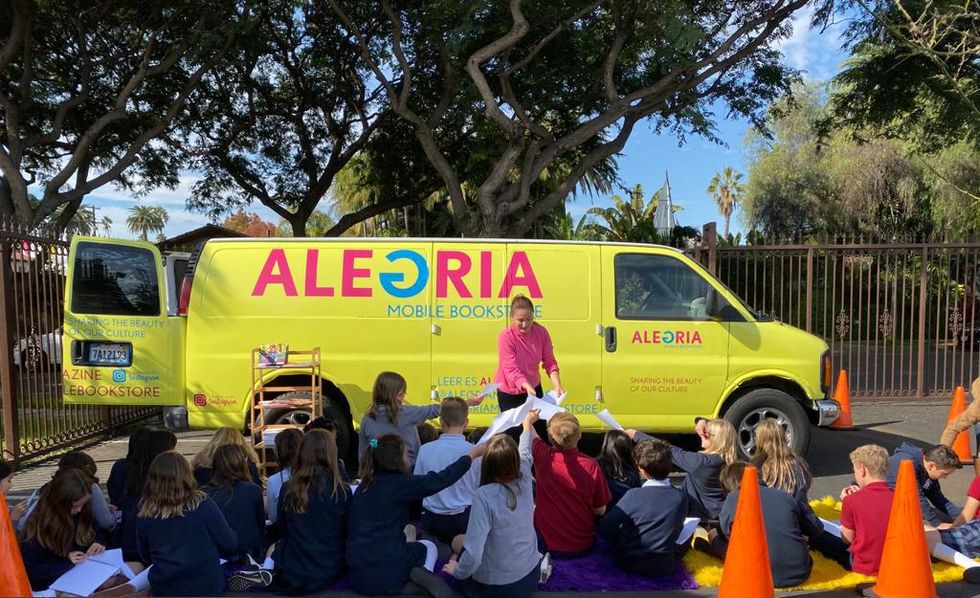 Agudelo has made it her mission to empower women and her community. "My career has been such a blessing filled with magical milestones and I never take these moments for granted," she says. "There is nothing like being able to make a woman's dream of publishing their first book and bring it to life. Watching their reaction, when they look at their book for the first time is priceless."

"As women, we are naturally powerful, we just have to keep reminding each other of our power."
Agudelo is one of Tory Burch's Empowered Women this year. The donation she receives as a nominee is being awarded to The Sims Library of Poetry, which is the first black-owned poetry library in California.
"Hiram Sims, its founder, started lending books to his university students out of this suitcase after mandating that they read one book of poetry a week. As demand grew, his suitcase library was forced to seek a larger home," says Agudelo. "Their mission is to serve, educate, and foster a love for poetry, especially for marginalized people of color in the community of South Los Angeles."
To learn more about Tory Burch and Upworthy's Empowered Women program visit toryburch.com/empoweredwomen. Nominate an inspiring woman in your community today.
Everyone has heard stories of the strange and intense food cravings women get when pregnant. There's the pregnant woman who had to have dill pickles dipped in ice cream or the one who couldn't make it through the night without a bucket of a specific type of fried chicken.

Researchers have yet to lock down the exact reason why pregnant women have these seemingly unnatural cravings, but there are a few reasons that are often cited. Women who are pregnant experience heightened senses of smell and taste that can have a direct effect on their appetites.
Some researchers believe their bodies may be craving specific nutrients they need for a healthy pregnancy. Others have suggested that dietary requests at odd hours may be a way for a pregnant person to develop a supportive bond with their partner before the baby arrives.
Mia Challiner, a British student who lives in France, decided to taste test some of these strange food combinations on her TikTok page, and the videos quickly went viral, amassing millions of views.
In the videos, she whips up odd combos such as pizza and ice cream or chicken and peanut butter, wolfs them down, and then gives them a rating.
After watching these videos it's pretty clear that she has an open mind and adventurous tastebuds because she likes a lot of disturbing combos.
Toast and ice cream, WTF?
@miachalliner

should I do my top WORST ones next? 🤢 #imnotpregnant #weirdcombos
Pickles and honey? No thanks.
@miachalliner

pt2? Some of favorites from my series- #weirdfoodcombos #imnotpregnant
In this video, she goes off the deep end with sardines and cereal as well as peanut butter and jam on a mushroom.
@miachalliner

Reply to @avocadosandchocolate ive said this before but this one was by far the worst! #imnotpregnant #weirdfoodcombos
In her third video, she braved a plain potato peel and a tablespoon of cornstarch. Yick.
@miachalliner

Answer to @sunnivajohansen as requested, here's part 3 of eating women's WEIRD pregnancy cravings!! #fyp #imnotpregnant
How does an apple drenched in ketchup sound? How about a big glob of peanut butter soaked in hot sauce?
@miachalliner

trying women's weird pregnancy craving combos- which one would you hate the most? #fyp #imnotpregnant #weirdfoodcombos
The folks at The Daily Mail rounded up her most and least favorite food combos.
Top 5 best:
Pizza and ice cream: 12/10

Baked potato and ice cream: 12/10
Pretzel and ice cream: 10/10
Jam and cheese: 10/10
Cream cheese and jam on toast: 9/10
Top 5 worst:
Blue cheese and brownie: -10000/10
Chicken and peanut butter: 2/10
Banana and cream cheese: 2/10
Peanut butter and jam on a mushroom: 3/10
Raw onion: 3/10
Get stories worth sharing delivered to your inbox