All images provided by Prudential Emerging Visionaries
True
A changemaker is anyone who takes creative action to solve an ongoing problem—be it in one's own community or throughout the world.
And when it comes to creating positive change, enthusiasm and a fresh perspective can hold just as much power as years of experience. That's why, every year, Prudential Emerging Visionaries celebrates young people for their innovative solutions to financial and societal challenges in their communities.
This national program awards 25 young leaders (ages 14-18) up to $15,000 to devote to their passion projects. Additionally, winners receive a trip to Prudential's headquarters in Newark, New Jersey, where they receive coaching, skills development, and networking opportunities with mentors to help take their innovative solutions to the next level.
For 18-year-old Sydnie Collins, one of the 2023 winners, this meant being able to take her podcast, "Perfect Timing," to the next level.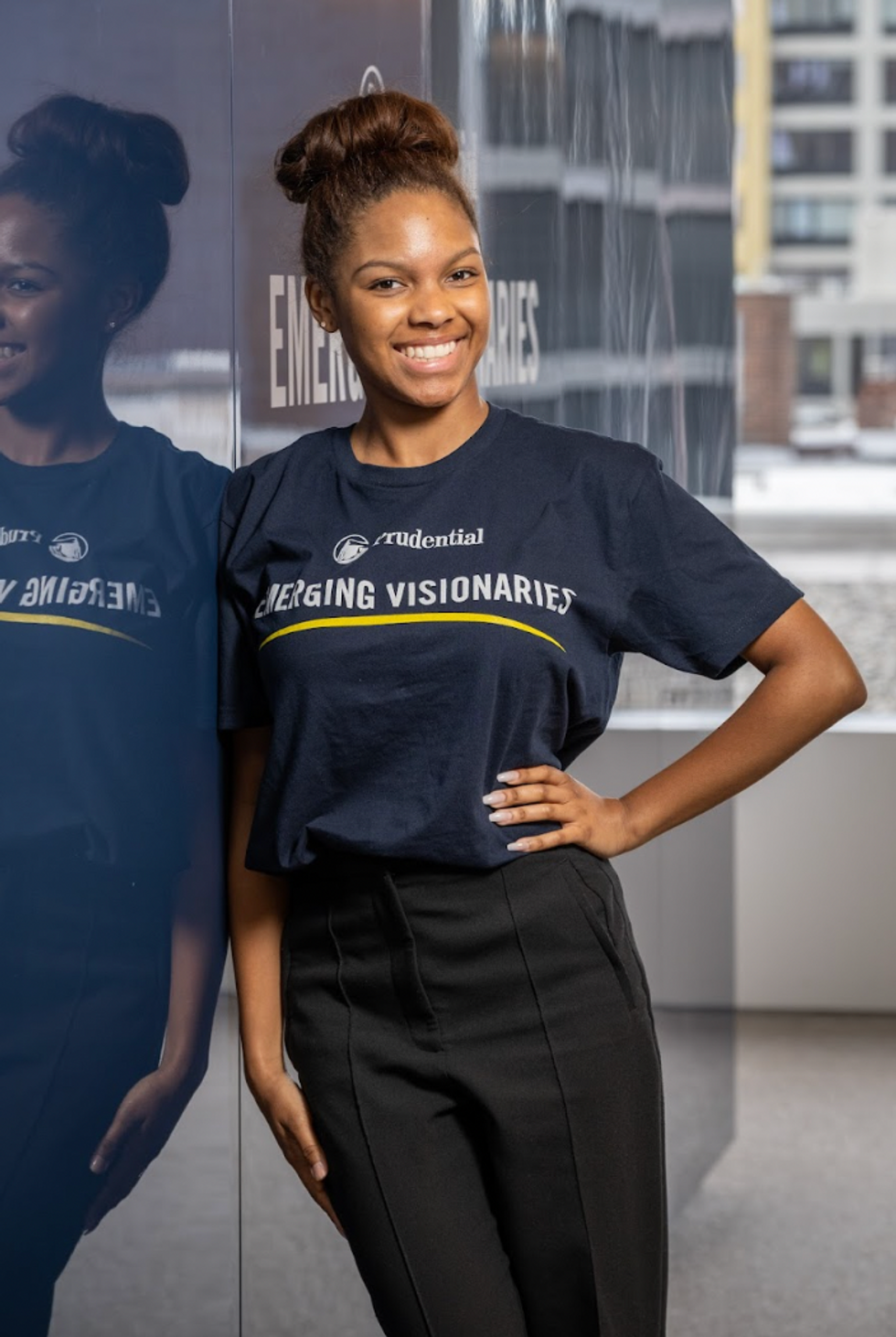 Since 2020, the Maryland-based teen has provided a safe platform that promotes youth positivity by giving young people the space to celebrate their achievements and combat mental health stigmas. The idea came during the height of Covid-19, when Collins recalled social media "becoming a dark space flooded with news," which greatly affected her own anxiety and depression.
Knowing that she couldn't be the only one feeling this way, "Perfect Timing" seemed like a valuable way to give back to her community. Over the course of 109 episodes, Collins has interviewed a wide range of guests—from other young influencers to celebrities, from innovators to nonprofit leaders—all to remind Gen Z that "their dreams are tangible."
That mission statement has since evolved beyond creating inspiring content and has expanded to hosting events and speaking publicly at summits and workshops. One of Collins' favorite moments so far has been raising $7,000 to take 200 underserved girls to see "The Little Mermaid" on its opening weekend, to "let them know they are enough" and that there's an "older sister" in their corner.
Of course, as with most new projects, funding for "Perfect Timing" has come entirely out of Collins' pocket. Thankfully, the funding she earned from being selected as a Prudential Emerging Visionary is going toward upgraded recording equipment, the support of expert producers, and skill-building classes to help her become a better host and public speaker. She'll even be able to lease an office space that allows for a live audience.
Plus, after meeting with the 24 other Prudential Emerging Visionaries and her Prudential employee coach, who is helping her develop specific action steps to connect with her target audience, Collins has more confidence in a "grander path" for her work.
"I learned that my network could extend to multiple spaces beyond my realm of podcasting and journalism when industry leaders are willing to share their expertise, time, and financial support," she told Upworthy. "It only takes one person to change, and two people to expand that change."
Prudential Emerging Visionaries is currently seeking applicants for 2024. Winners may receive up to $15,000 in awards and an all-expenses-paid trip to Prudential's headquarters with a parent or guardian, as well as ongoing coaching and skills development to grow their projects.
If you or someone you know between the ages of 14 -18 not only displays a bold vision for the future but is taking action to bring that vision to life, click
here
to learn more. Applications are due by Nov. 2, 2023.
Identity
"It's one thing if you're not into fat women — everyone has their preferences — but if you want to have sex with us without being seen in public with us, that's emotionally abusive."
This article originally appeared on 06.29.18


Many years before I got together with my boyfriend, I had a sex thing with this guy that I thought was relationship material.
He not only had an amazing body but a great personality as well. I was honest when I met him that I was looking for something more than just sex, and he led me to believe that was what he wanted, too.
Between mind-blowing sex sessions, we ordered in, played video games, and watched movies — couple things but without the label. But when I tried to get him to go to a show or out to dinner with me, he refused. My frustration grew as the months went on, and one day I confronted him.
"Why don't we ever go anywhere?"
"We have everything we need here," he answered while simultaneously distracting me by caressing my shoulder blades.
"We actually don't," I said. "I'm hungry, let's check out that new Indian place around the corner."
"No! We might run into one of my buddies," he said, moving his body further away from me. The underlining meaning was clear — he couldn't take the chance that someone he knew would see him with me.
He needed to keep our relationship on the DL so that no one would ever suspect that he enjoyed spending time with me — a fat woman.
He was super fit, so obviously that's the kind of woman he wanted to be associated with, the kind he could be seen with at the Indian place.
When I realized he was ashamed of being seen with me, I felt as if I had been punched in the stomach — a place where much of my pain already resided.
To him, I was fuckable but not dateable. He dumped me soon after that conversation.
He did me a favor by not continuing to lead me on. Otherwise, I might still be trying to prove to him that I was worth any shit he might have gotten from other people. If I was still his secret shame, I might not have met my next boyfriend, so thanks, athletic asshole.
I had hoped that, in this age of body positivity, men would no longer need to hide their desires when it comes to fat women.
But I was wrong.
It's just a sad fact: Many men who are sexually attracted to fat women are ashamed of it.
They're OK with banging a fat girl, but they don't want to hang out with her — someone might judge them for it.
It's one thing if you're not into fat women — everyone has their preferences, and not every body type appeals to everyone. But if you find larger women hot and you want to have sex with them without being associated in public with them, that's emotionally abusive.
Everyone should have the freedom to express their desires openly (as long as there's consent from both parties). If you modify your behavior and wants to what you think will protect you from criticism and/or ridicule, then you need help because that kind of self-loathing will only grow until it has destroyed you.
Don't act like we're in a relationship if all you really want is to experience what sex with a fat woman is like.
I'll tell you what it's like: It's as amazing and fun as having sex with anyone who's into having sex with you. We don't have magic vaginas, and our breasts don't do any special tricks — well besides the usual, like feed or comfort people.
Fat women are just as hot and sexually gifted as women of other shapes, sizes, and abilities. Being fat doesn't mean we're so hungry for attention that we'll put our own needs aside and do whatever we can to rock your world.
If you're with someone who doesn't make you feel beautiful or who isn't proud to have you on their arm, you need to dump their ass.
Being alone is far better than compromising on what you deserve or being made to feel as if you're someone's big dirty secret.
You're not only dateable, you're lovable and worthy of being treated with respect and love.
I regret not standing up for myself when I discovered the athletic guy was only using me for sex. But at least I learned, as we all should learn, that I'm responsible for being my biggest advocate and to never accepting anything less than what I need.
Health
His bravery in coming forward is commendable. 👏
Remember Brendan Fraser? 10 years ago, he was one of Hollywood's biggest stars. Then, he suddenly disappeared.

If you were a kid in the late '90s and early '00s, chances are you saw a Brendan Fraser movie. The comedy and action star catapulted to fame behind blockbusters like "The Mummy" franchise, "George of the Jungle," "Looney Tunes: Back in Action," and the Oscar-winning film "Crash."
But after 2008, he largely disappeared from major starring roles. His absence wasn't due to drugs, a sex-scandal, or illness — despite memes and even reported articles speculating about his career arc, with many blaming it on poor career choices.
Fraser revealed in a recent interview that an incident of sexual harassment led him to withdraw from his high-profile lifestyle.
Lately, the actor has gradually returned to more high-profile roles, and in an interview with GQ, he explained that the real reason he stepped back from the spotlight was because of being physically groped by Philip Berk, a former president of the Hollywood Foreign Press Association.
In his own book, Berk admitted to "pinching" Fraser in the buttocks after an event, but Fraser says the incident was much worse. "His left hand reaches around, grabs my ass cheek, and one of his fingers touches me in the taint. And he starts moving it around."
"I felt ill. I felt like a little kid," he told GQ. "I felt like there was a ball in my throat. I thought I was going to cry."
He said it's time to speak out, and other male victims of harassment are supporting him.
Berk has called the allegation a "total fabrication" but acknowledges he sent Fraser an apology letter after the incident when the actor complained to the HFPA. Fraser said he tried to bury his feelings about the incident, but he was moved into action after seeing actresses and actors speaking up at this year's Golden Globes.
"Am I still frightened? Absolutely. Do I feel like I need to say something? Absolutely. Have I wanted to many, many times? Absolutely. Have I stopped myself? Absolutely."
Despite his reservations, people seem to believe, and be genuinely moved by, Fraser's claim. Once the target of jokes, Fraser has become a catalyst for moving praise across social media.
All these years and we discover that Brendan Fraser really is the guy you think he is, which means he's too pure for this world and the world put some scars on him. I love him more than ever now.https://t.co/XGXV8FG5GK

— Geek Girl Diva (@geekgirldiva) February 22, 2018
The Brendan Fraser story is a good reminder to always side-eye established, assumed narratives. So many people have been beaten up and spit out by our major institutions, forgotten until we cycle back around to empathy.

— A.B. (@AlannaBennett) February 22, 2018
He's also earned some public support from actor Terry Crews, who has publicly discussed experiencing a similar incident years ago.
"Brendan is amazingly courageous in telling this," Crews wrote on Twitter. "His assault experience is extremely similar to mine — ending with the assailant explaining away his actions. One man's 'horseplay' is another man's humiliation."
Brendan is amazingly courageous in telling this. His assault experience is extremely similar to mine— ending with the assailant explaining away his actions.

One mans "horseplay" is another man's humiliation. https://t.co/nNjtmKq5D7

— terry crews (@terrycrews) February 22, 2018
Victims of sexual harassment and assault often face deep shame and fear in speaking out. Speaking out takes courage.
Speaking out after experiencing harassment or assault can be an incredible challenge, often full of personal and professional risk. Though the majority of assaults are against women, men face their own similar challenges in overcoming shame, doubt, and repercussions for coming forward and speaking out. When men like Fraser and Crews speak out, they help clear the path for other men to come forward with their own stories.
This story originally appeared on 08.06.19
Pop Culture
She captivated millions with nothing but her guitar and an iconic voice.
Get stories worth sharing delivered to your inbox
Somewhere in Salt Lake City, a Girl Scout is getting allll the good mojo from The People of the Internet.

Over the weekend, Eli McCann shared a story of an encounter at a Girl Scout cookie stand that has people throwing their fists in the air and shouting, YES! THAT'S HOW IT'S DONE. (Or maybe that's just me. But I'm guessing most of the 430,000 people who liked his story had a similar reaction.)
"I just saw the most wild thing!" McCann wrote on Twitter. "A man started walking toward the Girl Scouts cookie stand in front of the grocery store and he yelled 'My bitches are BACK' and this Girl Scout just yelled 'No. Walk away.' AND HE DID."
So simple. So straightforward. But it gets even better.
McCann wrote out the full story on his blog, It Just Gets Stranger, offering some extra details to his tweets.
"It was truly jarring," he wrote of the man's exclamation. "Like, it was sort of the last thing I expected anyone to say. My mind suddenly rebooted. The six or so other people who were all standing around in front of the grocery store froze and looked at him. I opened my mouth to say something, but then really didn't know what to say."
"It was unclear who he was calling 'bitches,'" he continued. "If it was the Girl Scouts, well obviously that was terrible. If it was the cookies, I mean that's kind of funny (don't @ me), but totally inappropriate to say to a bunch of 12 year olds (is that how old Girl Scouts are?). Either way, he shouldn't have said it and I don't know what could have possibly made him think this was a fine way to approach a group of Girl Scouts."
McCann said the girl's response was immediate, and it floored everyone. "Her tone was so full of confidence and sass," he wrote. "It was the most perfectly delivered line I have ever heard."
"This dude completely froze. He just stopped walking. His face went bright red. His mouth was sort of gaping open. He did this very awkward and stilted nod, almost apologetic, abruptly turned around, and shuffled back to his car at like 6-minute-mile pace. The girl just death stared him all the way through his walk of shame."
I still can't process what I just saw. I don't understand it at all. It was like witnessing the worst miscalculation he was bright red and just went back to his car. Everyone just stood in silence. This girl death stared him all the way through his walk of shame.

— Eli McCann (@EliMcCann) March 7, 2020
McCann says it took him a bit to digest what he'd just seen.
"I ended up walking into the store and the entire time I was shopping I was just trying to process what had happened. I kept replaying it over and over and wondering if I had misheard or misunderstood something," he wrote.

"Who was this guy? Did he just make the biggest miscalculation of his life? Is he going to move away and start a new life now? Is that girl going to be president one day? Can I adopt her? Can she adopt me? Can I start a cult to follow her?"
As he was leaving the store, he went up to the girl to compliment her—then got another perfectly delivered line from the intrepid Girl Scout.
"Two adult women were standing behind the girl (the troop leaders, I assume)," he wrote. "I said to the girl, 'I saw how you handled that man earlier. That was really really impressive. Your troop is pretty lucky to have you.'"
"And this girl. This Goddess of a human. The one I'm for sure going to worship if ever she starts a religion. Without stuttering. With perfect comedic timing. She responded:
'You gotta be pretty tough if you're gonna go out in THIS outfit.'"
OMG.
I just went and talked to her (tried to buy cookies but couldn't because cash only). I told her I was impressed with how she handled that dude and she just said with perfect comedic timing "you got learn to be pretty tough if you're gonna go out in THIS outfit!"

— Eli McCann (@EliMcCann) March 7, 2020
Let's all give this girl a virtual high five for her gumption and wit. It takes a lot of courage to say something to an adult when you're a kid, especially a man who is doing something inappropriate. The fact that she seemed to have been perfectly prepared for that moment, shutting him down so immediately and decisively that everyone in the vicinity stopped to take note, is so dang impressive.
This is what happens when you teach girls their true worth and encourage them not to accept anything less than respect and dignity. Gotta love it.
This article originally appeared on 03.09.20
Family
Every parent should learn this.
via Jess Martini / Tik Tok
There are few things as frightening to a parent than losing your child in a crowded place like a shopping mall, zoo, or stadium. The moment you realize your child is missing, it's impossible not to consider the terrifying idea they may have been kidnapped.

A woman in New Zealand recently lost her son in a Kmart but was able to locate him because of a potentially life-saving parenting hack she saw on TikTok a few months ago.
The woman was shopping at the retailer when she realized her two-year-old son Nathan was missing. She immediately told a friend to alert the staff to ensure he didn't leave through the store's front exit.
"Another friend searched the area he was last seen," the mom wrote in a Facebook post.
The mother began looking for him by rummaging through clothes racks and running through the aisles.
It was the "scariest 10 minutes of my life" she later wrote.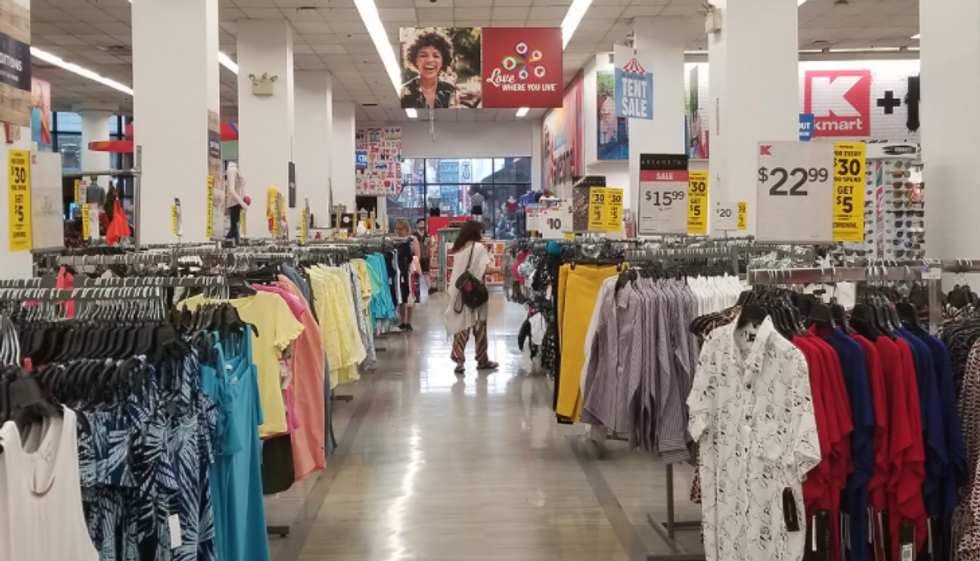 But then she remembered a parenting hack she saw on TikTok by blogger Jess Martini. "If your child goes missing, screw the stares and start calling out their description," the mother recalled.

"I'm missing a little boy, he's wearing a yellow shirt and has brown hair. He's two years old and his name is Nathan!" she called out to the rest of the store while reminding herself not to "break down" in tears.
"You need people to understand you loud and clear," she said.
The mother's calls immediately deputized everyone who heard them to begin looking for the child. It was like multiplying the search by a factor of 10. "I turned an aisle and heard 'He's here!'" she wrote. "I turned back the way I came and there he was. A man had walked past him after hearing me calling out."
She immediately thanked the man, realizing that if she hadn't called out he may have never known the child was missing. "Nate would have walked past him and he wouldn't have blinked," she said.
In November, parenting blogger Jess Martini posted a video sharing the best way for parents to locate a missing child. It's great advice because the knee-jerk response is usually to just call out their name or silently run around looking.
"To all parents out there, if your child goes missing, do not search in silence or just call out their name,' Martini says in the video. "Shout out loud and clear. Say they're missing, give a description and repeat, repeat, repeat!"
"Everyone will be on alert, and if someone is trying to take off with your kid, it will decrease the chances of them getting away," she added.

The advice is a great reminder to make a mental note of what your child is wearing when you go out, so if they go missing, you can easily provide a description. It also proof that when a parent needs help, most people are more than willing to lend a hand.
This article originally appeared on 01.27.21
Family
"We can order food and watch a mystery show. Love, grandpa."
Get stories worth sharing delivered to your inbox