Joy
Wilson had been walking down a path with Eva when a mountain lion suddenly appeared.
The Belgian Malinois is a special breed of dog. It's highly intelligent, extremely athletic and needs a ton of interaction. While these attributes make the Belgian Malinois the perfect dog for police and military work, they can be a bit of a handful as a typical pet.
As Belgian Malinois owner Erin Wilson jokingly told NPR, they're basically "a German shepherd on steroids or crack or cocaine."
It was her Malinois Eva's natural drive, however, that ended up saving Wilson's life.
According to a news release from the California Department of Fish and Wildlife, Wilson had been walking down a path with Eva slightly ahead of her when a mountain lion suddenly appeared and swiped Wilson across the left shoulder. She quickly yelled Eva's name and the dog's instincts kicked in immediately. Eva rushed in to defend her owner.
It wasn't long, though, before the mountain lion won the upper hand, much to Wilson's horror.
She told TODAY, "They fought for a couple seconds, and then I heard her start crying. That's when the cat latched on to her skull."
Wilson did everything she could to release Eva from the cat's grasp. She told The Sacramento Bee that she threw rocks, tried choking it and gouging its eyes. But no luck. It wasn't until she received help from a passing motorist, Sharon Houston, who had a PVC pipe and some pepper spray that the situation improved. The pair were finally able to get the mountain lion to let go, but not before it dragged poor Eva along the path trying to escape. She was quickly rushed to the vet.
Wilson's beloved canine companion was in life-threatening trouble. Wilson's husband, Connor Kenny, told SFGATE that Eva had suffered two skull fractures, a punctured sinus cavity, severe damage to her left eye and experienced seizures. The pup's situation was dire.
To help cover the medical expenses, Wilson created a GoFundMe account and was soon surprised by the outpouring of love and support the public had for her heroic Malinois. The fundraiser gathered more than $30,000, well exceeding what the family needed.
And luckily, Eva never lost her fighting spirit. As was posted on her own Instagram account, Eva recovered, returning home to her sister Mishka (and to new toys, no less).
She even got a milkshake on the way home. And Wilson shared with The Sacramento Bee that there's going to be more treats where that came from, "stuffies" shall be chewed and steak dinners shall be had.
Eva might technically be a Belgian Malinois, but her true breed is hero. Her fierce determination, loyalty to her loved ones and unbridled courage came out in full force. Because of her, a life was saved. She is, without a doubt, the goodest girl.
Joy
Irene and Tony Demas regularly traded food at their restaurant in exchange for crafts. It paid off big time.
The grilled cheese at Irene and Tony Demas' restaurant was truly something special. The combination of freshly baked artisan bread and 5-year-old cheddar was enough to make anyone's mouth water, but no one was nearly as devoted to the item as the restaurant's regular, John Kinnear.
Kinnear loved the London, Ontario restaurant's grilled cheese so much that he ordered it every single day, though he wouldn't always pay for it in cash. The Demases were well known for bartering their food in exchange for odds and ends from local craftspeople and merchants.
"Everyone supported everyone back then," Irene told the Guardian, saying that the couple would often trade free soup and a sandwich for fresh flowers. Two different kinds of nourishment, you might say.
And so, in the 1970s the Demases made a deal with Kinnear that he could pay them for his grilled cheese sandwiches with artwork. Being a painter himself and part of an art community, Kinnear would never run out of that currency.
Little did Kinnear—or anyone—know, eventually he would give the Demases a painting worth an entire lifetime's supply of grilled cheeses. And then some.
One day, Kinnear brought in some works from a friend by the name of Maud Lewis. Despite living in abject poverty and suffering from challenging health conditions, Lewis would create colorful, cheerful paintings using whatever materials she could get access to, be that leftover paint used for boats or discarded wooden boards.
According to Good News Network, Kinnear and Lewis had made their own trade: some painting supplies in exchange for a few of her pieces, which were brought to the restaurant.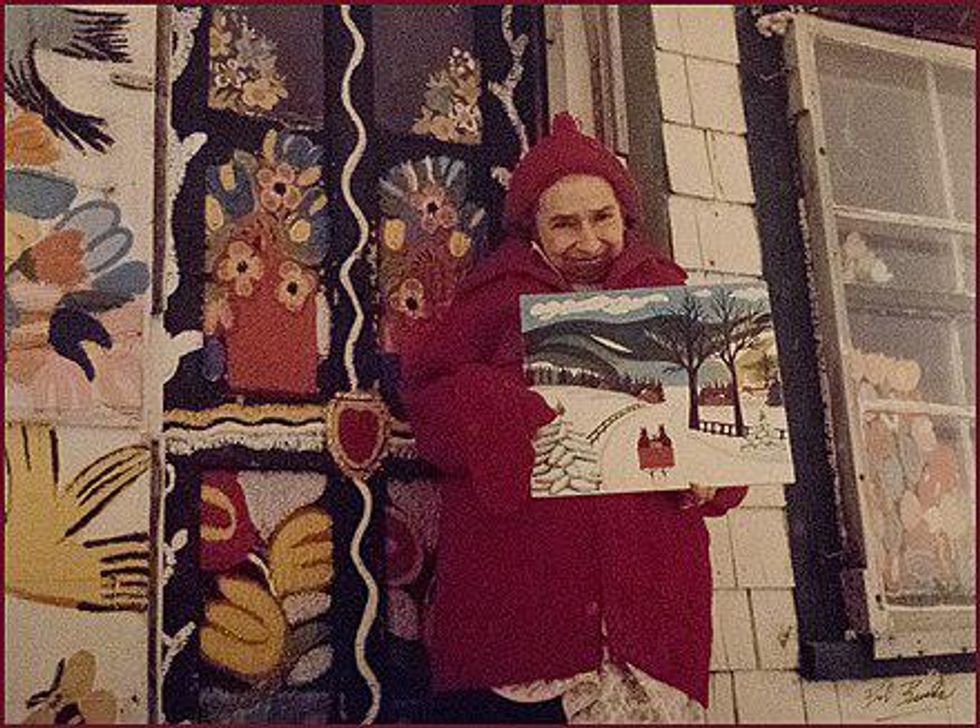 A picture of Maud Lewis holding one of her works.
One painting in particular struck the then-pregnant Irene in a profound way—a cheery image of an old black pickup truck cruising through a neighborhood, complete with a bright yellow house with a flower-lined yard.
Because of the pure innocence expressed in the piece, Irene thought a child might have created it. She told the Guardian, "I just sat there in silence for quite a while. I'd never ever seen any art like that before. At first I thought they might be playing some sort of trick on me."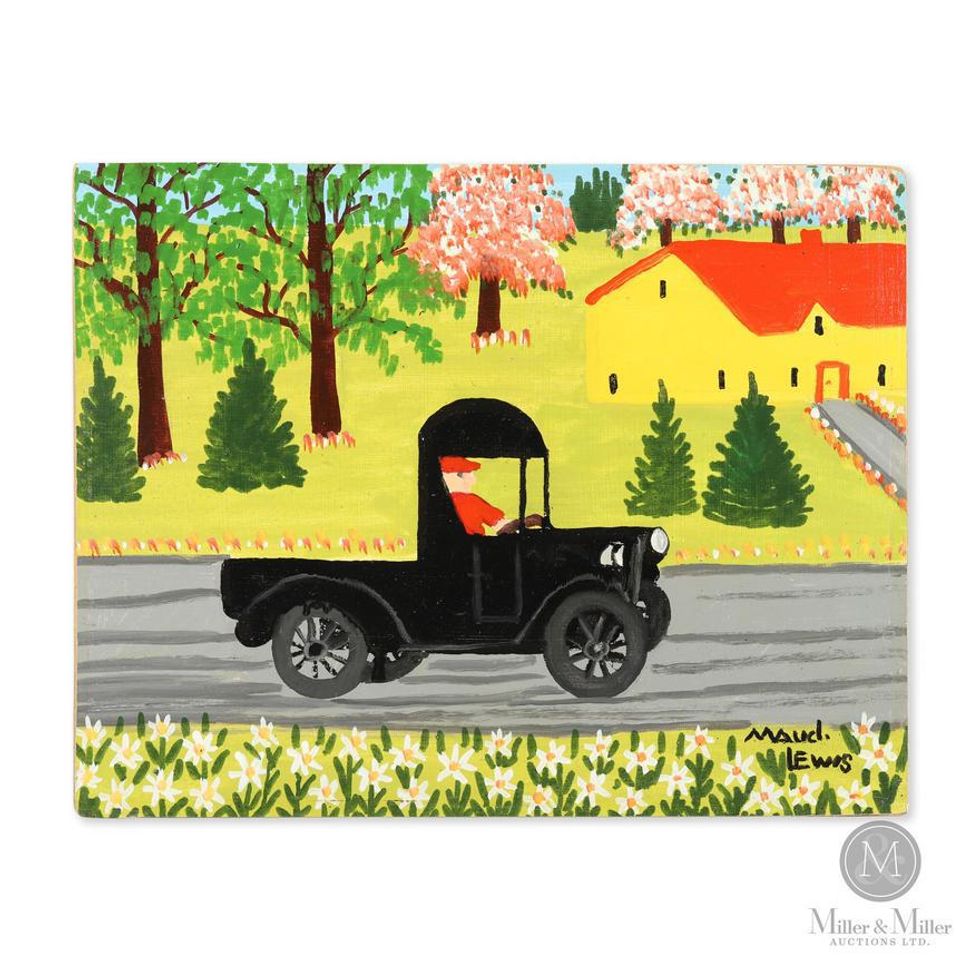 Lewis would often repeat happy themes throughout her work.
images4-cdn.auctionmobility.com
Nevertheless, Irene selected the work and hung it in her expected son's bedroom, where it remained for 50 years.
As an artist, Lewis never reached acclaim while she was alive, but over the years her art has made its way into the spotlight and there was even a romantic biopic made about her, starring Sally Hawkins and Ethan Hawke.
The movie caused Lewis' work to "double and triple in value" according to Ethan Miller, chief executive officer and auctioneer at Miller & Miller Auctions in New Hamburg, Ontario, who noted that the truck painting in particular was a rare piece.
Soon, the Demases realized that they owned the work of a now-famous painter and they put the work up for sale. It was subsequently auctioned off for $350,000. The letters written between Kinnear and Lewis—also sold at auction—were bought for $70,000. Not bad for free grilled cheese.
Painting swapped in 70s for grilled cheese sandwich serves up windfall https://t.co/LC0teC431o

— The Guardian (@guardian) May 8, 2022
Not only do the Demases have an exciting new chapter of possibilities in their lives, but an artist has received long overdue recognition. Talk about a win-win situation.
Get stories worth sharing delivered to your inbox
Get stories worth sharing delivered to your inbox