Family
A Las Vegas mom facing homelessness in 110°F heat raised $200k to help save family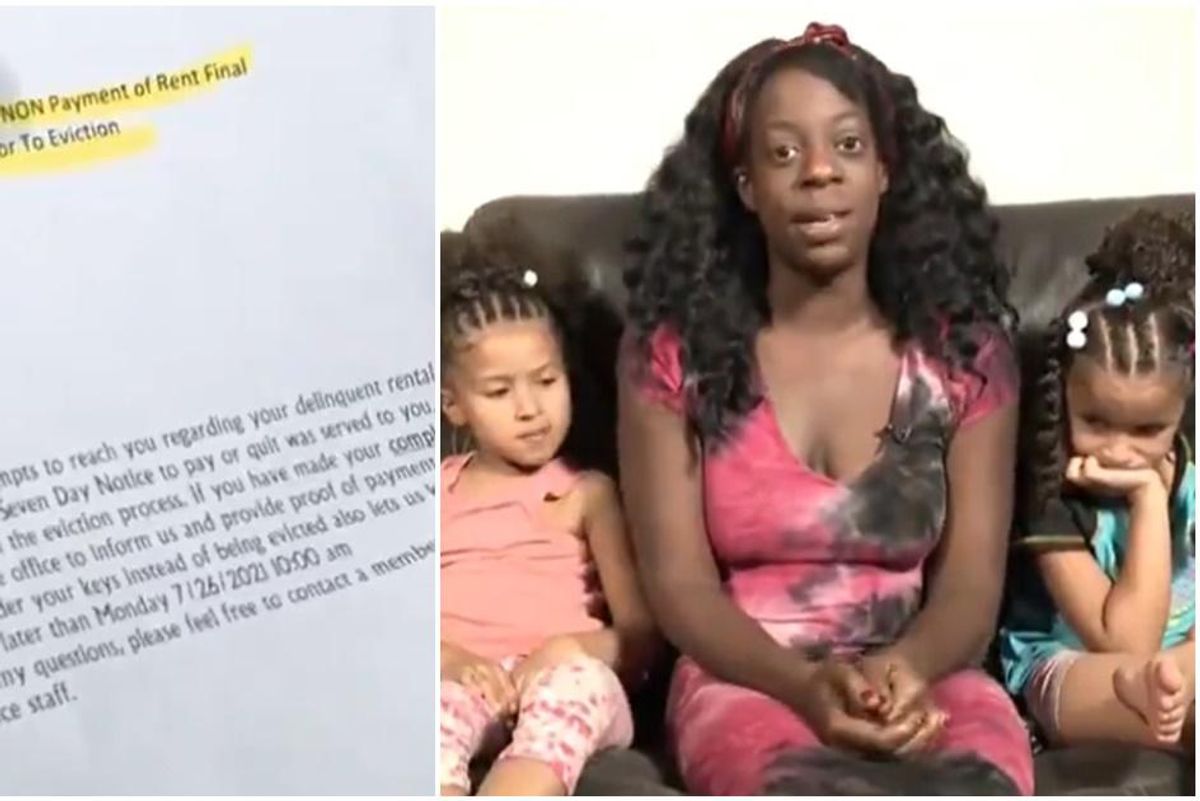 via CNN / Twitter
Eviction seemed imminent for Dasha Kelly, 32, and her three young daughters Sharron, 8; Kia, 6; and Imani, 5, on Monday. The eviction moratorium expired over the weekend and it looked like there was no way for them to avoid becoming homeless.

The former Las Vegas card dealer lost her job due to casino closures during the pandemic and needed $2,000 to cover her back rent. The mother of three couldn't bear the thought of being put out of her apartment with three children in the scorching Nevada desert.
"I had no idea what we were going to do," Kelly said, according to KOAT.
---
But things changed for Kelly on Monday when she was featured in a CNN "Out Front" segment on the eviction moratorium. During the segment, she rummaged through her bare apartment. She was forced to sell her TV, laptop, and bed just to stay afloat.
She needed money so badly that she was donating blood plasma.
"You know it's happening when we start talking about it... it's bringing all of my emotions." Dasha Kelly is a sin… https://t.co/psGm6yCiPm

— OutFrontCNN (@OutFrontCNN) 1627948622.0
At the end of the segment, a reporter mentioned that Kelly had started a GoFundme page to raise $2,000 to cover the back rent she owed. "We owe $1,900 for rent alone not including utilities. I will figure out utilities by pawning a few things. As you all know it is entirely still too hot to be homeless," she wrote.

In just 24 hours the campaign raised over $172,000 from more than 2,700 donors. As of the writing of this article the campaign has eclipsed $200,000.
CNN caught up with her on Tuesday and she couldn't believe her good fortune. "I just want to tell everybody thank you so much," Kelly said as tears ran down her face. "I'm still in denial."
"Our bills will be paid now, and the landlord has been great to us, will now be paid off for the whole lease," she wrote in a follow-up post on the GoFundme site. "My family can afford a vehicle again so I can return to work."
She also opened a savings account for each child and hopes to pay some of it forward to help another family in need. "I just want to make sure I do the best that I can to help the next person that is in my same situation," she said.
Dasha Kelly and Cori Bush on CNN's Erin Burnett Outfrontwww.youtube.com
The Centers for Disease Control and Prevention issued a new, "temporary" moratorium on evictions on Tuesday.

The new order, which continues until October 3, covers counties experiencing "substantial" or "high" levels of COVID-19 spread. A source familiar with the moratorium said that currently includes about 80% of U.S. counties, or 90% of the U.S. population.
"The emergence of the delta variant has led to a rapid acceleration of community transmission in the United States, putting more Americans at increased risk, especially if they are unvaccinated," CDC Director Rochelle Walensky said. "This moratorium is the right thing to do to keep people in their homes and out of congregate settings where COVID-19 spreads."