Well Being
Graphic helps identify what triggers you emotionally in relationships
Knowing your triggers helps you manage your emotions.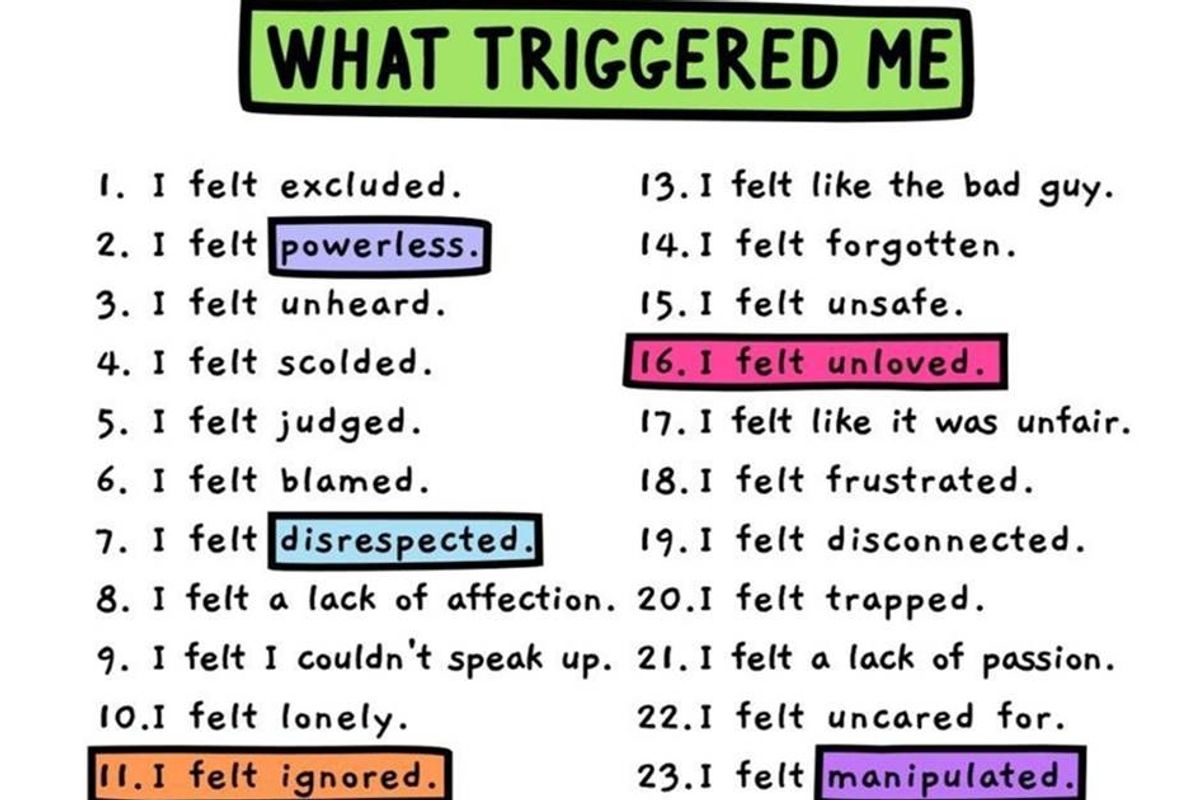 Learning your emotional triggers on your own is one thing but figuring out your triggers in a relationship adds another layer of intensity. Maybe you're afraid of being abandoned or want to feel the need to push the other person away but you don't know why.
If this sounds familiar, you're not alone. It's why artist and mental health advocate Dominee Wyrick created a graphic to help you identify what triggers you in relationships.
---
If you've survived trauma or live with a condition like borderline personality disorder (BPD), relationships can be difficult at first. You may find yourself suddenly angry at a friend when they decline a social invitation or feeling like you don't matter if your therapist says the wrong word in a session.
These intense reactions are usually triggered by an underlying emotion.
Your friend canceling might make you feel unloved or lonely. The trick to managing intense emotions in relationships is identifying those triggers.
Inspired by a post Wyrick saw on social media from the Gottman Institute, which focuses on relationships, she created a graphic titled "What Triggered Me" to help you get to the bottom of what you're feeling.
The graphic includes phrases like, "I felt powerless," "I felt frustrated," "I felt lonely" and "I felt forgotten" to help you identify what you might be feeling in your relationships.
By pinpointing what you're feeling in the moment, you'll be able to communicate what you need more effectively.
In addition to her triggers list, Wyrick creates a wide range of charts, graphics, workbooks and tools to help you manage your mental health and prioritize self-care.
Her work is bright and colorful on purpose to encourage people to think differently about mental health.
"It can be difficult to talk about our mental health challenges," Wyrick told The Mighty. "By sharing cute and colorful graphics I aim to make mental health topics less shameful and more shareable! The same thing goes for self-care. While self-care includes things like spa days and massages there are other aspects to it as well."
Wyrick's website, Blessing Manifesting, includes a variety of mental health- and self-care-themed worked. You can share one of Wyrick's self-care cat graphics or check out her self-care journaling prompts if you get stuck in your writing.
She also created a series of workbooks, including one for getting through a break-up and another for managing your anxiety. Wyrick said her favorite project is designed to broaden how we think of self-care, a self-love workbook and planner she has been creating for seven years.
"The most impactful resource I've created so far has been my Self-Love Workbook + Planner," Wyrick said. "There's a misconception around self-care being all about pampering and indulgence so it's important to talk about the other aspects like learning how to set social boundaries, discovering how to process emotions in a healthy way, and that reaching out for help sometimes can be hard yet worth it."
By creating engaging and helpful resources, such as the "What Triggered Me" list to help you identify emotional triggers in relationships, Wyrick hopes others will also be inspired to embrace self-care as an important aspect of supporting your mental health.
"I didn't fully understand how transformative self-care could be until it started to affect my anxiety and depression," Wyrick said. "Learning how to love and care for myself on every level changed my life and I hope to inspire others to love themselves just as fully."