More
This baby was all alone in the hospital. Her nurse adopted her and changed their lives.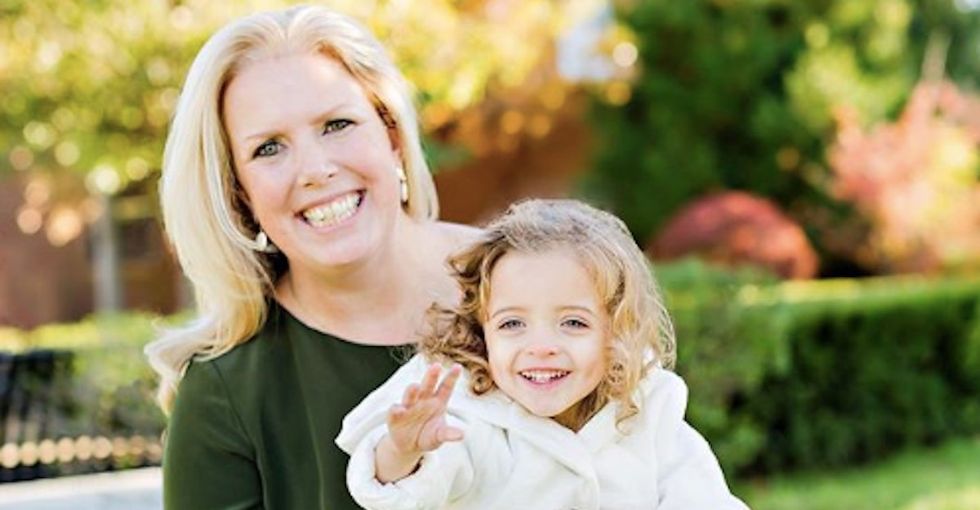 "Who's this beautiful angel?" Those were the first words that Liz Smith, the director of Nursing at Franciscan Children's Hospital in Brighton, Massachusetts spoke to a blue-eyed baby she'd never met before. She was on her way to the elevator and expected to say nothing but a quick hello to a tiny hospital resident she didn't recognize.
The "beautiful angel," it turned out, was an eight-month-old named Gisele. She was a ward of the state, and she'd already spent more than five months at the hospital being treated for conditions stemming from a premature birth and her mother's drug use during pregnancy.
---
What was most heartbreaking was that Gisele had had no visitors during the entire time she'd been at the hospital, not even her parents, who were granted visitation, but weren't able to take advantage of it. And while social workers were trying to place her with a family, they'd been having some trouble.
As Smith drove home from the hospital that night, The Washington Post reports, all she could think of was Gisele.
The nursing director had always wanted to be a mother, but there had been complications — including her insurance refusing to cover in vitro fertilization.
"I never imagined becoming a mum would be a challenge," she told WaPo. "It's a desire you can try to push away and fill with other distractions, but it never goes away." She'd never considered adoption, she said, but Gisele changed all that.
So Smith started making plans. She put in a request to foster Gisele. She sat in Gisele's room every day after work ensuring that the baby felt loved and cared for. And when Gisele turned 9 months old, she was allowed to come home with Smith.
It was a leap of faith, and one that came with uncertain conditions. The state had only allowed Smith to take Gisele home if she agreed that every effort would be made to reunite the child with her birth parents.
"I was excited but nervous, realising that I was committing everything I had to this child who might not be in my life forever," Smith said.
Despite that, she wanted to ensure that Gisele, who suffered from a myriad of health problems, could enjoy life outside of the hospital. For Smith, Gisele's health and happiness were all that mattered. Even if it meant that Gisele might not be her permanent child.
Even when it became clear that Gisele would be staying with Smith forever (or at least until she moves out for college), the news was bittersweet. While Smith was overjoyed that Gisele would be staying, she was also heartbroken for the baby's biological parents, whose parents rights had been terminated. All she wanted was for Gisele to have love in her life.
But today, she has that and more. The Smiths not only share a home and last name, but an unbreakable bond that has seen them through good times and the bad.
Though Gisele still struggles with her health, she's also gained weight and met every developmental milestone, growing into a loving, energetic child who loves nothing more than to burst into song.
This story is just more proof of something we all know: Having someone in your life who will care for you, root for you, and love you unconditionally can make all the difference. For Smith, that love is creating a future she'd long thought was only a dream.