Sustainability
Shared values of sustainability and adventure come together in a beautiful way
Images provided by Pacifico
True
At last, summer is here. And for many people, that means it's time for heading to the beach and maybe even catching some waves. Surfing is a quintessential summertime activity for those who live in coastal communities—it's not only really fun and challenging, it's also a great way to celebrate Mother Nature's beauty. Even after a wipeout, the cool water mixed with warm sunshine offers a certain kind of euphoria. Or, you know, just hanging back on the sand is plenty fun too. Simply being outdoors near the ocean is its own reward.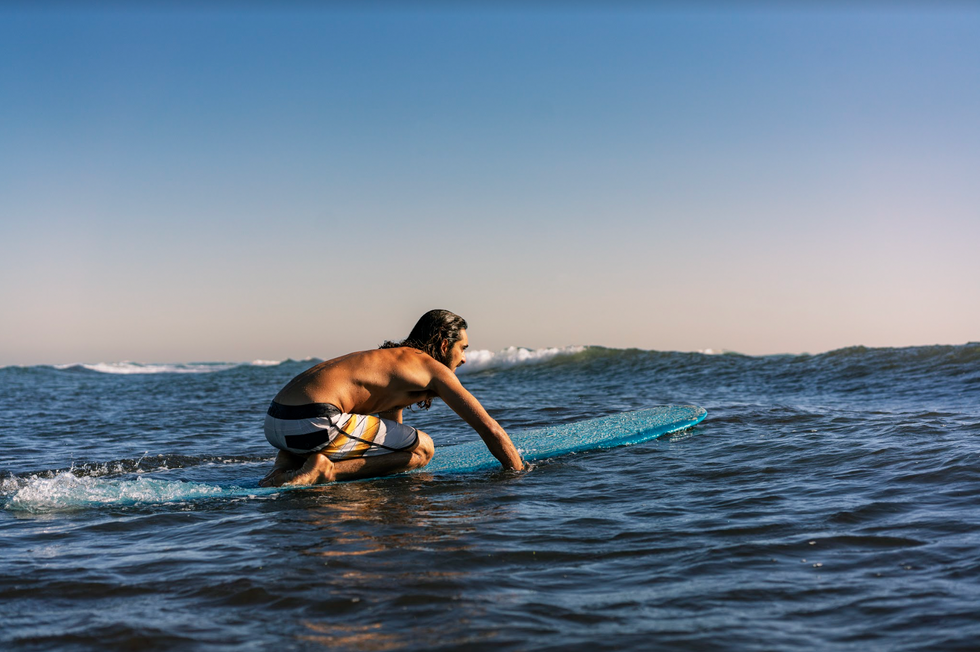 Let's protect the places where outdoor adventure happensAll photos provided by Pacifico
However, it's well known that our beautiful beaches are suffering the consequences of overcrowding, pollution and littering. What was once a way of playing in nature is now slowly destroying it. And of course, this affects beachgoers everywhere. The sad truth is—without taking action to preserve all the natural joys the earth provides, we will eventually lose them.
But there is hope. Two popular brands that both have roots in surf culture have teamed up to help make trips to the beach a more sustainable pastime. The best part? You don't have to know how to hang ten in order to participate.
Pacifico®, a pilsner-style lager originally brought to the U.S. by surfers, and Quiksilver, an iconic apparel company loved by both surfers and beach goers alike, have created a brand-new range of clothing and accessories with sustainability in mind.
Take a look below. These threads are great for all kinds of fun in the sun, without compromising the environment.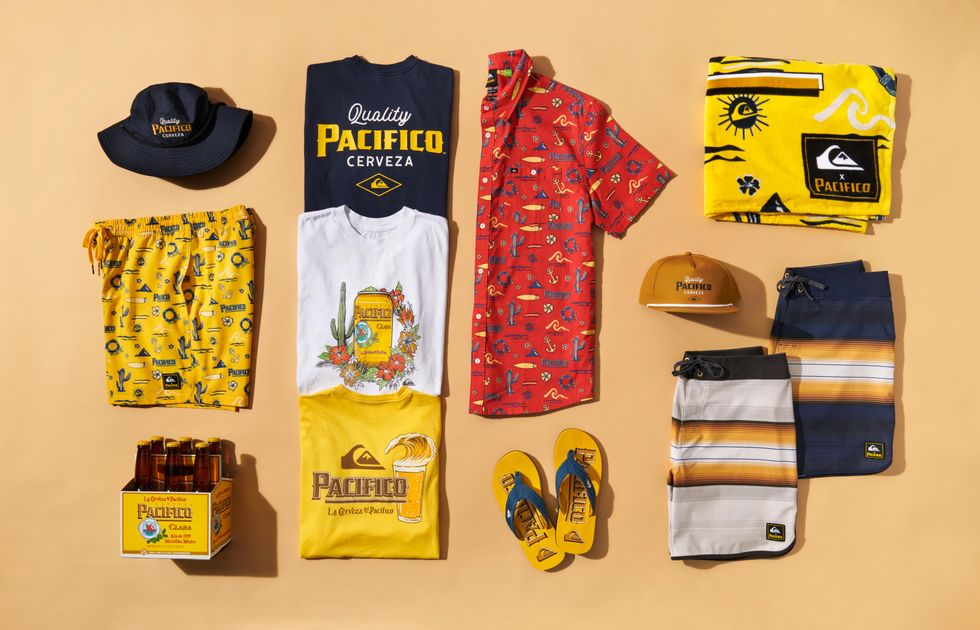 Ready to make some waves
The collection launches on July 5 and includes tees and woven shirts, boardshorts, hats, flip-flops and a special beach towel and tote bag. The unique collaboration features the vibrant, colorful designs that are the hallmark of Quiksilver combined with Pacifico elements, created to make a positive impact.
Each item has been thoughtfully curated to minimize an environmental footprint and protect the outdoors. The hats, for example, are made from NetPlus® by Bureo®, a raw material created from South American recycled fishing nets. Additionally, the board shorts are made from recycled plastic bottles, and tees are made with 100% organic cotton. Pretty rad stuff, to put it in surfer lingo.
The prices on these pieces are equally rad, ranging from $28 flip-flops to $60 boardshorts.
In keeping with the sustainable ethos and protecting the places we play, Pacifico and Quiksilver will celebrate the products' launch by hosting two beach cleanups. The first is on July 5 at Sunset Point in Malibu, California, from 4-5:30pm, and the second is on July 9th at Deerfield Beach in Florida from 8:30 – 10:30am.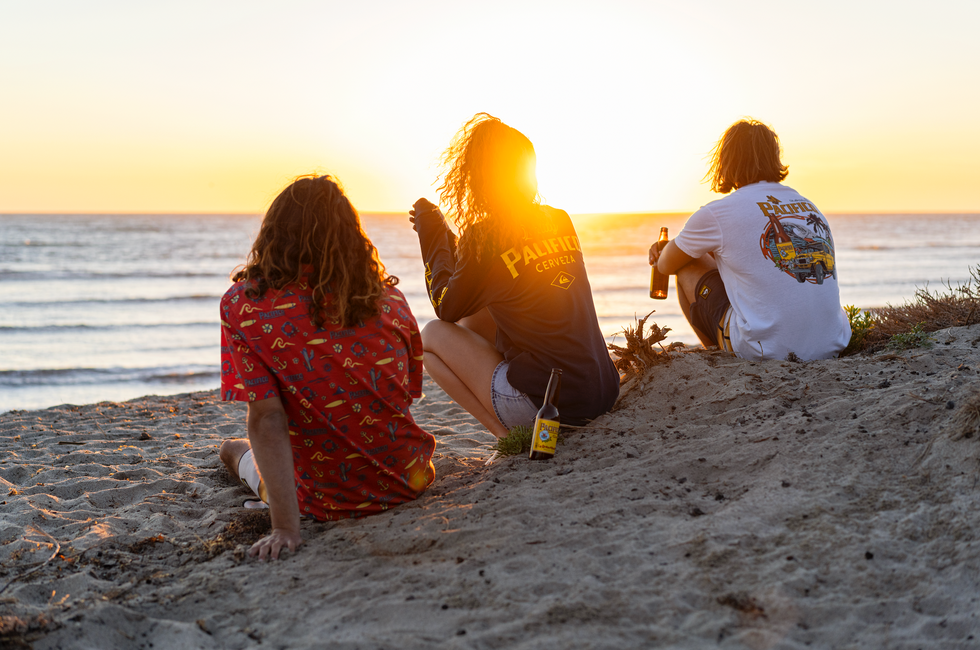 Cleaning up and looking good while doing it
Theses beach cleanups are open to anyone over the age of 21 who's ready to have some fun while taking care of nature's playground.
Those who can't make it to the beach (bummer, dude) don't have to miss out on all the fun. The new collection will be available on July 5th at www.quiksilver.com/mens-collab-pacifico. And even if you don't surf, never plan to surf, have no desire to even be near a surfboard, rest assured, the apparel is still cool. Plus sustainable choices are always good fashion.
Our planet provides us with an endless supply of beauty and adventure. But without more mindful actions from humanity, its natural wonders will eventually diminish. Fortunately Pacifico and Quiksilver are making it easier than ever for people to enjoy the great outdoors without jeopardizing it. That's a wave worth riding.
This article originally appeared on 09.06.17
Being married is like being half of a two-headed monster. It's impossible to avoid regular disagreements when you're bound to another person for the rest of your life. Even the perfect marriage (if there was such a thing) would have its daily frustrations. Funnily enough, most fights aren't caused by big decisions but the simple, day-to-day questions, such as "What do you want for dinner?"; "Are we free Friday night?"; and "What movie do you want to see?"
Here are some hilarious tweets that just about every married couple will understand.
Joy
It's a pretty significant drop, too.
Health
They seem to be attracted to viruses.
As much as I love summer, there is one thing I could do without: bugs. More specifically, mosquitoes. Those pesky little buggers can wreak havoc on a beautiful summer day. Who hasn't spent time outside in summer and then come in all itchy and covered in bites? There are multiple reasons why some people are more susceptible to mosquito bites than others, but there's a new one that likely isn't on people's radars. Mosquitoes could be attracted to the odor certain viruses create in the body.
There is evidence that mosquitoes are attracted to the odor given off by mice infected by the parasite that causes malaria. Now, a team is looking at how the scent of mosquito-borne viruses such as dengue and Zika would attract mosquitoes to people rather than mice.
For those who may be unfamiliar with the two viruses, the most important thing to know about them both is how dangerous they are to humans. Some effects of dengue include vomiting, aches and pains, and in severe cases, internal bleeding, according to the CDC. Zika virus is best known for being dangerous for pregnant women, as it can cause certain kinds of birth defects in fetuses, per the CDC.
Because both viruses rely on mosquitoes for transmission, it begs the question: Do people infected with either viruses give off extra tasty odors? That's what the team was looking to discover.
"I mean, the infection just increase[s] the chance to be located by a mosquito," Penghua Wang, an immunologist with University of Connecticut Health, told NPR.
Wang and the rest of his team set out to find out if it's true that infected people become mosquito chow, and undertook a study, which was recently published in the journal Cell. In the study, they blew two different types of air: one infected with either of the two viruses and one without, over two different groups of mice. As to be expected, the mosquitoes buzzed around those infected mice like they were a buffet dinner.
"These two viruses can alter a person's body odor to be more attractive to mosquitoes," Wang said. What happens is that the smell alters the skin's microbiome to make it more appetizing to the blood-sucking little critters. Wang explained to NPR that he was "excited" by this new development as it could lead to a lot of understanding of virus transmission by mosquitoes.
While this is an incredibly positive prospect, it's important to keep in mind that experimenting on mice isn't really the same as experimenting on people. And just because this is going well with mice doesn't mean it will go well with people. But, during the study, the team discovered that people infected with dengue had similar attention from the mosquitoes.
The other promising thing? Since they've discovered the attraction, they were also able to find a possible treatment plan. They discovered that when they gave the sick mice a vitamin A supplement, the mosquitoes lost interest. Knowing this information can help researchers explore how Zika and dengue spread. According to Wang, in some of the areas where dengue and Zika are most common, many people are vitamin A deficient.

Whatever they discover, I'm very curious to see if this information will offer insight on not only how diseases get spread, but also what makes people (like me) more susceptible to getting bitten in the first place.
Get stories worth sharing delivered to your inbox
Get stories worth sharing delivered to your inbox