Images courtesy of Letters of Love
True
When Grace Berbig was 7 years old, her mom was diagnosed with leukemia, a cancer of the body's blood-forming tissues. Being so young, Grace didn't know what cancer was or why her mother was suddenly living in the hospital. But she did know this: that while her mom was in the hospital, she would always be assured that her family was thinking of her, supporting her and loving her every step of her journey.
Nearly every day, Grace and her two younger sisters would hand-make cards and fill them with drawings and messages of love, which their mother would hang all over the walls of her hospital room. These cherished letters brought immeasurable peace and joy to their mom during her sickness. Sadly, when Grace was just 10 years old, her mother lost her battle with cancer."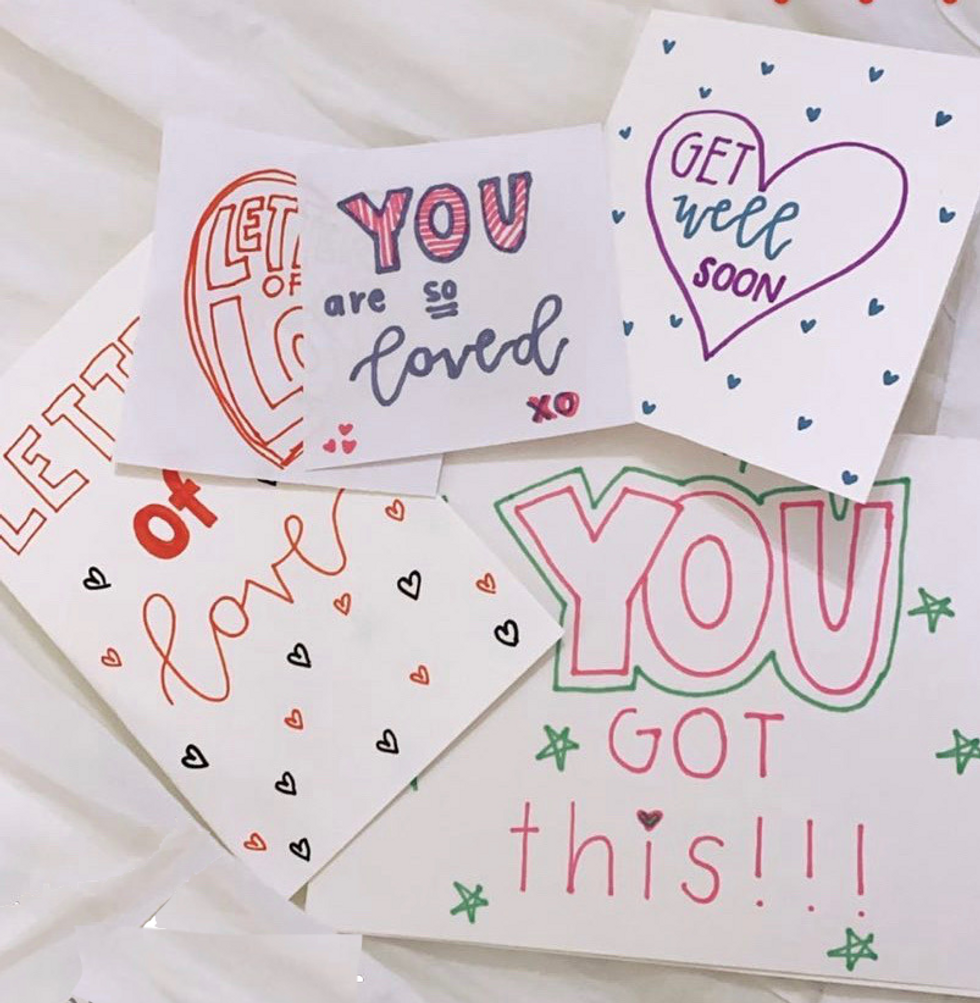 Image courtesy of Letters of Love
Losing my mom put the world in a completely different perspective for me," Grace says. "I realized that you never know when someone could leave you, so you have to love the people you love with your whole heart, every day."
Grace's father was instrumental in helping in the healing process of his daughters. "I distinctly remember my dad constantly reminding my two little sisters, Bella and Sophie, and I that happiness is a choice, and it was now our job to turn this heartbreaking event in our life into something positive."
When she got to high school, Grace became involved in the Leukemia & Lymphoma Society and a handful of other organizations. But she never felt like she was doing enough.
"I wanted to create an opportunity for people to help beyond donating money, and one that anyone could be a part of, no matter their financial status."
In October 2018, Grace started
Letters of Love
, a club at her high school in Long Lake, Minnesota, to emotionally support children battling cancer and other serious illnesses through letter-writing and craft-making.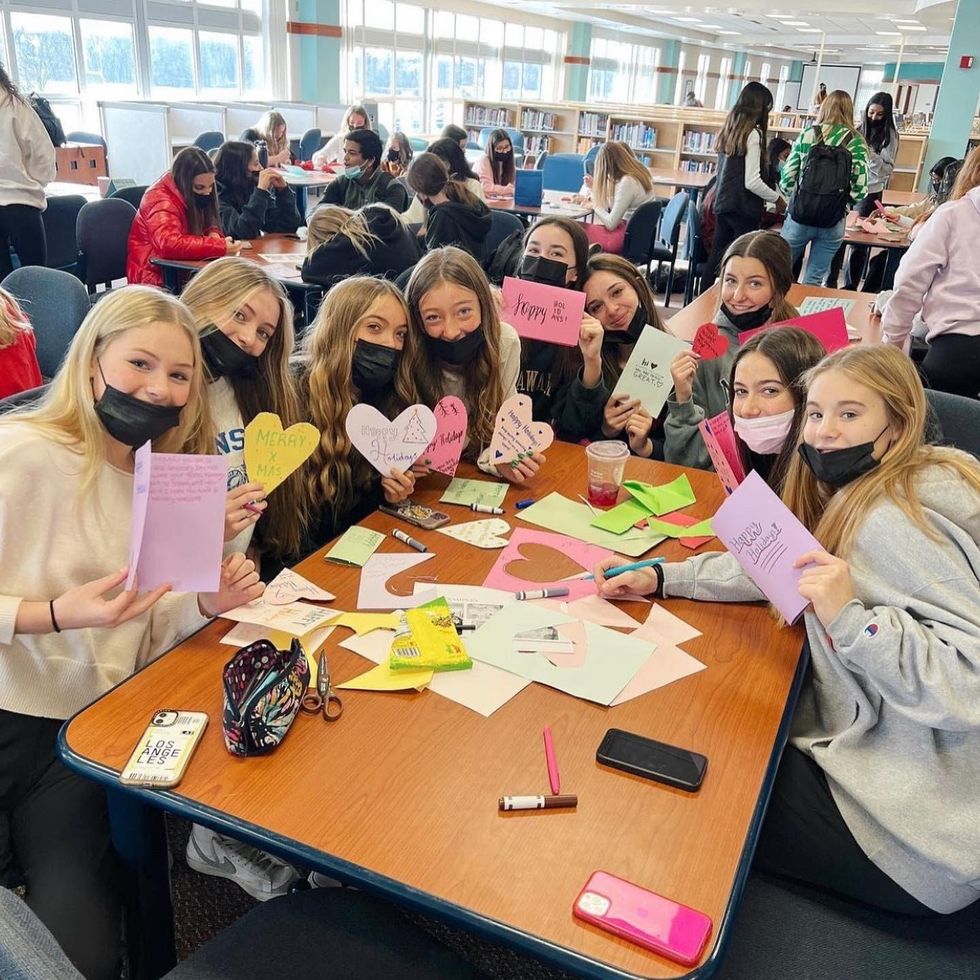 Image courtesy of Letters of Love
Much to her surprise, more than 100 students showed up for the first club meeting. From then on, Letters of Love grew so fast that during her senior year in high school, Grace had to start a GoFundMe to help cover the cost of card-making materials.
Speaking about her nonprofit today, Grace says, "I can't find enough words to explain how blessed I feel to have this organization. Beyond the amount of kids and families we are able to support, it allows me to feel so much closer and more connected to my mom."
Since its inception, Letters of Love has grown to more than 25 clubs with more than 1,000 members providing emotional support to more than 60,000 patients in children's hospitals around the world. And in the process it has become a full-time job for Grace.
"I do everything from training volunteers and club ambassadors, paying bills, designing merchandise, preparing financial predictions and overviews, applying for grants, to going through each and every card ensuring they are appropriate to send out to hospitals."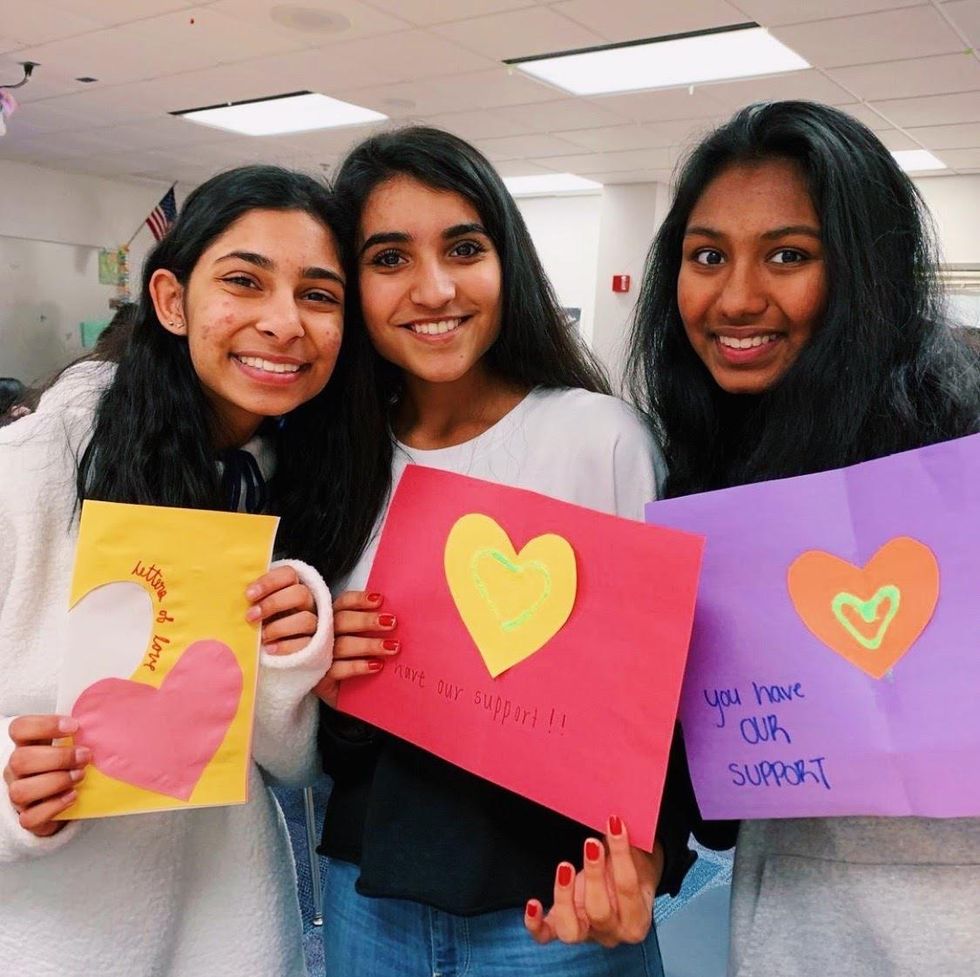 Image courtesy of Letters of Love
In addition to running Letters of Love, Grace and her small team must also contend with the emotions inherent in their line of work.
"There have been many, many tears cried," she says. "Working to support children who are battling cancer and other serious and sometimes chronic illnesses can absolutely be extremely difficult mentally. I feel so blessed to be an organization that focuses solely on bringing joy to these children, though. We do everything we can to simply put a smile on their face, and ensure they know that they are so loved, so strong, and so supported by people all around the world."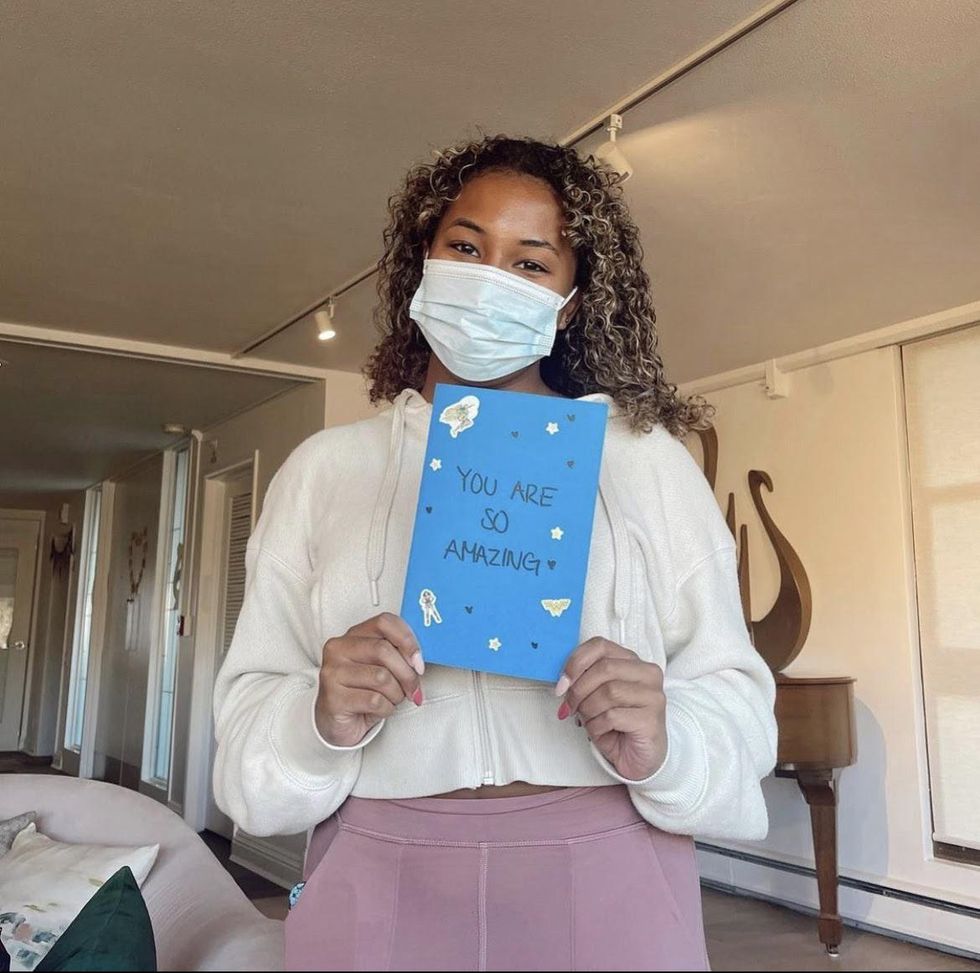 Image courtesy of Letters of Love
Letters of Love has been particularly instrumental in offering emotional support to children who have been unable to see friends and family due to COVID-19. A video campaign in the summer of 2021 even saw members of the NFL's Minnesota Vikings and the NHL's Minnesota Wild offer short videos of hope and encouragement to affected children.
Grace is currently taking a gap year before she starts college so she can focus on growing Letters of Love as well as to work on various related projects, including the publication of a children's book.

"The goal of the book is to teach children the immense impact that small acts of kindness can have, how to treat their peers who may be diagnosed with disabilities or illness, and how they are never too young to change the world," she says.
Since she was 10, Grace has kept memories of her mother close to her, as a source of love and inspiration in her life and in the work she does with Letters of Love.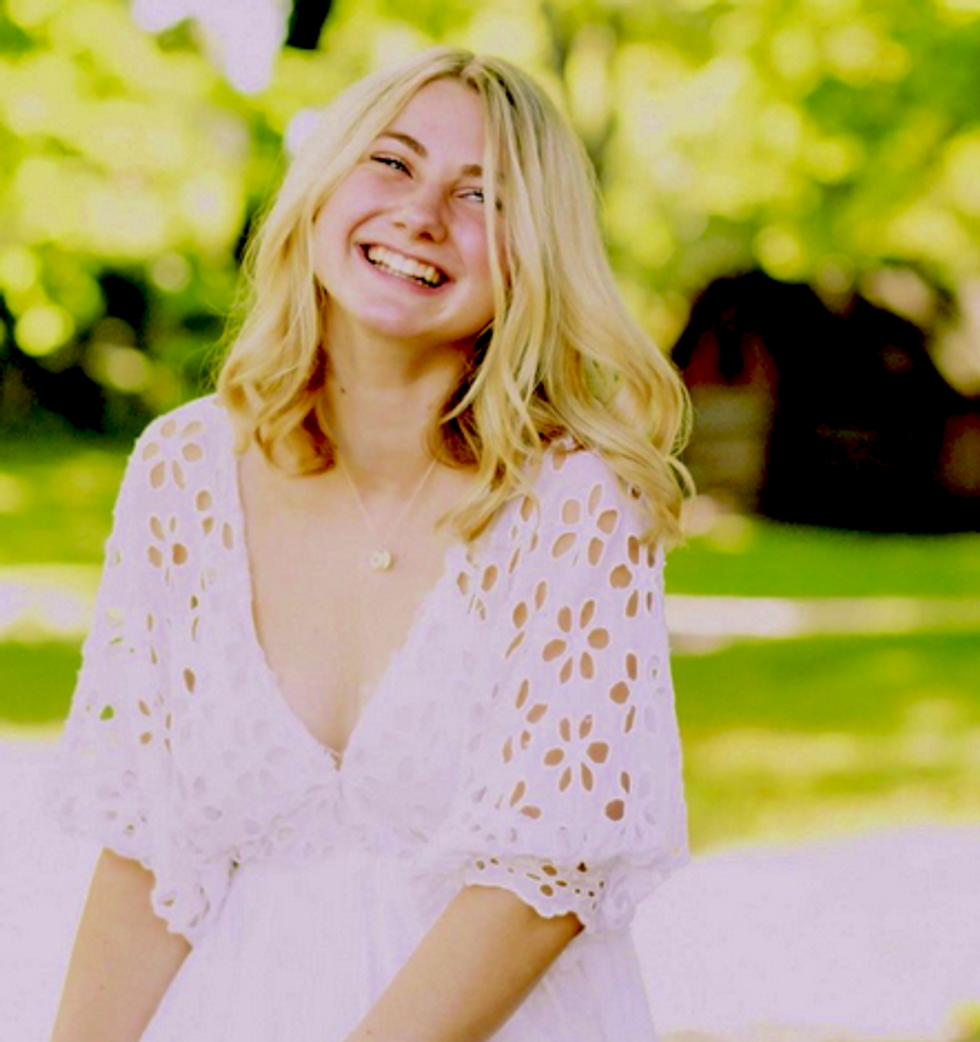 Image courtesy of Grace Berbig
"When I lost my mom, I felt like a section of my heart went with her, so ever since, I have been filling that piece with love and compassion towards others. Her smile and joy were infectious, and I try to mirror that in myself and touch people's hearts as she did."
For more information visit Letters of Love.
Please donate to Grace's GoFundMe and help Letters of Love to expand, publish a children's book and continue to reach more children in hospitals around the world.
Images courtesy of AFutureSuperhero and Friends and Balance Dance Project
True
The day was scorching hot, but the weather wasn't going to stop a Star Wars Stormtrooper from handing out school supplies to a long line of eager children. "You guys don't have anything illegal back there - any droids or anything?" the Stormtrooper asks, making sure he was safe from enemies before handing over a colorful backpack to a smiling boy.
The man inside the costume is Yuri Williams, founder of AFutureSuperhero And Friends, a Los Angeles nonprofit that uplifts and inspires marginalized people with small acts of kindness.
Yuri's organization is one of four inaugural grant winners from the Upworthy Kindness Fund, a joint initiative between Upworthy and GoFundMe that celebrates kindness and everyday actions inspired by the best of humanity. This year, the Upworthy Kindness Fund is giving $100,000 to grassroots changemakers across the world.
To apply, campaign organizers simply tell Upworthy how their kindness project is making a difference. Between now and the end of 2021, each accepted individual or organization will receive $500 towards an existing GoFundMe and a shout-out on Upworthy.
Meet the first four winners:
1: Balance Dance Project: This studio aims to bring accessible dance to all in the Sacramento, CA area. Lead fundraiser Miranda Macias says many dancers spend hours a day at Balance practicing contemporary, lyrical, hip-hop, and ballet. Balance started a GoFundMe to raise money to cover tuition for dancers from low-income communities, buy dance team uniforms, and update its facility. The $500 contribution from the Kindness Fund nudged Balance closer to its $5,000 goal.
2: Citizens of the World Mar Vista Robotics Team: In Los Angeles, middle school teacher James Pike is introducing his students to the field of robotics via a Lego-building team dedicated to solving real-world problems.
James started a GoFundMe to crowdfund supplies for his students' team ahead of the First Lego League, a school-against-school matchup that includes robotics competitions. The team, James explained, needed help to cover half the cost of the pricey $4,000 robotics kit. Thanks to help from the Upworthy Kindness Fund and the generosity of the Citizens of the World Middle School community, the team exceeded its initial fundraising goal.
Citizens of the World Mar Vista Robotics Team video update youtu.be
3: Black Fluidity Tattoo Club: Kiara Mills and Tann Parker want to fix a big problem in the tattoo industry: there are too few Black tattoo artists. To tackle the issue, the duo founded the Black Fluidity Tattoo Club to inspire and support Black tattooers. While the Brooklyn organization is open to any Black person, Kiara and Tann specifically want to encourage dark-skinned artists to train in an affirming space among people with similar identities.
To make room for newcomers, the club recently moved into a larger studio with a third station for apprentices or guest artists. Unlike a traditional fundraiser that supports the organization exclusively, Black Fluidity Tattoo Club will distribute proceeds from GoFundMe directly to emerging Black tattoo artists who are starting their own businesses. The small grants, supported in part with a $500 contribution from the Upworthy Kindness Fund, will go towards artists' equipment, supplies, furnishings, and other start-up costs.
4: AFutureSuperhero And Friends' "Hope For The Holidays": Founder Yuri Williams is fundraising for a holiday trip to spread cheer to people in need across all fifty states.
Along with collaborator Rodney Smith Jr., Yuri will be handing out gifts to children, adults, and animals dressed as a Star Wars' Stormtrooper, Spiderman, Deadpool, and other movie or comic book characters. Starting this month, the crew will be visiting children with disabilities or serious illnesses, bringing leashes and toys to animal shelters for people taking home a new pet, and spreading blessings to unhoused people—all while in superhero costume. This will be the third time Yuri and his nonprofit have taken this journey.
AFutureSuperhero started a GoFundMe in July to cover the cost of gifts as well as travel expenses like hotels and rental cars. To help the nonprofit reach its $15,000 goal, the Upworthy Kindness Fund contributed $500 towards this good cause.
Think you qualify for the fund? Tell us how you're bringing kindness to your community. Grants will be awarded on a rolling basis from now through the end of 2021. For questions and more information, please check out our FAQ's and the Kindness Toolkit for resources on how to start your own kindness fundraiser.
Conor Ryan has seen his fair share of whales, and his Twitter handle—@whale_nerd—isn't just a cutesy nickname. Ryan was just 14 years old when he published his first peer-reviewed scientific paper on killer whales with his best friend, Peter Wilson, in 2001. As a wildlife photographer, a zoologist specializing in marine biology and an expert in baleen whales and small cetaceans, he knows when he's looking at something special in the sea.
In other words, when Conor Ryan says his mind is "completely blown" by a whale sighting, you know it's a big deal. Seeing 1,000 fin whales at once? That's a very big deal.
Fin whales are the second-largest animal in the world, second only to the blue whale. In the 20th century, fin whales were hunted to near extinction before commercial whaling was outlawed. Nearly 725,000 were killed in the Southern Hemisphere alone in the mid- 1900s, and though whaling is no longer a threat, fin whales are still on the endangered species list.
Fin whales get their name from an easy-to-spot fin on their backs. Imagine seeing 1,000 of any endangered species in one location, much less 1,000 of these 85-foot, 80-ton whales all feeding in a single location.
Ryan captured the scene on film and shared it on Twitter, writing, "We found about 1000 fin whales over a 5x5 mile area off South Orkney. Blue and humpback also mixed in. Mind completely blown." The video shows a cluster of whales spouting as far as the eye can see.
We found about 1000 fin whales over a 5x5 mile area off South Orkney. Blue and humpback also mixed in. Mind completely blown @LindbladExp #NationalGeographicEndurancepic.twitter.com/xtdvexXwI5

— Conor Ryan (@Conor Ryan) 1642121461
According to The Guardian, Ryan spotted the whales from the National Geographic Endurance polar cruiser, in an area between the South Orkney Islands and the Antarctic peninsula. Their ship was in an area with four large krill fishing vessels, which explains the feeding frenzy.
Ryan said it might be "one of the largest aggregations of fin whales ever documented" and that his estimate of 1,000 whales was a conservative one.
"Words fail me," Ryan told The Guardian. "I have seen maybe 100 fins here before in previous years. Thousands of chinstrap penguins, petrels, and albatrosses, too … It was unusually calm weather and unusually good visibility."
Though commercial whaling laws have greatly reduced the decimation of whale populations we saw in the 1900s, whales still face threats from human activity. According to NOAA, the main threat to fin whales today is vessel strikes. Cargo and cruise boat ships have increased in number in the past few decades, which increases the risk of running into whales, but they aren't the only ships that pose a threat. Last year, two dead fin whales had to be dislodged from the hull of an Australian Navy ship after it pulled into the naval pier in San Diego. The fact that they are still considered endangered means we have to stay vigilant about their protection.
But as author Philip Hoare wrote in The Guardian, "In a world constrained by woe and threats to democracy…1,000 fin whales can't help but lift our hearts." Such a number is decidedly good news, which is always worth celebrating and which provides a beacon of hope that we can make impactful changes that help our planet when we choose to.
This article originally appeared on 11.30.16


Chris Porsz was tired of studying sociology.
As a university student in the 1970s, he found the talk of economics and statistics completely mind-numbing. So instead, he says, he roamed the streets of his hometown of Peterborough, England, with a camera in hand, snapping pictures of the people he met and listening to their stories. To him, it was a far better way to understand the world.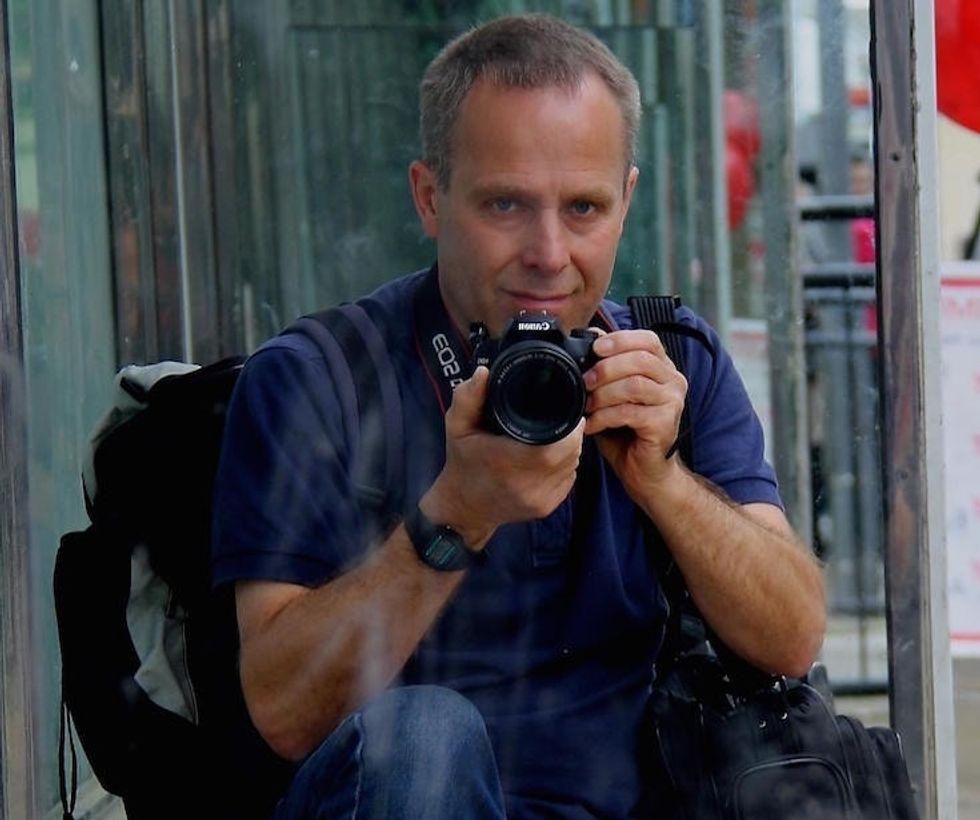 All photos by Chris Porsz/REX/Shutterstock.
He always looked for the most eccentric people he could find, anyone who stood out from the crowd. Sometimes he'd snap a single picture of that person and walk away. Other times he'd have lengthy conversations with these strangers.
But eventually, life moved on and so did he. He fell out of love with photography. "Those pictures collected dust for 25 years," he says.
Then, a few years ago, Porsz found those 30- to 40-year-old photos and sent them to be printed in his local newspaper.
And remarkably, people started recognizing much younger versions of themselves in his shots. "There was this lightbulb moment," he says of the first time someone wrote to him about one of his photos.
Eventually, he became curious about the people he'd photographed all those years ago, and he decided he'd try to find some of them. It wouldn't be easy — the photos were taken a long time ago, and Porsz didn't have names or contact information for many of the people in them.
But he did find some of them, sometimes in extraordinary ways. "Some were absolute million-to-one coincidences," he says.
Like the time he went out on a call (he's a parademic these days) at 3 a.m., and the man he was there to treat recognized him as the photographer who'd snapped his picture all those years ago. On another call, he asked a local shopkeeper if he recognized any of the subjects in the photos. He did.
Once Porsz began posting about the project online — he calls it "Reunions" — it became easier and easier to reconnect with his former subjects.
Many were eager to recreate the old shots as best they could, like Layla Gordon, who Porsz originally photographed drinking milk in 1983.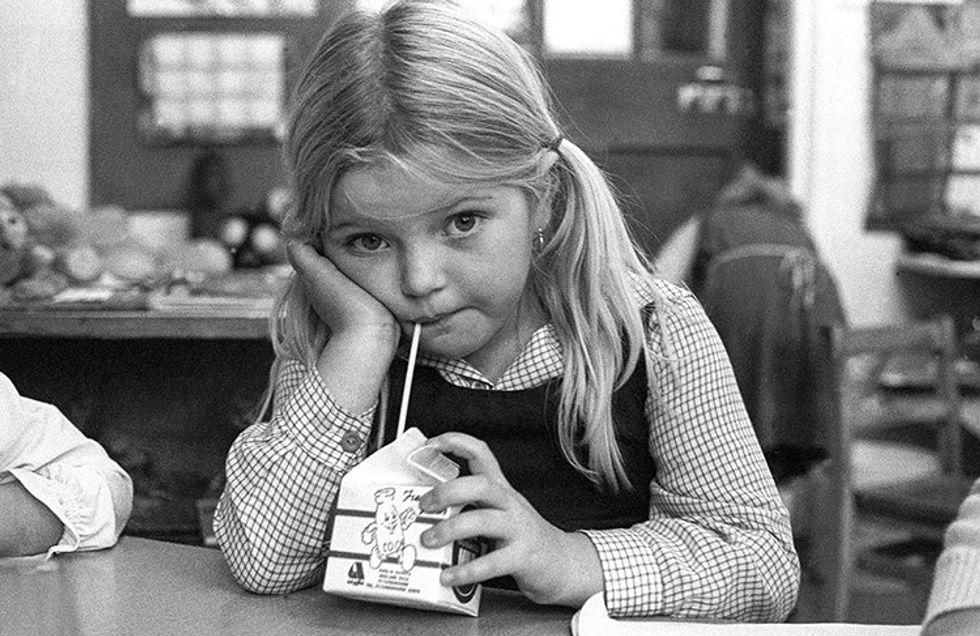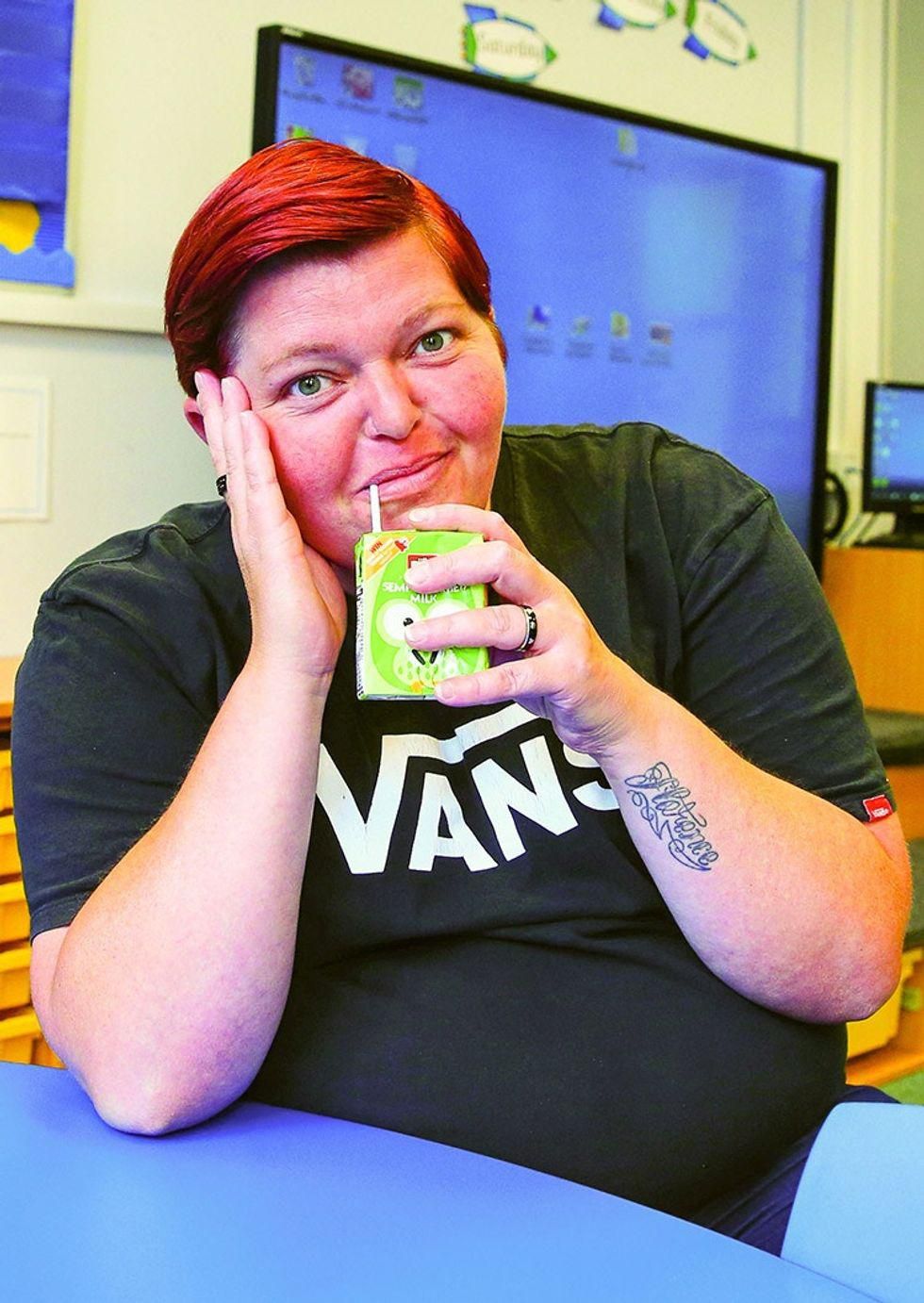 Others groups, like these schoolgirls, had fallen out of touch. "Reunions," fittingly enough, brought them back together.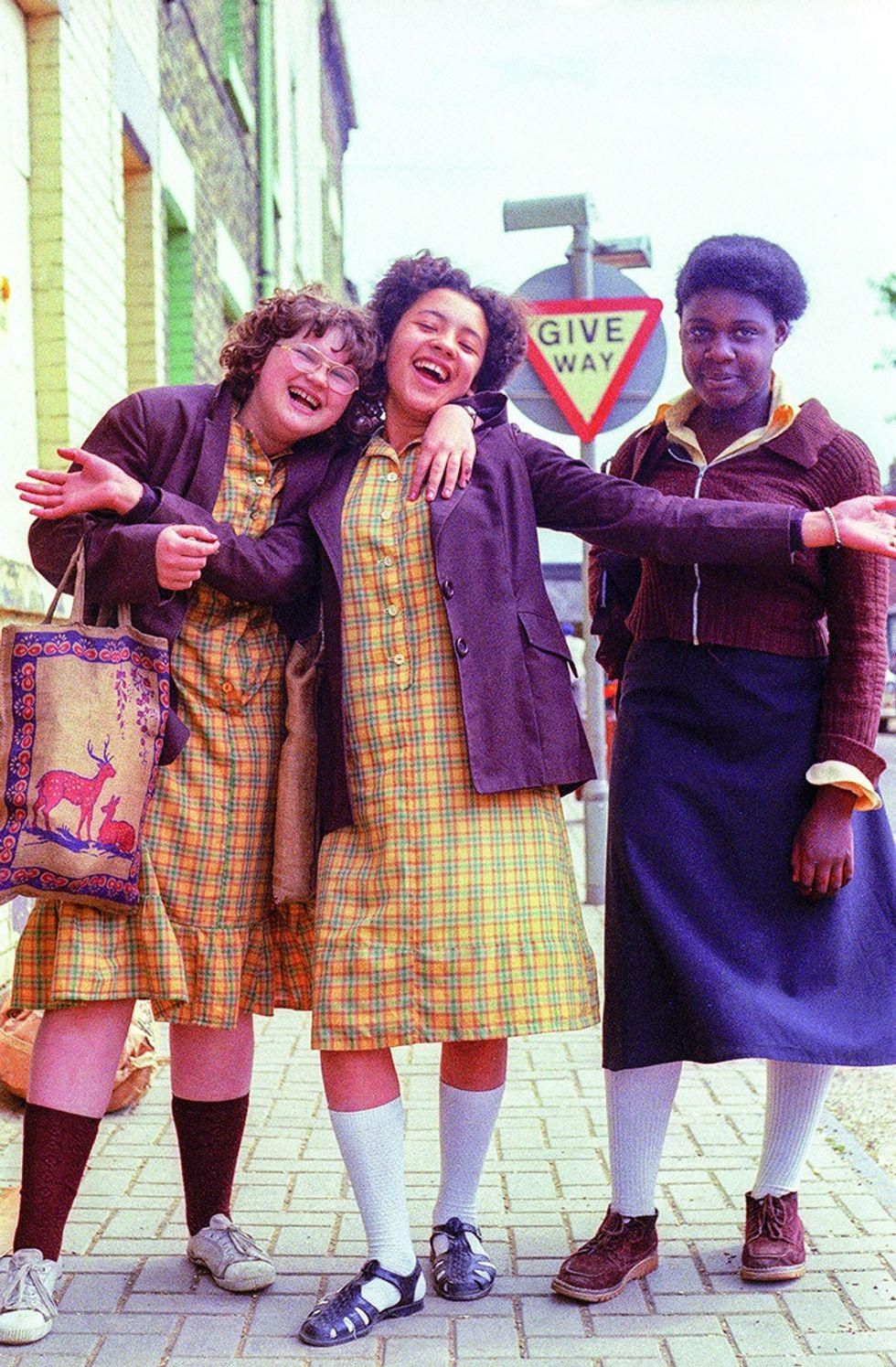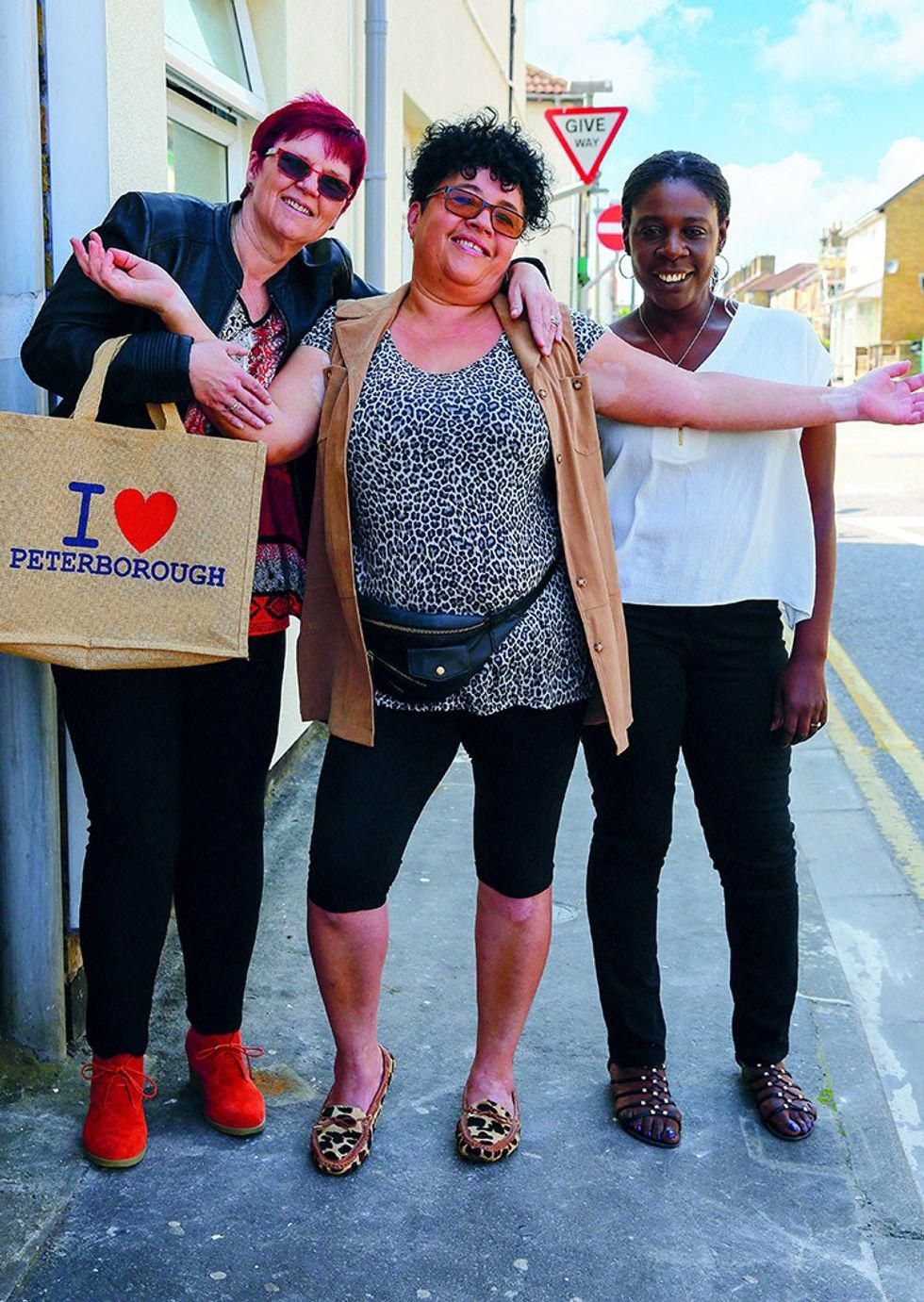 Porsz says that his subjects, like this wild-haired couple, were strangers to him 30 years ago. Now he considers many of them friends.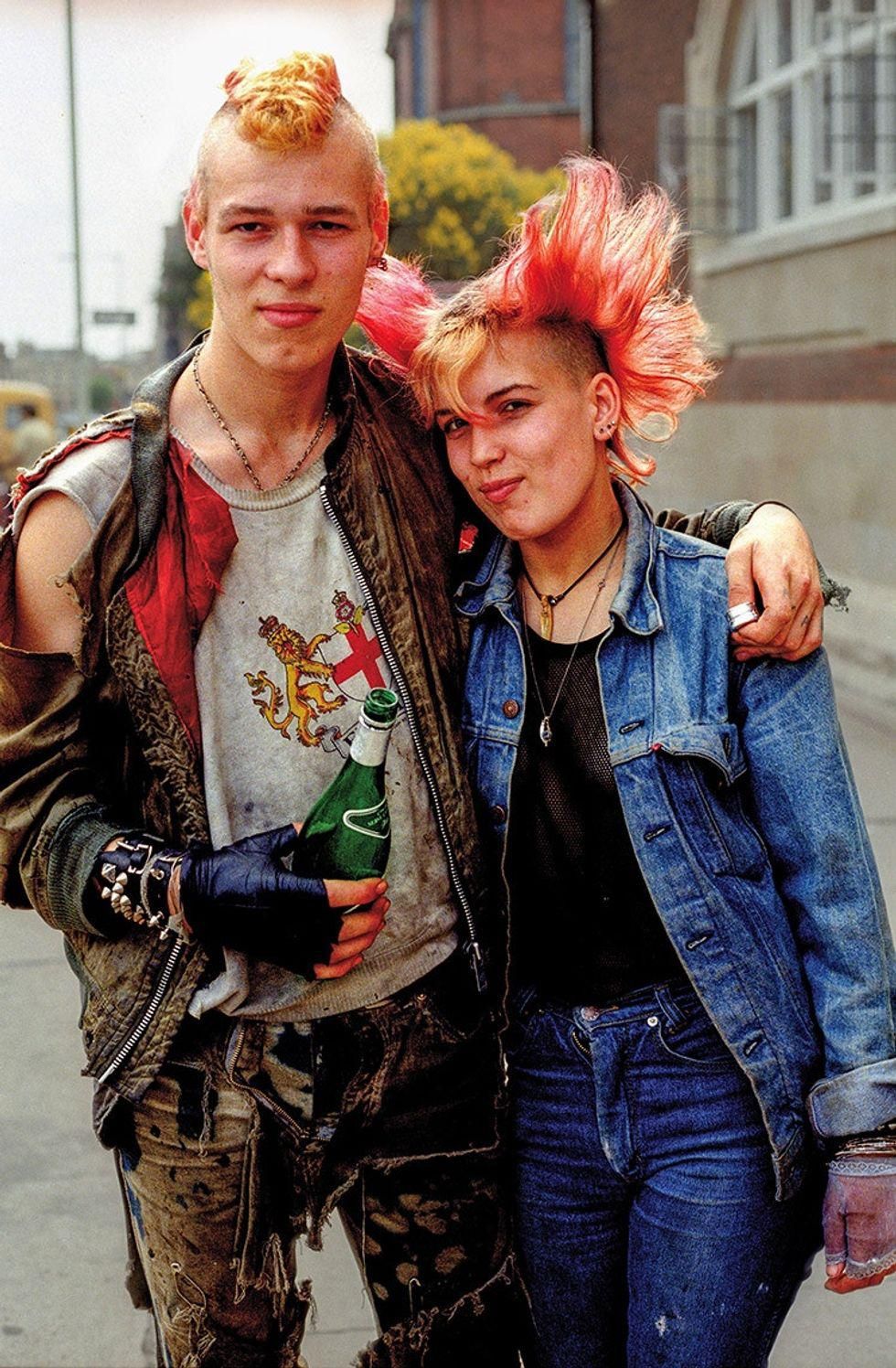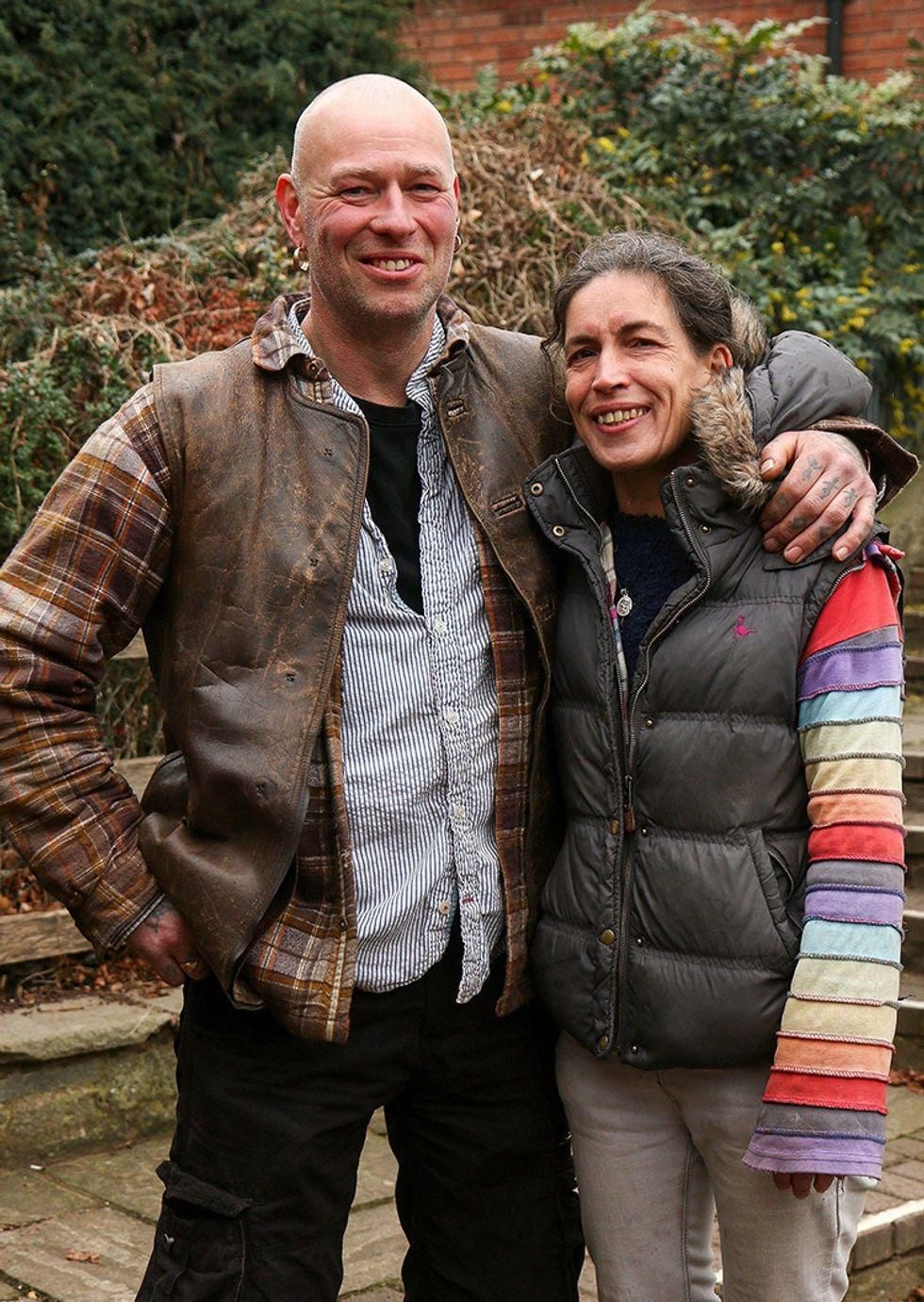 In all, Porsz has collected over 130 before-and-afters in his new book.
The response to Porsz's work has been more than he ever imagined.

He's personally heard from people all over the world who've been inspired by his project and want to try to recreate it themselves. But beyond that, he just hopes it brings a little warmth and happiness to the people who see it.
"It's important for me for my photography to make people smile," he says. "Because there is so much sadness in the world."
And while the project is finished for now, don't count out the possibility of "Reunions Part 2" somewhere down the line.
"I'd love to meet these guys in 2046 when I'm 94 years old," Porsz says.




Get stories worth sharing delivered to your inbox
Get stories worth sharing delivered to your inbox