True
Making new friends as an adult is challenging. While people crave meaningful IRL connections, it can be hard to know where to find them. But thanks to one Facebook Group, meeting your new best friends is easier than ever.
Founded in 2018, NYC Brunch Squad brings together hundreds of people who come as strangers and leave as friends through its in-person events.
"Witnessing the transformative impact our community has on the lives of our members is truly remarkable. We provide the essential support and connections needed to thrive amid the city's chaos," shares Liza Rubin, the group's founder.
Despite its name, the group doesn't just do brunch. They also have book clubs, seasonal parties, and picnics, among other activities.
NYC Brunch Squad curates up to 10 monthly events tailored to the specific interests of its members. Liza handles all the details, taking into account different budgets and event sizes – all people have to do is show up.
"We have members who met at our events and became friends and went on to embark on international journeys to celebrate birthdays together. We have had members get married with bridesmaids by their sides who were women they first connected with at our events. We've had members decide to live together and become roommates," Liza says.
Members also bond over their passion for giving back to their community. The group has hosted many impact-driven events, including a "Picnic with Purpose" to create self-care packages for homeless shelters and recently participated in the #SquadSpreadsJoy challenge. Each day, the 100 members participating receive random acts of kindness to complete. They can also share their stories on the group page to earn extra points. The member with the most points at the end wins a free seat at the group's Friendsgiving event.

If you want to meet the group in person, NYC Brunch Squad, along with many other locally-based New York groups, is participating in the upcoming Facebook IRL event on December 2. This pop-up experience in New York City's West Village will provide a space to discover new hobbies, find new friends, and connect with others around the things they love.
Learn more about the event and sign up to attend here.
Not in the New York area but still want to get involved? As a result of NYC Brunch Squad's popularity, the group is expanding across the country.
"With a robust community established in NYC, we're now excited to announce our expansion with pop-up events in the works in 15 additional cities. What's more, we're launching a travel club, extending our mission to foster connections beyond the city limits and to help people build life-changing friendships in new and exciting places," Liza says.
If you're ready to make new meaningful connections, join NYC Brunch Squad! You might just meet your new best friends.
Education
Van Gogh saw something it took scientists another 100 years to see.
Van Gough never got to enjoy his own historic success as an artist (even though we've been able to imagine what that moment might have looked like). But it turns out that those of us who have appreciated his work have been missing out on some critical details for more than 100 years.
I'm not easily impressed, OK?
I know Van Gogh was a genius. If the point of this were "Van Gogh was a mad genius," I would not be sharing this with you.
But I found this and I thought, "Oh, what a vaguely interesting thing." And then I got to the part about the Hubble Space Telescope, and, let me tell you: Mind. Blown.

We've got the set up here, but you have to watch the video for the full effect. It's all the way at the bottom.
Get this: Van Gogh was a pretty cool artist (duh), but as it turns out...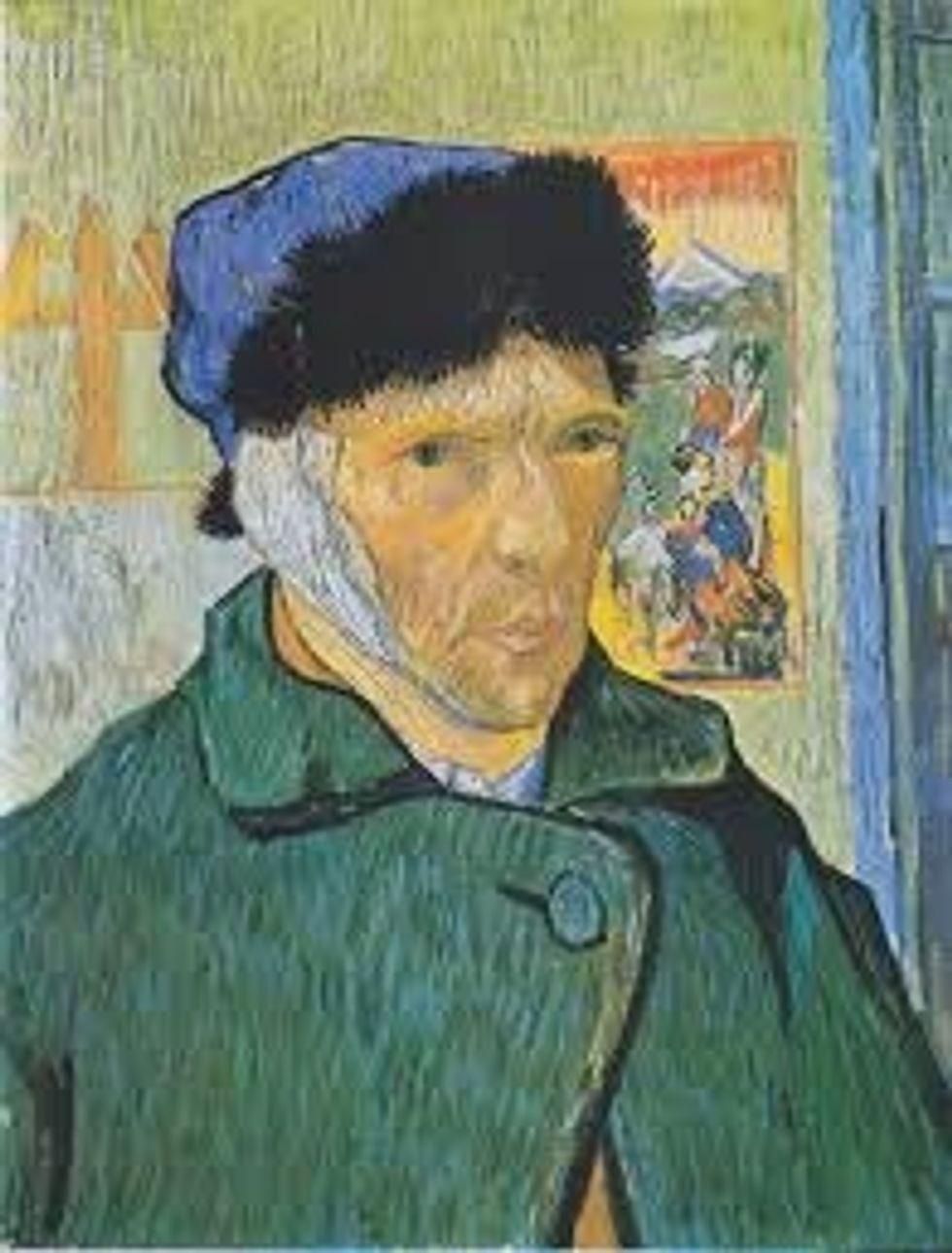 What's the truth behind when you take off an ear?
...he was also A SCIENTIST!*
*Pretty much.

Here's the story.
While Van Gogh was in an asylum in France, after he mutilated his ear during a psychotic episode*...
(*Or, and I'd like to thank the entire Internet for pointing this out, there's a theory that his friend Paul Gauguin actually cut off his ear, in a drunken sword fight, in the dark. The more you know!)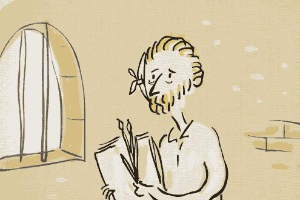 Animated a thinking one-eared Van Gogh.
All Van Gogh GIFs via TED-Ed.
...he was able to capture one of science's most elusive concepts:
~~~TURBULENCE~~~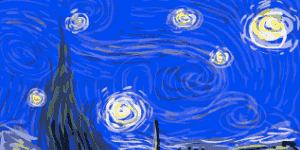 Animated "Starry Night."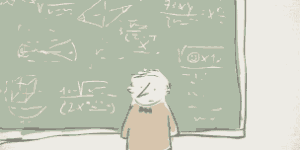 Turbulence expressed through art.
Although it's hard to understand with math (like, REALLY HARD), it turns out that art makes it easy to depict how it LOOKS.
So what is turbulence?
Turbulence, or turbulent flow, is a concept of fluid dynamics where fluid movements are "self-similar" when there's an energy cascade — so basically, big eddies make smaller eddies, and those make even smaller ones ... and so on and so forth.
It looks like this: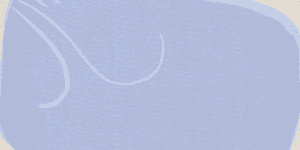 Pictures explain science.
See? It's easier to look at pictures to understand it.
Thing is, scientists are pretty much *just* starting to figure this stuff out.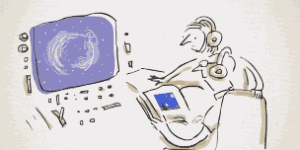 Animation of referencing art to science.
Then you've got Van Gogh, 100 years earlier, in his asylum, with a mutilated ear, who totally nailed it!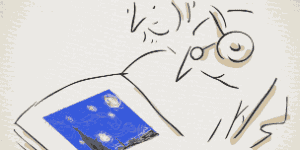 Science studying Van Gogh.
The folks who noticed Van Gogh's ability to capture turbulence checked to see whether other artists did the same. Most impressionists achieved " luminance" with their art (which is the sort-of *pulsing* you see when you look at their paintings that really shows what light looks like).
But did other artists depict turbulence the way Van Gogh did?
NOPE.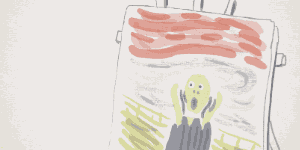 Animated "The Scream."
Not even "The Scream" could hold a candle to Van Gogh!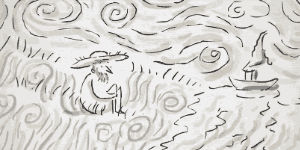 Capturing concepts of nature.
Even in his darkest time, Van Gogh was able to capture — eerily accurately — one of nature's most complex and confusing concepts ... 100 years before scientists had the technology to observe actual star turbulence and realize its similarity to fluid turbulence mathematics as well as Van Gogh's swirling sky. Cool, huh?
Watch the video below to learn even more:
This article originally appeared on November 14, 2014
Anyone who's ever been on Tinder knows having a cute animal in the photo is usually a big hit.

But what if Tinder profile photos only featured that cute animal? And what if, instead of a millennial would-be hooker-upper, it was the adorable dog or cat itself looking for true love?
That's an idea some animal shelters are toying with.
"We are always trying to come up with ... creative new ways to get our shelter dogs out in front of potential adopters," says Karen Hirsch, public relations director at LifeLine Animal Project in Georgia.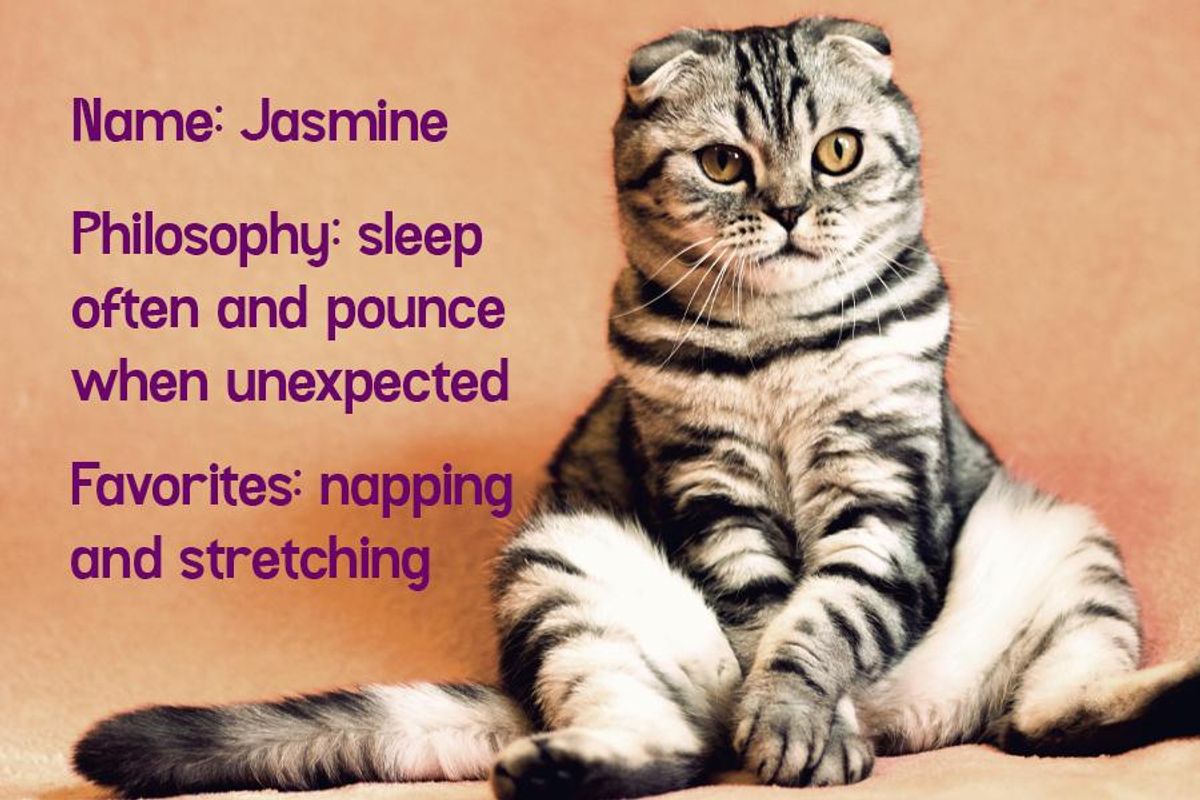 Animal Profile created by Mark Wales
Photo from Pixabay
And experimenting with online dating for dogs and cats might just be working.
The harsh world of pet adoption is extremely competitive: About 6.5 million dogs and cats enter U.S. shelters every year, each seeking a good forever home. It's too big a need for shelter operators to just sit back and hope they all get adopted.

That's why you see adorable dogs on display outside the grocery store, partnerships with Uber that will bring puppies directly to you for playtime, and aww-inspiring social media campaigns like dogs in pajamas.
An estimated 50 million people worldwide use Tinder. So LifeLine and other shelters and rescues figure why not give it a shot?
After all, people using online dating apps are already looking for love and companionship — just maybe a slightly different kind.
Hirsch says they recently created profiles for 22 of their dogs and cats.
Animal profiles are also showing up on Bumble, which is home to another 20 million users or so.
Like sweet Duke here.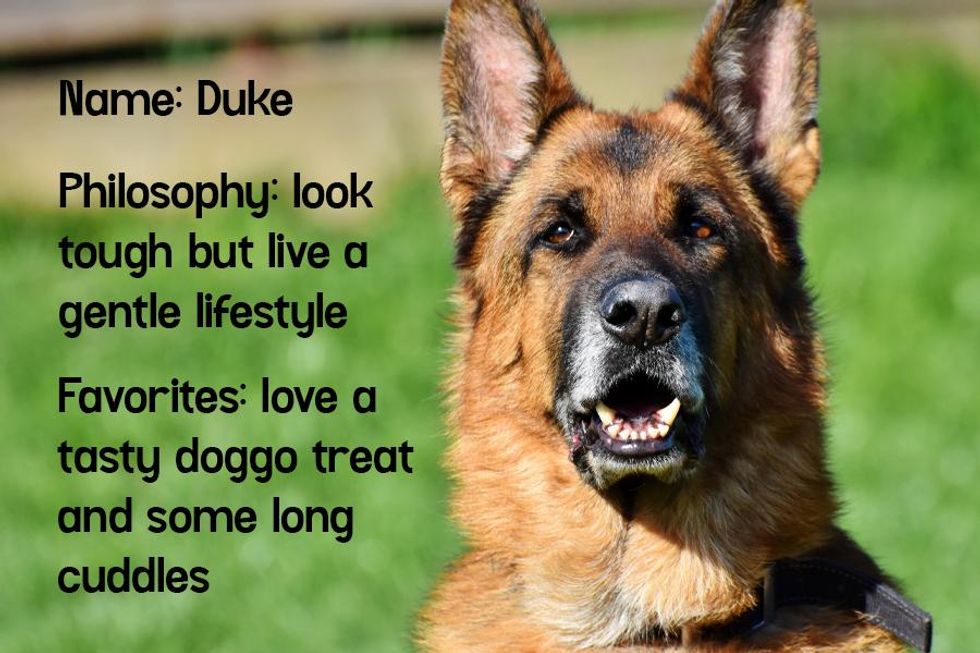 Animal Profile created by Mark Wales
Original photo from Pixabay
Each pet is assigned to a volunteer who creates the profile and handles the conversations after a match

"In a crowded shelter, pets often get overlooked, but on a dating app, the animal becomes an individual," Hirsch says. "People learn about them and form a 'virtual' attachment."

Plus the witty banter is oodles of fun.
For LifeLine, the experiment is still new. But Hirsch says people are responding to it incredibly well so far.
At the very least, Tinder and Bumble have proven to be great for word-of-mouth awareness-building on the importance of adopting shelter pets. The animals are getting dozens of matches. Hirsch says there have been more than a few online adoption inquiries, as well as people coming into the shelter to meet their "match" in person.

She also notes that one of the matches even became a regular volunteer at LifeLine.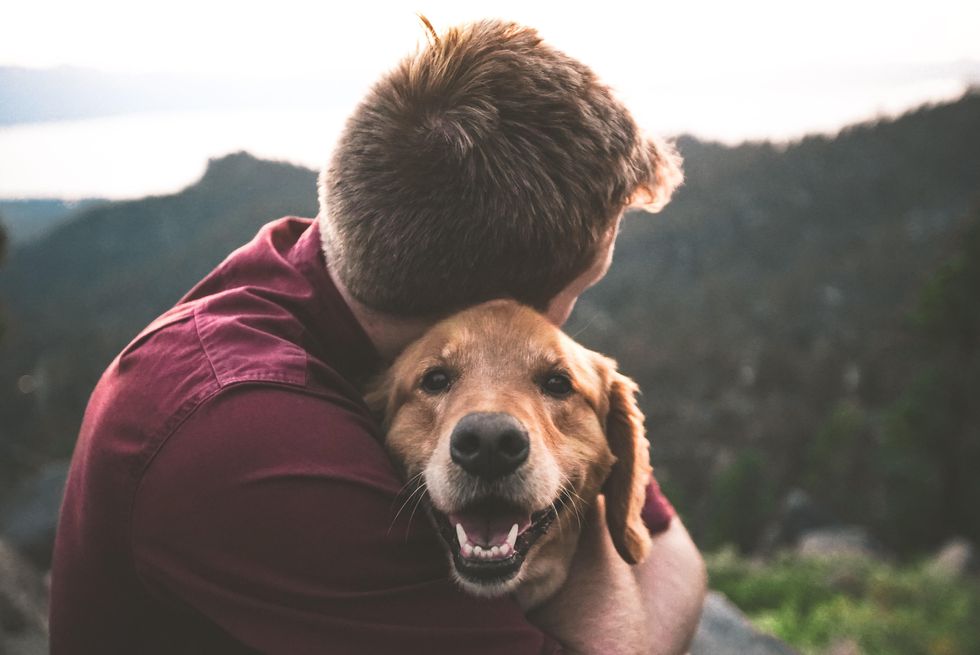 Photo by
Eric Ward
on
Unsplash
This new animal dating idea has another upside for apps — and the people using them, too.

Dating experts are finding that people are getting burned out by online dating. Between "ghosting," "cushioning," "the slow fade," and a bunch more of those annoying slang terms, humans out there are wondering if dating apps are even worth the effort.
For romantic love, who knows?
But now that you might just meet the dog or cat of your dreams, that's not a bad reason to keep on swiping.
This article originally appeared on 01.10.18
Education
They were doing trigonometry 1500 years before the Greeks.
via UNSW
Dr. Daniel Mansfield and his team at the University of New South Wales in Australia have just made an incredible discovery. While studying a 3,700-year-old tablet from the ancient civilization of Babylon, they found evidence that the Babylonians were doing something astounding: trigonometry!

Most historians have credited the Greeks with creating the study of triangles' sides and angles, but this tablet presents indisputable evidence that the Babylonians were using the technique 1,500 years before the Greeks ever were.
Mansfield and his team are, understandably, incredibly proud. What they discovered is that the tablet is actually an ancient trigonometry table.
Mansfield said:
"The huge mystery, until now, was its purpose – why the ancient scribes carried out the complex task of generating and sorting the numbers on the tablet. Our research reveals that Plimpton 322 describes the shapes of right-angle triangles using a novel kind of trigonometry based on ratios, not angles and circles. It is a fascinating mathematical work that demonstrates undoubted genius."
\u201cAussie mathematician cracks code of famous 3,700-year-old Babylonian clay tablet https://t.co/f7h6oIfBDr\u201d

— China Xinhua News (@China Xinhua News) 1503639811
"The tablet not only contains the world's oldest trigonometric table; it is also the only completely accurate trigonometric table, because of the very different Babylonian approach to arithmetic and geometry. This means it has great relevance for our modern world. Babylonian mathematics may have been out of fashion for more than 3,000 years, but it has possible practical applications in surveying, computer graphics and education. This is a rare example of the ancient world teaching us something new."
The tablet predates Greek astronomer Hipparchus, who has long been regarded as the father of trigonometry. Mansfield's colleague, Norman Widberger, added:
"Plimpton 322 predates Hipparchus by more than 1,000 years. It opens up new possibilities not just for modern mathematics research, but also for mathematics education. With Plimpton 322 we see a simpler, more accurate trigonometry that has clear advantages over our own."
"A treasure trove of Babylonian tablets exists, but only a fraction of them have been studied yet. The mathematical world is only waking up to the fact that this ancient but very sophisticated mathematical culture has much to teach us."
People were understandably excited by the news.
\u201cA 3,700 year olf Babylonian tablet revealed as the world's first trigonometry table https://t.co/AQlpsndM92\u201d

— The Conversation (@The Conversation) 1503613440
Some mathematicians actually think studying the Babylonians back then could help us improve the way we do trigonometry today.
\u201cBabylonian tablet Plimpton 322 will make studying maths easier, mathematician says https://t.co/s13ReWdD0c | @abcnews\u201d

— ABC Australia (@ABC Australia) 1503644411
\u201c"With Plimpton 322 we see a simpler, more accurate trig. (with) clear advantages over our own."\n@n_wildberger: https://t.co/xoZBNxvxZ8\n#TOK\u201d

— Roo Stenning (@Roo Stenning) 1503658186

Of course, there were the haters...
\u201cFind someone who loves you as much as this guy dislikes a hypothesis about Babylonian math: https://t.co/AznQgoYxFP\u201d

— Miles Brundage (@Miles Brundage) 1503605001
But all in all, Twitter users were pretty impressed with the Babylonians' skills.
And they figured it out 3,700 years ahead of me...and counting.— Marty (@Marty) 1503631905
\u201c@prophiphop And we're over here trying to figure out how to do trig with our TI-83s... man I love it when the ancients show what real intelligence is.\u201d

— Kenny Hayse (@Kenny Hayse) 1503633184
Congratulations to Dr. Mansfield and his team on their incredible discovery... and for making trigonometry exciting!
This article originally appeared on 07.10.21
Get stories worth sharing delivered to your inbox
Health
There is a hierarchy of grief and it's important to know where you fall on it before posting about someone's death.
Joy
Few gifts are greater than having your final wish granted.
All photos by the Ambulance Wish Foundation, used with permission.
Before 54-year-old Mario passed away, he had one special goodbye he needed to say ... to his favorite giraffe.
Mario had worked as a maintenance man at the Rotterdam zoo in the Netherlands for over 25 years. After his shifts, he loved to visit and help care for the animals, including the giraffes.
As Mario's fight against terminal brain cancer came to an end, all he wanted to do was visit the zoo one last time. He wanted to say goodbye to his colleagues — and maybe share a final moment with some of his furry friends.
Thanks to one incredible organization, Mario got his wish.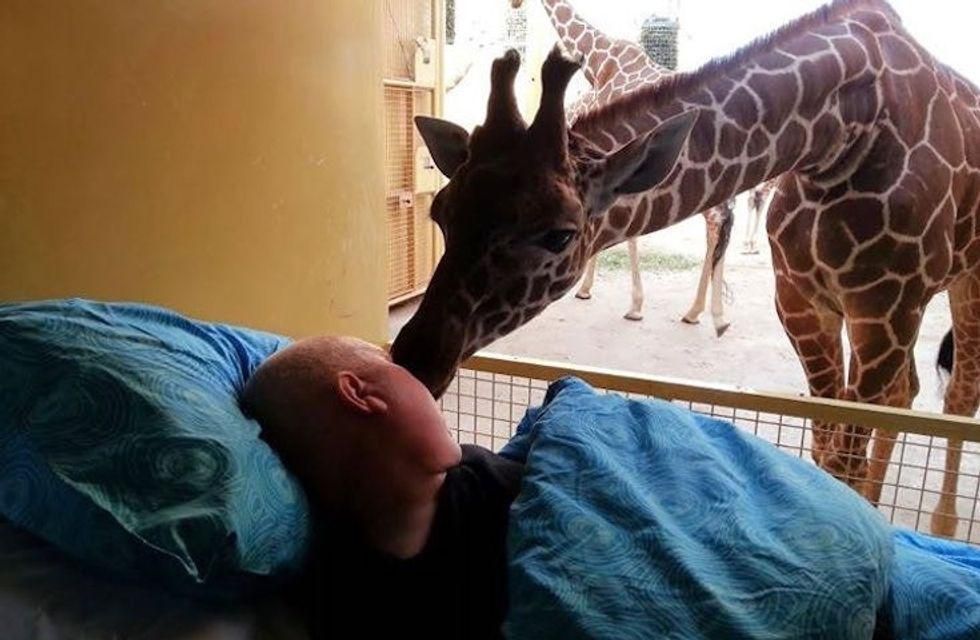 Kissed by a giraffe.
All photos by the Ambulance Wish Foundation, used with permission.
"To say goodbye to the animals."
The Ambulance Wish Foundation, a Dutch nonprofit, helps people like Mario experience one final request.
It's a lot like Make-A-Wish, only it's not just for kids.
In 2006, Kees Veldboer, who was an ambulance driver at the time, was moving a patient from one hospital to another. The patient was a terminally ill man who had spent three straight months confined to a hospital bed. During the trip from one hospital to the other, the patient told Veldboer that he wanted to see the Vlaardingen canal one last time. He wanted to sit in the sun and wind and smell the water again before going back inside.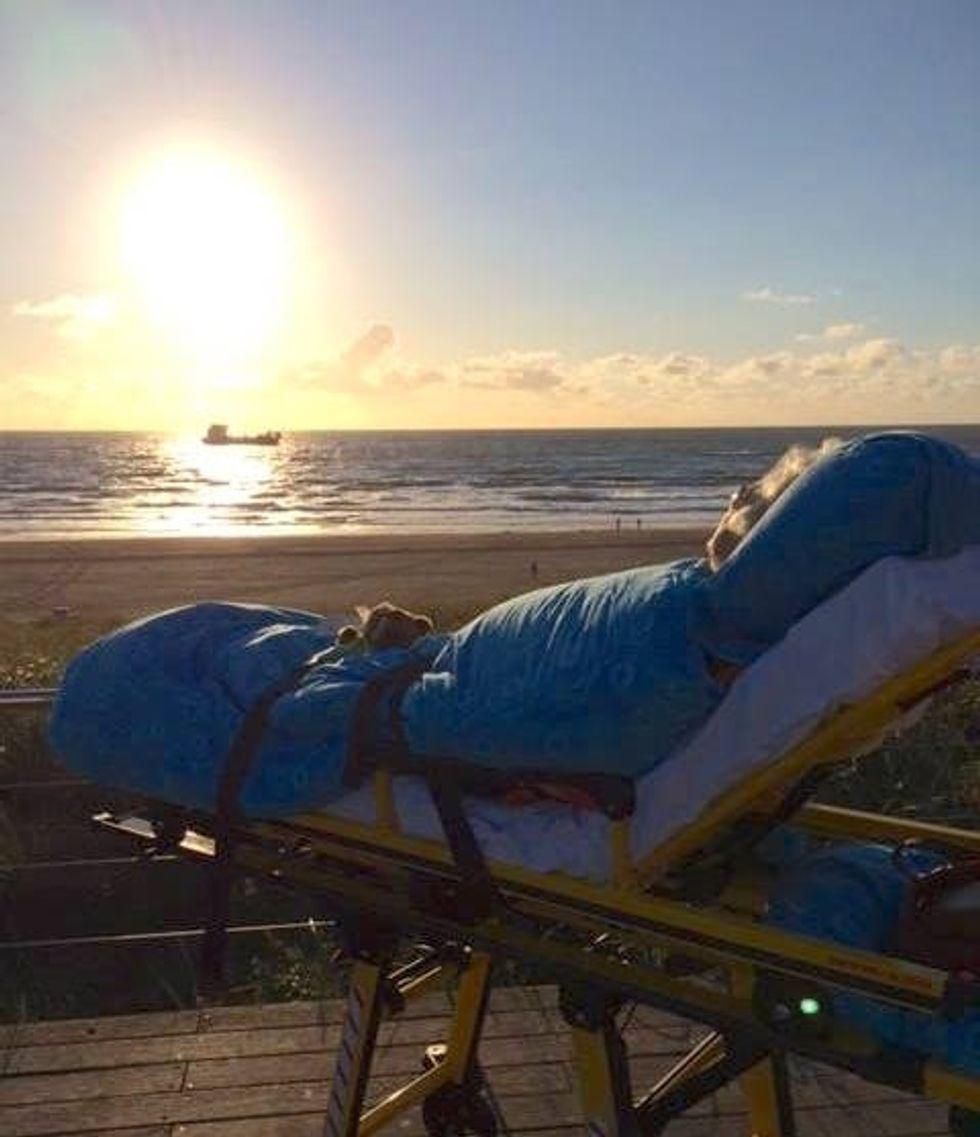 Taking in the sunset.
All photos by the Ambulance Wish Foundation, used with permission.
"To see the ocean again."
Veldboer made the patient's last wish happen, and as tears of joy streamed down the man's face, Veldboer knew he had tapped into a powerful way to bring peace to people in their final days.
Soon after, the Ambulance Wish Foundation was born.

Based in the Netherlands, Veldboer's organization scoffs at the logistical hurdles of transporting terminally ill patients who need high levels of care and, often, lots of medical equipment. The Ambulance Wish Foundation employs a fleet of custom-built ambulances and always has highly trained medical staff on hand for emergencies.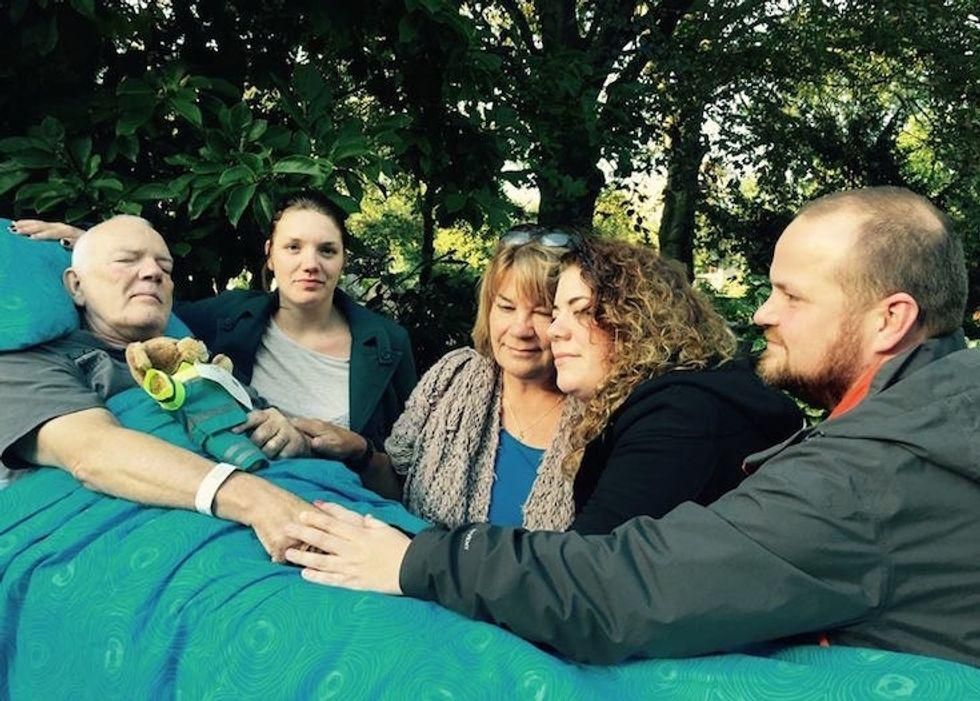 Saying goodbye.
All photos by the Ambulance Wish Foundation, used with permission.
"To visit my best friend's grave."
Their message? Positive end-of-life experiences are far too important to pass up.
Today, the AWF has over 230 volunteers and has fulfilled nearly 7,000 wishes.
Even more beautiful than the work this organization does, though, are the things its patients are asking for.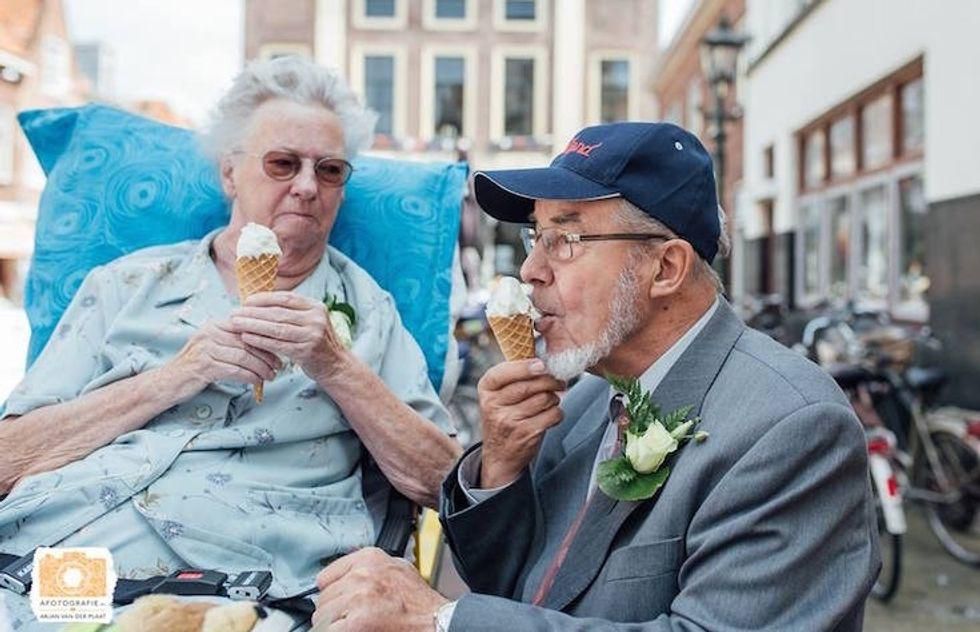 Some tasty treats.
All photos by the Ambulance Wish Foundation, used with permission.
"To enjoy a delicious ice cream cone."
The Make-A-Wish Foundation specializes in granting wishes for children with life-threatening illnesses, many of whom have barely begun to live. The children's wishes run the gamut, from starring in a music video to a day as a hero soldier in the Army.

But what does Veldboer do for older folks who have already experienced so much? What do their wishes look like?
Mostly, it's the little things they cherish, like seeing their home one last time or spending a few hours just looking at something beautiful.

Veldboer, in an interview with the BBC, describes one woman who had not been home for six months. When they brought her into her living room on a stretcher, she hoisted herself up and stayed there for hours, doing nothing but looking around — likely replaying an entire lifetime worth of memories — before quietly asking them to take her away.

Another patient simply wanted to see her favorite Rembrandt painting again.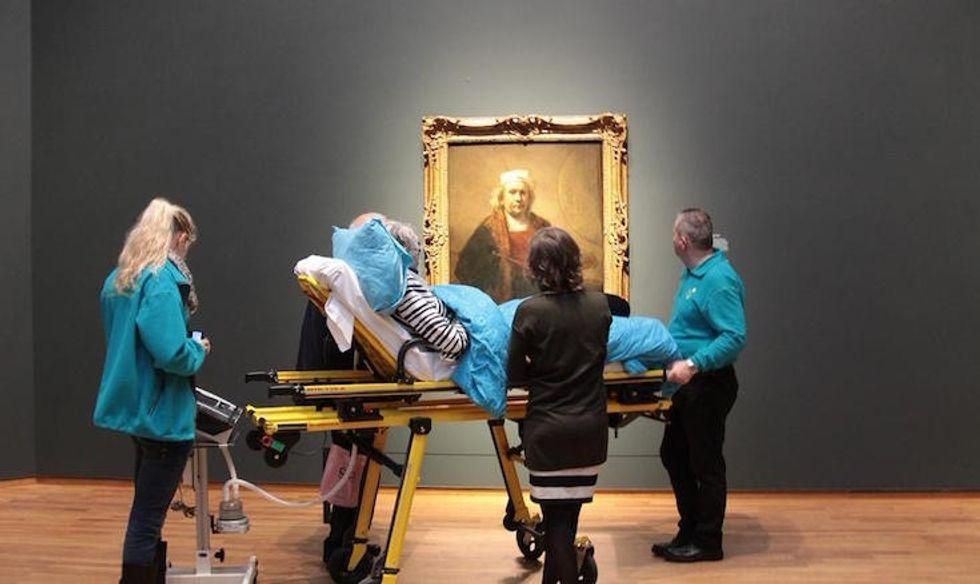 Taking in some amazing art.
All photos by the Ambulance Wish Foundation, used with permission.
"To see my favorite painting one last time."
And another just wanted to spend an afternoon watching dolphins play.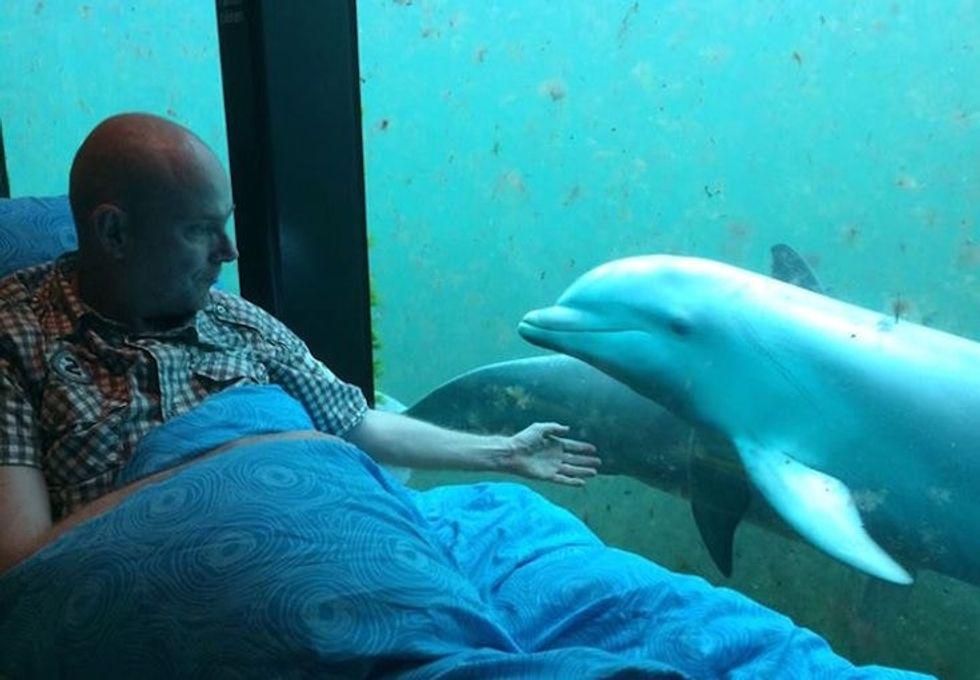 Hello to the dolphins.
All photos by the Ambulance Wish Foundation, used with permission.
"To watch the dolphins play."
On and on the wishes go — about four of them fulfilled every day. People who just want to see their grandchild for the first time, or stand on the beach again before they can't anymore.
Turns out that life's simplest pleasures just might be its most meaningful.
Sometimes it feels like there's never enough time. Not in a day. Not in a year. Not in a life.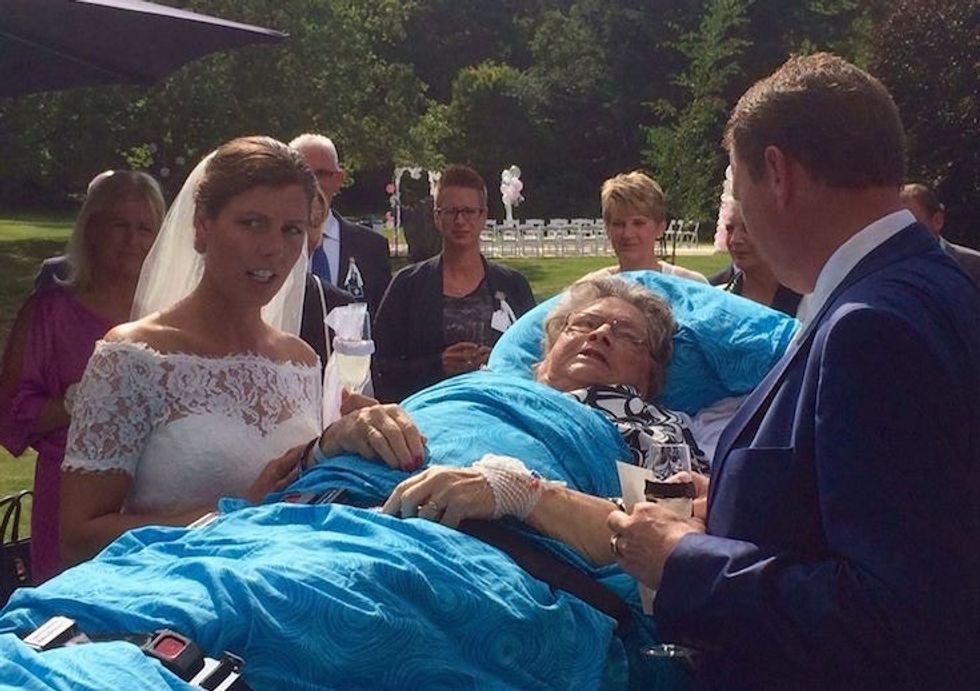 Getting to be at the wedding.
All photos by the Ambulance Wish Foundation, used with permission.
"To attend my granddaughter's wedding."
But maybe it's better to cherish what we have rather than spend so much time thinking about all the things we haven't done yet.
Maybe the things we remember at the end aren't the time we went skydiving or the time we hiked across Europe. When our time is up, maybe what we'll remember most is more mundane — the tacky wallpaper in the house we grew up in, a sunny day spent on the water, or those little everyday moments spent with the people we love the most.
Whatever it is, it's comforting to know there are people out there who want our last memories of this place to be good ones.
I can't think of a more wonderful job.
This article originally appeared on 09.30.15
Get stories worth sharing delivered to your inbox