Family
Swim instructor calms a teary toddler with his 'mermaid mantra' and now the adults are crying
Hearing a little girl say, "I'm big, I'm brave, I'm boobooball," shoots straight to the heart. There's no controlling it.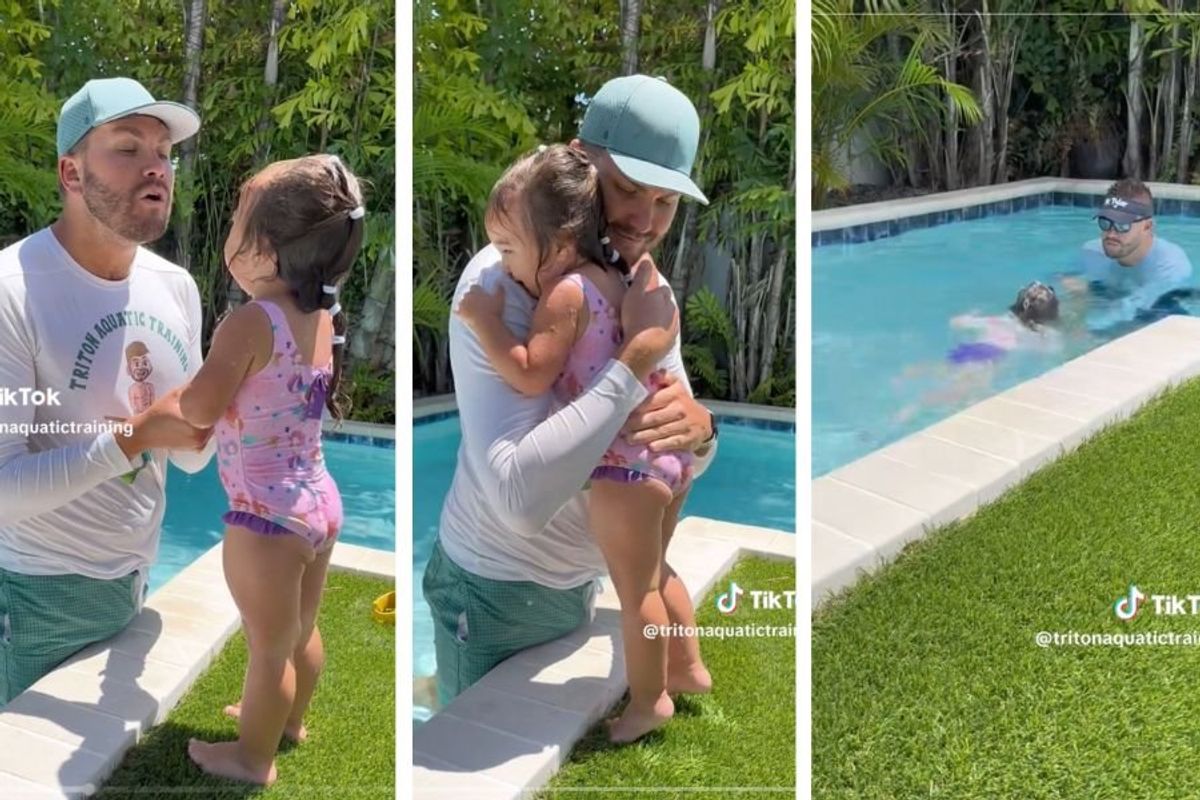 @tritonaquatictraining/TikTok
Learning to swim can be a very scary experience for kids. They're being asked to quite literally dive into the unknown, after all. And the pool is not without its inherent dangers, so it's perfectly understandable that the fear can be overwhelming.
Luckily, the "mermaid mantra" can help.
Tyler Reed, the owner of Triton Aquatic Training in Tampa, Florida, recently went viral after teaching the mermaid mantra to a toddler student who was clearly having a hard time.
It goes like this: "I'm big. I'm brave. I'm beautiful."
---
Reed encourages the little girl to repeat the mantra, and through sobs, we hear the most adorable little voice in the whole world utter, "I'm beeg. I'm bave. I'm boobooball."
Seriously, that boobooball is pure utter sweetness.
Watch:
Clearly Reed's approach works, because in a subsequent video he and the same student are back in the water, with her swimming and loving every minute of it. Now she recites the mermaid mantra as a song of victory!
Boobooball is still just as cute though.
This kind of wisdom is pretty universal when it comes to raising confident kids. Teaching young ones how to empower themselves through a variety of situations, rather than constantly trying to shield them from discomfort, develops a skill that can last a lifetime. But this can still be done in a loving, gentle way, as Reed so beautifully demonstrated. Sometimes it's simply allowing kids to experiment and make mistakes. Other times, it might be affirmations that connect kids to their inner sea creatures.
Reed said it best: "When we say our motivational mermaid mantras out loud, we can do anything!"