Videos
Sassy TikTok grandma shares how she 'savagely' handled her womanizing husband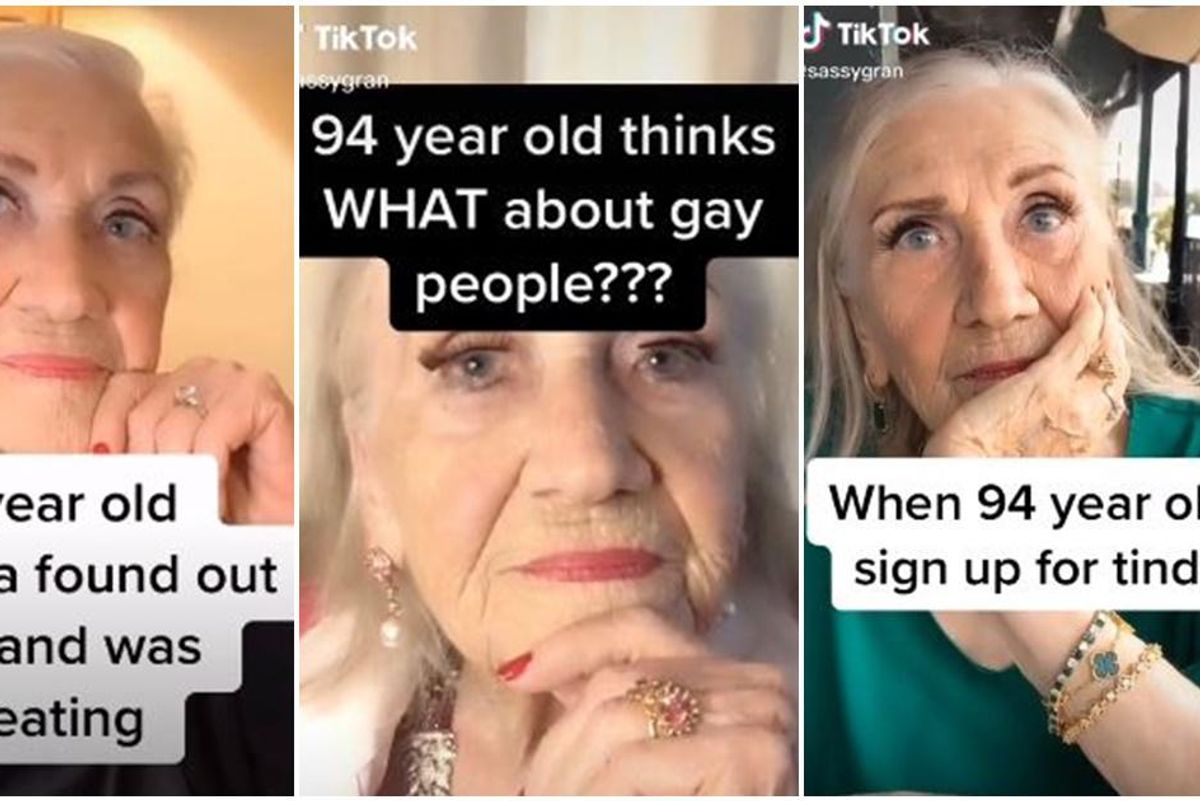 via Sasssy Gran / TikTok
A 95-year-old-grandmother has become a sensation on TikTok, a platform that's most popular among the Gen Z set. Doris, also known as Sassy Gran, has become popular for her incredibly bold and refreshingly honest personality.

She's had a tough life which has given her a special edge that you don't find with most nonagenarians. There's also her elegant couture to show the young kids what real class looks like.
Doris was made famous by her grandson Gio who clearly loves going out to dinner with his grandmother and hearing her stories and advice.
---
One particular video has been viewed 57 million times on Facebook and TikTok. In the clip, Doris explains how she took care of one of her ex-husband's many mistresses. The grandmother's "savage" besting of the woman who tried to steal her husband is as cold-blooded as they come.
"So you found out who she was, made friendly with her, and then what happened?" Gio asked, kicking off the epic tale.
Sassy Gran is proud of the "savage" way she handled the other woman and her husband. "'I know and I love it," she told her grandson.
In a follow-up video, Doris explains that she wanted to go even further than giving the woman a face full of food. "I wanted to slap her face black and blue," she said.
Doris would eventually leave her cheating husband and take her five kids with her. At a time when she had to work three jobs to get by, she decided to start a business that would help other mothers. She started a daycare center where people who on welfare didn't have to pay.
Sassy Gran is also a lifelong ally. Back in the '50s, her best friend was a gay Black man who she urged to come out of the closet. "Don't be ashamed," she told him.
A scrub is a guy who can't get no love from Sassy Gran. Here, Gio goes over some of the men who'd like to date her on Tinder. Doris isn't impressed.
Then there was the time she told Steve Harvey, a happily married man, that he should leave his wife. "I'm just shootin' off my big mouth," she said. "But if I had to say it again, I'd say it again."
Sassy Gran is a great example of the old cliché that whatever doesn't kill you only makes you stronger. Doris admits that she's had a hard life but that's helped forge her into the confident, honest, and adorable woman that she is today.
Forget aging gracefully. We should all hope to be like Sassy Gran and age savagely.