Joy
Woman surprises her grandma by pretending to be a waitress at her favorite lunch spot
Shelby Hoefling traveled 900 miles to see the smile on her Nanny's face.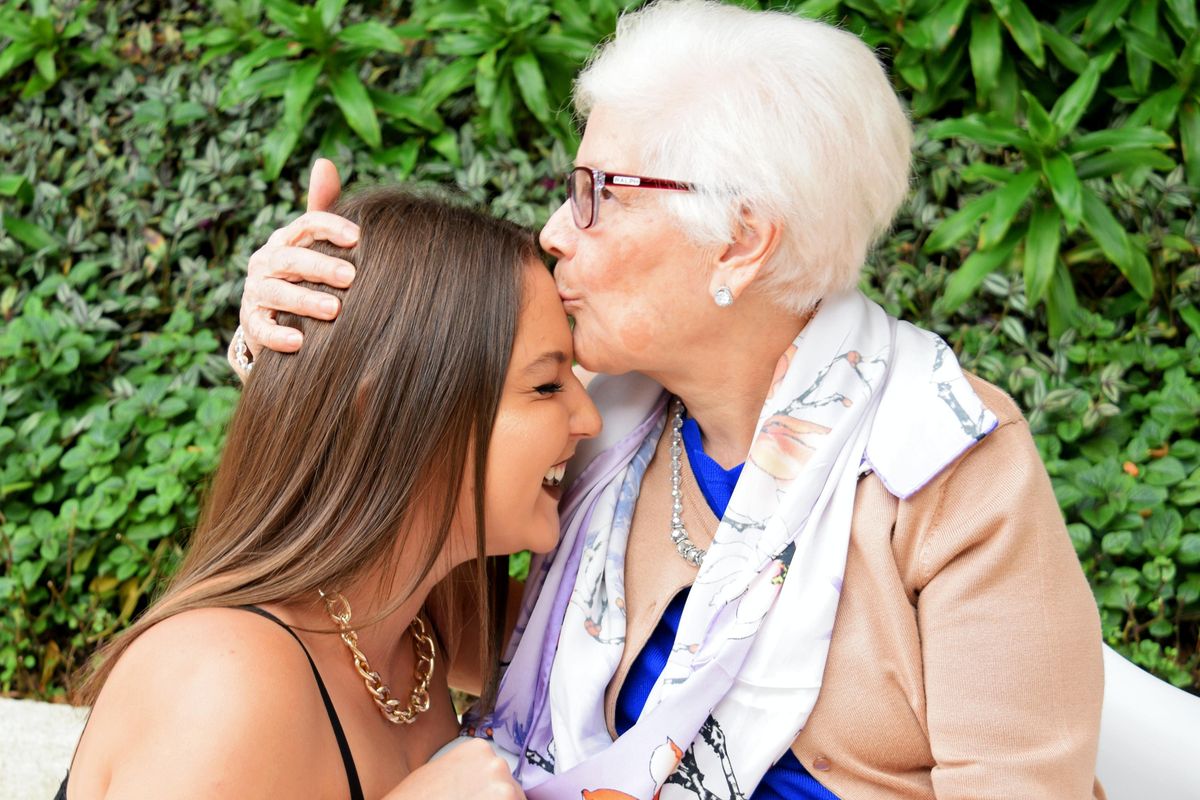 It's safe to say that Shelby Hoefling and her 96-year-old grandmother Patricia are absolute besties.
The two regularly enjoy ice cream outings, play games and dance together. In fact, Shelby has an entire TikTok mostly dedicated to shenanigans with Patricia, whom she lovingly calls "Nanny."
After time and distance pulled them apart, Shelby decided to give Nanny Patricia the surprise of a lifetime by traveling more than 900 miles to see her.
The catch—she wouldn't tell grandma ahead of time, and instead pretend to be a waitress at her favorite lunch spot.
According to
SWNS
, Patricia spends half of the year in Boiling Springs, Pennsylvania, and the other in Fort Pierce, Florida. Shelby, still in Pennsylvania, hadn't seen Patricia for six months.
---
Shelby's video shows her putting on a server apron, having just landed from her secret flight. The amount of trickster glee showing on her face is palpable.
The camera quickly cuts to Patricia sitting at the table, who instantly recognizes her granddaughter and shrieks.
"I almost gave her a heart attack," Shelby wrote.
Patricia's initial shock quickly wears off, and all that's left is pure joy.
The heartwarming video hit people right in the feels. The comments section was filled to the brim with grandma love.
"This made me cry! I miss my grandma so much! Love her and spend as much time with her as you can," one person wrote.
"This breaks my heart in the best way 🥲 I grew up with my grandma and haven't seen her since the beginning of the pandemic - wish I could do this," added another.
This isn't the first surprise Shelby has concocted. After learning about Patricia's passion for the Rockettes, Shelby gave them both a date to New York to watch them perform.
Sometimes, Shelby is guilty of pulling straight-up pranks with Nanny. And it's hilarious.
Other times—as with the TikTok "tortilla slap" challenge—Shelby tries to get her grandma in on the mischief.
Nanny politely declined from this one as she is a class act through and through.
Shelby knows a lot about keeping healthy relationships with grandparents—she literally wrote the book on it. She created "Grandma's in the Phone" to help kids maintain meaningful communication with their grandparents during the pandemic after finding them helpful herself.
She also has an amazing podcast called "Words of Wisdom with Shelby" where she speaks with seniors of all walks of life to hear their stories and gather any knowledge they might have.
With "Call Your Grandma" as one of her well-known catchphrases, Shelby is basically the ultimate wholesome ambassador for older generations.
And with the amount of fun shared between these two souls, it's easy to see why she's such an advocate. Not everyone can have this sort of sweet relationship with their grandparents, but for many, this untapped loving resource might be a lot closer than they realize.
Grandparents help us remember that life is short, and therefore precious. They might come from a different generation, but the memories created with them are timeless.