Photo courtesy of Capital One
True
Growing up in Virginia, Dominique Meeks Gombe idolized her family physician — a young Black woman who inspired Meeks Gombe to pursue her passion for chemistry.
While Meeks Gombe began her career working in an environmental chemistry lab, after observing multiple inefficient processes in and around the lab, she took the initiative to teach herself to code in order to automate and streamline those issues.
That sparked her love for coding and imminent career shift. Now a software engineer at Capital One, Meeks Gombe wants to be a similar role model to her childhood mentor and encourage girls to pursue any career they desire.
"I'm so passionate about technology because that's where the world is going," Meeks Gombe said. "All of today's problems will be solved using technology. So it's very important for me, as a Black woman, to be at the proverbial table with my unique perspective."
Since 2019, she and her fellow Capital One associates have partnered with the Capital One Coders program and Girls For A Change to teach coding fundamentals to middle school girls.
The nonprofit's mission is aimed at empowering Black girls in Central Virginia. The organization focuses on designing, leading, funding and implementing social change projects that tackle issues girls face in their own neighborhoods.
Girls For a Change is one of many local nonprofits that receive support from the Capital One Impact Initiative, which strives to close gaps in equity while helping people gain better access to economic and social opportunities. The initial $200 million, five-year national commitment aims to support growth in underserved communities as well as advance socioeconomic mobility.
Through the Capital One Coders program, girls can gain early access to computer science education which can directly inspire their confidence levels and interest in computer science.
In fact, a report from Code.org says that Black and Hispanic students who take computer science classes before college are seven times more likely to major in computer science.
When the COVID-19 pandemic hit, Meeks Gombe helped to develop a virtual curriculum that included breakout rooms with custom games and quizzes. In her role as a lead teacher for Girls For A Change, Meeks Gombe's visibility as a Black technologist and leader is helping to create a lasting impact on her students.
"Just having girls see the variety of career opportunities led by people who look like them opens up that possibility. There's a connection made when girls see me in a role that they don't usually associate themselves with. I can't reach every girl, but I want them to know that they can do this," Meeks Gombe said.

Capital One Vice President of HR Technology, Maureen Jules-Perez echoed Meeks Gombe's perspective. For Jules-Perez, who served on the organization's board for a few years before becoming the new Board Chair of Girl's For a Change this year, the mission of the nonprofit parallels her motto of "Tech For Good" which uses tech to improve social, environmental, and economic outcomes. The organization's long-term programs give girls the option to see themselves as artists, entrepreneurs and technologists, among other career opportunities.

"I came from a similar background so I feel like I'm one of those girls," said Jules-Perez. "I know what it's like to have someone champion you, but also the opposite feeling of knowing someone who doesn't think you're worthy. I'm haunted by the thought that there's a Black girl or a person of color who doesn't feel seen or doesn't think the world wants them. Girls For A Change prepares Black girls for the world."
Beyond helping girls see their potential as future technologists, Girls For A Change's CEO Angela Patton is working hard on her action-oriented vision to help realize the unmet needs of all girls in Central Virginia.
Her focus is particularly on what she calls "at-promise" youth who have natural gifts and innate potential where their circumstances don't define their identities. For more than a decade, Patton has supported at-promise girls with incarcerated fathers through Dance With Dad, a rehabilitation program founded by a group of young girls who wanted to invite their jailed fathers into their lives on their own terms and define their futures. The girls, Patton explained, wrote to a police sheriff to allow them to hold a dance with their fathers in jail. More than a decade since the program began, not one of the fathers had been reincarcerated again.
"We're teaching girls to elevate their voices," said Patton. "We want them to experience the moment where they feel ownership and empowerment so that they can change their own lives."
Girls For A Change has partnered with Capital One since 2017 to connect girls with career and life opportunities for which they otherwise may not have access or insight.
Since the partnership began, Capital One has supported 15 different programs with Girls for A Change. Seven of these programs were Capital One Coders camps and nearly 80 Capital One Tech associates have supported Girls For A Change girls over the last few years through those programs.
"For some of the girls aging out of the Girls For A Change program, they had a chance to do mock interviews with Capital One associates and get feedback for entry-level positions," said Patton. "I love that I have resources to point my girls to so that they can have a chance at better outcomes."
All together, now: who runs the world?
GIRLS.
Courtesy of Capital One
True
Marim Albajari was a high school senior living in New York City during the onset of the pandemic. Suddenly, the prospect of starting college directly after graduation no longer seemed like a sure thing.
Due to a lack of resources to help her navigate the college application process, she was almost a victim of the "summer melt"—a term used to describe students who cancel plans to attend college before classes begin.
The "melt" is a common problem disproportionately affecting students from low-income families—many high-school graduates who have been accepted to college and plan to enroll are quickly knocked off-course if they do not obtain sufficient financial aid, miss administrative deadlines, or most importantly, lack support from family and friends.
The COVID-19 pandemic worsened the problem, as high school graduates who immediately went on to college in Fall 2020 declined by nearly 7% when compared to the previous year, for obvious reasons. Even without a pandemic, finding the right information about things like course load, financial aid, and housing can be time-consuming and overwhelming for students without a guide.
That's where Oli comes in.
A free AI chatbot service, nicknamed "Oli", is offered by The Common Application (Common App). In 2018, the Reach Higher Initiative merged with Common App and partnered with AdmitHub to develop the AI chatbot that would eventually become Oli. The group then joined forces with the College Advising Corps to offer counseling services to get more first-generation, low-income, and diverse students enrolled in college.
Now a freshman at John Jay College of Criminal Justice, Albajari can attest to the value of Oli's help.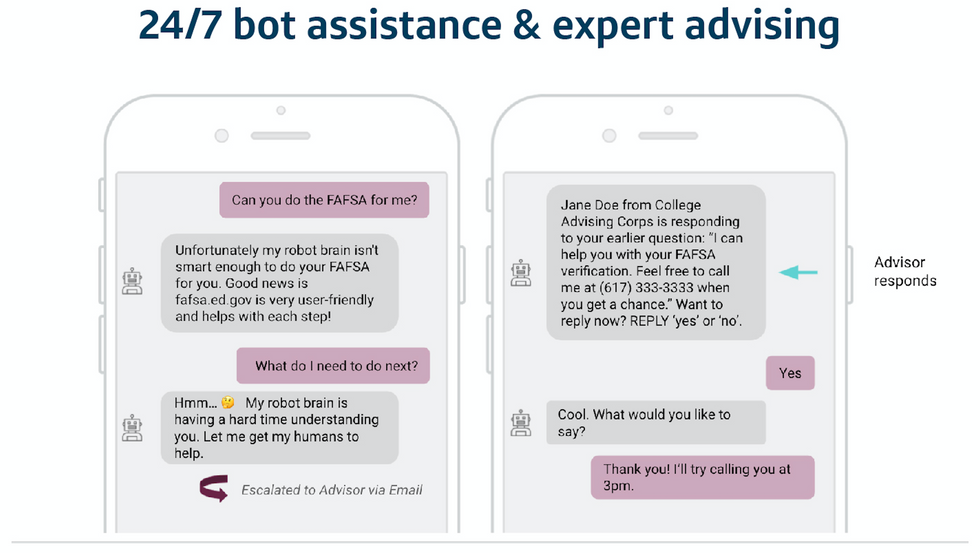 Courtesy of Common App
With the help of $1.4 million in grant funding from the Capital One Foundation, nearly 675,000 high school students applying to colleges through Common App have gained access to information on admissions and scholarship opportunities.
"The Capital One Foundation saw the need and stepped up to help by moving as quickly as possible to maximize the number of people that could be helped," says Eric Waldo, executive director of the Reach Higher Initiative at Common App. "Our colleagues at The Foundation have gone over the top to connect us with resources across their organization and are continuing to help us achieve our mission to assist as many students as possible through its continued support to the Class of 2021 and beyond."The result? Resources provided by Oli have saved students nearly 18,000 hours that traditionally would've been spent consulting with an advisor.
"Oli was my guardian angel," Albajari said. "As a first-generation college student, I didn't have the privilege to get the help I needed at home on my college journey. Even though Oli may be a robot, I felt like someone had my back."
The result? Resources provided by Oli have saved students nearly 18,000 hours that traditionally would've been spent consulting with an advisor.

"Oli was my guardian angel," Albajari said. "As a first-generation college student, I didn't have the privilege to get the help I needed at home on my college journey. Even though Oli may be a robot, I felt like someone had my back."
"It is imperative that all graduating high school students be equipped with the tools necessary to avoid delaying their dreams of attending college," says Andy Navarrete, Head of External Affairs at Capital One. "The playing field of opportunity in higher education has never been level, and the COVID-19 pandemic only made that fact more clear. We're committed to continuing our efforts to support equitable access and persistence for aspiring college students of all backgrounds."
That support from The Foundation comes alongside an initial $200 million, multi-year commitment from Capital One to advance socioeconomic mobility through the Capital One Impact Initiative.
In addition to exclusively funding the initial launch of the AI chatbot for Class of 2020 students, Capital One is continuing to expand this resource by contributing both financially and through pro bono support from its tech associates. Since the chatbot's inception, nine associates from Capital One have volunteered 500 hours of pro bono service to optimize the chatbot's ability to help prospective college students.
"As a first-generation college student, I remember having a lot of the same questions that students interacting with the chatbot were seeking answers to," says Elizabeth Souza, a Capital One associate who helped support the development of this chatbot. "Volunteering to support the development of this chatbot has been a tremendous opportunity to ensure equitable access to technology and resources for all."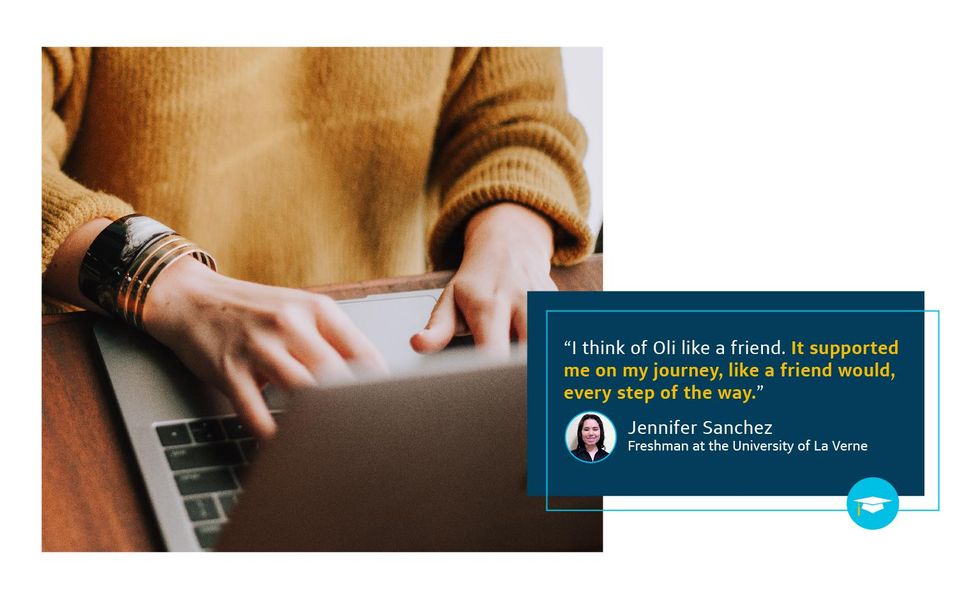 Courtesy of Capital One
Those efforts in turn helped first-generation college student Jennifer Sanchez, a California native now finishing her freshman year at the University of La Verne. With the help of resources provided by the AI chatbot, Sanchez earned a scholarship, received a grant to help offset the cost of housing and was connected with councilors at each university she received admission to best decide which school would be the best fit for her.

"I was considering not even going to college because of how the pandemic financially impacted my family, but that chatbot gave me access to financial and educational resources that I would've never known existed without it," Sanchez said. "I think of that Oli like a friend. It supported me on my journey, like a friend would, every step of the way."
A little encouragement and access to the right information can take us places we never imagined.
Get stories worth sharing delivered to your inbox