Joy
He rescued a baby parrot with birth defects. His reaction to its first steps is priceless.
This is what pure joy looks like.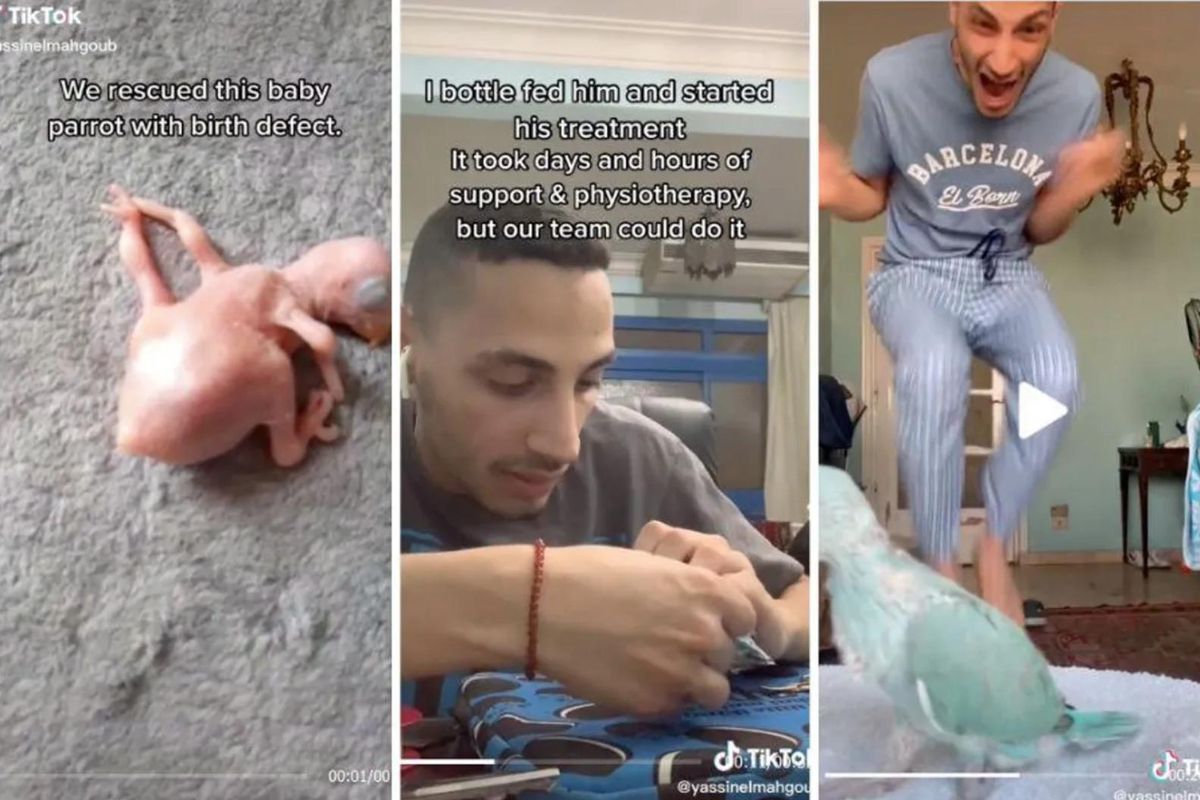 Saving the life of one small animal among the billions upon billions of living things on Earth may not seem significant in the big picture, but when that one small animal's life is in your hands, it means the world.
Yassin Elmahgoub is a medical student from Egypt who recently shared the journey of a tiny baby parrot he rescued. The parrot, who he named Mumble, was born with birth defects and wasn't able to stand or walk. With the help of a parrot behavior consultant, Elmahgoub hand-fed Mumble, nursed him to good health and helped him develop mobility.
In a TikTok video that's been viewed more than 8 million times, Elmahgoub shared Mumble's journey from his earliest days until he was finally able to walk on his own.
---
"I bottle fed him and started his treatment," Elmahgoub wrote. "It took days and hours of support and physiotherapy but our team could do it."
Do it they did. But even better than seeing Mumble take his first steps is seeing Elmahgoub's reaction to it. Watch:
@yassinelmahgoub

This is the best thing that happened to me in a while. All it takes is one person to save a life. @Sara Haytham couldn't do it without u #fyp #hope #rescue #bird #positivity #medicine #medicalstudent #arabs #egypt #cairo #viral
The persistence and gentle patience of nursing Mumble paid off, and Elmahgoub's celebration is joy personified. People are absolutely loving it.
"I love animals..but the pure joy on that guy's face is simply beautiful," wrote one commenter.
"This is one of the best and heartwarming things I've seen in a while, thank you so much for this," wrote another.
"Oh I was not prepared for those tears!" wrote another "What joy this sweet bird has brought him, SO sweet!"
Elmahgoub has shared updates on Mumble's progress since sharing the viral video. Check out this follow-up video culminating with Mumble at Day 60 in all of his beautiful blue glory.
@yassinelmahgoub

Growth takes time. For those asking about how mumble is doing now here you go. #fyp #foryou #positive #positivity #rescue #bird #rescuebird #medicine #medicalstudent #medical #arabs #egypt #cairo #viral
Mumble has not only learned to stand and walk, but he has learned to fly as well. Just amazing.
@yassinelmahgoub

And it was all yellow #fyp #foryou #postive #postivity #postiveenergy #rescue #rescuebird #medicine #medicalstudent #medical #arabs #egypt #cairo #viral
Congrats to Mumble and kudos to Yassin Elmahgoub for caring so much and sharing this happy journey to mobility with us. Imagine what a beautiful world we could create if we all took such good care of living things, including one another.
You can follow Elmahgoub and Mumble's ongoing story on TikTok and Instagram.