via Brittany Kinley / Facebook
Brittany Kinley, a mother from Mansfield, Texas, had a hilarious mom fail her and she's chalking it up to being just another crazy thing that happened in 2020.

When Kinley filled out the order form for her son Mason's kindergarten class pictures, there was an option to have his name engraved into the photos. But Kinley wasn't interested in having her son's name on the photos so she wrote "I DON'T WANT THIS" on the box.
Well, it appears as though she should have left the box blank because the computer or incredibly literal human that designed the photographs wrote "I DON'T WANT THIS" where mason's name should be.
---
Kinley shared the photo on Facebook where it's gone viral receiving over 16,000 likes and 38,000 shares.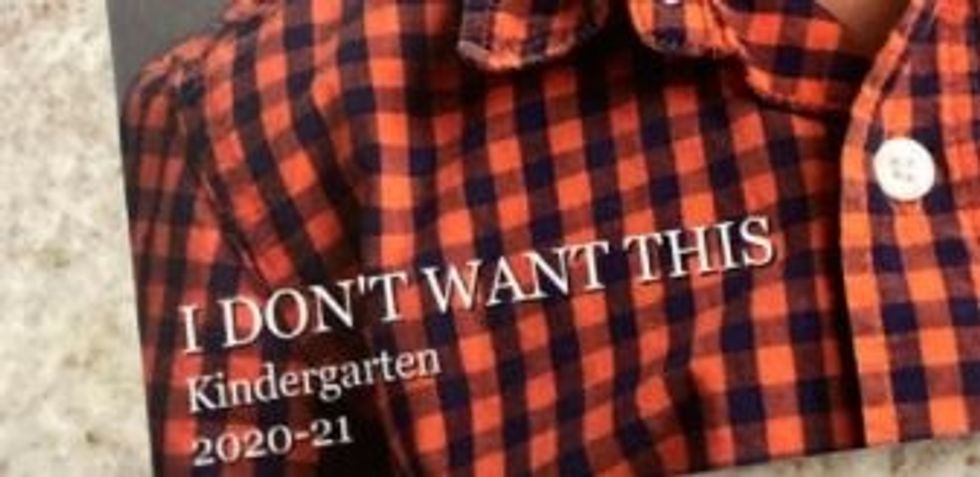 via Brittany Kinley / Facebook
"I'm sure everyone needs a good laugh these days so thanks to my latest mom fail...you're welcome in advance haha," Kinley captioned the photo. "Mason got his kindergarten pictures and I didn't want his name on the bottom so I typed in "I don't want this" and they freaking printed this…"

Having "I DON'T WANT THIS" printed on a photo that represents 2020 resonated with a lot of people on Facebook. Probably because it's what we've been saying to ourselves day after day of being stuck in the house or going outside and seeing normally busy places turned into ghost towns.
"Love! This is something I would definitely do!! and... it's the motto for 2020," a commenter named Chrysa wrote.
"This is a 2020 MOOD! Trying to smile but deep inside we are all I DON'T WANT THIS," Omar added.
But Kinley is just happy she's given people the chance to laugh in such a trying year.

"I think 2020 has been such a hard year for everyone and people need some positivity and a good laugh," Kinley said according to Today.
"I've gotten so many messages from people saying they haven't laughed this hard all year and that it made their day," she added. "I never thought it would have that effect but I'm so glad we can spread laughter in a crazy time like this."
Mason now feels famous after all the attention his photo is getting. "He'll occasionally ask how many more people is he making laugh," Kinley said, adding "his teachers gave him a round of applause and yelled, 'I do want this!' during drop off!'"
Kinley has tried to get a hold of the company that printed the pictures but she hasn't had any luck as of yet.
"It's not their fault. It was my mom fail," Kinley said, "so no bad feelings there!"
Even if she does get new photos printed that don't say, "I DON'T WANT THIS" she has to keep a few of the original shots because they're sure to be a perfect reminder of the year nobody wanted.