Pop Culture
Bride knits her own gorgeous wedding dress and it only cost $300
This bride saved tons of money and has something that is truly one-of-a-kind.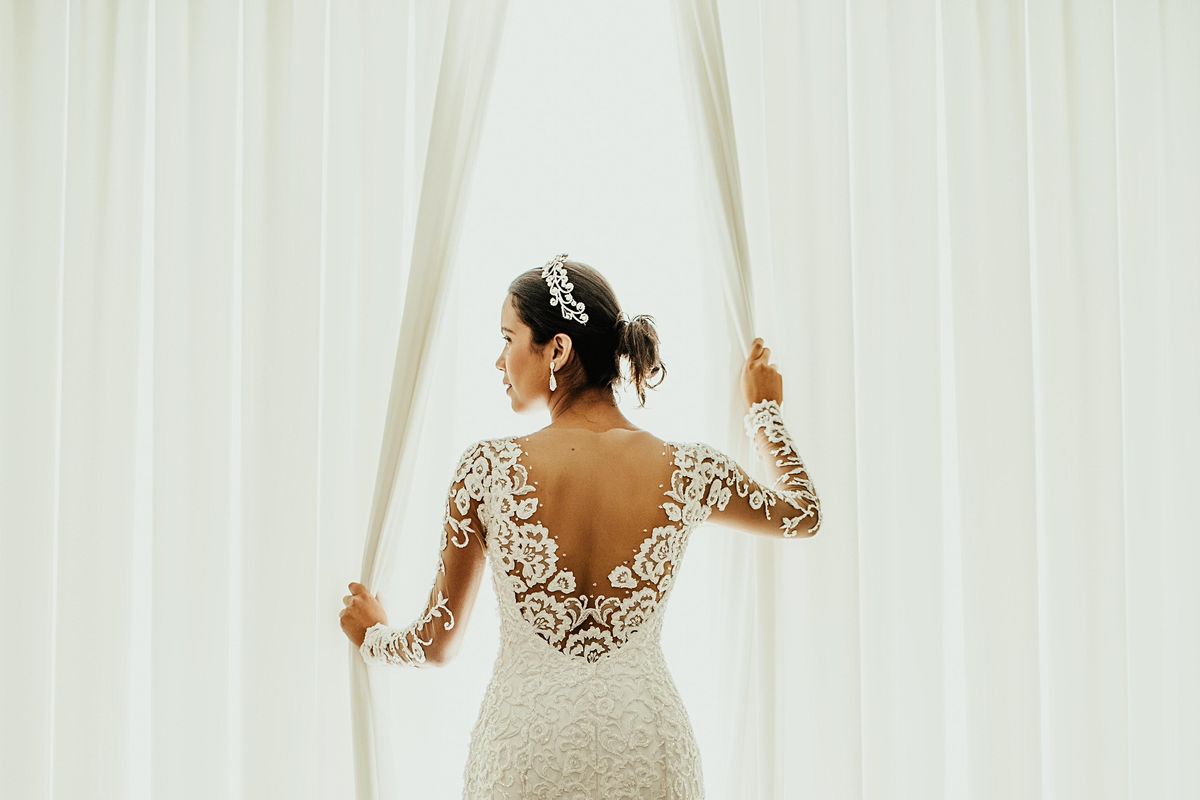 Sometimes, getting creatively frugal can make a wedding moment all the more special and unique. We've seen a growing trend of cost-effective, yet totally cool wedding ideas lately—from brides hitting up thrift stores instead of buying luxury items to couples taking engagement photos in completely unexpected locations. There's an added thrill of being able to pull off romance and glamor without breaking the bank.
And thanks to the internet, by seeing others go viral for their budget-friendly choices, people might feel less pressure to spend tons of money on their big day. Because really, a celebration of two people coming together in love and partnership should be just that—not a financial obligation.
One bride has recently been wowing the internet with her DIY wedding dress, which she completely knitted and crocheted in just 45 days, and spent less than $300 on. Considering the average wedding dress costs around
$1,800
… yeah, I'd say she saved big time. And the result was gorgeous.
---
Veronika Lindberg Heino, aka Kika, has been knitting since the age of 5. Her Instagram and YouTube channel are filled with tips, patterns and inspo, along with her book, "Knit This! 21 Gorgeous Everyday Knit Patterns." Considering her prowess with needles and yarn, it might not be surprising that Kika immediately had the idea to create her own dress.
However, since Kika and her fiance wanted to double dip on the celebrations—they had only just moved into their new home and wanted to throw a housewarming party and wedding at the same time—she went back on the idea, thinking it might be too stressful.
Then, the more she tried to look online for a dress, the more it became clear that her initial instinct was the way to go. So she took a leap of faith.
"This might be the most crazy thing I will ever attempt to knit, and/or crochet … we'll just have to see," she can be heard saying in a 46-minute video chronicling her knitting journey from start to finish.
Fifty skeins of pure silk yarn were purchased, design sketches were drawn and tears of frustration were shed, but Kika succeeded in her mission. She met her wedding day with an absolutely stunning, handmade, truly one-of-a-kind dress that would turn heads.
Kika posted pictures on her Instagram, thanking her followers for showing support. Her caption read, "Every comment, dm and like has given me the energy to keep knitting all throughout moving homes and planning this wedding in only 1.5 months time, thank you ❤️."
To say that folks were floored would be an understatement.
"This may in fact be the most beautiful wedding I have ever seen. Proves you don't have to spend a fortune to have a beautiful, meaningful and enjoyable wedding day. Your dress is an absolute treasure," one person commented on
YouTube.
Granted, not everyone has been devoted to a craft since they were a wee toddler, like Kika. But still, a little resourcefulness often goes a long way. In my own experience, one of the most beautiful weddings I have ever seen was held beachside at a recreation center with all galaxy-themed decorations made by the bride. The whole day oozed of the bride and groom's lovely personalities, rather than feeling like something out of a bridal magazine. Conversely, I was a caterer in my 20s and boy did I see a lot of dull, lifeless weddings that cost people's entire life savings.
Most people want to look back on their wedding day and see themselves looking beautiful, surrounded by loved ones, having one of the best moments of their lives. There are so many ways to accomplish that feeling. Congrats to Kika on your wedding, your dress and, perhaps most of all, your happy day.