More
Looking back on a long career, John McCain lands on an important lesson about life.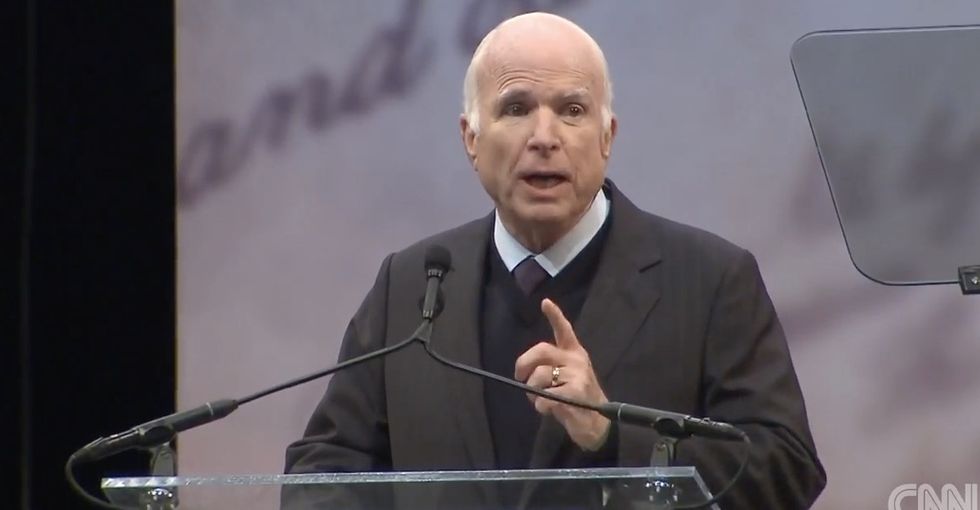 Months after being diagnosed with brain cancer, John McCain delivered one of the best speeches of his long political career.
The 81-year-old Arizona senator was this year's recipient of the Constitution Center's Liberty Medal, an award given annually to an individual who exemplifies "courage and conviction" and strives "to secure the blessings of liberty to people around the globe." Recent past recipients include Rep. John Lewis, the Dalai Lama, Malala Yousafzai, and former Secretary of State Hillary Clinton.
After being introduced by former Vice President Joe Biden, McCain gave a speech that really needs to be heard by people across the political spectrum.
---
Deeply humbled to receive @ConstitutionCtr's 2017 #LibertyMedal from my dear friend @JoeBiden. Thank you for this g… https://t.co/I83XkO4J0k

— John McCain (@John McCain)1508203438.0
McCain called on lawmakers to find common ground and reject the hyper-partisanship that's infected Washington in recent years.
While he and Biden didn't always agree on policy during their time as colleagues in the U.S. Senate, McCain noted, they never doubted that the other had the best interests of the country in mind. Politics, McCain suggests, used to be more than just a game of power.
"We believed in the institution we were privileged to serve in," McCain said of his working relationship with the former VP. "We believed in our mutual responsibility to help make the place work and to cooperate in finding solutions to our country's problems. We believed in our country and in our country's indispensability to international peace and stability and to the progress of humanity. And through it all, whether we argued or agreed, Joe was good company."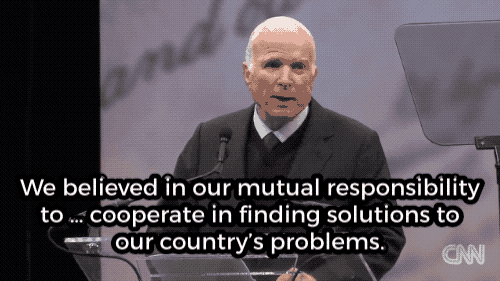 "We believed in our mutual responsibility to ... cooperate in finding solutions to our country's problems." GIF from CNN/YouTube.
The most headline-grabbing portion of McCain's speech was a call to reject fear and embrace the obligations the U.S. has made to the international community.
Nationalism and "America First" attitudes didn't make America great; our commitment to the outside world did. It's at this point in his speech where the war hero begins to get a bit choked up, reflecting on the country as it is and as it should be.
He asked those around him to reject "half-baked, spurious nationalism cooked up by people who would rather find scapegoats than solve problems," calling that attitude and those policies unpatriotic.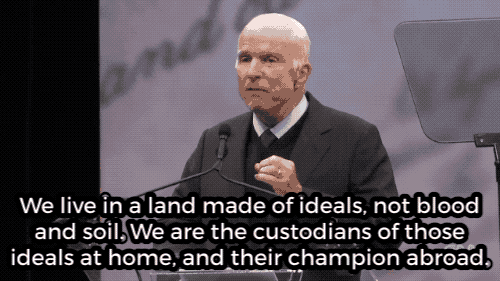 "We live in a land made of ideals, not blood and soil. We are the custodians of those ideals at home and their champion abroad." GIF from CNN/YouTube.
The common thread between those two points — finding common ground with those we disagree with and rejecting isolationism — is empathy.
To be sure, McCain's positions haven't always reflected an empathetic worldview. With hawkish positions on foreign policy and his past pushes to gut the Affordable Care Act, he's certainly an imperfect messenger of an important lesson. In this speech, though, as he reflected on some of the brightest moments in his career, it is the basic bond of human empathy as a motivating factor that stands out the most.
"I've seen Americans make sacrifices for our country and her causes and for people who were strangers to them but for our common humanity, sacrifices that were much harder than the service asked of me," he said, his voice wavering ever so slightly, tinged with emotion. "And I've seen the good they have done, the lives they freed from tyranny and injustice, the hope they encouraged, the dreams they made achievable."
Watch John McCain deliver his powerful, thoughtful retrospective on life as a public servant below.