Democracy
New Zealand prime minister's vulgar insult of political rival has ended in the best way
If only all political disagreements could end like this.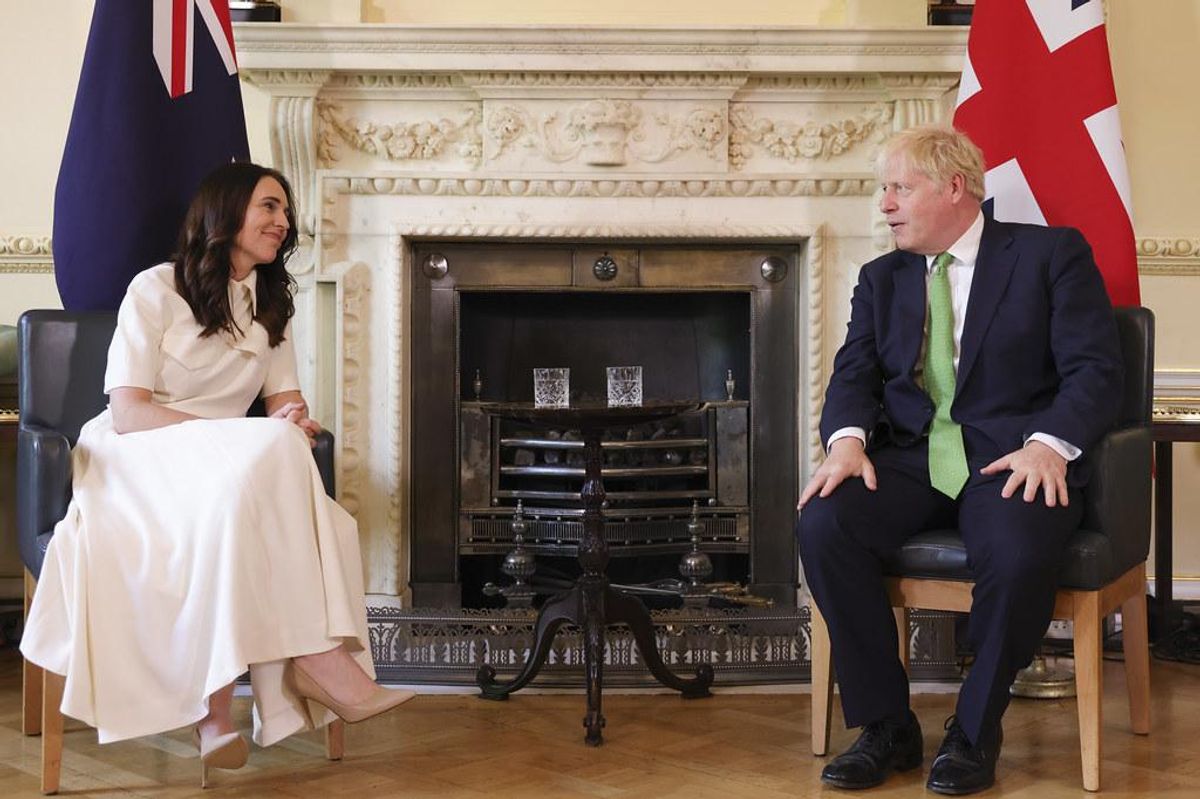 Not every moment is our best and sometimes those not-so-great moments are caught on tape or, in Jacinda Ardern's case, over a hot mic. Ardern is the prime minister of New Zealand and recently, during a parliamentary debate, she was feeling a bit frustrated with a colleague, ACT leader David Seymour. During the exchange, Ardern turned to her deputy and muttered "arrogant prick," referencing Seymour, who was apparently on the prime minister's last nerve.
The problem was, her mic was still on and picked up the hushed insult so others could hear. Probably not her proudest moment but, to be fair, they were discussing really heavy stuff like hate-speech and immigration. She didn't let the comment hang in the air, according to RNZ. Seymour told reporters that the prime minister texted him shortly afterward to apologize.
Later, the two were photographed holding a framed copy of the parliamentary debate where the insult was hurled. Turns out they've used the moment to raise money for the Prostate Cancer Foundation by allowing people to bid on the framed debate via Trade Me.
---
Surprisingly, the framed photo has been viewed almost a half million times, with more than 280 bids, according to RNZ. Which makes you wonder if people have really strong feelings about Seymour being an "arrogant prick" or if they were just good Samaritans donating money solely based on the charity. I'm going to assume the world will never know, unless the winner of the auction would like to come forward and explain why they spent so much money on a transcript of the exchange.
After having a laugh about it, Jacinda Ardern and I are going to auction a signed copy of the Hansard (official record) of her calling me an "arrogant prick" to raise money for pricks everywhere, a great cause, the Prostate Cancer Foundation. https://t.co/6QJ0bV73Zc pic.twitter.com/5FzIzqUiQf

— David Seymour (@dbseymour) December 15, 2022
If you're curious what the highest bid was, it was $62,899 (100,100 New Zealand dollars). Now, there's something to get excited about, and if you ask Seymour, he's happy about the outcome of the disagreement. Seymour told RNZ, "Taking the particular politicians out of it, it makes me so proud to be a kiwi. Political commentators have said to me they couldn't imagine this in any other country, not even Australia, and I think that says something special about New Zealand's culture and politics that we should always seek to hold on to."
Overall, it seems that Seymour was a good sport about the entire situation. He accepted Ardern's apology and said that he's been called much worse. Others in the chambers were also on board with supporting the prime minister's lapse in filter.
It's great to see politicians coming together to not only move beyond an unfortunate moment but to turn it into an opportunity to raise money for a good cause. I'm sure there will be more lively debates that come out of parliament chambers but it seems like they've got a handle on how to make lemonade when needed.
You can watch the entire exchange below to hear the expensive insult: