More
New Zealand's Jacinda Ardern is the strong, compassionate leader the world needs right now.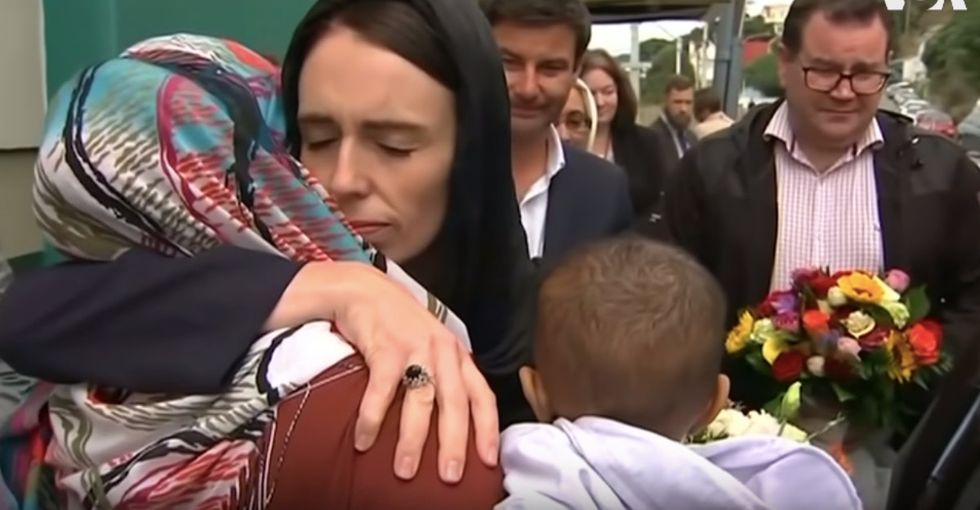 Jacinda Ardern is writing the playbook for stellar leadership following a mass murder in her country.
New Zealand's prime minister was unique in many ways before the Christchurch mosque shootings that killed 50 of her people. At 38 years old, Jacinda Ardern is one of the youngest heads of state in the world, and one of just two world leaders who have given birth while in office. She is a Mormon-turned-agnostic who ran a "relentlessly optimistic" campaign—her own words—and who found out she was pregnant only a month after being elected Prime Minister in 2017.
Her meteoric rise to political power and popularity, dubbed "Jacindamania" by the media, put her under a pretty bright spotlight. She has solidly held her own in that space, even as she's challenged political norms. (How many world leaders do you see bringing their 3-month-old baby to the U.N. General Assembly??) But her response to the mosque killings has people the world over praising her strong, clear, and compassionate leadership.
---
Her first reaction to the killing of her Muslim countrymen was to don a hijab and acknowledge the needs of the victims' loved ones.
Ardern is not a Muslim, nor is she even religious. But in solidarity with the Muslim community, she put on a hijab and addressed the family and friends of the men, women, and children killed in the attack. Her first words: "As-Salaam-Alaikum," an Arabic phrase and common Muslim greeting which means "Peace be upon you."
She told the mourners that the government's first immediate concern was making sure that the religious considerations for the victims' burial were respected and followed to the best of their ability, and their second immediate concern was for the safety of the Muslim community. But the empathy with which she delivered these reassurances was notable. "You are us," she told them. "We feel grief, we feel injustice, we feel anger, and we share that with you."
NZ Prime Minister @jacindaardern is a remarkable leader. Here, she addresses mourners after the #Christchurch terro… https://t.co/Yxfnhjljck

— news.com.au (@news.com.au) 1552867387.0
Ardern and the New Zealand government also offered financial assistance to the families to help with burial expenses.
She vowed to take swift action on gun control to limit the ability for such shootings to occur.
In stark contrast to the American government's non-response to regularly occurring mass murders in the U.S., the New Zealand government moved toward tightening gun laws, including a proposal to ban military-style semiautomatic firearms, in the days immediately following the shooting.
"As a Cabinet, we were absolutely unified and very clear," Ardern said in a press conference. "The terror attack in Christchurch on Friday was the worst act of terrorism on our shores. It has exposed a range of weaknesses in New Zealand's gun laws. The clear lesson from history around the world is that, to make our community safer, the time to act is now."
Wow, did they even TRY thoughts and prayers? https://t.co/hJpaTn4aOF

— Erica Buist (@Erica Buist) 1552727187.0
She's refusing to give the killer the notoriety he seeks, saying, "You will never hear me mention his name."
Ardern gave a clear speech to the New Zealand parliament in which she refused to use the killer's name and encouraged others to do the same.
"He sought many things from his act of terror," she said, "but one was notoriety. And that is why you will never hear me mention his name. He is a terrorist, he is a criminal, he is an extremist, but he will, when I speak, be nameless. And to others, I implore you, speak the names of those who were lost rather than the name of the men who took them. He may have sought notoriety, but we in New Zealand will give him nothing, not even his name."
Her strong, decisive action and clear, heartfelt compassion in the wake of tragedy makes her an example for other world leaders to follow.
It's not an easy task to lead a shaken nation. But Ardern's response to the Christchurch shootings has given other leaders facing such atrocities a playbook to follow, as her unwavering leadership perfectly blends condemnation and kindness, solidarity and sensitivity, a strong stance and a soft heart.
Model leadership from PM Ardern. Principle, empathy, resolution, vision. In the midst of unspeakable trauma she i… https://t.co/qQkzfBGomA

— David Miliband (@David Miliband) 1553007864.0
Her focus on the victims first, while also taking political action to support the victims' families and seek ways to prevent such a tragedy from occurring again is impressive. Her willingness to step into the Muslim community and listen to their needs is inspiring. And her ability to rally support for meaningful change in the immediate aftermath of an attack, while also providing assistance and hope to those in mourning is exemplary.
Take note, people in power everywhere. This is what true leadership looks like.