More
'I was her at that age. Scared of who I was, and thought I was alone.'
​Mary Swangin was working an otherwise ordinary Saturday at a Fort Wayne, Indiana, comic book store when a teenage girl came in looking "absolutely terrified."
Swangin tweeted the encounter later that day, explaining that when she went to help the girl, it quickly became clear that the girl needed more than just a good comic recommendation — she needed someone to listen and understand her. As luck would have it, Swangin happened to be the perfect person for the job.
Once Swangin started talking to her, she realized the girl must have recently come out of the closet, and Swangin, having also come out around that age, immediately empathized with her.
---
The girl explained that she's a huge fan of Supergirl's sister Alex Danvers, who recently came out in an episode of The CW show.
In season 2 of "Supergirl," Danvers (played by Chyler Leigh) realizes that she's a lesbian and becomes romantically involved with Maggie Sawyer (played by Floriana Lima), an openly gay cop on the show — a pairing affectionally known as "Sanvers" by fans.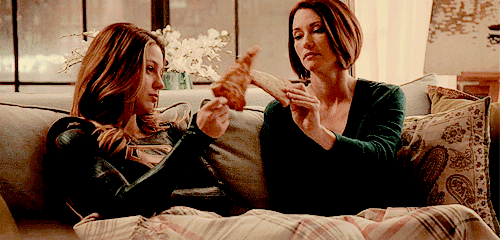 "We're walking to the Super area when I ask if she watches the show. She smiles a bit and nods. Says Alex is her favorite. I mention that I'm a huge #Sanvers shipper and the poor thing just breaks down in tears. I'm trying to figure out what the hell I did to upset her. She's crying and I'm freaking out. After a minute or so, everything clicks. I'm staring down a crying baby gay. One who was having some big issues. I tell her that it was hard for me when I wanted to come out too. She finally stops crying and asks me if it gets easier," Swangin tweeted.
In the course of their conversation, the girl confessed to Swangin that she had been suicidal and that Danvers' coming out story arc was one of the only things keeping her hope alive in a difficult time.
"I was her at that age. Scared of who I was, and thought I was alone," explains Swangin over a direct message on Twitter. For Swangin, the character she was drawn to was Kate Kane as Batwoman. "She was a military cadet who was expelled under DADT [Don't Ask Don't Tell] and hit rock bottom," writes Swangin. "She had to claw her way up, and if she could do it, so could I."
Which is why she decided to share the whole story on Twitter:
Sometimes superheroes don't wear capes. Sometimes they wear regular clothes and work in comic book stores.
$60 comics aside, this girl will know forever that she's far from alone in her coming out story.
Even Chyler Leigh, the actress who plays Danvers, responded to the tweet thread to let the girl — and anyone else feeling alone — know that she, and Supergirl, have her back.
The more that marginalized groups are represented in the media, the more people will feel accepted and connected to a larger community. Like it or not, pop culture has that power, and with that power comes the obligation to be as inclusive as possible.