More
Goodbye Trump, Democrat Andrew Yang is the 2020 election's new king of the memes.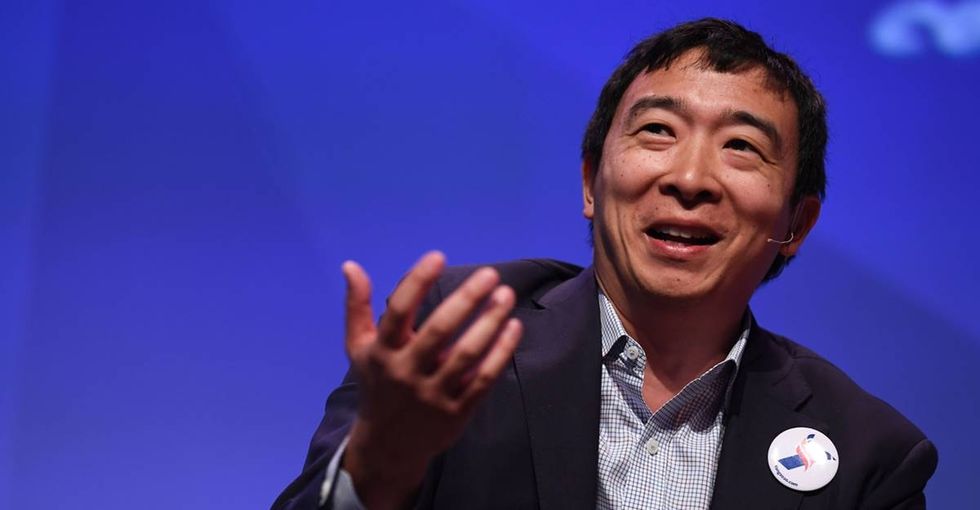 In the 2016 election, Donald Trump was, by far, the most meme-worthy candidate. Trolls on sites such as 4Chan and Reddit's r/The Donald championed Trump as an ironic savior while the alt-right churned out countless disgusting, racist memes using Trump's image.
However, in 2020 it looks like the 'sh*t-posters' of the world are jumping off the Trump Train and getting on the Yang Yacht. The political outsider is also gaining legitimate support from Democrats for his forward-thinking policies.
Andrew Yang, 44, is a former corporate lawyer who switched to startups and later launched the nonprofit Venture for America , which seeks to "to revitalize American cities and communities through entrepreneurship."
---
His presidential candidacy has been gaining legitimate traction in the crowded 2020 Democratic field by focusing on a future where automation and artificial intelligence may lead to mass unemployment. His supporters are known as the "Yang Gang."
His signature proposal to help people through the impending economic catastrophe is a universal basic income (UBI) which he calls the Freedom Dividend.
Yang's UBI policy would give every American adult $1,000 a month to do as they choose. The idea is gaining sincere support from some liberals, but it's also made him the favored candidate by some on the far right.
"It's uncomfortable," Yang told The New York Times about his far-right supporters. "They're antithetical to everything I stand for."
The candidate's forward-looking policies are also seen as a respite from decades-old debates on Baby Boomer topics such as abortion and guns.
Yang is even working on creating a lifelike 3-D hologram of himself that can be projected on the back of a flatbed truck. "It's a way for me to be in two places at once," he said.
The candidate has even acknowledged an unofficial Yang 2020 slogan that has cropped up online. "Secure the bag" is a term used by supporters to hold the course and get that sweet $1,000 a month check.
Here's a small sampling of the countless Yang Gang memes popping up online.
Some are switching to Yang after being disappointing by Trump.