Courtesy of Amita Swadhin
True
In 2016, Amita Swadhin, a child of two immigrant parents from India, founded Mirror Memoirs to help combat rape culture. The national storytelling and organizing project is dedicated to sharing the stories of LGBTQIA+ Black, indigenous people, and people of color who survived child sexual abuse.
"Whether or not you are a survivor, 100% of us are raised in rape culture. It's the water that we're swimming in. But just as fish don't know they are in water, because it's just the world around them that they've always been in, people (and especially those who aren't survivors) may need some help actually seeing it," they add.
"Mirror Memoirs attempts to be the dye that helps everyone understand the reality of rape culture."
Amita built the idea for Mirror Memoirs from a theater project called "Undesirable Elements: Secret Survivors" that featured their story and those of four other survivors in New York City, as well as a documentary film and educational toolkit based on the project.
"Secret Survivors had a cast that was gender, race, and age-diverse in many ways, but we had neglected to include transgender women," Amita explains. "Our goal was to help all people who want to co-create a world without child sexual abuse understand that the systems historically meant to help survivors find 'healing' and 'justice' — namely the child welfare system, policing, and prisons — are actually systems that facilitate the rape of children in oppressed communities," Amita continues. "We all have to explore tools of healing and accountability outside of these systems if we truly want to end all forms of sexual violence and rape culture."
Amita also wants Mirror Memoirs to be a place of healing for survivors that have historically been ignored or underserved by anti-violence organizations due to transphobia, homophobia, racism, xenophobia, and white supremacy.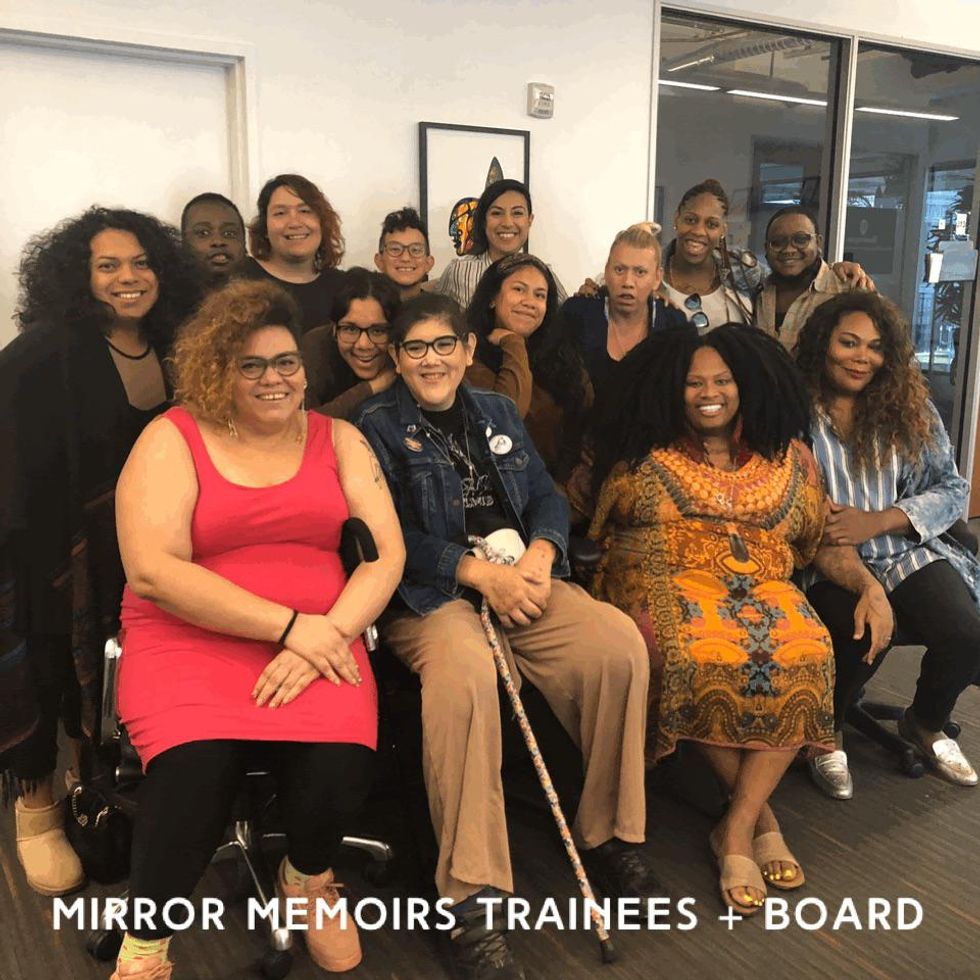 Amita Swadhin
"Hearing survivors' stories is absolutely healing for other survivors, since child sexual abuse is a global pandemic that few people know how to talk about, let alone treat and prevent."
"Since sexual violence is an isolating event, girded by shame and stigma, understanding that you're not alone and connecting with other survivors is alchemy, transmuting isolation into intimacy and connection."
This is something that Amita knows and understands well as a survivor herself.
"My childhood included a lot of violence from my father, including rape and other forms of domestic violence," says Amita. "Mandated reporting was imposed on me when I was 13 and it was largely unhelpful since the prosecutors threatened to incarcerate my mother for 'being complicit' in the violence I experienced, even though she was also abused by my father for years."
What helped them during this time was having the support of others.
"I'm grateful to have had a loving younger sister and a few really close friends, some of whom were also surviving child sexual abuse, though we didn't know how to talk about it at the time," Amita says.
"I'm also a queer, non-binary femme person living with complex post-traumatic stress disorder, and those identities have shaped a lot of my life experiences," they continue. "I'm really lucky to have an incredible partner and network of friends and family who love me."
"These realizations put me on the path of my life's work to end this violence quite early in life," they said.
Amita wants Mirror Memoirs to help build awareness of just how pervasive rape culture is. "One in four girls and one in six boys will be raped or sexually assaulted by the age of 18," Amita explains, "and the rates are even higher for vulnerable populations, such as gender non-conforming, disabled, deaf, unhoused, and institutionalized children." By sharing their stories, they're hoping to create change.
"Listening to stories is also a powerful way to build empathy, due to the mirror neurons in people's brains. This is, in part, why the project is called Mirror Memoirs."
So far, Mirror Memoirs has created an audio archive of BIPOC LGBTQI+ child sexual abuse survivors sharing their stories of survival and resilience that includes stories from 60 survivors across 50 states. This year, they plan to record another 15 stories, specifically of transgender and nonbinary people who survived child sexual abuse in a sport-related setting, with their partner organization, Athlete Ally.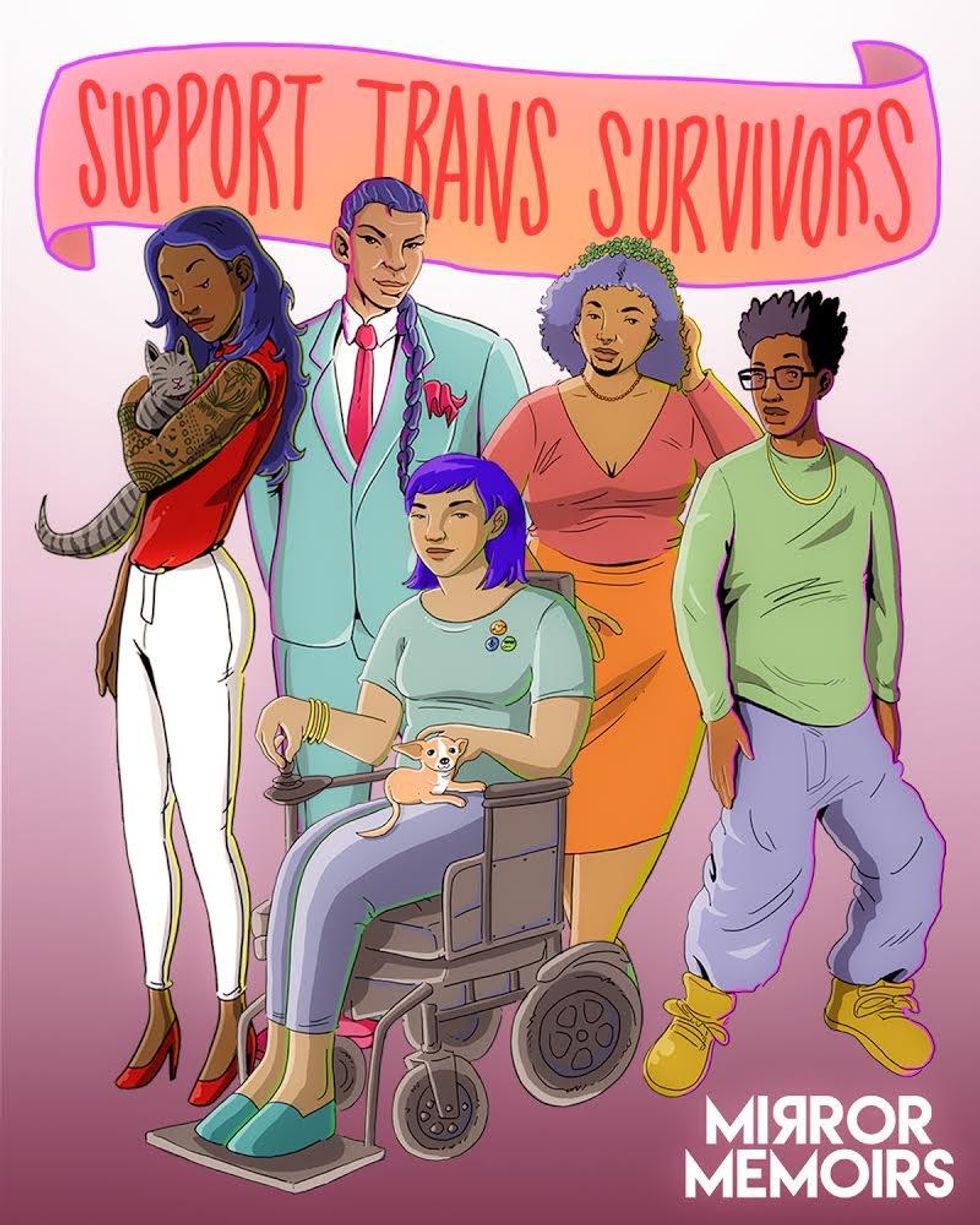 "This endeavor is in response to the more than 100 bills that have been proposed across at least 36 states in 2021 seeking to limit the rights of transgender and non-binary children to play sports and to receive gender-affirming medical care with the support of their parents and doctors," Amita says.
In 2017, Mirror Memoirs held its first gathering, which was attended by 31 people. Today, the organization is a fiscally sponsored, national nonprofit with two staff members, a board of 10 people, a leadership council of seven people, and 500 members nationally.
When the pandemic hit in 2020, they created a mutual aid fund for the LGBTQIA+ community of color and were able to raise a quarter-million dollars. They received 2,509 applications for assistance, and in the end, they decided to split the money evenly between each applicant.
While they're still using storytelling as the building block of their work, they're also engaging in policy and advocacy work, leadership development, and hosting monthly member meetings online.
For their work, Amita is one of Tory's Burch's Empowered Women. Their donation will go to Mirror Memoirs to help fund production costs for their new theater project, "Transmutation: A Ceremony," featuring four Black transgender, intersex, and non-binary women and femmes who live in California.
"I'm grateful to every single child sexual survivor who has ever disclosed their truth to me," Amita says. "I know another world is possible, and I know survivors will build it, together with all the people who love us."
To learn more about Tory Burch and Upworthy's Empowered Women program visit https://www.toryburch.com/empoweredwomen/. Nominate an inspiring woman in your community today!

This article originally appeared on 11.21.16



Photographer Katie Joy Crawford had been battling anxiety for 10 years when she decided to face it straight on by turning the camera lens on herself.
In 2015, Upworthy shared Crawford's self-portraits and our readers responded with tons of empathy. One person said, "What a wonderful way to express what words cannot." Another reader added, "I think she hit the nail right on the head. It's like a constant battle with yourself. I often feel my emotions battling each other."
So we wanted to go back and talk to the photographer directly about this soul-baring project.
It was Crawford's senior year in college. She decided to make herself the central subject of her thesis. She became determined to realistically capture the crippling effects of her anxiety with her "My Anxious Heart" photo series.
"I just firmly believe that the stigma with mental illness needs to be eliminated," Crawford says.
She hopes the series will help others who may be struggling with anxiety. She wants people to know they're not alone.
These haunting photos are also meant to encourage those suffering with anxiety to reach out to others who perhaps don't understand what anxiety feels like. The more we can understand each other, the more we can help each other out.
Here again are Crawford's 12 poignant self-portraits and captions that show what anxiety feels like for her:
1. "They keep telling me to breathe. I can feel my chest moving up and down. Up and down. Up and down. But why does it feel like I'm suffocating? I hold my hand under my nose, making sure there is air. I still can't breathe."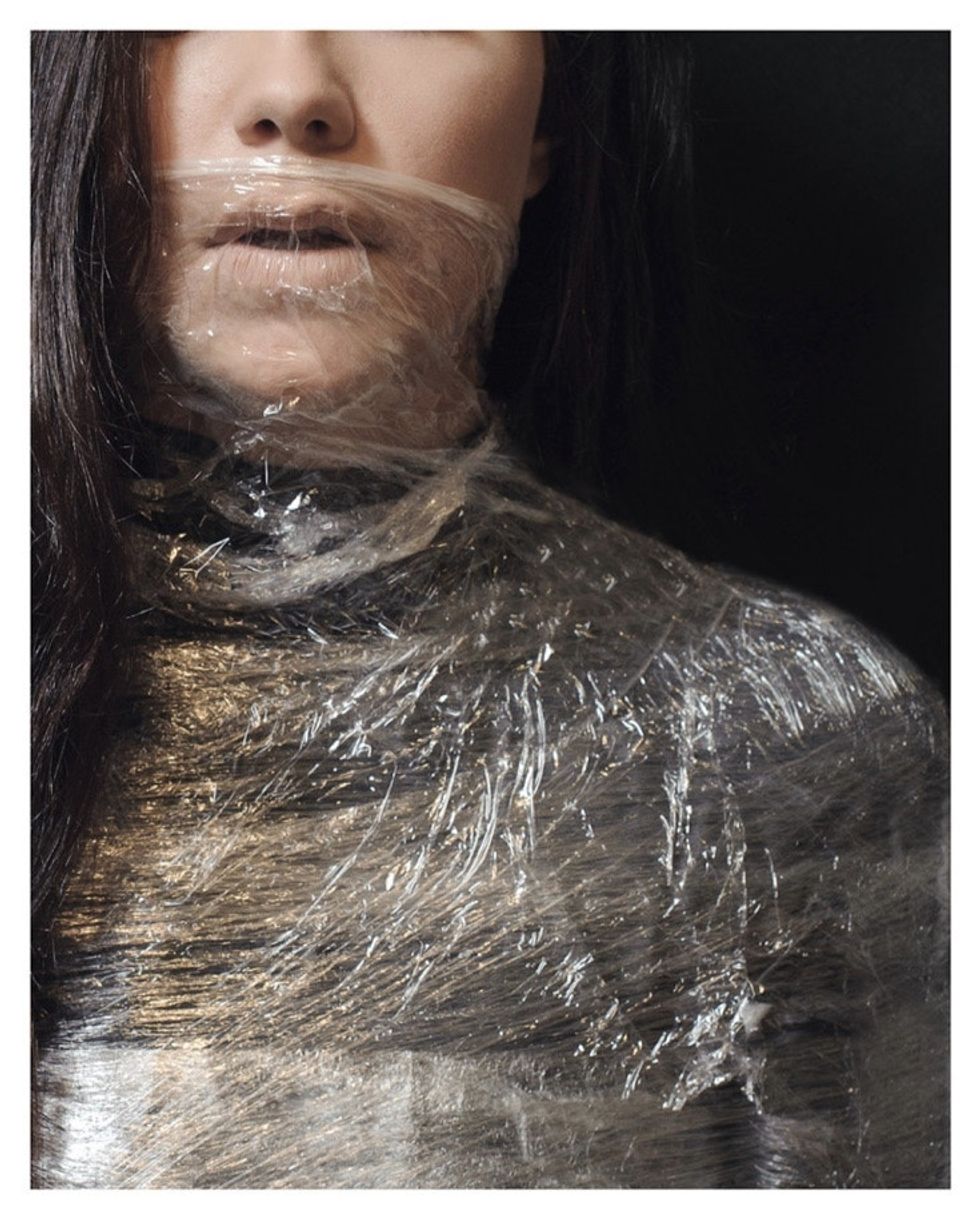 2. "My head is filling with helium. Focus is fading. Such a small decision to make. Such an easy question to answer. My mind isn't letting me. It's like a thousand circuits are all crossing at once."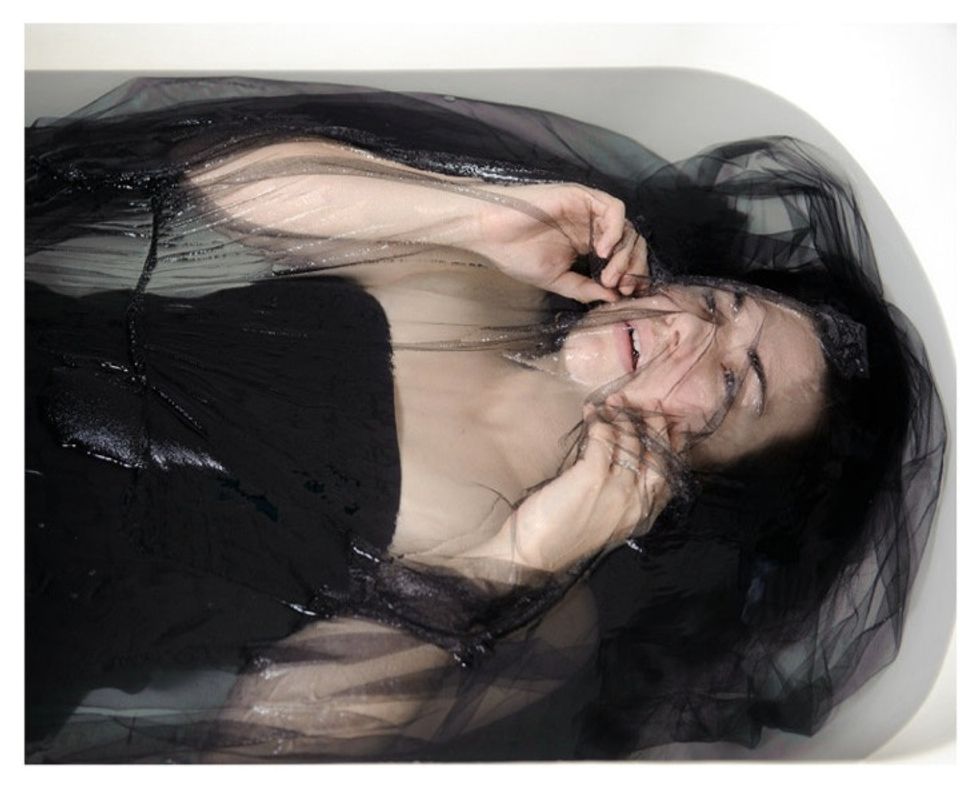 3. "It's strange — in the pit of your stomach. It's like when you're swimming and you want to put your feet down but the water is deeper than you thought. You can't touch the bottom and your heart skips a beat."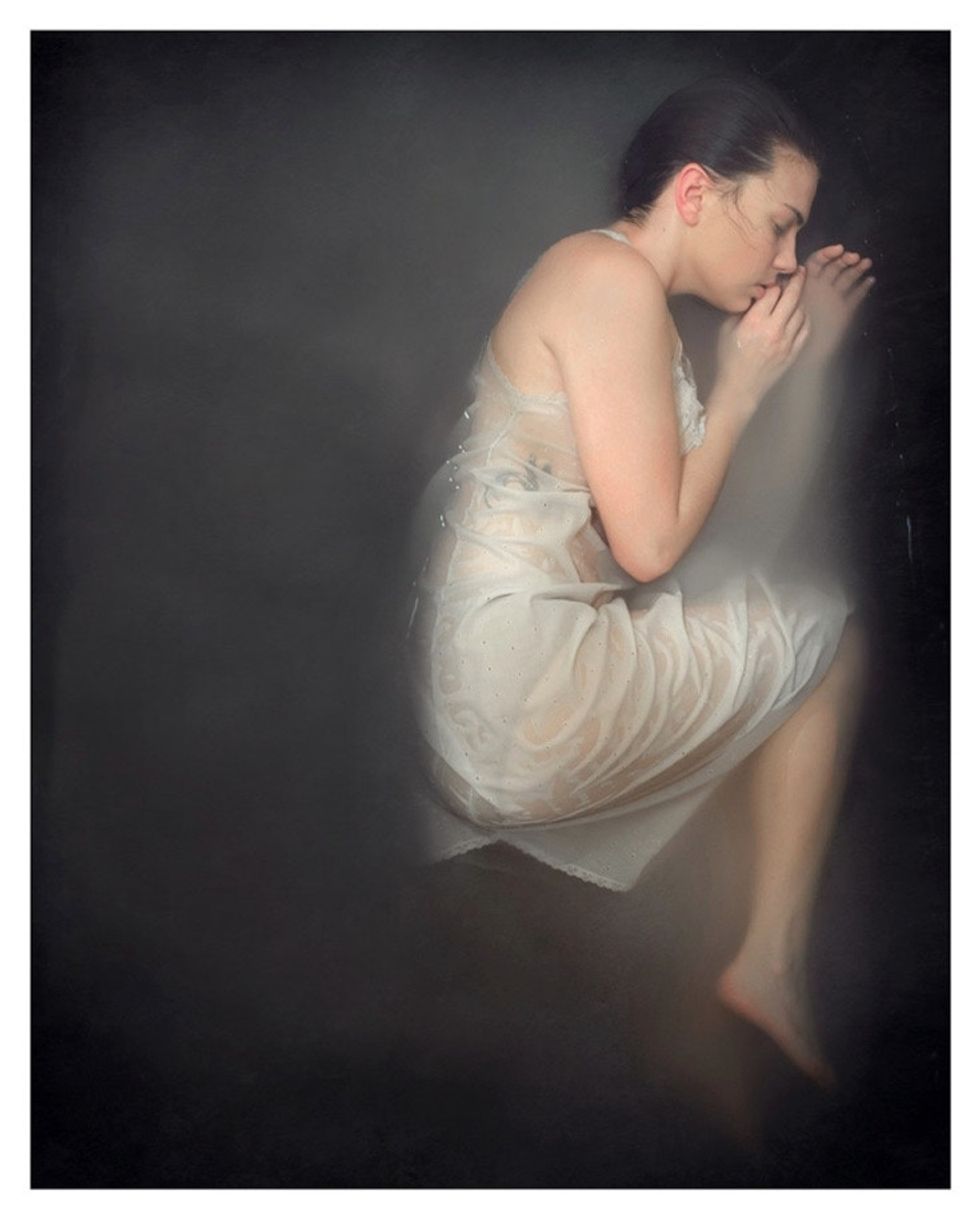 4. "You were created for me and by me. You were created for my seclusion. You were created by venomous defense. You are made of fear and lies. Fear of unrequited promises and losing trust so seldom given. You've been forming my entire life. Stronger and stronger."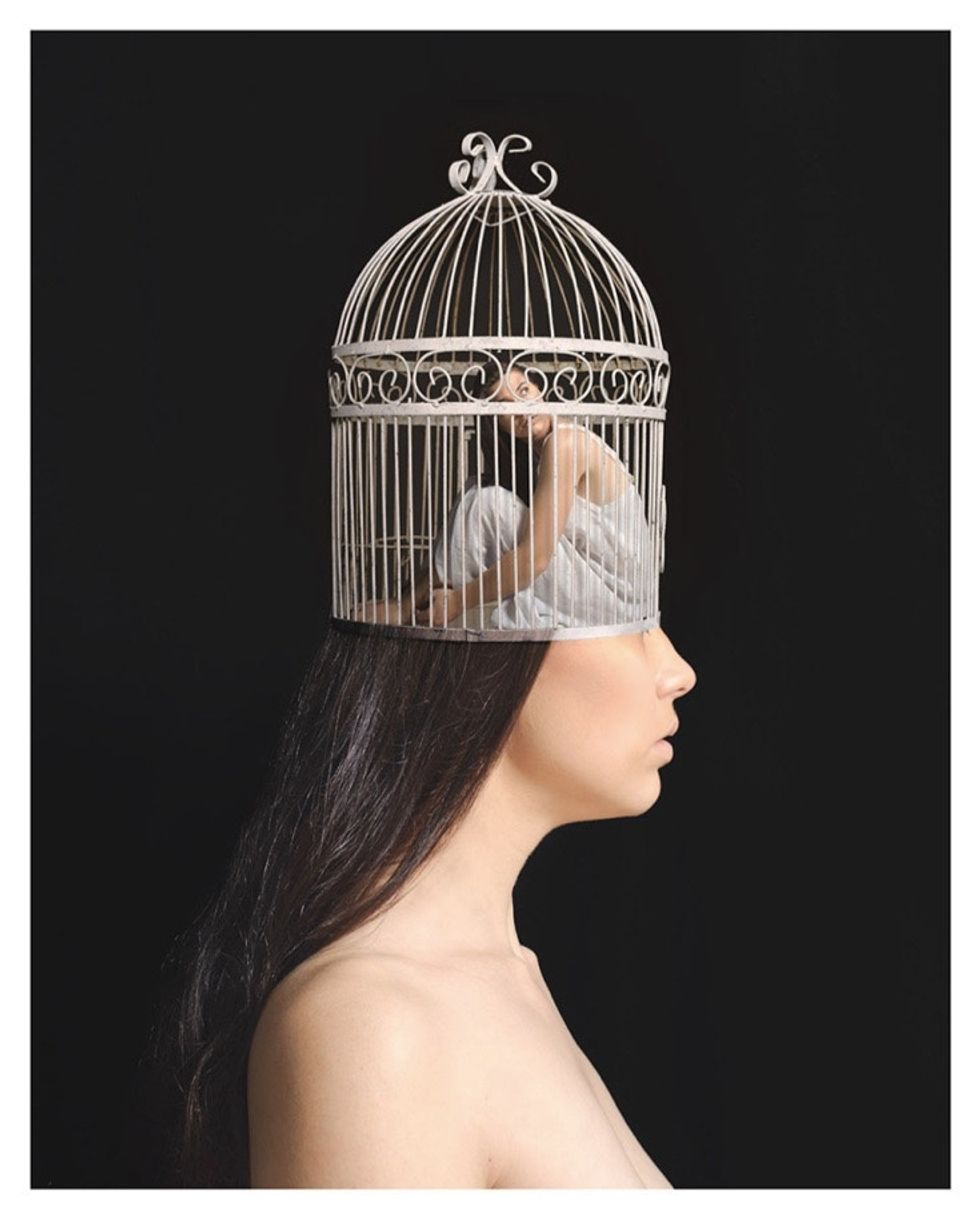 5. "A glass of water isn't heavy. It's almost mindless when you have to pick one up. But what if you couldn't empty it or set it down? What if you had to support its weight for days … months … years? The weight doesn't change, but the burden does. At a certain point, you can't remember how light it used to seem. Sometimes it takes everything in you to pretend it isn't there. And sometimes, you just have to let it fall."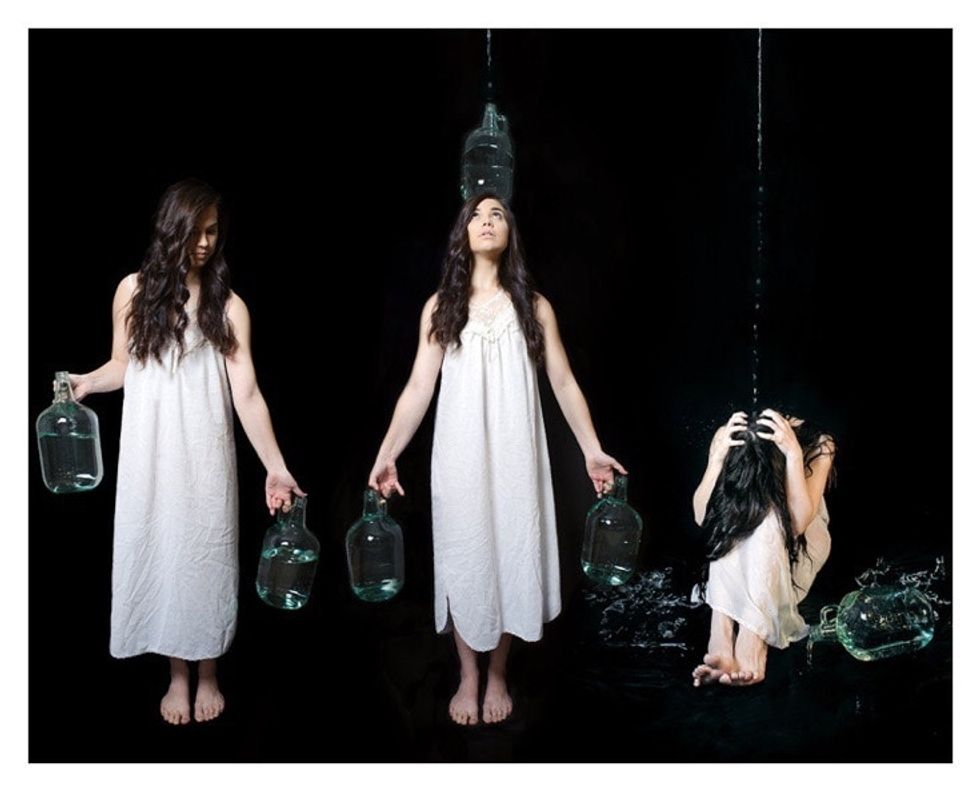 6. "A captive of my own mind. The instigator of my own thoughts. The more I think, the worse it gets. The less I think, the worse it gets. Breathe. Just breathe. Drift. It'll ease soon."
—7. "I'm afraid to live and i'm afraid to die. What a way to exist."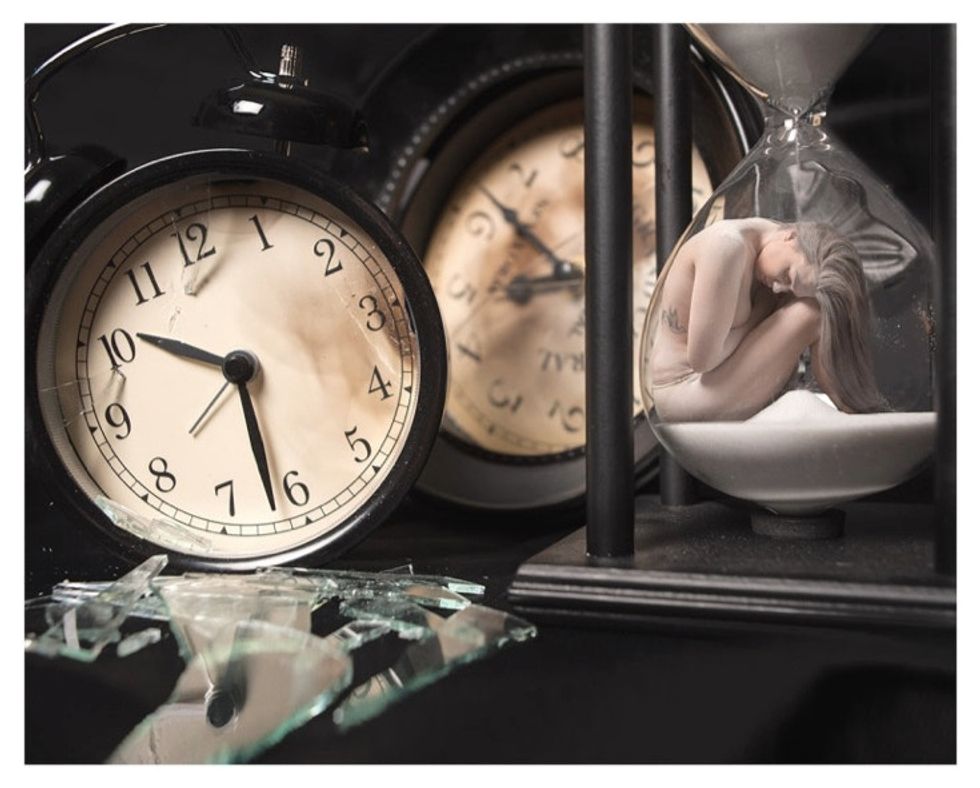 8. "I was scared of sleeping. I felt the most raw panic in complete darkness. Actually, complete darkness wasn't scary. It was that little bit of light that would cast a shadow — a terrifying shadow."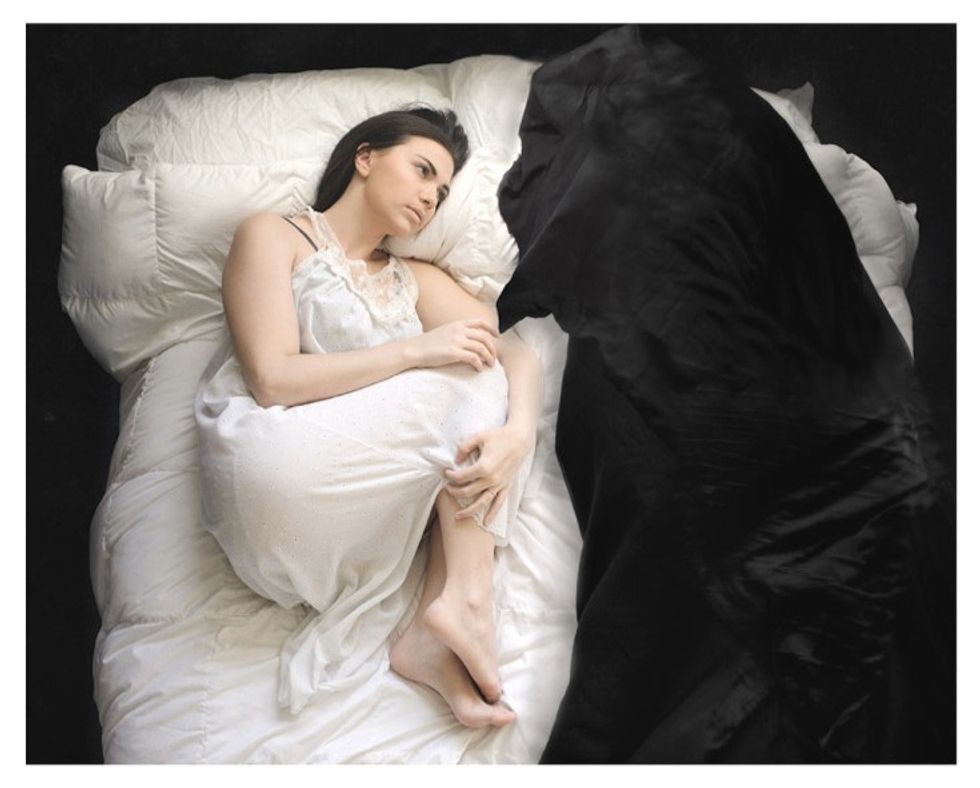 9. "No matter how much I resist, it'll always be right here desperate to hold me, cover me, break down with me. Each day I fight it, "You're not good for me and you never will be." But there it is waiting for me when I wake up and eager to hold me as I sleep. It takes my breath away. It leaves me speechless."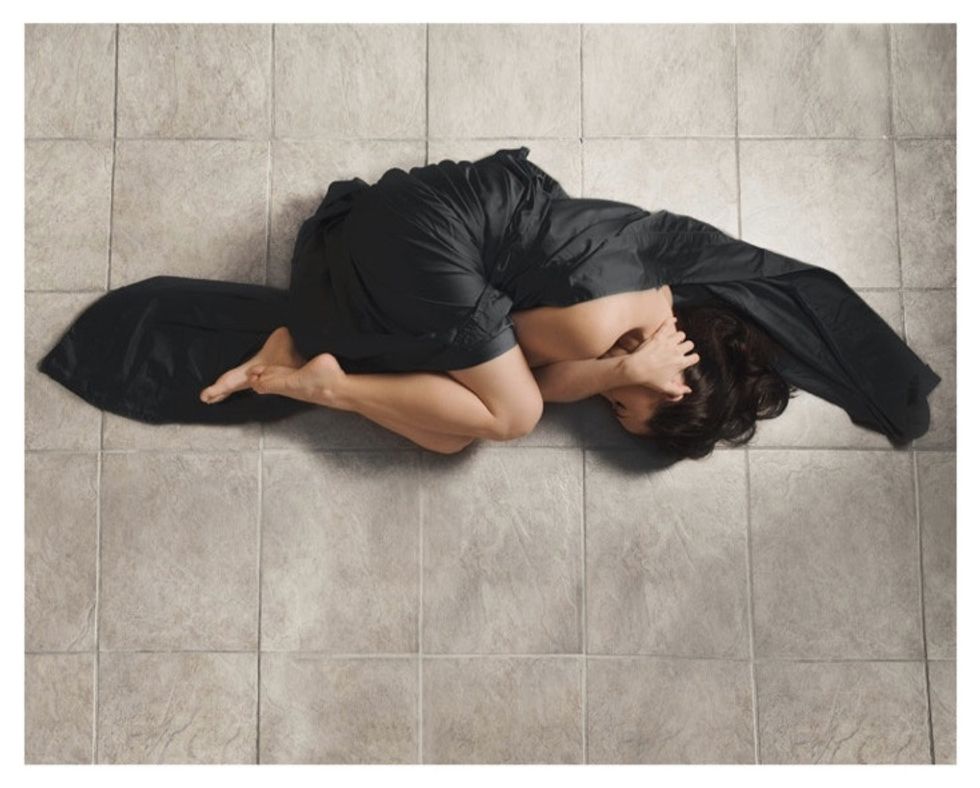 10. "Depression is when you can't feel at all. Anxiety is when you feel too much. Having both is a constant war within your own mind. Having both means never winning."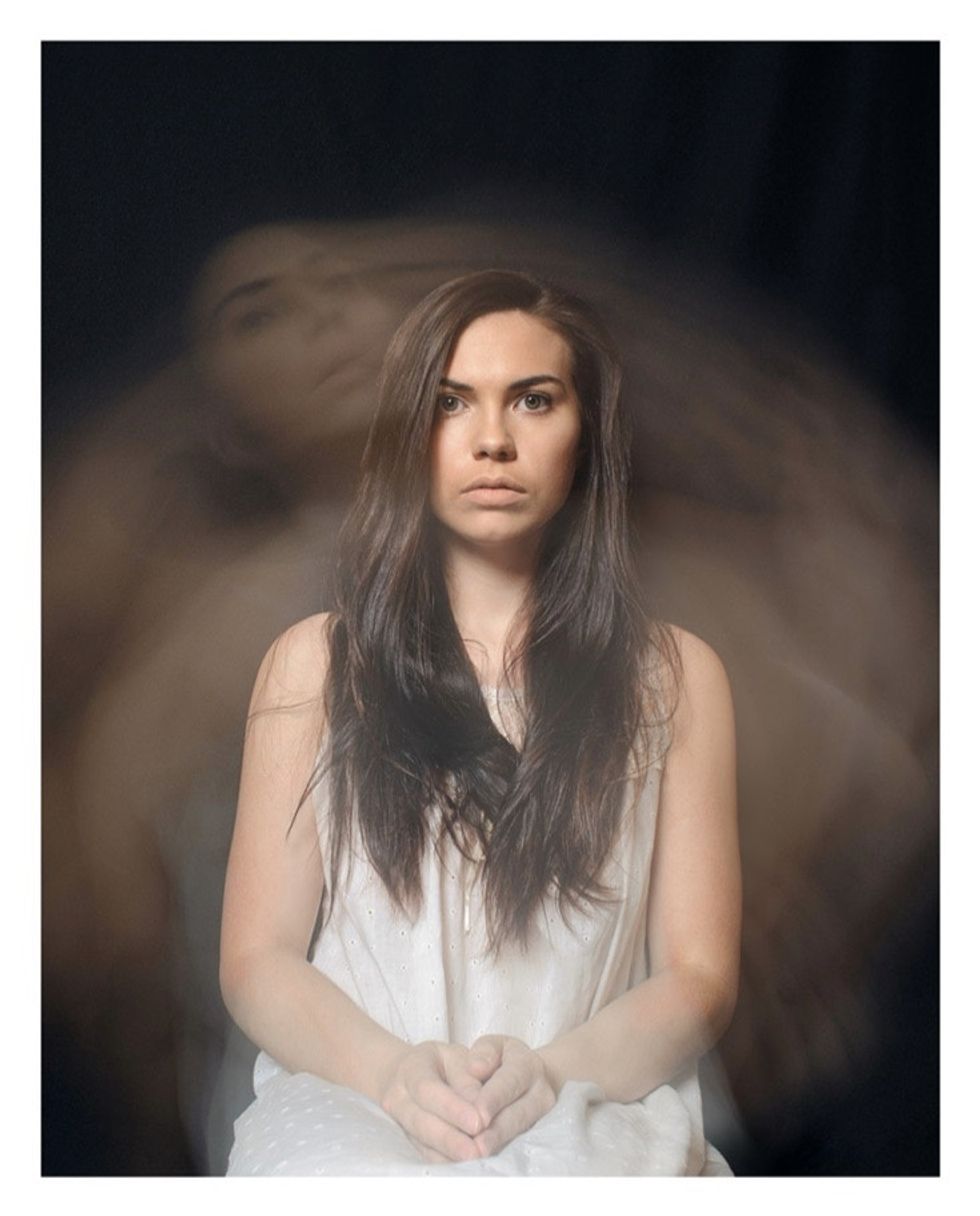 11. "Cuts so deep it's like they're never going to heal. Pain so real, it's almost unbearable. I've become this … this cut, this wound. All I know is this same pain; sharp breath, empty eyes, shaky hands. If it's so painful, why let it continue? Unless … maybe it's all that you know."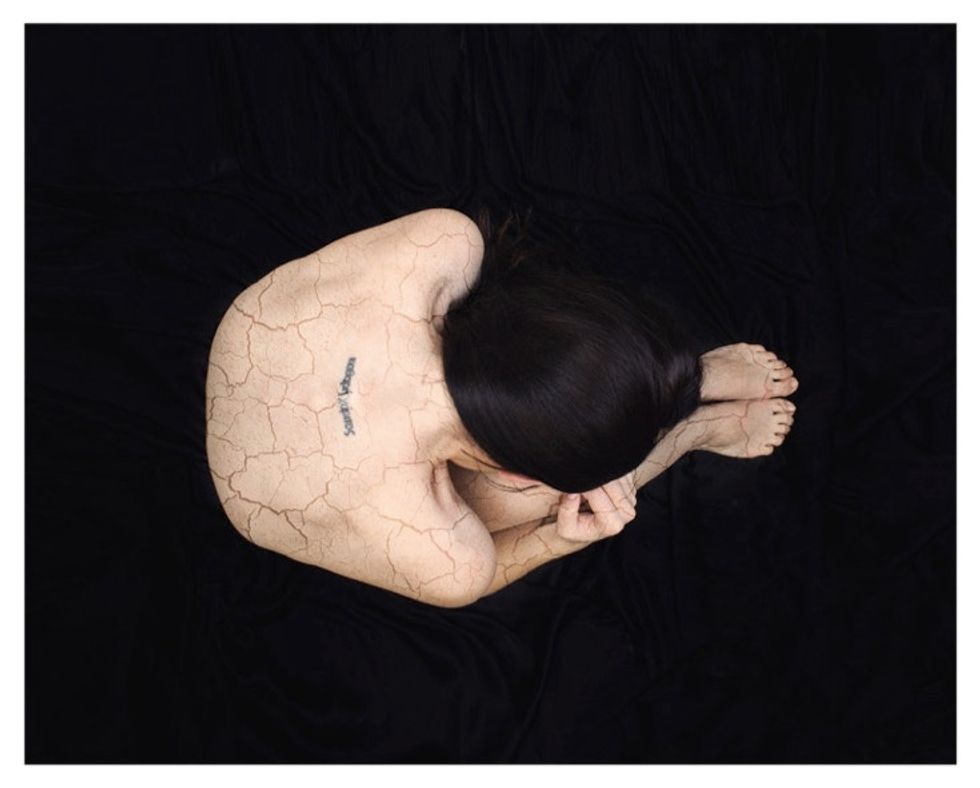 12. "Numb feeling. How oxymoronic. How fitting. Can you actually feel numb? Or is it the inability to feel? Am I so used to being numb that i've equated it to an actual feeling?"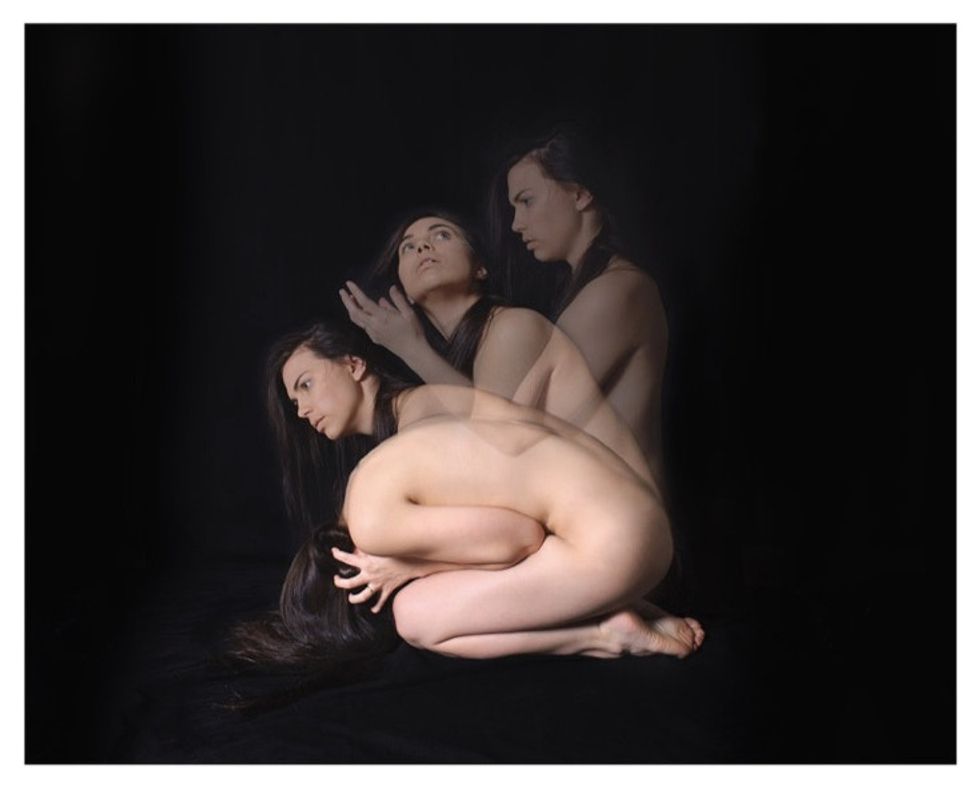 "I've had a lot of people say that my photographs are too beautiful for what anxiety actually is. That's OK to feel that way, I think they are too! I didn't set out to make it look like the monster I felt," Crawford says. "I wanted clean and simple explanations. I wanted them to almost look numbing, because that's where I was."
Crawford goes to therapy once a week. And she's not ashamed of that. She's also not ashamed to admit that she sits in her car each time, deciding whether she'll attend her appointment or not.
She ultimately does go in and feels better every time. "It's like this thing you've been battling alone is finally being defeated in some way," Crawford says.
The process of creating these deeply literal photographs helped Crawford identify her fear and figure out what led to her anxiety attacks. Although she didn't realize it at the time, she was developing new coping skills even while shooting these self-portraits.
It's important to understand that everyone is struggling with something. We're never alone, no matter how lonely we feel.
"Get help. Always get help," Crawford says. "There are so many resources out there. There is no reason to be ashamed that you need help. If mental illness was treated like physical illness, there would be no more stigma."
By putting her struggles with anxiety out there for the world to see, Crawford is able to help others. She says that feeling alone has changed the way she lives her life.
True
When a pet is admitted to a shelter it can be a traumatizing experience. Many are afraid of their new surroundings and are far from comfortable showing off their unique personalities. The problem is that's when many of them have their photos taken to appear in online searches.
Chewy, the pet retailer who has dedicated themselves to supporting shelters and rescues throughout the country, recognized the important work of a couple in Tampa, FL who have been taking professional photos of shelter pets to help get them adopted.

"If it's a photo of a scared animal, most people, subconsciously or even consciously, are going to skip over it," pet photographer Adam Goldberg says. "They can't visualize that dog in their home."
Adam realized the importance of quality shelter photos while working as a social media specialist for the Humane Society of Broward County in Fort Lauderdale, Florida.
"The photos were taken top-down so you couldn't see the size of the pet, and the flash would create these red eyes," he recalls. "Sometimes [volunteers] would shoot the photos through the chain-link fences."

That's why Adam and his wife, Mary, have spent much of their free time over the past five years photographing over 1,200 shelter animals to show off their unique personalities to potential adoptive families. The Goldbergs' wonderful work was recently profiled by Chewy in the video above entitled, "A Day in the Life of a Shelter Pet Photographer."
Get stories worth sharing delivered to your inbox