Courtesy of Ms. Lopez
True
Marcella Lopez didn't always want to be a teacher — but once she became one, she found her passion. That's why she's stayed in the profession for 23 years, spending the past 16 at her current school in Los Angeles, where she mostly teaches children of color.
"I wanted purpose, to give back, to live a life of public service, to light the spark in others to think critically and to be kind human beings," she says. "More importantly, I wanted my students to see themselves when they saw me, to believe they could do it too."
Ms. Lopez didn't encounter a teacher of color until college. "That moment was life-changing for me," she recalls. "It was the first time I felt comfortable in my own skin as a student. Always remembering how I felt in that college class many years ago has kept me grounded year after year."
It's also guided her teaching. Ms. Lopez says she always selects authors and characters that represent her students and celebrate other ethnicities so students can relate to what they read while also learning about other cultures.
"I want them to see themselves in the books they read, respect those that may not look like them and realize they may have lots in common with [other cultures] they read about," she says.
She also wants her students to have a different experience in school than she did.
When Ms. Lopez was in first grade, she "was speaking in Spanish to a new student, showing her where the restroom was when a staff member overheard our conversation and directed me to not speak in Spanish," she recalls. "In 'this school,' we only speak English," she remembers them saying. "From that day forward, I was made to feel less-than and embarrassed to speak the language of my family, my ancestors; the language I learned to speak first."
Part of her job, she says, is to find new ways to promote acceptance and inclusion in her classroom.
"The worldwide movement around social justice following the death of George Floyd amplified my duty as a teacher to learn how to discuss racial equity in a way that made sense to my little learners," she says. "It ignited me to help them see themselves in a positive light, to make our classroom family feel more inclusive, and make our classroom a safe place to have authentic conversations."
One way she did that was by raising money through DonorsChoose to purchase books and other materials for her classroom that feature diverse perspectives.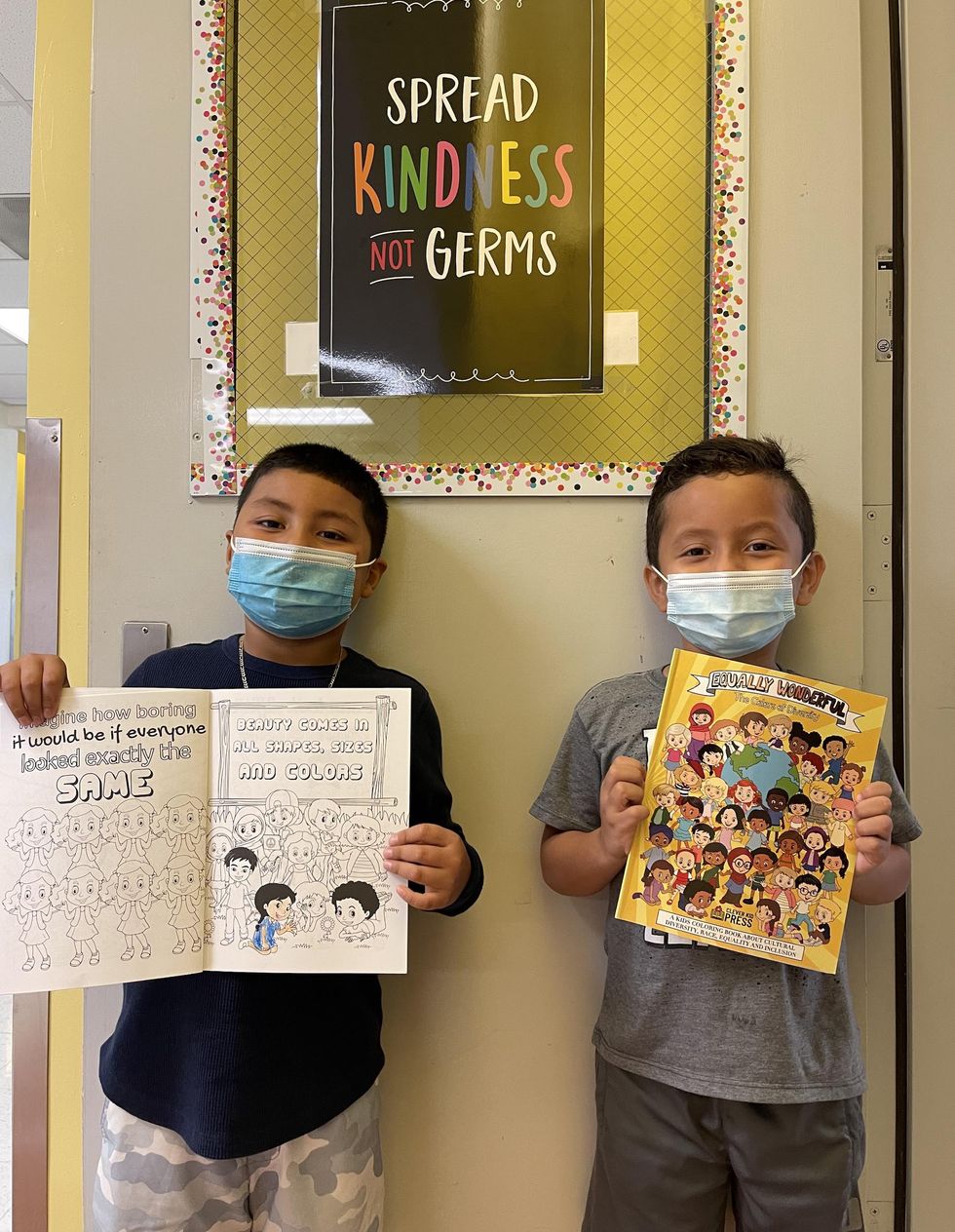 Courtesy of Ms. Lopez
The Allstate Foundation recently partnered with DonorsChoose to create a Racial Justice and Representation category to encourage teachers like Ms. Lopez to create projects that address racial equity in the classroom. To launch the category, The Allstate Foundation matched all donations to these projects for a total of $1.5 million. Together, they hope to drive awareness and funding to projects that bring diversity, inclusion, and identity-affirming learning materials into classrooms across the country. You can see current projects seeking funding here.
When Ms. Lopez wanted to incorporate inclusive coloring books into her lesson plans, The Allstate Foundation fully funded her project so she was able to purchase them.
"I'm a lifelong learner, striving to be my best version of myself and always working to inspire my little learners to do the same," she says. Each week, Ms. Lopez and the students would focus on a page in the book and discuss its message. And she plans to do the same again this school year.
"DonorsChoose has been a gamechanger for my students. Without the support of all the donors that come together on this platform, we wouldn't have a sliver of what I've been able to provide for my students, especially during the pandemic," she says.
"My passion is to continue striving to be excellent, and to continue to find ways to use literature as an anchor, depicting images that reflect my students," she says.
To help teachers like Ms. Lopez drive this important mission forward, donate on DonorsChoose.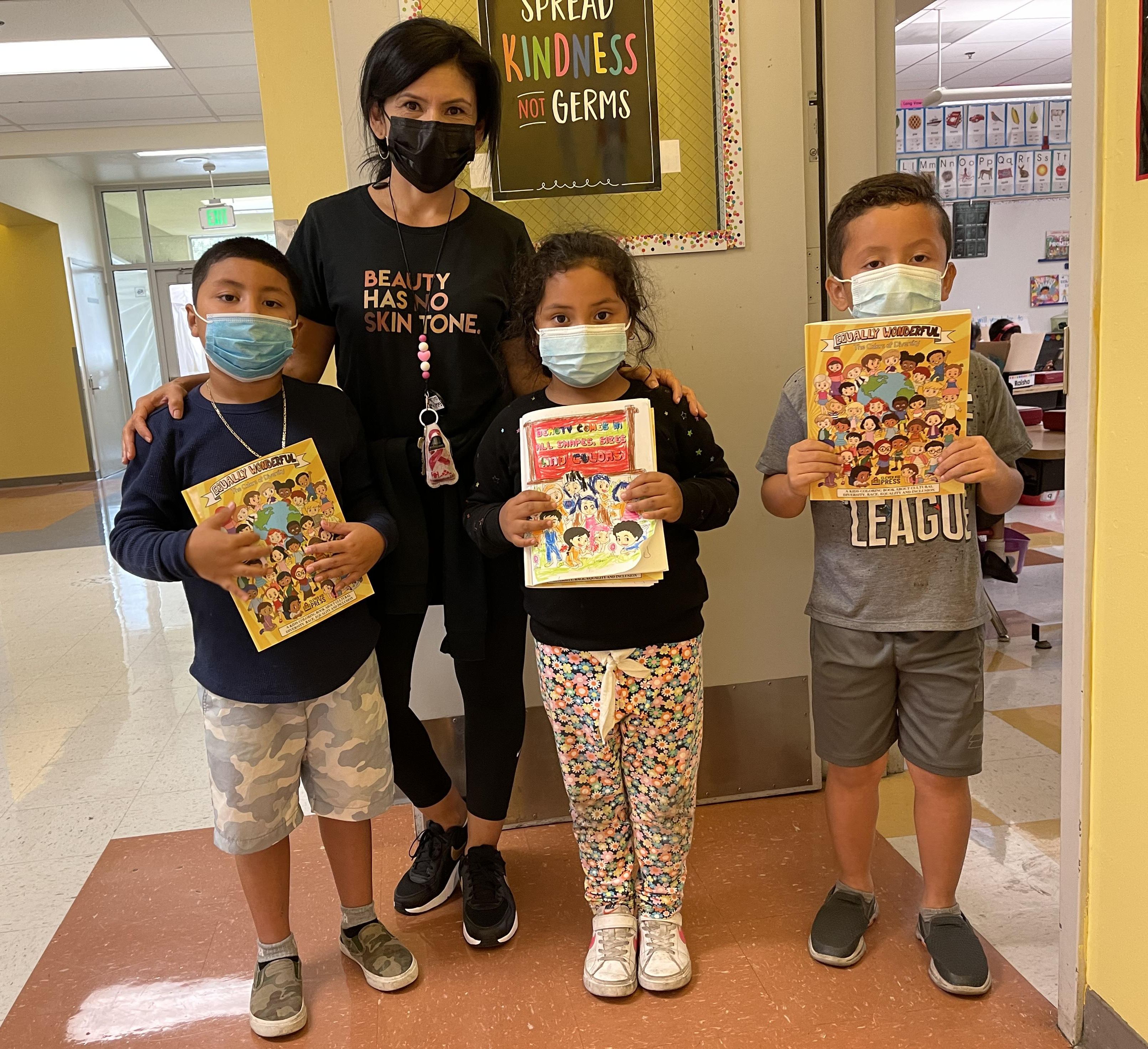 Courtesy of Ms. Lopez
From Your Site Articles
Related Articles Around the Web
True
This story was originally shared on Capital One.
Inside the walls of her kitchen at her childhood home in Guatemala, Evelyn Klohr, the founder of a Washington, D.C.-area bakery called Kakeshionista, was taught a lesson that remains central to her business operations today.

"Baking cakes gave me the confidence to believe in my own brand and now I put my heart into giving my customers something they'll enjoy eating," Klohr said.
While driven to launch her own baking business, pursuing a dream in the culinary arts was economically challenging for Klohr. In the United States, culinary schools can open doors to future careers, but the cost of entry can be upwards of $36,000 a year.
Through a friend, Klohr learned about La Cocina VA, a nonprofit dedicated to providing job training and entrepreneurship development services at a training facility in the Washington, D.C-area.
La Cocina VA's, which translates to "the kitchen" in Spanish, offers its Bilingual Culinary Training program to prepare low-and moderate-income individuals from diverse backgrounds to launch careers in the food industry.
That program gave Klohr the ability to fully immerse herself in the baking industry within a professional kitchen facility and receive training in an array of subjects including culinary skills, food safety, career development and English language classes.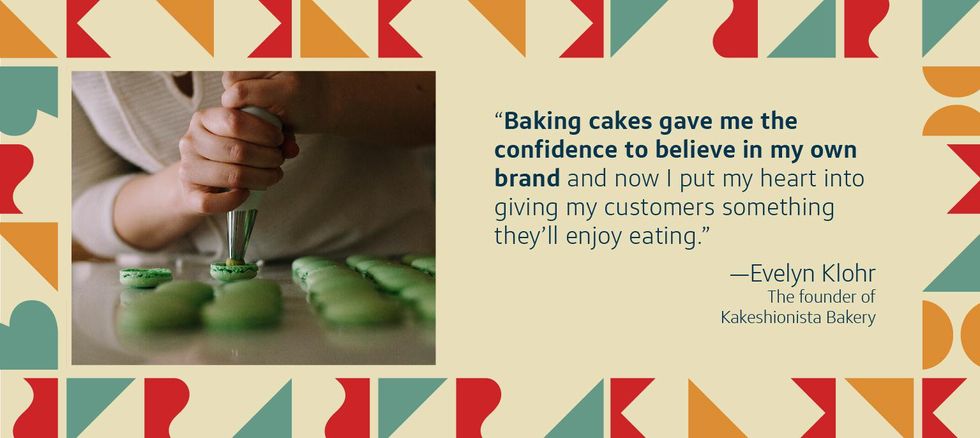 Photo courtesy of Capital One
The organization also offers participants the opportunity to enroll in its Culinary Small Business Incubator, a 9-week training course that teaches participants to create and scale their own food-based startups.
During that program, LA Cocina VA provides participants with support for developing the internal operations of their businesses and provides a shared kitchen for community members to rent space at affordable rates.
Patricia Funegra, who founded La Cocina VA in 2014, said that helping people like Klohr is exactly why she wanted to create the incubator.
"I have firsthand experience of the difficulties of being an immigrant and person of color in America," said Funegra. "At the same time, I also know the enormous opportunities that exist here to improve people's lives."
With the help of funding from Capital One, the center has been able to support 160 participants since opening with roughly 85% of graduates being hired for jobs in the food industry upon completion.
La Cocina VA also received support from Capital One's Community Finance team as it provided financing for the construction of Gilliam Place, an affordable housing unit in which La Cocina VA moved its operations into in 2020.
After moving into Gilliam Place, Funegra launched the Zero Barriers Training and Entrepreneurship Center, a hub for startup founders that includes a kitchen incubator and a community cafe to provide workforce development opportunities for residents.
That support comes as part of the Capital One Impact Initiative, a multi-million dollar commitment to support growth in underserved communities and advance socioeconomic mobility by closing gaps in equity and opportunity.
La Cocina VA students also worked alongside Capital One Cafe ambassadors to learn skills in management and personal finance.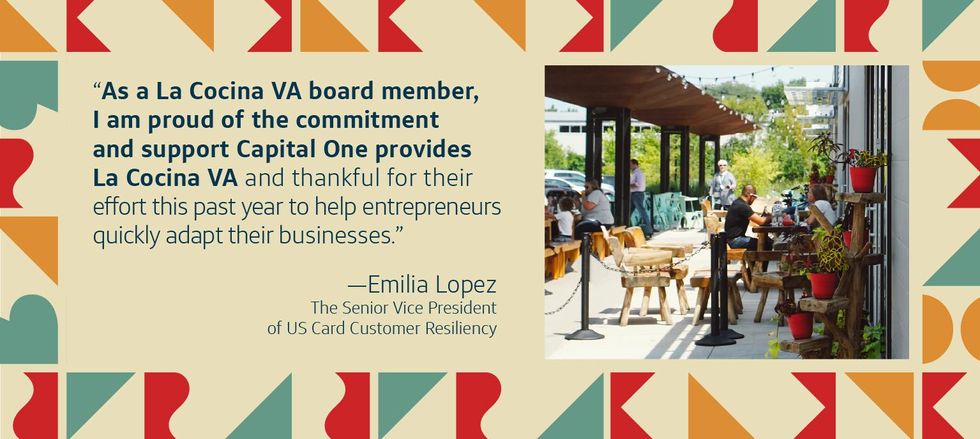 Photo courtesy of Capital One
"The COVID-19 pandemic forced entrepreneurs, especially people of color and immigrants, to shift their entire business models just to survive," said Emilia Lopez, the Senior Vice President of US Card Customer Resiliency, who serves on La Cocina VA's Board of Directors. "As a La Cocina VA board member, I am proud of the commitment and support Capital One provides La Cocina VA and thankful for their effort this past year to help entrepreneurs quickly adapt their businesses to support alternative dining options."
La Cocina VA is also in constant communication with employers, partners, hotels and restaurants to make them aware of their pipeline of graduates.
"La Cocina VA taught me not just the physical work that goes into baking and cooking but also how to have a good understanding to mentally and financially launch my business," said Klohr. "They're helping me make those connections and I know they'll always have my back."
True
Milk brings so much joy to our everyday lives. It's the sweet creaminess in our cereal. The fluff in our scrambled eggs. And, for many, the last thing they drink before going to bed.
It's easy to forget that something most of us enjoy every day is also good for us as well. Milk alone delivers 13 essential nutrients that are important for adults and a vital part of children's diets.
While the dairy industry recognizes they still have a way to go, it has made an important pledge to work towards bettering the nation's environmental health.
Countless family farmers across the U.S. have committed to a more sustainable future. They know that it's good for the animals and also better for the planet.
"I love taking care of the cows; in taking good care of cows, we take care of you and it's better for the environment," Dave Graybill, a sustainable dairy farmer, and owner of Red Sunset Farm in Mifflintown, Pennsylvania, told Upworthy.
Thanks to modern and innovative dairy farming practices, producing a gallon of milk in 2017 required 30% less water and 21% less land than it did in 2007.
Taking a step back and looking at this progress on a macro level, the dairy industry has reduced its carbon footprint by 63% since 1944.
Now, the future looks even brighter because 37,500-plus dairy farm families — collectively working together under the U.S. Dairy banner — created new goals in 2020 that promise even more dramatic improvements. They pledge that by 2050 the dairy industry will achieve greenhouse gas neutrality and will have optimized water quality by promoting better utilization of manure and nutrients.
Farmers across the country have been working to meet these goals by reusing water, switching to sustainable cow feed, and repurposing manure for fertilizer.
The Innovation Center for U.S. Dairy is inspiring farmers by highlighting those who have made a serious commitment to reaching the industry's 2050 goals. Dave and his wife Marie were recently named a 2021 U.S. Dairy Sustainability Award Winner alongside other innovative farmers from across the industry.
Since starting their family farm two decades ago, the couple has implemented more than 30 conservation practices designed to make it an environmental and economic asset.
"We have implemented a lot of sustainability practices whether it's conserving water, conserving nutrients, taking better care of the cows," Dave told Upworthy. "You can look at sustainability in a lot of different ways."
"Another way we work to decrease our farm's carbon footprint is through better nutrition and animal care to help our cows live longer and produce more milk through improved feeding practices," he added.

When cows are healthy, it's better for the environment, too.
The Graybill's farm has a 700,000-gallon storage tank that holds a year's worth of nutrient-rich manure produced by their cattle. The manure is then used to fertilize his crops, which are used to feed the cows.
"We're just recycling nutrients all the time," Dave said. "That's efficiency. That's sustainability."
They also practice contour farming where crops are planted in rows that follow the natural lay of the land to ease erosion across the field. This helps protect the nearby Chesapeake Bay.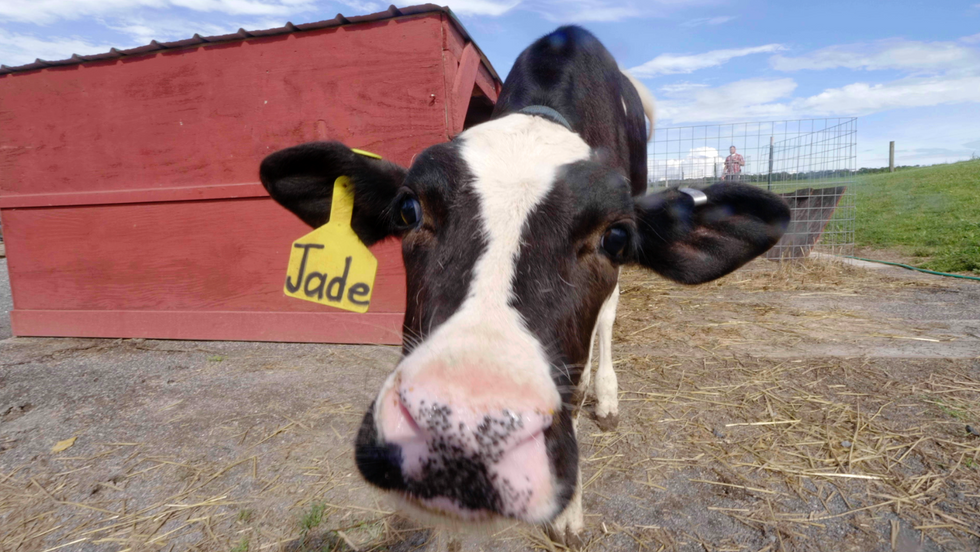 Dave hopes that his award will bring more attention to the wonderful developments happening in the industry. "Lots of farms are doing it, but not getting the recognition they deserve for doing good in their communities and implementing these practices," he admits.
The incredible work the Graybills and countless dairy farmers across the nation are doing for the environment proves that there is room for sustainability in every curve in the circle of life.
Get stories worth sharing delivered to your inbox