More
Dad shares story about daughter's scary experience at a college party with star athlete. It's pretty great.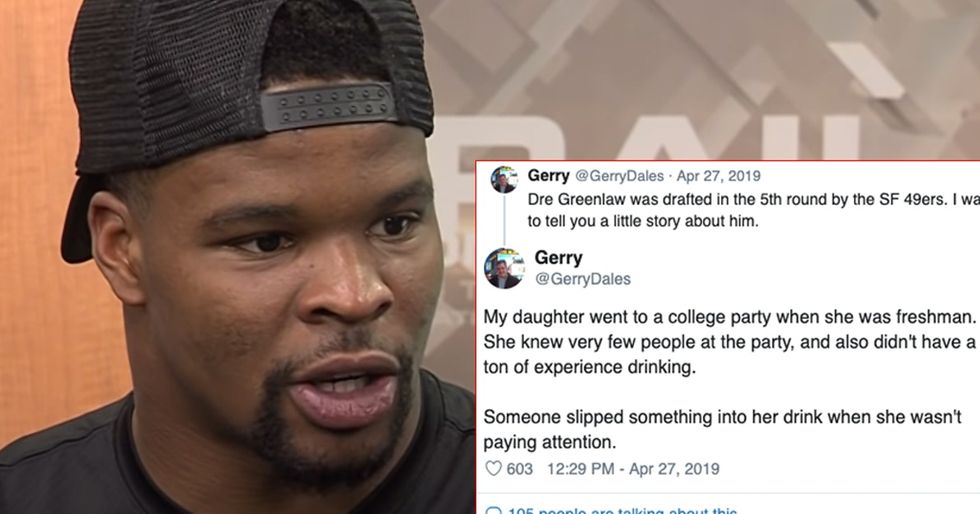 The NFL is by far America's favorite sports league, so when its players are charged with a violent crime, it's front page news. Ray Rice, Adrian Peterson, Adrian Hernandez, Greg Hardy, and most recently Tyreek Hill, have all helped the NFL earn the moniker the "National Felon League."
However, studies show that the arrest rate for NFL players is half that of men in the same age group. But, if it bleeds it leads, so when an NFL player makes a positive impact on the community, it rarely gets the attention it deserves.
That's why everyone should know the name Dre Greenlaw.
---
What are the @49ers getting with @DreGreenlaw? "A playmaker, a guy who has played at the highest level of the @SEC.… https://t.co/0j7YgtqRVt

— Arkansas Razorback Football (@Arkansas Razorback Football) 1556390778.0
Greenlaw, 21, was selected in the fifth round of the NFL draft by the San Francisco 49ers on Saturday, April 27. The former linebacker Arkansas Razorback team captain was a four-year starter, amassing 320 tackles, three sacks, three forced fumbles, and three interceptions during his college career.  
But for one Arkansas student, Greenlaw will be remembered more for his courage at a party than on the gridiron.
"He was risking everything -- and he was risking it for my daughter." A dad tweets a heartfelt story about how 49e… https://t.co/j8MEcsoTpm

— 49ers on NBCS (@49ers on NBCS) 1556478628.0
The story came to light after Greenlaw was drafted.
Dre Greenlaw was drafted in the 5th round by the SF 49ers. I want to tell you a little story about him.

— Gerry Daly (@Gerry Daly) 1556393390.0
My daughter went to a college party when she was freshman. She knew very few people at the party, and also didn't h… https://t.co/GEcdzAo4yQ

— Gerry Daly (@Gerry Daly) 1556393391.0
Greenlaw's story goes way beyond the scope of sports. He was a great example for people everywhere on how to be on the look out for signs of sexual assault and how to do something about it.
According to the U.S. Department of Justice, one out of every four female undergraduates will be victim to some form of sexual assault before graduation.
Here are a few tips from RAINN (Rape, Abuse & Incest National Network) to help fight back against sexual assault if you see something suspicious at a bar or a party.
Create a distraction
Do what you can to interrupt the situation. A distraction can give the person at risk a chance to get to a safe place.
Cut off the conversation with a diversion like, "Let's get pizza, I'm starving," or "This party is lame. Let's try somewhere else."
Bring out fresh food or drinks and offer them to everyone at the party, including the people you are concerned about.
Start an activity that draws other people in, like a game, a debate, or a dance party.
Ask directly
Talk directly to the person who might be in trouble.
Ask questions like "Who did you come here with?" or "Would you like me to stay with you?"
Refer to an authority
Sometimes the safest way to intervene is to refer to a neutral party with the authority to change the situation, like an RA or security guard.
Talk to a security guard, bartender, or another employee about your concerns. It's in their best interest to ensure that their patrons are safe, and they will usually be willing to step in.
Don't hesitate to call 911 if you are concerned for someone else's safety.
Enlist others
It can be intimidating to approach a situation alone. Enlist another person to support you.
Ask someone to come with you to approach the person at risk. When it comes to expressing concern, sometimes there is power in numbers.
Ask someone to intervene in your place. For example, you could ask someone who knows the person at risk to escort them to the bathroom.
Enlist the friend of the person you're concerned about. "Your friend looks like they've had a lot to drink. Can you check on them?"