More
Customers bought all this store's donuts early each morning so a loyal husband could visit his wife in the hospital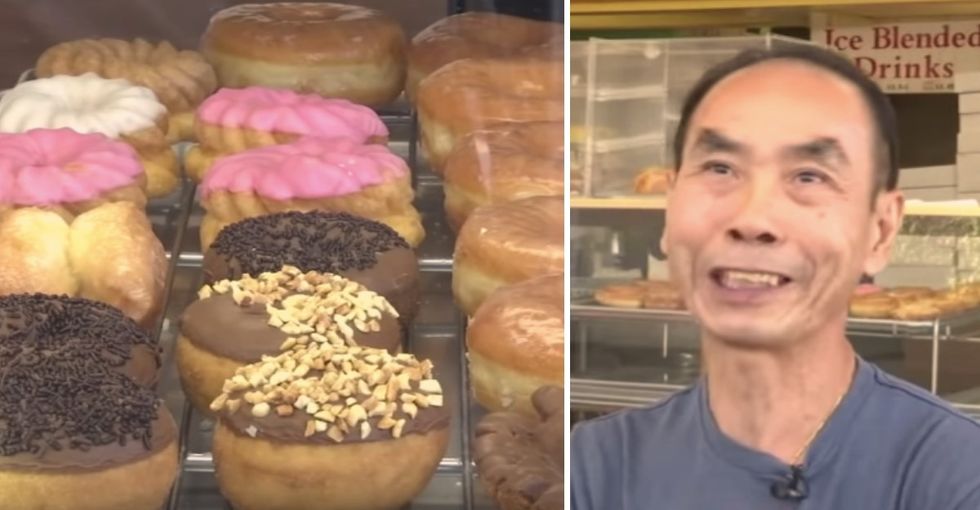 For almost 30 years, John Chhan and his wife, Stella, have been serving customers their fresh donuts. But for the past month, Stella's been absent.
The Chhans came to the U.S. as refugees from Cambodia in 1979. They opened a donut shop called Donut City in Seal Beach, and the duo has been doling out delicious daily donuts ever since.
But last month, Stella stopped showing up behind the counter. She'd suffered a brain aneurysm, and though she survived, she was very weak and slowly recovering in a rehab facility. That meant that John Chhan had run the shop alone and be away from his sick wife. When customers learned of the situation, they wanted to do something to help.
---
Some offered to set up a GoFundMe account, but Chhan declined. He said he simply wanted more time with his wife. So Donut City customers embarked on a different mission: to help Chhan sell out his inventory as quickly as possible each day.
Customers rally bright and early every morning to buy out Chhan's donuts so he can be with his sick wife.
Through word of mouth, online, and in community newsletters, Donut City customers are encouraging people to buy donuts early and buy lots of them. Customers show up when the shop opens at 4:30am, and thanks to many of them buying a dozen donuts at at time, the trays are empty by 7:30 most days.
Locals say they're simply returning the kindness the Chhans have shown them over the years. Lifelong Donut City customer Steven O'Fallon shared his feelings with CNN."It is heartbreaking to hear her misfortune," he said. "She was always in the back making doughnuts. I would drop by there with my mom and dad in the mornings before school. John would always toss a few extra doughnut holes. He always has a smile on his face."
This is what community showing up looks like.
John Chhan told ABC7 news that the he appreciates the outpouring of support from the community and that it feels "very warm." He is happy to be able to leave the shop early and spend more time with his wife as she recovers.
Stella is making good progress, by the way. "She can talk, she can write," Chhan told CBS affiliate KCAL news. "Right now she's trying to start…eat something."
Is there anything sweeter than people helping people?