Identity
Woman's viral thread is a moving reminder of when the first companies supported Pride
It wasn't so long ago that public support of Pride was a truly brave and life-affirming choice.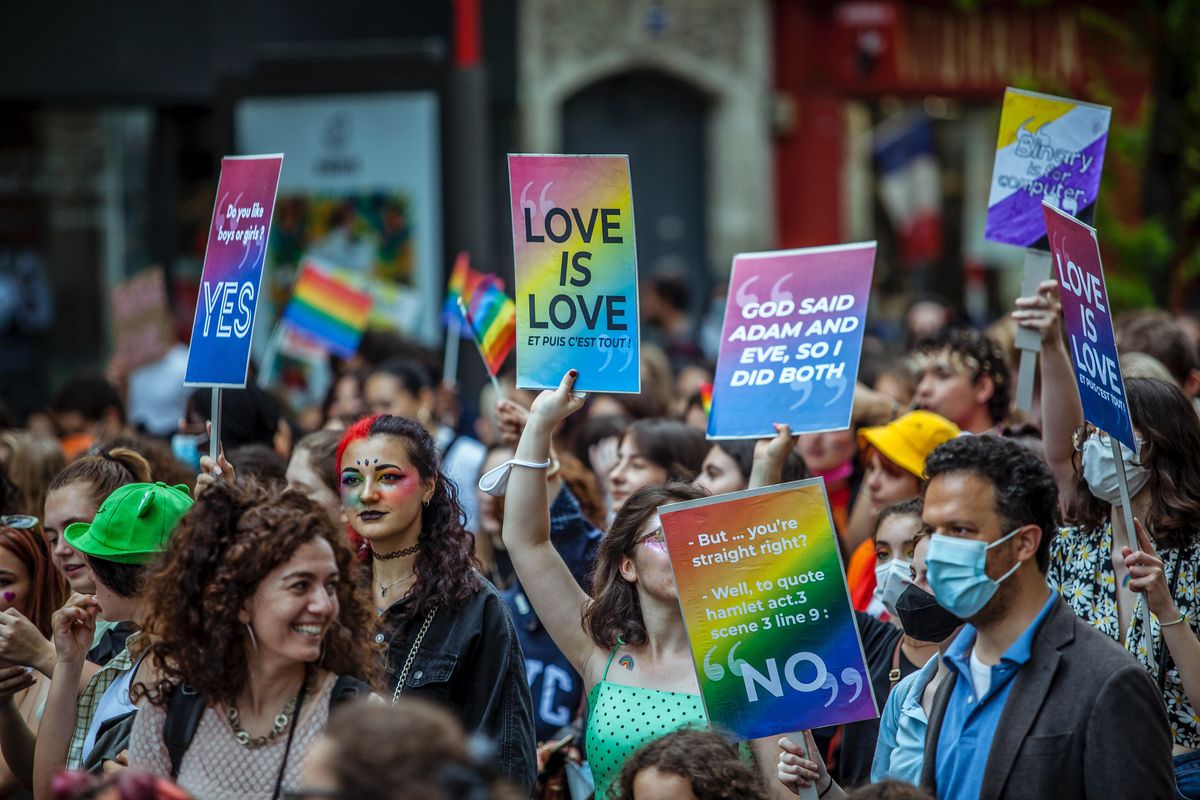 Recently, I went with my family to Target, one of our favorite stores. We were only going for a couple of things, but our plans were derailed as soon as we walked in (which is often how it goes at that store). What caught our eyes this time? Target had already put up its Pride display. My partner and I excitedly searched through accessories like sunglasses and mini flags, looking specifically for items featuring the lesbian pride flag. I successfully grabbed an accessory bag plus a pair of rainbow sunglasses for my kiddo before eagerly heading over to the main display.
In recent years, the Target display for Pride has become one of my favorite parts about the month of June. As a queer woman, I like the ease of being able to get something to show my queerness while I'm also picking up household items. It's nice to be able to buy rainbow kitchen towels that I know I will proudly use all year round. At the same time, I still feel weird about it. Because it goes beyond a T-shirt or a flag. You can't walk down an aisle without seeing a rainbow adorn something it normally doesn't—wine, deodorant, even hot sauce.
---
While it's nice to see brands acknowledge that June is Pride month, it still feels like overkill. But a friend shared a Twitter thread with me that reminded me of something very important. While rainbow capitalism still leaves a lot to be desired, there was a time in the not so distant past that brands wouldn't even acknowledge the LGBTQIA+ community. And while we still have a long way to go, we have to give space to that past.
Sigrid Ellis, whose Twitter bio lists her as an "editor, air traffic controller, parent, feminist, writer, queer," tweeted:
"As an Elder Queer I want everyone during on corporate gayness to just know a smidge of history. Companies used to refuse our money. Car dealerships would turn us away. Banks would refuse us mortgages. Restaurants and grocery stores would ask us to leave."
It's easy to forget the time before the LGBTQIA+ community was as accepted as we are now. However, our history is a lot more recent than people remember, and there are still many queer elders who remember how different things were in the '80s and '90s, which was only 30-something years ago. Ellis is talking more specifically of that time, when Pride was far more radical and significantly less corporate. But also, a time when vocally supporting gay people would do a lot more forward-facing damage to a company than it does now.
As an Elder Queer I want everyone during on corporate gayness to just know a smidge of history.

Companies used to refuse our money.

Car dealerships would turn us away. Banks would refuse us mortgages. Restaurants and grocery stores would ask us to leave.

— Sigrid Ellis (@sigridellis) June 2, 2022
Ellis explains that when brands sponsored Pride, it meant that they were safe. And for those who were out at a time where it was significantly less safe to be visible, that meant something. It doesn't mean they're perfect allies to the community—but their vocal support in spite of knowing it could affect their bottom line says a lot.
"When Subaru sponsored a float at Pride, it meant we could buy cars there with dignity.
"When Target marched at Pride, it meant my gf and I could go shopping together.
"My first mortgage was from Wells Fargo bank because they would accept gay money," Ellis wrote.
There's a reason for the jokey stereotype about lesbians who drive Subarus. It's because the company wasn't afraid to stand with the LGBTQIA+ community when no other car companies would. That makes a difference when you're making such a large purchase. And like I said, Target has been there for a while. I've watched the Pride section grow exponentially over the last few years, going from a few vague shirts with rainbows to having items for asexual, nonbinary and aromantic folks. They have family Pride outfits that feature same sex parents (though it would be awesome if they made shirts for the kids of those parents).
It was only 10 years ago, in June 2012, that the internet melted down when Oreo posted a photo in support of Pride. The image of the iconic cookie, posted on Facebook a year and a day after gay marriage was legalized in New York, featured six rainbow-colored layers of creme. The words over the image read "June 25 Pride." The post was captioned "Proudly support love!" according to an article from Time. "Many commenters have denounced the company for supporting gay rights and for taking on political positions unrelated to its cookie-production mission," the article stated. In a testament to how time moves things forward, Oreo has special Pride packaging this year.
Do we still have a long way to go before corporate Pride won't feel like a moral dilemma? Absolutely. But if we keep pushing the needle forward with the understanding of the past, we just might get there.